This easy tortellini with sausage has mushrooms, spinach, and a lemony butter sauce. It's delicious, easy, and perfect for busy summer nights.
As much as I love chill evenings at home, I'm finding fewer and fewer nights where I can actually relax and cook a delicious dinner. But I still want to eat something that will leave my body feeling good. I want to be able to plan ahead of time and avoid those 11pm dinners of chocolate milk and potato chips after a long hike. Obviously there's nothing wrong with that, but I do like to feel satisfied after eating.
PIN HERE to save for later.
how this easy tortellini with sausage fits into my lifestyle
This tortellini is not only completely delicious, but it comes together with limited dishes and pretty quickly. That's exactly what I need on days that I'd rather be out hiking, swimming, enjoying the summer, or if I just don't have time to prep and make something. I love this tortellini because, unlike many pasta dishes, it tastes great a few days later. I may add an extra squeeze of lemon juice or grated parmesan cheese after grabbing it from the microwave. Or I'll eat it cold, because it's delicious that way too!
I've written about it before, but I wanted to reiterate the power of good butter in a pasta dish. I used to avoid butter in a lot of my cooking. There had to be a better way. But unfortunately, I ended up with not so creamy, bland, disappointing food. I know that certain foods can be triggering or stressful for people. But when we let food rules dictate our eating choices, we can miss out on delicious food and experiences. This pasta dish is just one of the many dishes I've intentionally used butter in, in order for me to mindfully try it and see what happens.
My experience was that of bliss. The butter made this dish, it added creaminess that cut the sometimes bitter spinach, allowed my mushrooms to crisp up and brought the whole dish together. I started with a small amount, and added more through the process. This was helpful for me to feel like I added enough to properly brown the mushrooms, but not so much that the pasta felt greasy. It was essential. Obviously we all have different experiences with foods, and different foods that bring us eating anxiety, but occasionally challenging those foods and exploring your experiences eating them is super beneficial. Pay attention to how it tastes, how you feel both mentally and physically. See how you feel after. Take note. That's all great information.
Eating is one of the great experiences in human life, and unfortunately for many of us, eating is associated with a whole lot of shame, guilt, and stress. Consider seeing an intuitive eating dietitian, like me. We can help you address your feelings surrounding food and work with you to improve your relationship with food and yourself. We can help you find ways to reduce stress at the table and live a more fulfilled enjoyable life.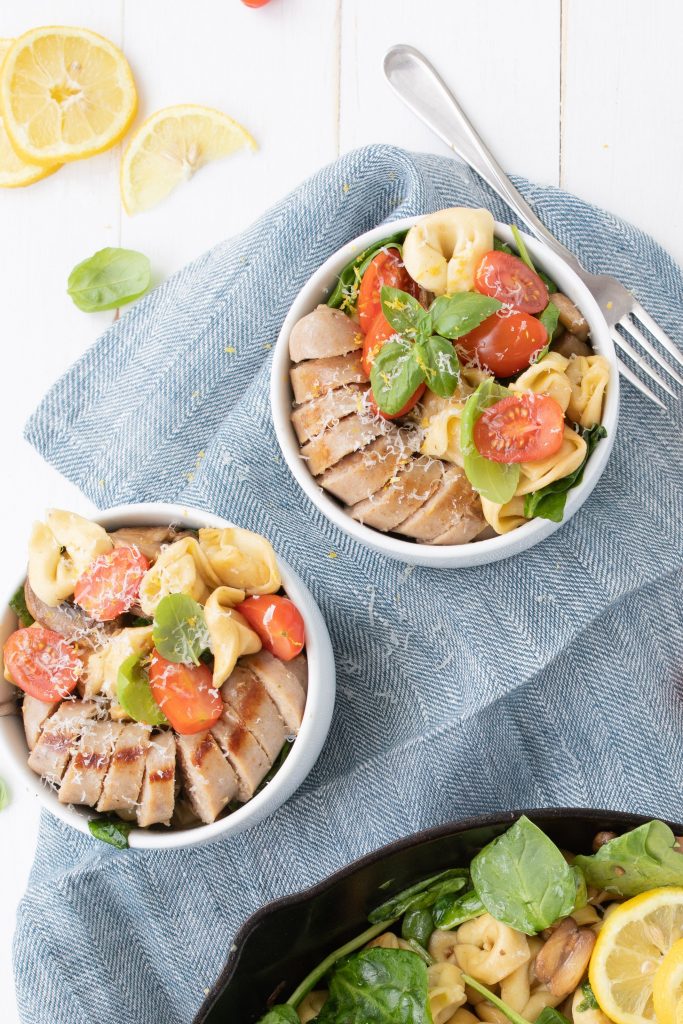 How it'll make your life easier
Essentially, this pasta dish is awesome because it's super versatile. Add whichever veggies you have on hand. Eat it right out of the skillet, or save for leftovers. It's great hot or cold, it's great on a big bed of lettuce, or no lettuce. It's great with sausage or shrimp, it's also great with tofu or edamame (and sub olive oil for butter) for a vegetarian protein source. Long story short, it's super versatile, it's easy, and doesn't require tons of equipment/dishes.
And did I already tell you that it's super delicious? Well, it is. It's the whole package.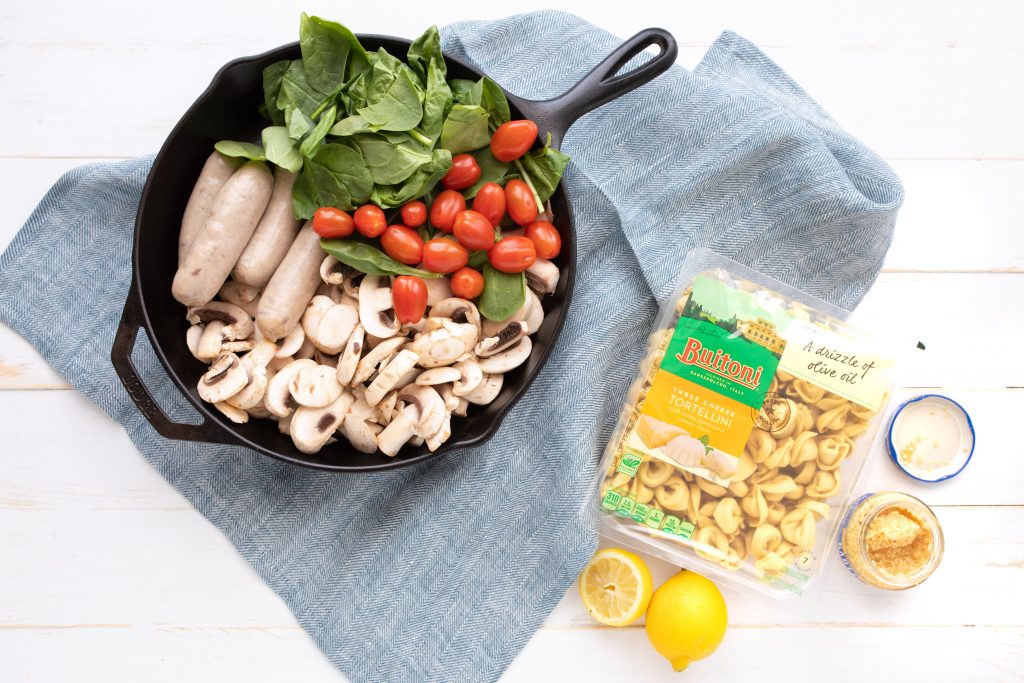 Quick Notes on This Recipe
Eat it hot or cold
Add whichever veggies you have on hand
Add whichever protein you have on hand
Sub sausage and butter for edamame and olive oil for a vegetarian option
Easy Tortellini with Sausage
This easy tortellini with sausage has mushrooms, spinach, and a lemony butter sauce. It's delicious, easy, and perfect for busy summer nights.

Ingredients
1

package

3 cheese tortellini

I used Buitoni

2

teaspoons

minced garlic

½

cup

butter

1 package

1

pound

sliced mushrooms

10

ounces

spinach leaves

4

sausage links

Italian or apple flavored

1

lemon

juiced

1

cup

cherry tomatoes

sliced

1

cup

parmesan cheese

grated

salt and pepper to taste
Instructions
Boil tortellini according to package directions

Heat up cast iron skillet, melt ½ of butter in hot pan. Add mushrooms to cover bottom of pan. Cook mushrooms for about 5-7 minutes, or until soft and crispy. Cook remaining mushrooms in butter. Set aside.

Add sausage links and garlic to pan. Cook until seared on 2 sides. Remove and slice. Add back mushrooms, and then spinach and cooked tortellini to skillet. Stir together. Add lemon juice. Remove from heat, add sliced tomatoes, parmesan cheese, and salt and pepper. Enjoy
Want tips to live your best live delivered straight to your inbox + a free15 minute dinners eCookbook?
thought so
[mailerlite_form form_id=10]
Let's get chatty:
Do you cook tortellini very often?

What would you add to this easy tortellini with sausage recipe?
PS this post was not sponsored. I just love Buitoni's tortellini.