Traveling is stressful enough, don't stress out about which foods to keep you fueled and feeling good on your travels. These healthy travel snacks will keep you satisfied and feeling good.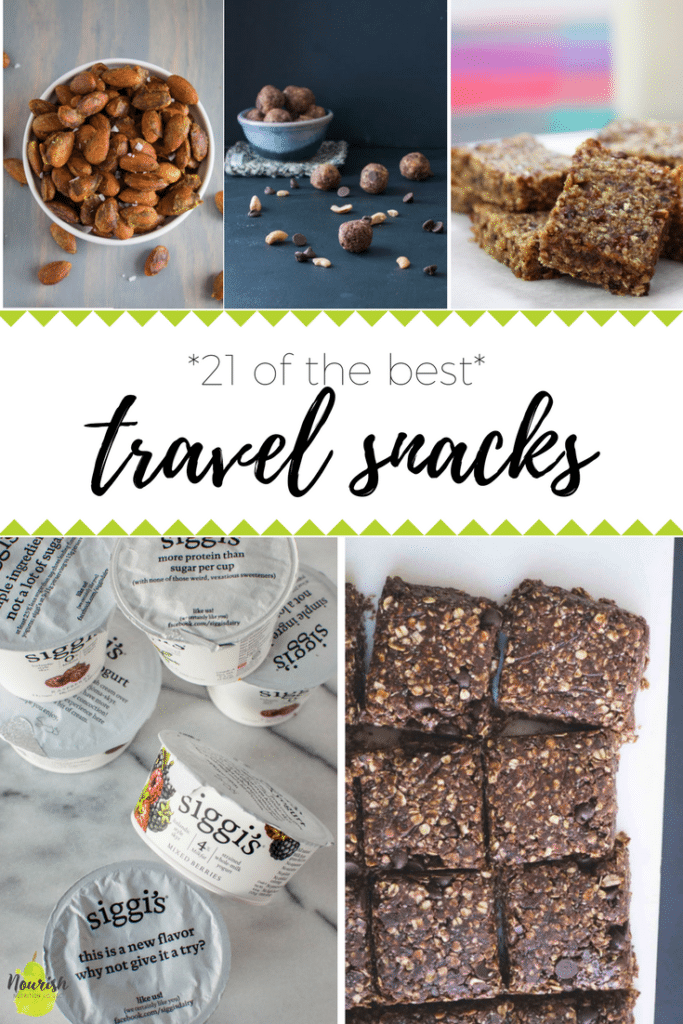 PIN HERE to add to your recipe box.
How these Travel Snacks Make My Life easier
The spring and summer travel season is coming up fast. I have a few quick trips planned, and will hopefully plan a couple other trips. But with long travel times, comes long distances between me and my trusty kitchen.
But it's kinda hard to find that balance of snacks that are delicious, energizing, and leave my body feeling good. A few years ago, I brought a box of fiber bars on a trip to Central America. Thanks to ALL the chicory root fiber in them, I felt queasy, bloated, and that was just on my first flight. It took this mistake to want to experiment with different snack ideas, choosing foods with fiber that won't make my GI system go crazy, that will leave me feeling satisfied, good, and make an uncomfortable flight or car ride as comfortable as possible.
How they will make your life easier
Well, I've got a number of dietitian approved delicious non perishable snacks (with no liquids) that will keep you feeling good on a long flight and a few you can keep in a small cooler that will keep you feeling good on a long car ride.
Non Perishable Snacks
Cooler Snacks for a long car ride
flavored Greek yogurt
fresh berries
cheese sticks
hummus and veggies
sandwiches
Snacks that are good for the soul
I always need to bring a couple sweets with me on the plane or long car rides. Here are a few of my favorites that aren't too messy, and pack well.
dark chocolate peanut butter cups (the Trader Joe's ones are AMAZING)
gummy worms
sour peach gummies
Let's get chatty:
• What do you like to eat while traveling?
Want to get more single serving recipes delivered to your inbox? Click here to download my Single Serving Cookbook.