How to organize your kitchen pantry: here are easy and practical ways to clean out and organize your pantry to make it easier to use up the food you have on hand.
PIN HERE to save for later.
Over the past year or so, I've been majorly decluttering. Going through my closet probably every month, trying to think about how I'm using what I have, and re-using what I have. The thought of having tons of stuff around and having to dig through my closet, or in the pan drawer in my kitchen just brings me anxiety. Not sure what lead to this new feeling, but I'm embracing it because I've found these decluttering ways to improve my mental state and make it easier for me to live in my space. I currently have little space in my house, and plan on living in smaller spaces for the rest of my life, so having only the essentials is, well essential for me. Not that this is the way anyone else has to live, but focusing on decluttering your kitchen in particular helps making cooking easier, more enjoyable, and helps you reduce food waste. I mean it still is National Nutrition Month, and this year's theme is reducing food waste.
If you're like me and are willing to spend a bit of time to be lazy later, to make things easier moving forward, OR if you live in a smaller space/have a small kitchen-this post is for you! Just for you.
How Organizing My Pantry Makes My Life Easier.
Just so you know, my pantry consists of 2 drawers. One for grains/beans and the other for baking/sweets. Oh the glories of living with roommates. But before you think I'm annoyed I have little space, I've realized that I have the best excuse to be organized AND in turn save $$$ and peace of mind by only having the essentials, and what I actually need right now. I can always go replenish my jar of oats because I go to the store a lot. Organizing your pantry is one of the intentions I set to have the best year ever!
Plus, not only am I saving $$$ by not buying as much food, but I'm saving money by reusing old glass jars, repurposing glass food jars, and being able to buy from the bulk section. Now that I have a nice place to store bulk foods, I'm more likely to continue to shop in bulk sections. This helps me save money, reduce waste (by not buying foods in as much packaging, and even bringing my own bags or jars to fill at the store).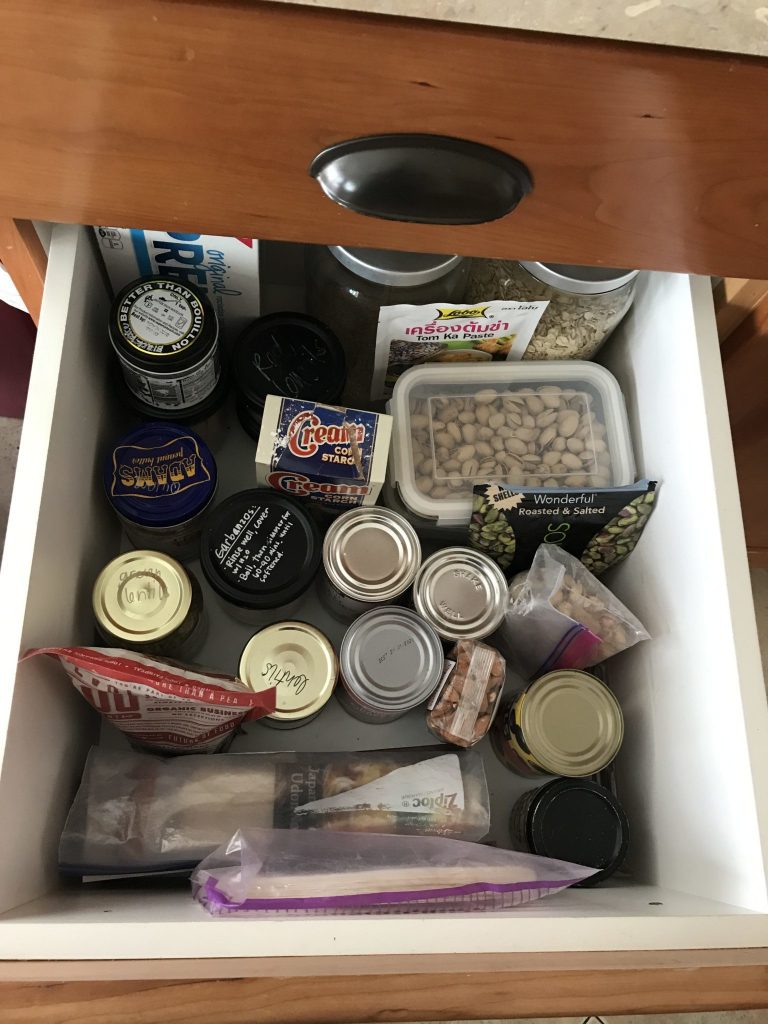 I love having an organized (or at least somewhat organized on most days) pantry aka drawer because I don't have to dig around my cupboards/cabinets to find food, or wonder if I have any cans of beans or tomatoes. There is one place I keep either of these things & if I don't see it there it's not there. End of story. So that way, I don't buy another can of tomatoes (or Costco flat is more like it) that I already have... thinking I'd used it up, or because I just can't find it. So I reduce food waste in that way & make cooking more enjoyable.
Plus, having things simply organized saves me time. SO MUCH TIME. again-no endless rifling around in drawers or in my fridge. Things are clearly labeled/marked.
Here's What I've done to organize my pantry:
I've started saving glass jars and using mason jars to store grains, beans, and seeds. Throwing bags into my grain drawer is confusing, and I have a hard time using these grains up-because I don't know they're there. (taller slender jars are best for a drawer since you can save room, not have to stack jars, and forget about the jars on the bottom.
I spray the jar lid with chalkboard paint & write whatever's in the jar on the lid. Easy access/remembering. I bought chalkboard spray paint. It's super easy & you can do it outside now that the weather is (hopefully) getting warmer. Also, make sure to use a chalk pen. It's easier to write with, and won't rub off unintentionally. It washes off fairly easily, so you can reuse the lid for something else. You can also just write on un-chalkboard-ed lids as I have here. In my real life, I'm pretty lazy. It's cool. and real
Take your chalk to the next level and write cooking directions on the lid. One thing I realized after transferring grains to jars was that I suddenly couldn't recall cooking directions that had been on the bag they came in. And, again because I'm lazy, I wasn't as likely to try a grain/bean that I didn't know how to cook off the top of my head (which was all of them. How much water to brown rice? I still have to look that one up)
This is kind of a give in with the other tips, but I'll say it again-get rid of bags. Particularly if you get grains or anything from the bulk section. The bags take up A TON of room and are messy. They block my view of everything else and aren't necessary.
How Organizing Your Pantry Will Make Your Life Easier:
You'll know what you have & don't have on hand
You'll waste less food because you, again, know what you have & don't have on hand
You'll buy/use less plastic, which is good for the environment
You'll save room, to have more space for your food or to buy more. Whatever floats your boat
You'll save more money because of #1, #2, & #3. You're welcome.
You'll know what you have on hand & can experiment with different grains/beans..... how fun!
PLUS, if you're living in a small space, or have a small kitchen, these tips will help you make the most out of your space!
Here are a few of my favorite recipes that use these grains/plant proteins:
Vegetarian Instant Pot Lentil Stroganoff
3 Ingredient Homemade Almond Butter
White Bean & Farro Bowl
Let's get chatty:
Do you spring clean?
What are your favorite ways to organize your kitchen?
What questions do you have about organizing your kitchen?