Learn to become a better food photographer by following these tips based on my biggest food photography mistakes. In this post, you'll learn what my biggest mistakes are and how you can easily correct them. Learn more about choosing props like plates, ingredients for garnish, and using general household props.
[This post was originally created in April 2017. It has been updated with new photos and content]
About 3 years ago, I started a blog, it was a way to share what I was making, my love for eating, and my creative food photo taking juices. I thought I was a good photographer, not great, but good enough.
I took my first photo and learned that I wasn't as great as I'd thought. What I saw through the viewfinder was NOT what I saw when I uploaded my photos. I had a fancy camera, what I thought was a good eye, and a desire to take beautiful photos. But, that didn't show in my photos.
Womp womp. Seriously, I thought I had all the tools, the eye, I should be able to take pretty food photos. But I wasn't.
It took hundreds of hours of practice, multiple books, so many random blog posts, a photography ecourse, and frustrations.
Just last fall (and a good 2+ years after my first blog), I attended Blog Brulee (and was onto my 3rd blog, ha!), Blog Brulee is a healthy food blogger conference in Vermont. Katie, pro chef and pro food photographer behind the scenes at Healthy Seasonal Recipes, taught us how she sets up her photos. A lightbulb went off and things clicked. That moment drastically changed my food photography. Katie didn't share anything ground-breakingly different, she shared her simple and inexpensive methods to shoot better photos, yet that was the groundbreaking part.
To compound this newfound knowledge, I started checking out hundreds of food photos each day while reviewing photo submissions to Healthy Aperture. Learning how & what I liked, and what made those photos pop helped me determine my style and get my photos noticed by important people representing big food brands as well as prospective clients.
Here are 3 things I do now to make sure my food photos pop & why I do them.
No more darkly lit, messy, and ugly photos.
1. Use natural sunlight
Take a look at these photos. Unnatural (or room lights) cast harsh shadows, grubby light, and ugly onto what could be really pretty food, but you can't see the pretty food behind the ugly light.
HOW TO FIX: set up next to a big window, or take your food & camera outside. This is stupid easy, but EVERYTHING! Turn off all the lights in your house and let the natural sunlight illuminate your photo.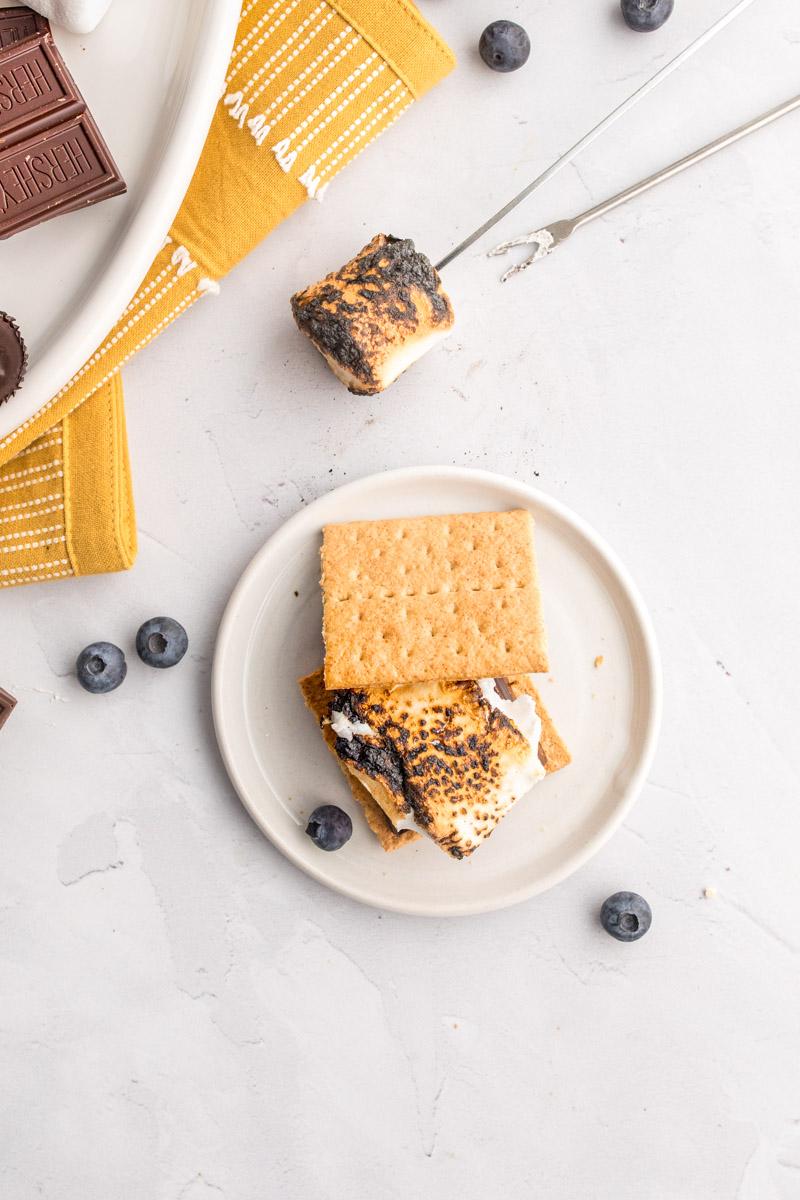 2. Don't let multiple subjects compete for the spotlight
It's natural to want to keep everything in focus when you're shooting food. It's natural to want to show detail on everything, but that desire to show all detail confuses your viewers. When there's too much to want to focus on, we tend to close the page and move on.
HOW TO FIX: Choose one 'hero' subject to highlight, let the rest be blurred out and not compete for the attention.
3. Blurry photo
When you've got low lighting, you've got to open up that lens to let in as much light as possible.... but with that comes some shakiness if you're holding your camera, which I always did. It seemed easier and quicker to hold the camera instead of set up a tripod. It's true, it's easier and you've got more control. But lesbehonest, this picture SUCKS for a few reasons, one of which, it's completely out of focus. And all ease aside, if you've got a blurry confusing photo, it doesn't matter.
HOW TO FIX: Invest in a tripod. End of story. A tripod will actually open up your world, you'll be able to take photos in lower light & they'll actually turn out pretty. You can also get steady & beautiful overhead shots with a tripod that has an extendable arm. It's truly magic guys, magic.
Join our free Facebook group for more tips
Want to make your own food photo backgrounds? Here's how
DIY Painted Food Photography Background