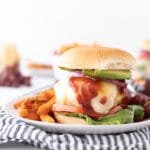 Print
The Easiest Grilled Chicken Burger
This easy grilled chicken burger is tender, juicy, and delicious with added cheese, grilled onions, tomatoes, and BBQ sauce. Plus it's super easy to make for guests or when you don't want to heat up your kitchen by using the oven.
cutting board

knife

grill

tongs
1

6-8 oz

chicken breast

salt and pepper

2

slices

pepperjack cheese

or cheddar

½

whole

red onion

sliced thinly

½

whole

beefsteak tomato

sliced thinly

2

leaves

lettuce

green leaf or romaine

2

hamburger buns

whole wheat or white

BBQ sauce
Start by heating up your grill or grill pan. Once your grill is hot, place chicken breast(s) on grill. Scroll down to see my tips on cooking adjustments for different sized chicken breasts. Start by cooking for 5-6 minutes on the first side, then check doneness after 5-6 minutes on the second side.

Once the chicken is done cooking, top each breast with a slice of your favorite cheese. It should melt while the chicken rests.

While the chicken breasts are cooking, grill one (or 2) slices of onions per burger.

Next, prepare the toppings. Use what you have on hand or get some leaf lettuce, tomato, onions, and avocado. You can use the leftover veggies to make quick salads or to top sandwiches later in the week.

Serve with french fries, veggie sticks, or any of these salads.