Have you been asked to bring a side to Thanksgiving dinner, but don't know what to bring? These top 10 Thanksgiving sides are the perfect easy way to wow everyone at the table without spending all day cooking or stressing about your dish.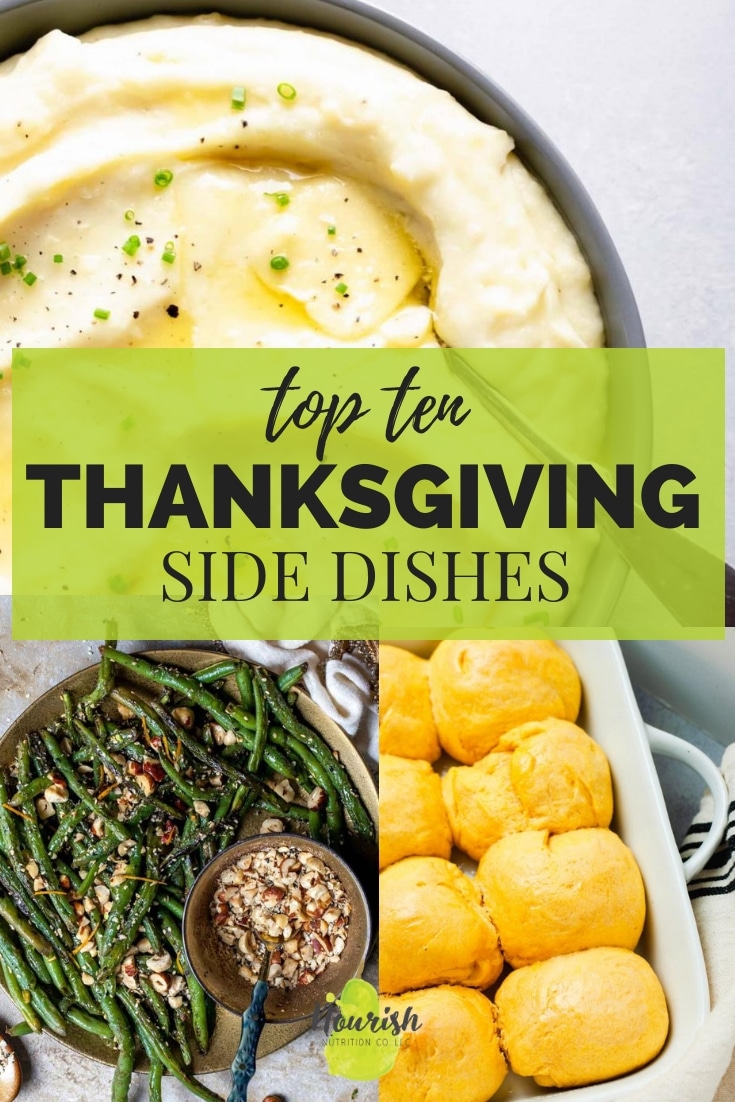 Thanksgiving is great when you're not the one who has to cook the whole meal, but maybe you're going to a friendsgiving, or as one of my college friends coined it, "Fakesgiving". Or you've been asked to bring a side dish to Thanksgiving and you have no idea what to make... but you need an easy and quick recipe.
If you're looking for something a little out of the box, check out my veggie recipe section, fall favorites section, and desserts if you've been asked to bring a dessert. I mean the options are way greater than just these 10 sides recipes.
These easy recipes will let you bring something delicious without adding more stress to your life.
1. Green Bean Casserole
Parmesan Bacon and Green Bean Casserole
Skip the same old green bean casserole this year. This easy Parmesan Bacon Green Bean Casserole gives the classic a whole new flavor that will rock the holiday season! Crispy bacon, parmesan cheese and topped with everyone's favorite fried onions. Only a few ingredients and it comes together in no time!
Check out this recipe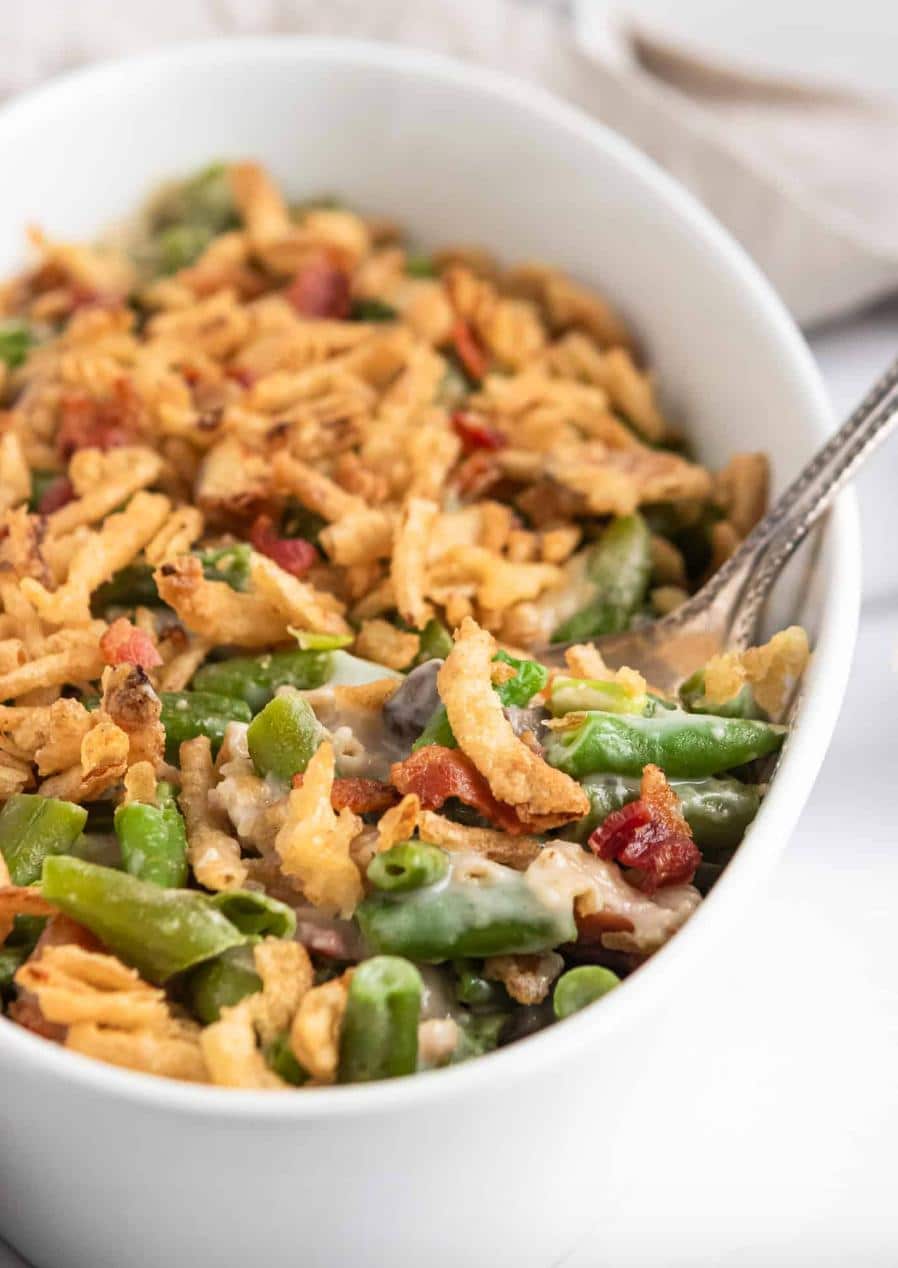 2. Mashed Potatoes
Instant Pot Pumpkin Mashed Potatoes
Mashed potatoes are a Thanksgiving staple. Learn how to make mashed potatoes in your Instant Pot with a special added ingredient– pumpkin! These Instant Pot Pumpkin Mashed Potatoes will be perfect for your Thanksgiving table.
Check out this recipe
3. Brussels Sprouts & Kale Salad
Shredded Brussels Sprouts u0026 Kale Salad with Lemon Vinaigrette
My favorite Brussels Sprout Salad Recipe. Made with shredded Brussels sprouts, chopped kale, grated carrot, pomegranate arils, candied pecans, and creamy avocado all tossed in a light Lemon Shallot Vinaigrette. This easy Brussels Sprout Salad is the ultimate fall and winter essential perfect for lunch, dinner, and holiday meals.
Check out this recipe
4. Green Beans
Green Beans with Pecans, Cranberries, and Parmesan Cheese
Green Beans with Pecans, Cranberries u0026 Parmesan is a simple way to create flavorful green beans that will stand out on the holiday dinner table.
Check out this recipe
5. Spinach Salad
Spinach Apple Salad
This Spinach Apple Salad is healthy and perfect for Fall! This vegetarian salad is packed with apples, feta, walnuts, dried cranberries and red onion for a delicious combo that works great as a main or side dish.
Check out this recipe
6. Brussels Sprouts
Orange u0026 Honey Roasted Brussels Sprouts
Orange and Honey Roasted Brussel Sprouts are the best way to enjoy brussel sprouts, hands down. Seared in a cast-iron skillet and roasted to perfection, these caramelized brussel sprouts are beaming with flavor in orange marmalade and honey Dijon mustard sauce. A must-have for Thanksgiving and Christmas.
Check out this recipe
7. Mashed Potatoes
Instant Pot Mashed Potatoes with Sour Cream
Instant Pot Mashed Potatoes with Sour Cream are the most delicious mashed potatoes you will ever have. They're light, creamy, buttery u0026 quick to make with the help of your pressure cooker.
Check out this recipe
8. Sweet Potato Rolls
Sweet Potato Rolls
These sweet potato rolls are made with classic dinner roll ingredients and sweet potato puree, giving a traditional recipe additional flavor and warmth!
Check out this recipe
9. Green Beans
Browned Butter Green Beans with Hazelnut Dukkah
Browned Butter Green Beans with Hazelnut Dukkah is a 5 Ingredient side dish ready in under 30 minutes. Serve with your protein of choice for easy entertaining or streamlined weeknight dinners.
Check out this recipe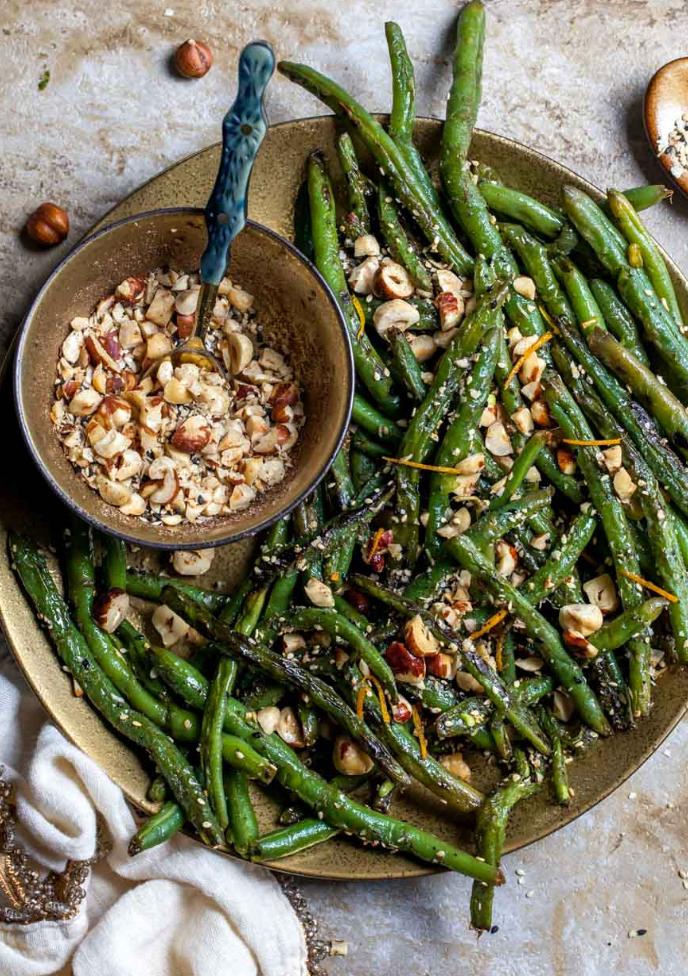 10. Roasted Carrots
Sweet and Spicy Tumeric Roasted Carrots
This recipe is perfect for the holidays because it's simple (everyone loves carrots) but still interesting! The spices are very seasonal too.
Check out this recipe
A Few More from Nourish Nutrition:
Cheesy Garlic Mashed Potatoes
These cheesy garlic mashed potatoes can be made quickly. These mashed potatoes are better than your typical mashed potatoes because of the stove top roasted garlic and added dollop of Greek yogurt. They're a great side dish for Thanksgiving, Easter, or any other night.
Check out this recipe
Roast Beets and Potatoes
One of my favorite ways to prepare vegetables is to roast them. Try to roast beets and potatoes with carrots. All you need is 10 minutes prep and 40 minutes hands-off cooking time.
Check out this recipe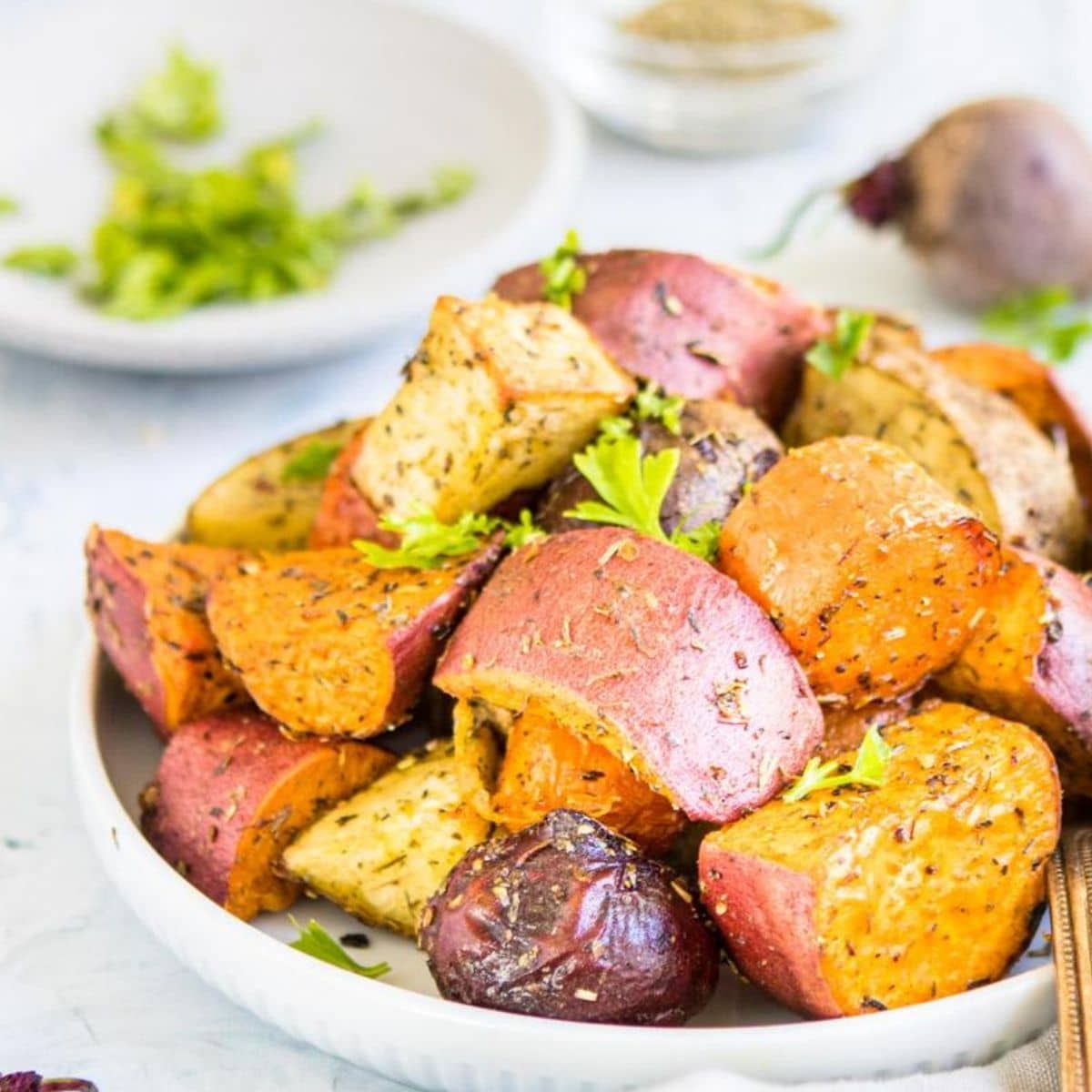 Rustic Potato and Brussels Sprouts Au Gratin
Creamy cheese, tender potatoes and brussels sprouts, and a hearty addition of fresh rosemary makes the creamiest, most fragrant, and surprisingly easiest au gratin. This rustic potato and brussels sprouts au gratin dish is delicious for Sunday dinner or as a holiday side.

Check out this recipe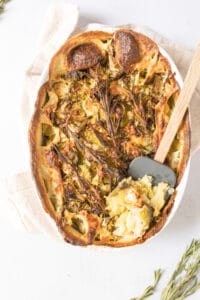 Well, there you go. These colorful, tasty, and easy recipes will allow you to bring something yummy to Thanksgiving without having to sacrifice doing all the other things you have to do. Happy Thanksgiving!
Did you like any of the Top 10 Thanksgiving Sides? If you did, make sure to leave a comment & a star rating on the individual recipe. And also follow Table for One on Instagram & tag #nourishnutrition if you make a recipe. I'll share it on Instagram.
Want to get more single serving recipes delivered to your inbox? Click here to download my Single Serving Cookbook.