This easy beet salad with goat cheese is made with fresh beets, arugula, hemp hearts, & goat cheese, drizzled with a balsamic glaze and lemon juice. It's done in just 5 minutes, and great with edamame or chicken added.
[This recipe was originally posted in April 2019. It has been updated with new cooking instructions, expert tips, FAQ, and ways to repurpose/use up ingredients]
PIN HERE to add this beet salad to your recipe box.
How will this salad make your life easier?
Simple ingredients make for a great beet salad with goat cheese. There are lots of different ways you can get the ingredients-fresh unpeeled beets, cooked beets, canned beets.
You can also steam or roast them. Any way this salad will turn out great.
Buy pre prepared ingredients for your beet salad or raw and do the work yourself. The only difference is the 30-40 minutes that it takes to cook the beets.
In the mood for more salads? This Spinach Strawberry Salad, Spinach Mandarin Orange Salad, Rainbow Coleslaw, and Shaved Zucchini Salad with Corn are all great options.
What makes this beet goat cheese salad so good?
How do I make this salad?
Start making your beet salad with goat cheese by steam beets in an instant pot if you have one. It's the easiest. If not, quarter them and roast in the oven. Or if you're short on time, buy precooked beets.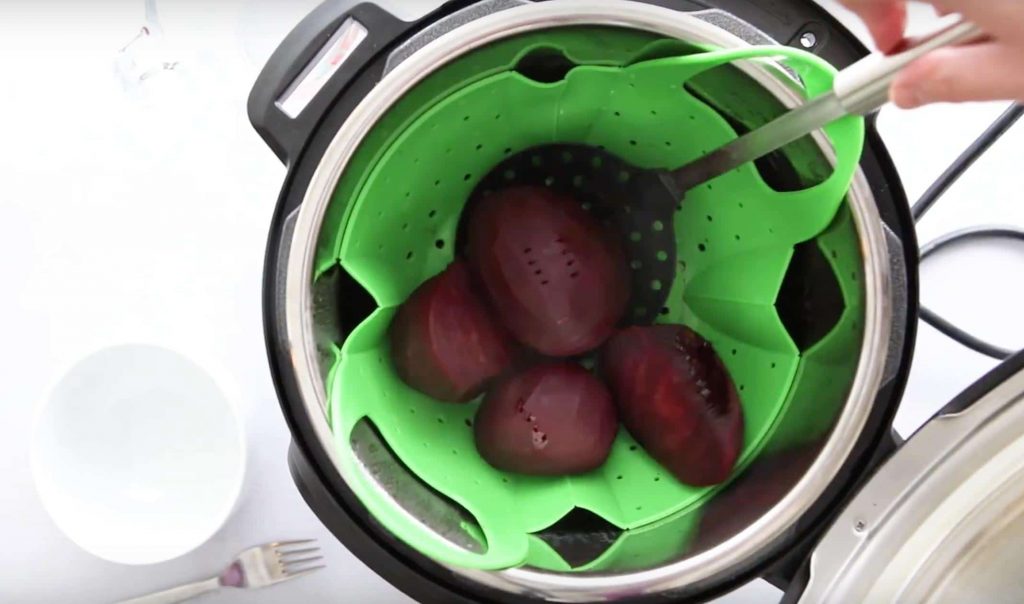 Heat up your goat cheese in the microwave for just 10-20 seconds. It'll get warm and super creamy. You're welcome.
Place a large handful of arugula on your serving plate/bowl.
Add sliced beets (either hot or cold) on top of your greens.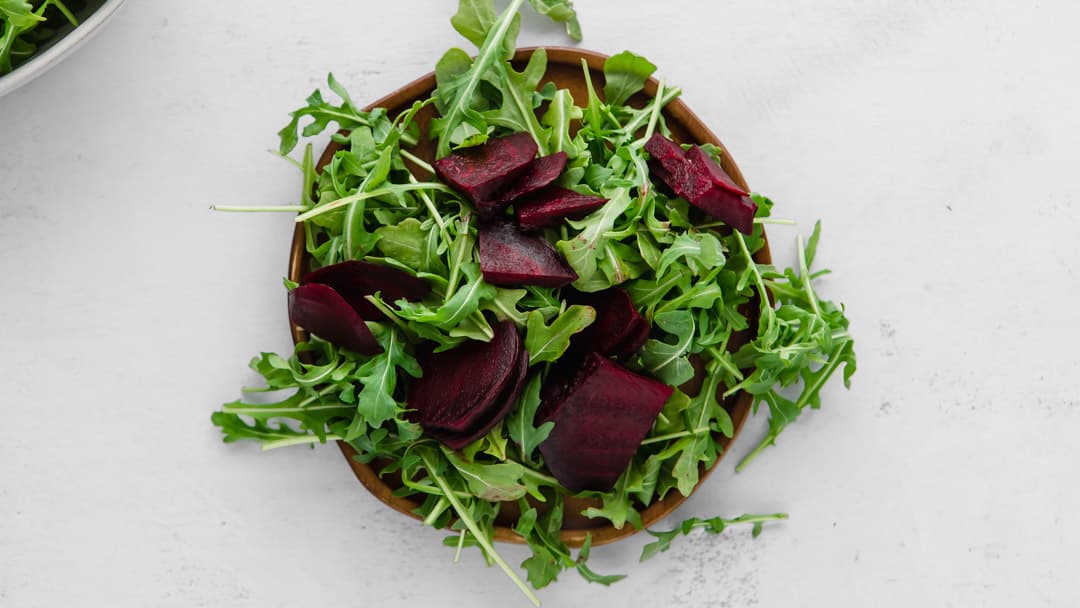 Then add a few spoon sized dollops of goat cheese on top.
Sprinkle hemp hearts over your beet salad, then drizzle balsamic reduction (or balsamic vinegar) and squeeze fresh lemon juice on top to add a hit of acid to your salad.
Enjoy your beet salad with goat cheese as is or make a few substitutions, as you'll find below, in the Substitutions/Tips section.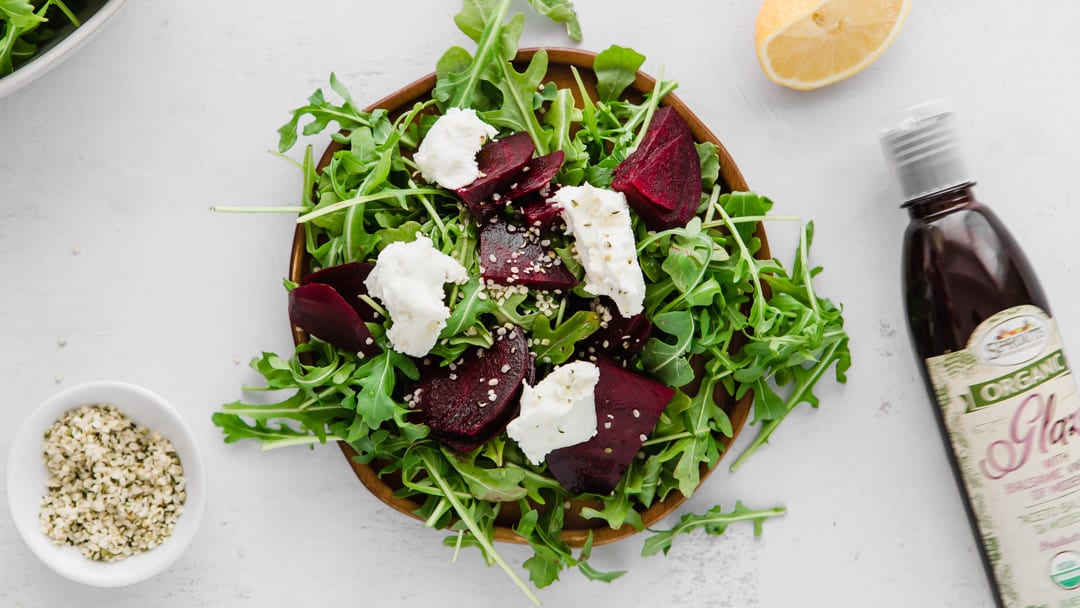 Substitutions/Tips
Use whatever kind of beets you like best. This beet salad with goat cheese is great with steamed, roasted, canned, or even really thin sliced fresh beets.
You can substitute the goat cheese for feta cheese or even sharp cheddar cheese, if you don't have goat cheese on hand.
You can substitute the balsamic glaze for a drizzle of red wine vinegar and olive oil for dressing in this salad recipe.
Other Add-ins: sunflower seeds, chopped pistachios or walnuts, halved cherries or blackberries, etc would all be good in this beet salad.
FAQ
What are peoples favorite beet salad?
I have seen lots of beet salads on restaurant menus. They often have goat cheese and different toppings like nuts, seeds, and fruit. But this is a common beet salad base.

Try this simple beet and goat cheese salad for a quick homemade version.
How do I make this beet salad into a full meal?
Add a handful of steamed edamame and your favorite crusty bread to this beet and goat cheese salad.

You can also use any protein/grain that you already have in the fridge such as grilled chicken or rice, farro, or other grain.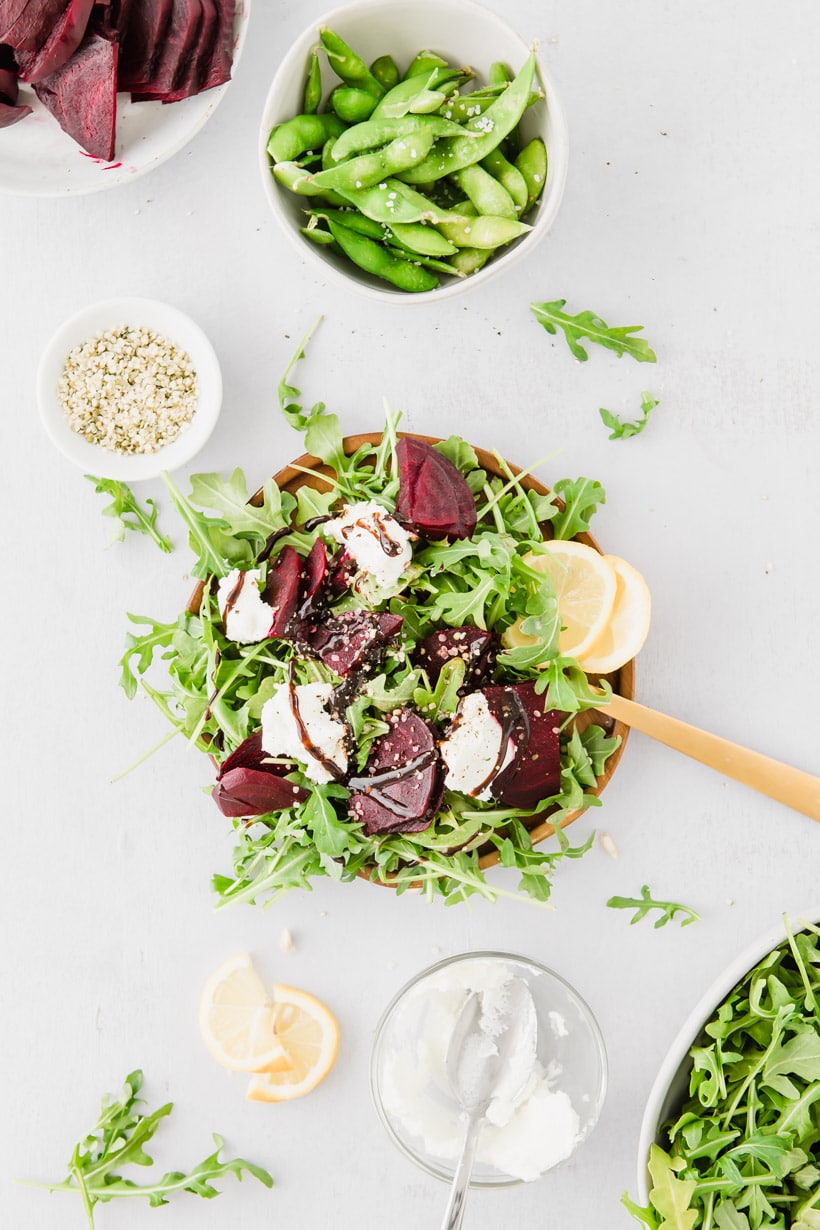 What can I make with leftover ingredients?
Arugula: Use up the arugula by making this Strawberry Salad, Grilled Turkey and Brie Sandwich, or Watermelon Chicken Salad.
Beets: Roasted Beets and Potatoes, Beet, avocado, and goat cheese salad via Foodie Crush, Pickled beets via Half Baked Harvest, Beet, goat cheese, and honey tarts via How Sweet Eats.
Goat Cheese: Fig and Prosciutto Pizza, Swap it for feta in Zucchini Salad, or this Pear and Prosciutto Pizza.
Did you make this easy beet salad with goat cheese? leave me a comment to share how it turned out!
Beet Salad with Goat Cheese
Fresh beets, arugula, hemp hearts, and goat cheese are drizzled with a balsamic glaze and topped off with lemon juice for this easy and delicious beet salad.
Equipment
knife

cutting board

Measuring Spoons

Measuring Cups

Large mixing bowl

tongs
Ingredients
2

cups

arugula

½

whole

beet

cooked and chopped

1

oz

goat cheese

1

teaspoon

hemp hearts

½

tablespoon

balsamic glaze

such as Sprout's brand

½

teaspoon

lemon juice
Instructions
Assemble salad by starting with arugula (2 c), then add chopped beets (½ whole), using a spoon, scoop up goat cheese (1 oz) and place into 3-4 dollops on salad, sprinkle hemp hearts (1 tsp) on top.

Then drizzle balsamic glaze (½ tbsp) over salad and squeeze lemon juice (½ tsp) on top.


Finish with freshly ground salt and pepper if desired.

Notes
Want to steam your own beets? Follow these simple instructions
Add grilled chicken or edamame & a slice of your favorite crusty bread to make this salad into a full meal.
You can substitute the balsamic glaze with a drizzle of olive oil & balsamic vinegar.
Want to get more single serving recipes like this beet salad with goat cheese delivered to your inbox? Click here to download my Single Serving Cookbook.
Recipes are great, but you'll need a simple 3 step process to create a meal plan that make cooking easy & helps you stop wasting food. Check out this expertly developed meal planning guide to get started.