I'll show you how to make meal planning for one EASY, ENJOYABLE, and how to WASTE LESS FOOD. I'm also sharing a few favorite single serving recipes to get you started.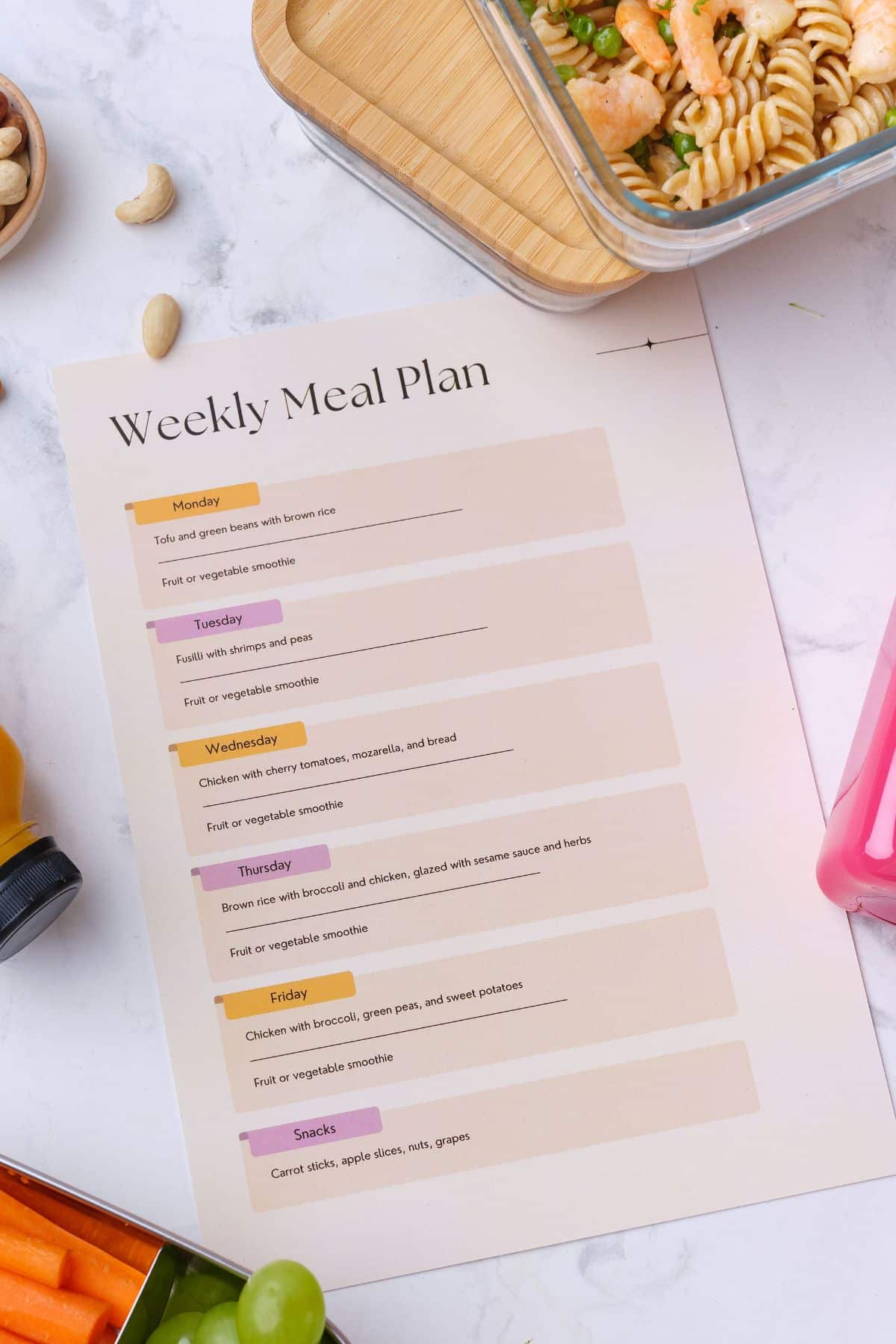 [This meal planning for one post was originally posted in September 2020. It has been updated with updated information, resources, tips and recipes to help you best learn how to stock a pantry for one person]
I've asked my audience and clients about what they want to make cooking for one easy A LOT. And they always say they want single serving recipes.
I have shared lots of these recipes here and created a free 10 recipe cookbook to download. BUT they're not all you need.
They get so excited for these recipes, but, often don't actually use them. That's where meal planning for one comes in.
Do you find yourself in this camp too?
Before I go into it more, it's not their fault that they don't make them as they hoped they would.
Same goes for you, if you've tried to cook more, but haven't followed through or stuck to it, your methods may be the reason. It's not you or your determination, you just need to switch what you're doing.
And that's simple!
Recipes are great, but to cook, you need a plan. As cliche as meal planning is, and as much as I hate what it implies, meal planning for one is crucial to cooking more at home if you want to. I'll show you how to make it work for you!
Meal Planning Guidelines
Hate cooking? Don't force yourself to cook
This IS HUGE. I hear it a lot, "I hate cooking, but I have to".
First off the bat, DON'T FORCE YOURSELF TO COOK. The great thing is that there are so many options for you! Frozen meals, semi-fully prepared meals, take-out, grocery store deli, meal delivery kits, etc. The list goes on and on.
Forcing yourself to cook when you hate it will never lead you to like cooking. It'll just make you hate it even more. Meal planning for one is not just about planning homemade meals, it's about feeding yourself.
Choose the way to cook the least that is accessible to you/your kitchen/your life. It might be a bit more cooking than you'd like, but hopefully it'll be less than you feel like you should.
Break Down the Meal Planning Process
You may hate one particular aspect of cooking, that you can easily change and find joy in cooking. This is a great time to turn inward and think about why you hate cooking.
You may realize it's a step in the process that you hate (this is something we talk about when I work with clients), you may realize you've made cooking more complicated than it needs to be or that you really hate meal planning. Etc.
Here are the main steps I think of:
Finding recipes
Writing a grocery list
Grocery Shopping
Preparing Food
Cooking
Eating
Cleaning
Does one of these steps in meal planning for one stick out to you? Do you dislike one of these steps more than the others? If so, find a way to make that step easier or outsource it.
Think about your perfect* way of eating
*perfect way of eating. By this I mean, what if nutrition or health didn't matter. Would you eat differently? Or not cook at all? Would you restrict certain foods or amounts? Or stop any of this restriction?
This is a question I ask my clients that brings out lots of insight from them. Think about it, what would you do if you could do anything? If nutrition/health didn't matter, if you have unlimited money and time.
It's also a great place to start exploring your relationship with food, body, and this diet culture soup we all live in. Anyways, back to it.
Would you cook yourself or hire out?
What kinds of things would you eat?
It's great insight to see what you want to focus your time on and what you want to outsource. Meal planning for one should revolve around merging your reality with your dream.
It's a game changer.
Be Flexible
Being flexible is also a game changer.
I've heard from many people who cook for one & from many clients that they don't want to plan their meals because they don't want to be stuck having to make those foods.
So they don't plan, and they end up wasting food, cooking less than they want, and hating it all. That's why rethinking how you plan meals is really important.
Why does it have to be don't plan at all or plan everything and stick to it?
If you've made this mistake that I have made, and many of my clients have made, that's ok. But it's time to change the way you think about planning & cooking.
Flexibility is the key to enjoying cooking, sticking to it, and making it actually work for you. It's integral to my meal planning for one process.
If you've made this mistake of thinking you absolutely have to stick to your plan, you're not alone. Now is the time to rethink cooking & planning, because you deserve better.
The thing is that your life as a single person is very different than anyone else's life who is cooking for their family.
Be flexible as plans change. Change your meal plan. Be flexible with what ingredients you use, get creative there! Google is my friend, search for ingredient substitutions. This is key to meal planning for one, and cooking too!
How to Meal Plan for One Person
Step 1: Schedule
The most overlooked step in meal planning for one is looking at your schedule. This will determine what you make at the most basic level.
Start by taking a look at your schedule for the week. What days do you have evening plans that you'll have to plan eating around? Plan on leftovers, something you heat up, or eating out these nights. Or bring something with you.
Look at what's happening around meal prep and meal times to decide how much time you'll have to cook OR how much energy you think you'll have. Plan accordingly.
Creating your meal plan for one around your actual schedule will make eating easier, more enjoyable and it'll help you reduce food waste while cooking for one. Win win win.
Step 2: Shop your 'Kitchen'
Before choosing recipes when meal planning for one, I shop my kitchen. That means I look at my dry goods, frozen foods, and what's in the fridge. Especially what's in the fridge.
I want to prioritize using up ingredients that are about to go bad.
It's a great way to use what you have, not buy extras of a food, and actually save money. It will also help you reduce food waste while cooking for one.
I'm a huge proponent of having a well stocked pantry, here's How to Stock a Pantry for One Person.
Step 3: Choose Recipes
Now's the fun part. Choose recipes based on the ingredients you want to use at home. You can search for them at your favorite websites, cookbooks, magazines, family recipes, etc.
Decide how many servings to make so you have leftovers when you need them. You can also make extra of certain recipes to freeze for later.
Another thing to keep in mind is to really focus on 1-2 (or so) vegetables to add to your meals. I hear it all the time "I want to stop wasting as much food".
Now is the time to be realistic and also to buy enough produce for one person, not a family. And be realistic about how many vegetables you're currently eating. Start with that, then adapt.
It will also help you reduce food waste while creating a menu for one.
Ok here are a couple tasty recipes for one (double/triple them for leftovers, or find similar recipes elsewhere. There are endless recipes out there with 4-6 servings). Use these recipes for your own weekly meal plans.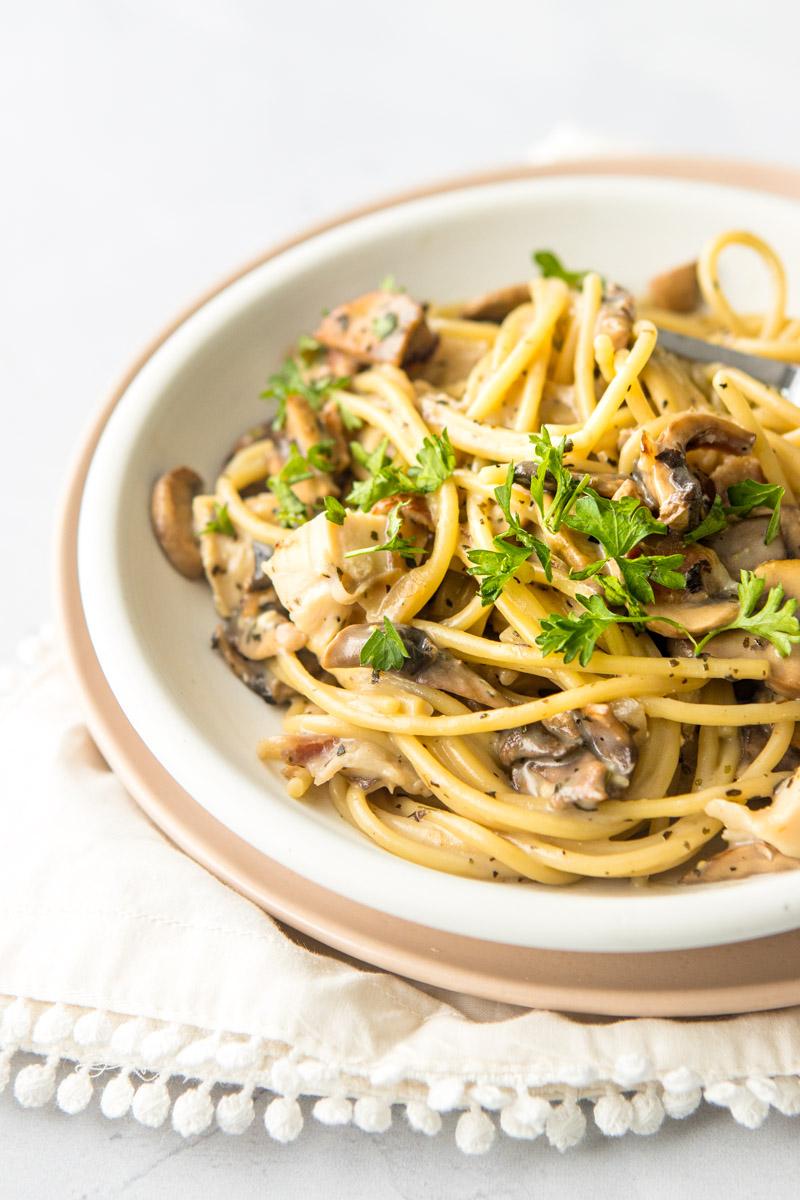 Chicken Bacon Mushroom Pasta. Made in one pot!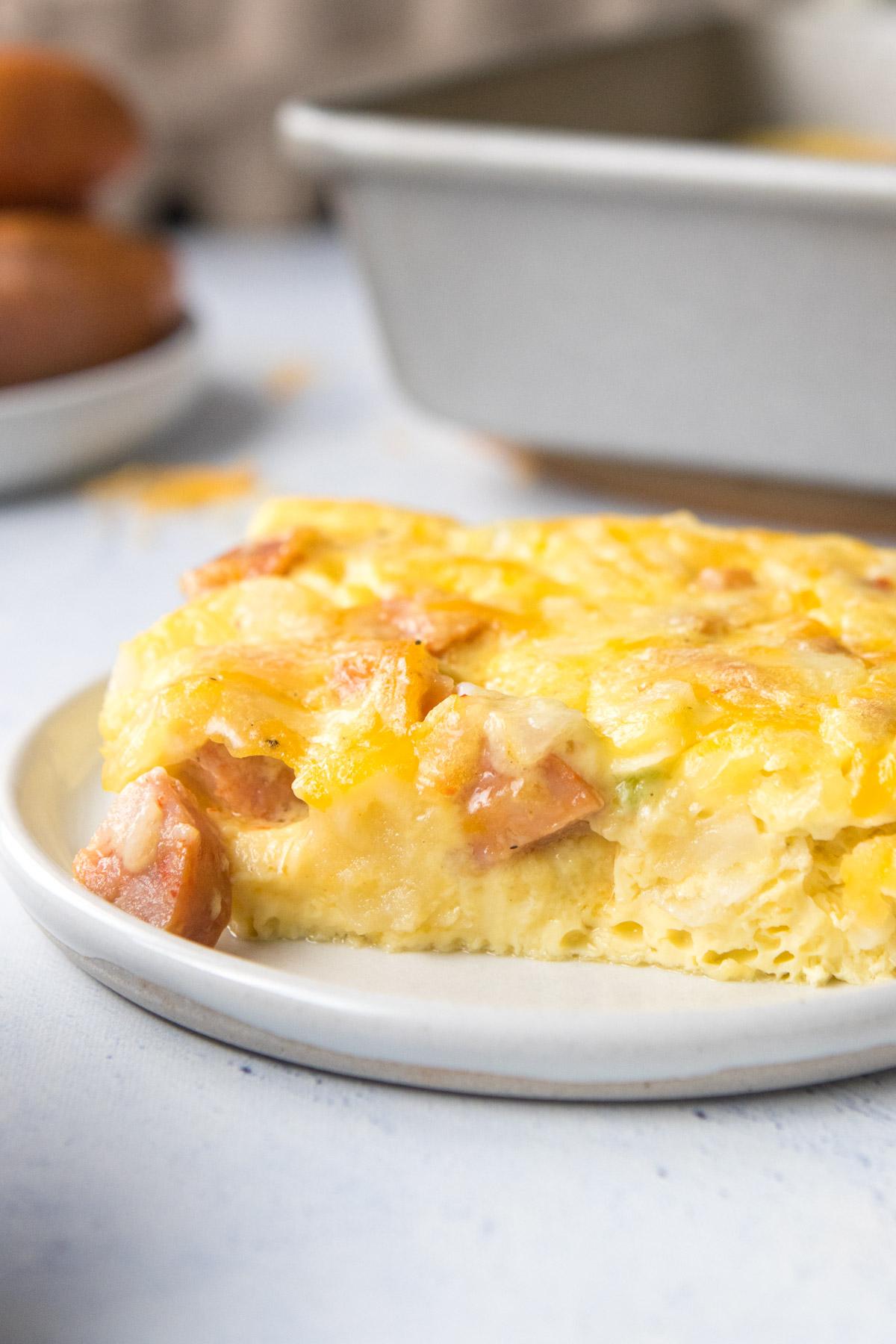 Chorizo Egg Casserole. It makes 4-6 servings, freezes well, and can be enjoyed for breakfast, lunch, dinner, or a snack! Swap the chorizo for bacon if you made the first two recipes.
Step 4: Grocery List
Personally, when I go grocery shopping, I organize my list by section of the store. I usually go to the same stores (most often WINCO, Hello Bulk, and Harmons), I know the flow there.
This is a more efficient way to shop when you're meal planning for one.
Write your list down on physical paper, in a notebook, on your phone, or wherever is easiest. I use notes on my phone, it's easy to move items around and keep a constant list as I run out of my staples.
Step 5: Prep/Cook
When you prepare to cook for one, you can spend some time each week to batch prep ingredients or foods. Or you can batch cook while you're already cooking.
Say you're making Instant Pot Pinto Beans and Rice.
Make a couple extra servings of beans and rice. Store the leftovers for later. You can freeze them individually or make other dishes with rice and/or beans.
Also, if you're chopping a vegetable or other food, chop extra and store it, chopped for easier use later.
Use the most out of the time you're already prepping/cooking. That will make meal planning for one and cooking for one much easier. It will also help you reduce food waste while cooking for one.
Reduce Food Waste While Cooking for One
A lot of people I talk to about cooking for one feel like they waste too much food.
And I get it, it's easy to get excited about a recipe (or a couple), buy all the ingredients, then be too busy or tired to cook. Then you put it off…. until the ingredients start to rot.
OR you buy what you need, but those ingredients come in too big of a bag or whatever, so you're left with extra green onions or other ingredient and not know how to use it or plan on using it.
To waste less, I recommend meal planning for one. It doesn't have to be really intense or anything, but look at what is happening during the week to plan your meals. You can find specific tips in the sections above.
I also recommend making substitutions. The thing is that lots of foods have substitutions. Especially vegetables in dishes. You can probably substitute 75+% of vegetables in a dish and still have it turn out great.
If the thought of making substitutions in cooking, but you still want to stop wasting food, I recommend checking out my Solo Cook's Program. We focus on practical tips and tactics to make cooking easy & stop wasting food.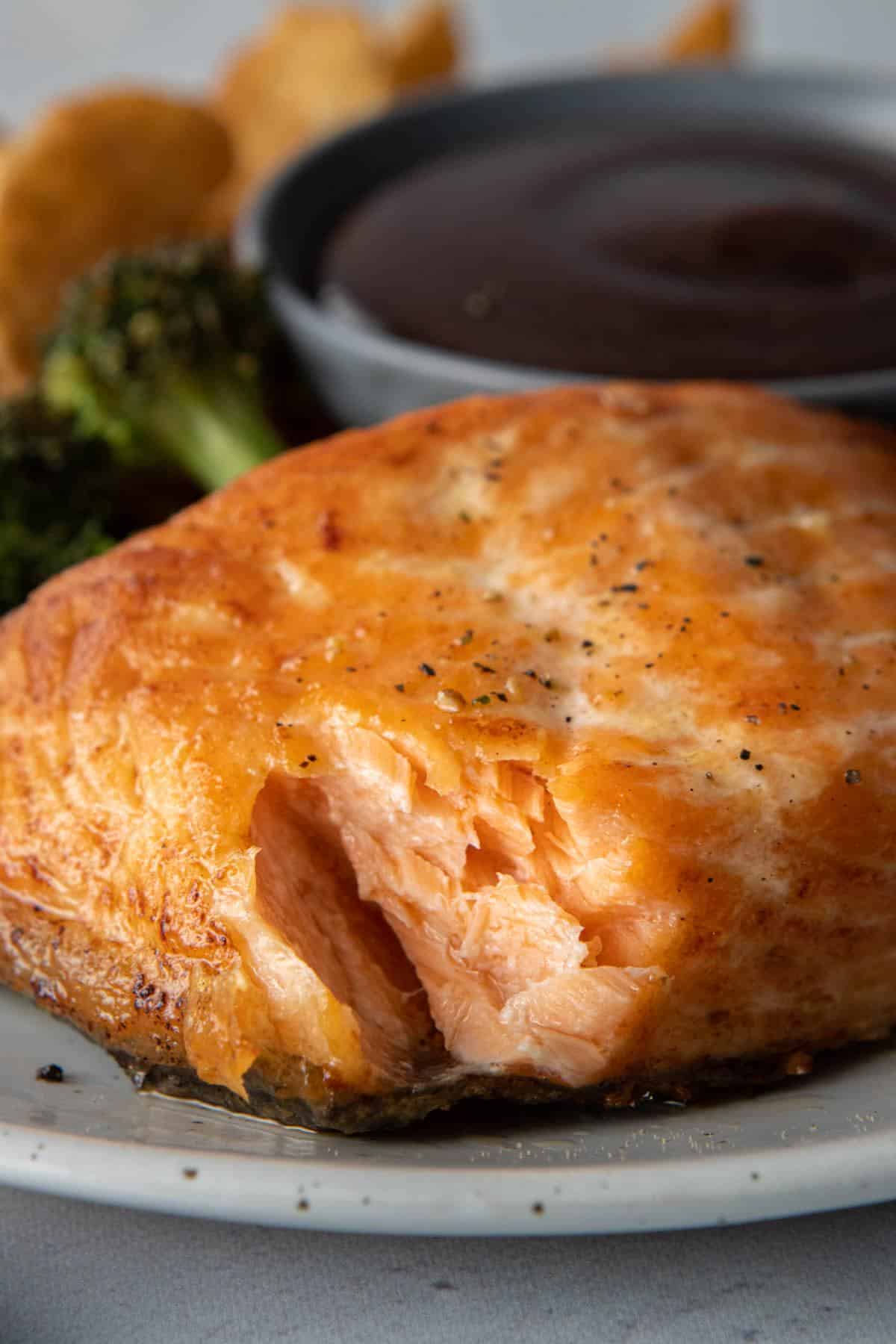 Easy Air Fryer Salmon for One. You can make this from frozen too!
Ok that was a long, intense article on meal planning for one. If you're feeling overwhelmed right now, just move through the post one section at a time.
Start by focusing on the meal planning guidelines, then go from there, a day or week or whatever at a time.
FAQ
How do you plan a meal for beginners?
The first thing is to plan for one more meal than you're doing now. Don't jump in and plan everything. Use the guide in this meal planning for one to get started. It's long, so maybe start with one step even. That's fine.
Now, tell me, what have you learned about meal planning for one? What's helpful, what would you add to this list?