As a dietitian, who also cooks for one, I've got years of experience and insight into how to make meal planning for one easy, NOT wasteful, and actually make your life easier. I'm excited to share what I've found to be helpful with you here.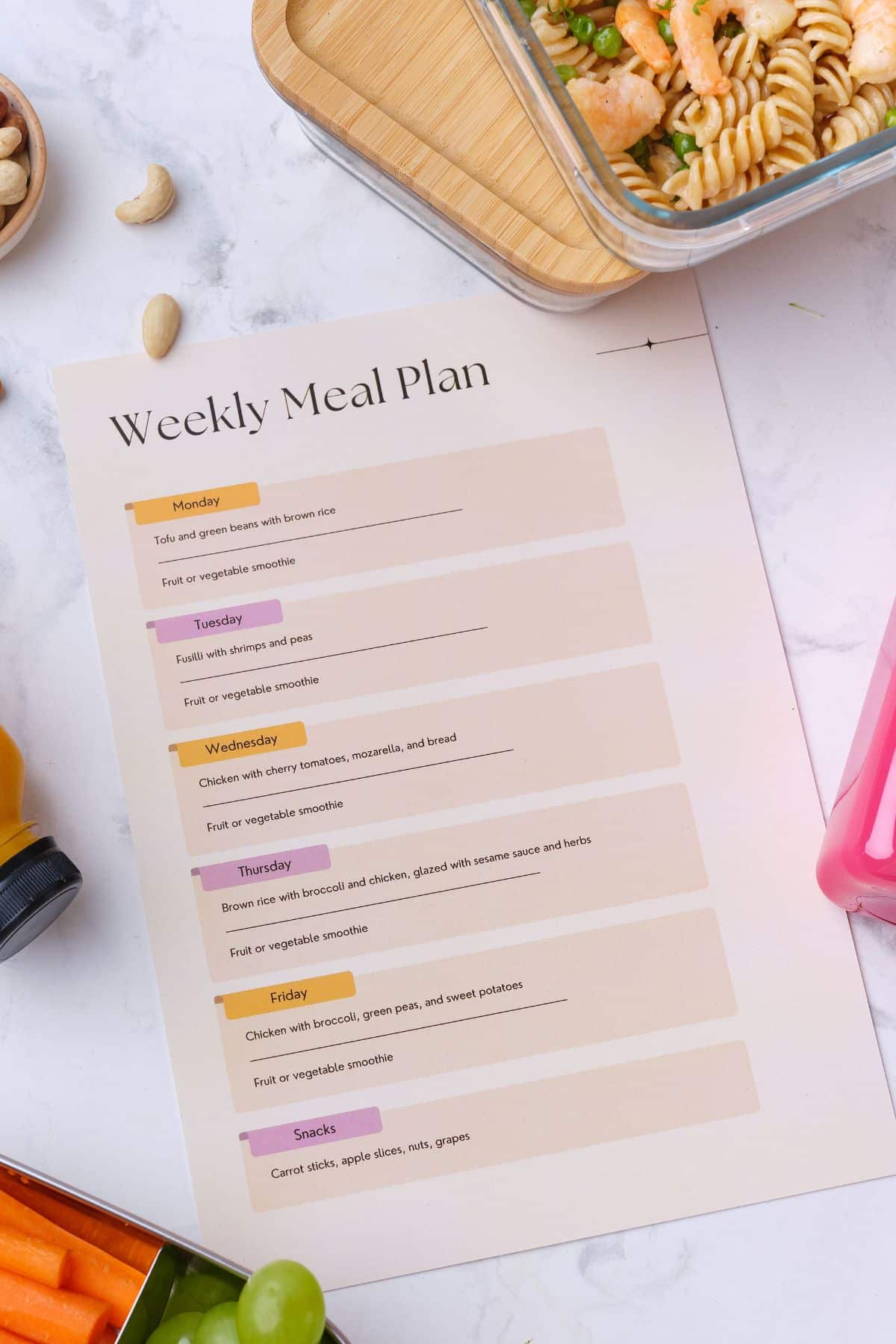 Why should you meal plan?
I've asked my audience and clients about what they want to make cooking for one easy A LOT. And they always say they want single serving recipes. I have shared lots of these recipes here and created a free 10 recipe cookbook to download. BUT they're not all you need. They get so excited for these recipes, but, often don't actually use them. That's where meal planning for one comes in.
Before I go into it more, it's not their fault that they don't make them as they hoped they would. Same goes for you, if you've tried to cook more, but haven't followed through or stuck to it, your methods may be the reason. Not you or your determination, you just need to switch what you're doing. And that's easy! Recipes are great, but to cook, you need a plan. As cliche as meal planning is, and as much as I hate what it implies, meal planning for one is crucial to cooking more at home if you want to.
Here are a couple meal planning ground rules:
Hate cooking? Don't force yourself to cook
This IS HUGE. I hear it a lot, "I hate cooking, but I have to" First off the bat, DON'T FORCE YOURSELF TO COOK THEN. The great thing is that there are so many options for you! Frozen meals, semi-fully prepared meals, take-out, grocery store deli, meal delivery kits, etc. The list goes on and on. Forcing yourself to cook when you hate it will never lead you to like cooking. It'll just make you hate it even more. Meal planning for one is not just about planning homemade meals, it's about feeding yourself.
But I do want to add a caveat, you may hate one particular aspect of cooking, that you can easily change and find joy in cooking. This is a great time to turn inward and think about why you hate cooking. You may realize it's a step in the process that you hate (this is something we talk about in the Solo Cook's Program), you may realize you've made cooking more complicated than it needs to be or that you really hate meal planning. Etc. If you want to work through these feelings more quickly than you can do on your own, check out the Solo Cook's Program or schedule a call to see if I can help you through one on one nutrition counseling.
Think about how you'd eat if you could eat/cook anything.
This is a fun question I ask all my one on one clients and people in the Solo Cook's program. Think about it, what would you do if you could do anything? It's great insight to see what you want to focus your time on and what you want to outsource. Meal planning should revolve around merging your reality with your dream.
It's a game changer.
Be Flexible
Being flexible is also a game changer. I've heard from many people who cook for one & from many clients that they don't want to plan their meals because they don't want to be stuck having to make those foods. So they don't plan, and they end up wasting food, cooking less than they want, and hating it all. That's why rethinking how you plan meals is really important.
Why does it have to be don't plan at all or plan everything and stick to it?
If you've made this mistake that I have made, and many of my clients have made, that's ok. But it's time to change the way you think about planning & cooking. Flexibility is the key to enjoying cooking, sticking to it, and making it actually work for you. It's integral to my meal planning for one process. If you've made this mistake of thinking you absolutely have to stick to your plan, you're not alone, but now is the time to rethink cooking & planning, because you deserve better than to believe that you either can't plan anything or have to plan everything & stick to it.
The thing is that your life as a single person is very different than anyone else's life who is cooking for their family. We automatically just take what works for them & implement that into our own lives, and are left feeling frustrated and stuck. That's why we need to look at meal planning for one as something different than 'traditional' meal planning. This approach will make eating much more enjoyable.
You have to look back at how you've planned & eaten in the past to plan in the future
Do you do this at all?
Looking back at how you've planned/eaten in the past isn't to judge what you did/didn't do, it's a great opportunity to OBJECTIVELY look back at what made life easier for you, what didn't, and what you can change to make cooking/eating easier in the future.
This is something I work with my clients on, it's the first step of meal planning. We spend a lot of time looking back to move forward. it's super helpful and insightful. Especially when you're able to approach it without judgment. If you'd like help doing this, let's talk to see if I can help you!
I also want to answer a few practical questions I hear a lot:
How do you create a meal plan?
Meal planning for one starts with writing down what you're going to make/eat each day of the week, you can do this for dinners, breakfast, lunch, or any combination that makes your life easier. It's that simple, but not necessarily that easy. A good meal plan takes the guesswork out of eating during the week, but it also doesn't take over your life. What you plan should be easy and fit within your schedule. Don't make the mistake of having to fit your schedule around your meal plan or ditch your plan because it doesn't work in your life.

Here are a couple tips I recommend when you're meal planning for one so it's easy & something you can stick to:
1. 'Shop' your kitchen for groceries first
2. Plan your meals based on the time you have to cook & your evening plans
3. Take into account what has & hasn't worked when you've planned your meals in the past
4. Be flexible

Check out the Custom Dinner Kit, which walks you through this whole process of planning & scheduling meals for one.
How do I make a dinner menu for a week?
There are lots of ways to make a dinner menu for a week when you're meal planning for one. I recommend this simple process:
1. 'Shop' your kitchen
2. Plan meals based on the time you have to cook & the ingredients you already have
3. Make a shopping list
4. Think about shortcuts
5. Make your meal
6. Reassess how it went and make changes.
How do you organize a meal plan?
There are lots of ways you can organize your meal plan. What I've found to be helpful is to fill out each section that I mentioned in the section above, like actually write it all down. I recommend using an actual calendar to write your plan on, that way it's really easy to glance at and follow.
How do you plan a meal for beginners?
I recommend following the process laid out in the section called "how do I make a dinner menu for a week" but just do it for one day. each step I include is important and will help you out. If you're brand new to meal planning, I recommend investing in something to walk you through the process. I created the Custom Dinner Kit to help you get started. Check it out here.
How do I create a healthy meal plan?
A healthy meal plan is one that's flexible, allows you to eat foods you enjoy, and incorporates a variety of foods. As a dietitian who teaches Intuitive Eating, no two people's meal plans will look the same. You can read more about my approach to nutrition here.
How do I stop wasting food?
A lot of people I talk to about cooking for one feel like they waste too much food. And I get it, it's easy to get excited about a recipe (or a couple), buy all the ingredients, then be too busy or tired to cook, so you put it off…. until the ingredients start to rot. OR you buy what you need, but those ingredients come in too big of a bag or whatever, so you're left with extra green onions or other ingredient.

To waste less, I recommend meal planning. It doesn't have to be really intense or anything, but look at what is happening during the week to plan your meals. You can find specific tips in the sections above.

I also recommend making substitutions. The thing is that lots of foods have substitutions. Especially vegetables in dishes. You can probably substitute 75+% of vegetables in a dish and still have it turn out great. If the thought of making substitutions in cooking, but you still want to stop wasting food, I recommend checking out my Solo Cook's Program. We focus on practical tips and tactics int he kitchen to make cooking easy & stop wasting food.
Here are a couple resources to get you started:
Now, tell me, what have you learned about meal planning for one? Or do you have any more questions about it?