This healthy strawberry sauce is my newest favorite recipe. It has zero added sugar, and takes 5 minutes to make. You're well on your way to a super easy and versatile sauce.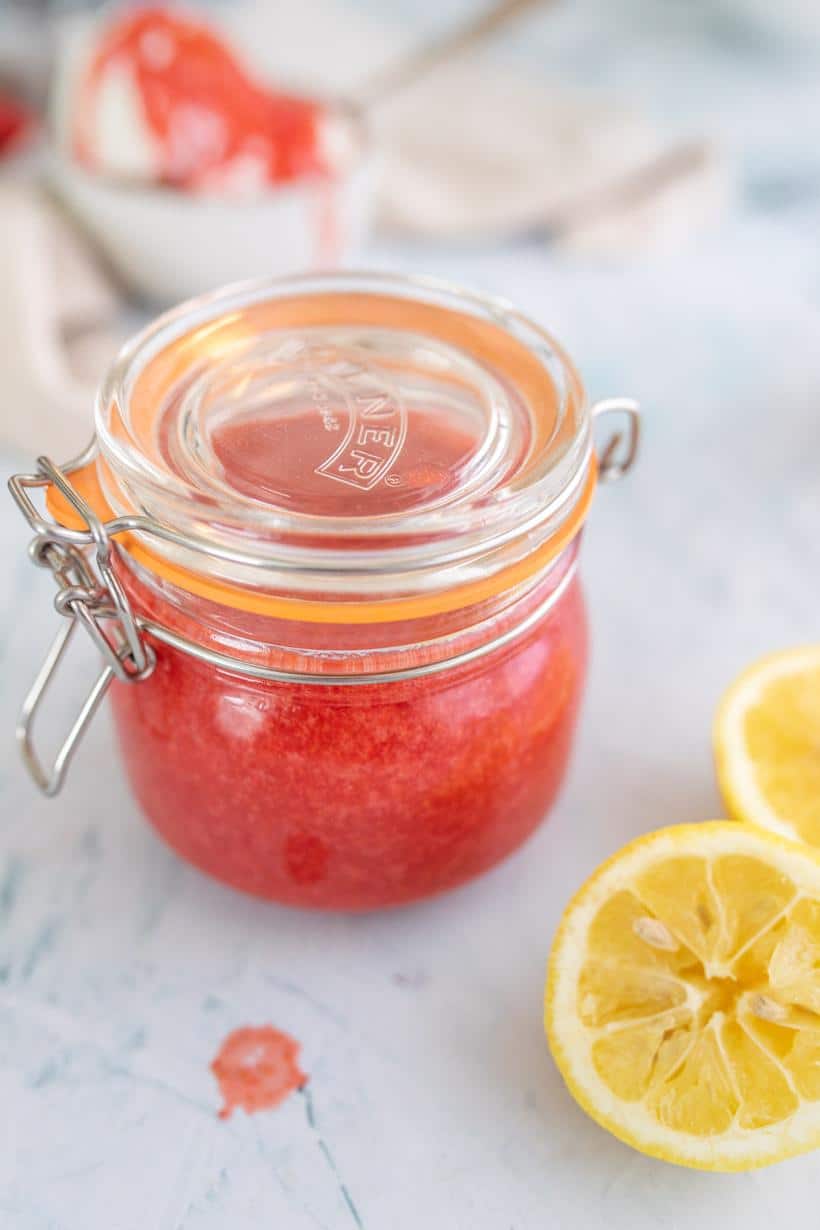 [This recipe was originally posted in February 2017. It has been updated for photos and content.]
PIN HERE to add to your recipe box.
Here are a few more great dessert recipes: Oatmeal Cherry Bars, No Churn Blueberry Oreo Ice Cream, Small Batch PB Chocolate Cookies, and Small Batch Double Chocolate Cookies.
How this healthy strawberry sauce is gonna make your life easier
Let's be honest here, 99% of sauces you can find at the store just don't taste that great. There's nothing like a sauce made with fresh seasonal fruit. But if you're like me and have no desire to boil strawberries or put much effort into making a dessert sauce, this healthy strawberry sauce is for you.
Why I love this recipe
I love ice cream, but have learned 2 lessons about my taste preference thanks to practicing mindfulness. I don't like most store bought dessert sauces. Especially the fruit flavored ones. But sometimes I just want a smooth fruity addition to ice cream. That's where this healthy strawberry sauce comes in.
This strawberry sauce recipe is so simple, it's got fresh strawberries, a squeeze of lemon juice, and a pinch of salt. You can eat it lots of ways, but it's best over ice cream because the cold ice cream hardens the sauce just enough that it forms a shell on top. How fun is that?!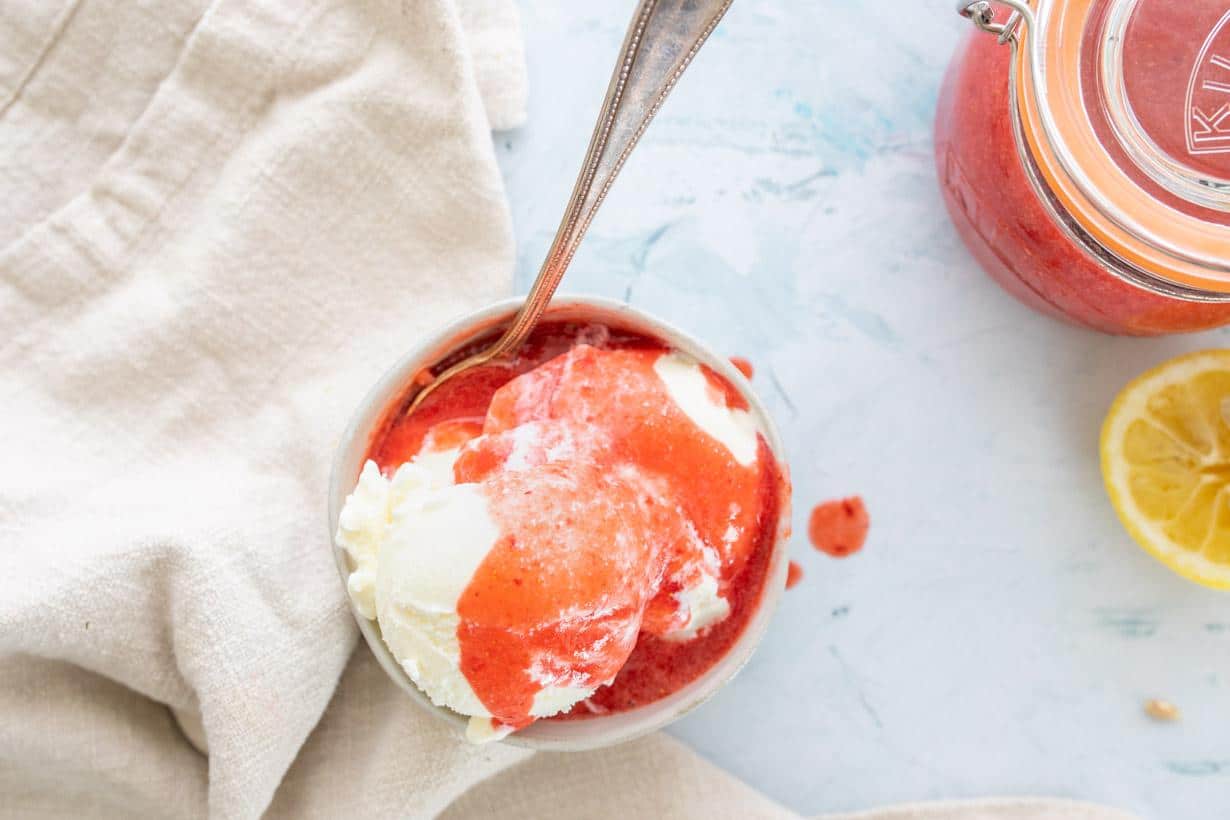 How to make this healthy strawberry sauce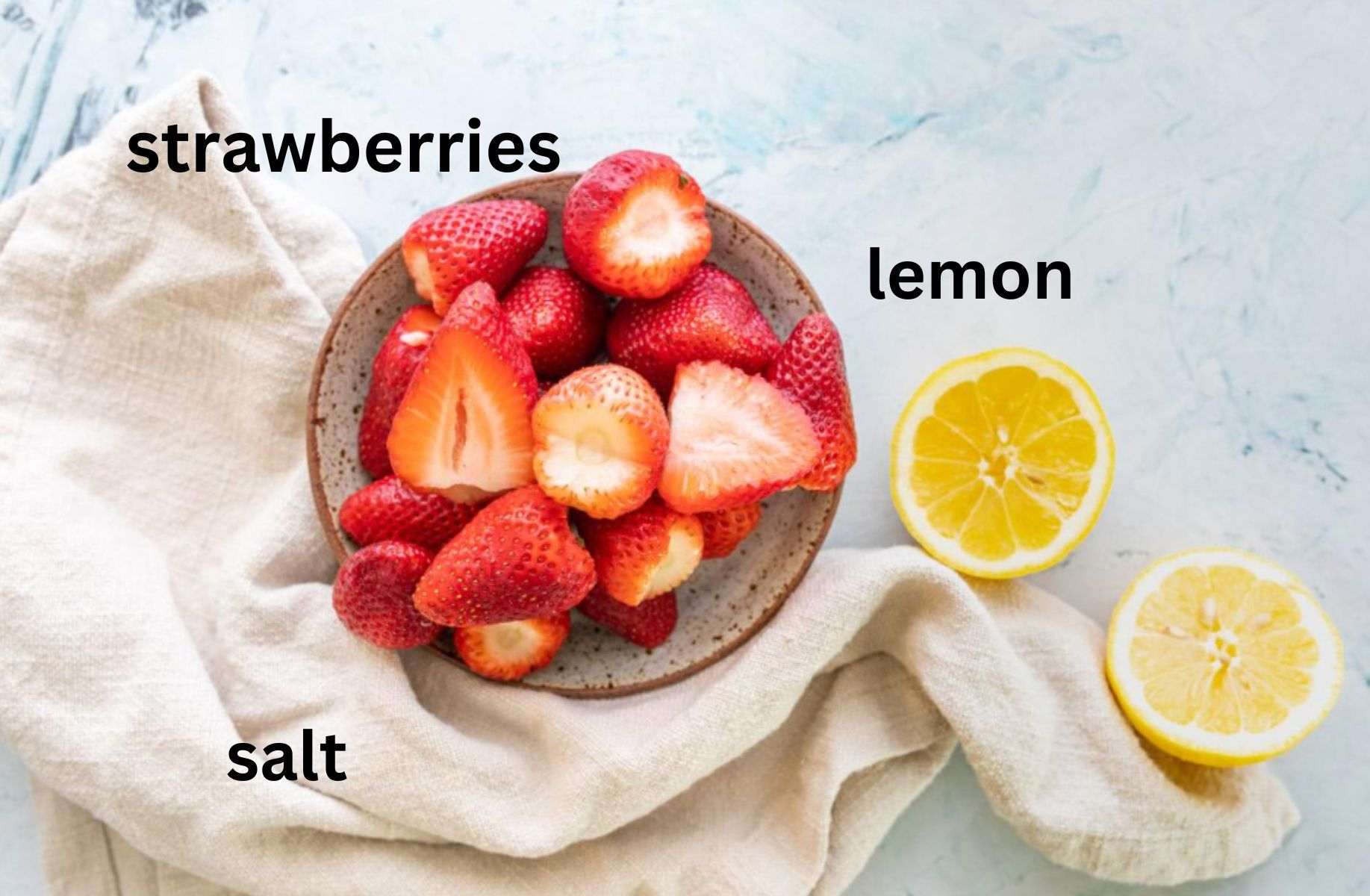 To prepare the ingredients, remove leaves from strawberries. No need to slice strawberries since you'll be blending them up. Slice lemon in half down the center, and remove seeds so they don't drop into the strawberries
Pile strawberries into a blender jar, squeeze lemon juice over strawberries, and add a pinch of salt. Turn blender on and pulse until berries are pulverized and sauce is smooth. Different blenders will take different amounts of time. Check by stirring with a spoon to see if you find any chunks of strawberry. Taste, and add lemon or salt if needed. If strawberries aren't very ripe or flavorful, considering adding a bit of sugar to bring out the sweetness and flavor of the strawberries.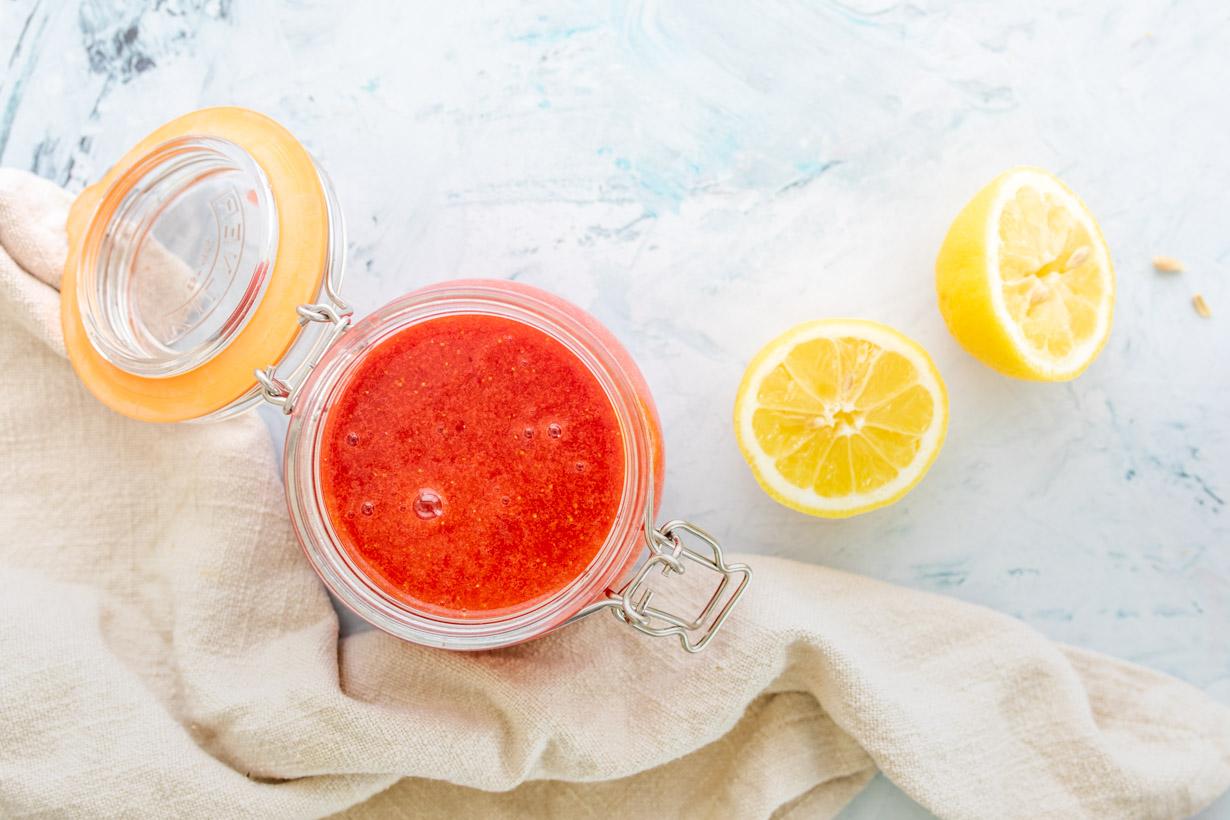 Once it's smooth, pour into glass jar to store for a week.
Expert tips
This is the perfect way to use up strawberries that are starting to go bad. You know the ones you don't really want to eat plain. They're really ripe, sweet, and perfect for this sauce
Don't use early season strawberries that lack flavor, your sauce just won't be that delicious. I highly recommend using up your last farmers market strawberries or others that are packed with flavor.
Want to thicken it up, add some chia seeds. They'll soak up the liquid and you can use it as jam too!
FAQ
How to thicken the sauce
If the sauce is too thin, I'd recommend adding 1-2 tablespoons of chia seeds. It's easy, you let the chia seeds do all the work, and it adds a fun texture! (note that it does take 30+ minutes for them to absorb the liquid to thicken up)
Can I make this sauce with different fruit?
Yes absolutely! Add just a bit of the lemon juice & salt between tastings to make sure it tastes good. Add as much as you prefer. This sauce is fruit forward, so it'll work with any fruit. I'm already thinking it'd be great with blueberries, raspberries, blackberries, peaches. Oh and be aware of the water content of the fruit you use. The peach sauce will probably be thicker, but still so delicious.
Ways to repurpose/uses for this healthy strawberry sauce
The best part of this healthy strawberry sauce recipe is just how versatile it is.
It's great over ice cream, brownies, between cake layers
on yogurt
added to a smoothie
mixed with olive oil to make an easy summer salad dressing
Add to lemonade for strawberry lemonade (replace ½ cup sauce for berries in this recipe)
Have extra strawberries? Here are a few of my fave recipes using strawberries
Did you make this healthy strawberry sauce? leave me a comment to share how it turned out!
5 Minute Healthy Strawberry Sauce
This healthy strawberry sauce is my newest favorite recipe. It has zero added sugar, and takes 5 minutes to make. You're well on your way to a super easy and versatile sauce.
Equipment
knife

cutting board

blender

Measuring Spoons
Ingredients
½

pound

strawberries

washed and stemmed

½

teaspoon

lemon juice

pinch

salt
Instructions
Add ½ lb strawberries, ½ teaspoon lemon juice, and a pinch of salt to the bowl of a high powered blender. Blend until smooth. Serve over ice cream, yogurt, cream, as a salad dressing, or anything else!
Notes
Use ripe seasonal strawberries to get sweet, flavorful sauce.
Consider adding a bit of sugar if strawberries aren't super ripe and red in color
Adjust lemon juice based on taste preferences
Want to get more single serving recipes delivered to your inbox? Click here to download my Single Serving Cookbook.