This easy smoothie with granola and frozen berries is a great breakfast for busy mornings. It's delicious, easy, and made with ingredients like yogurt, frozen berries, banana, and spinach that you may already have in your kitchen.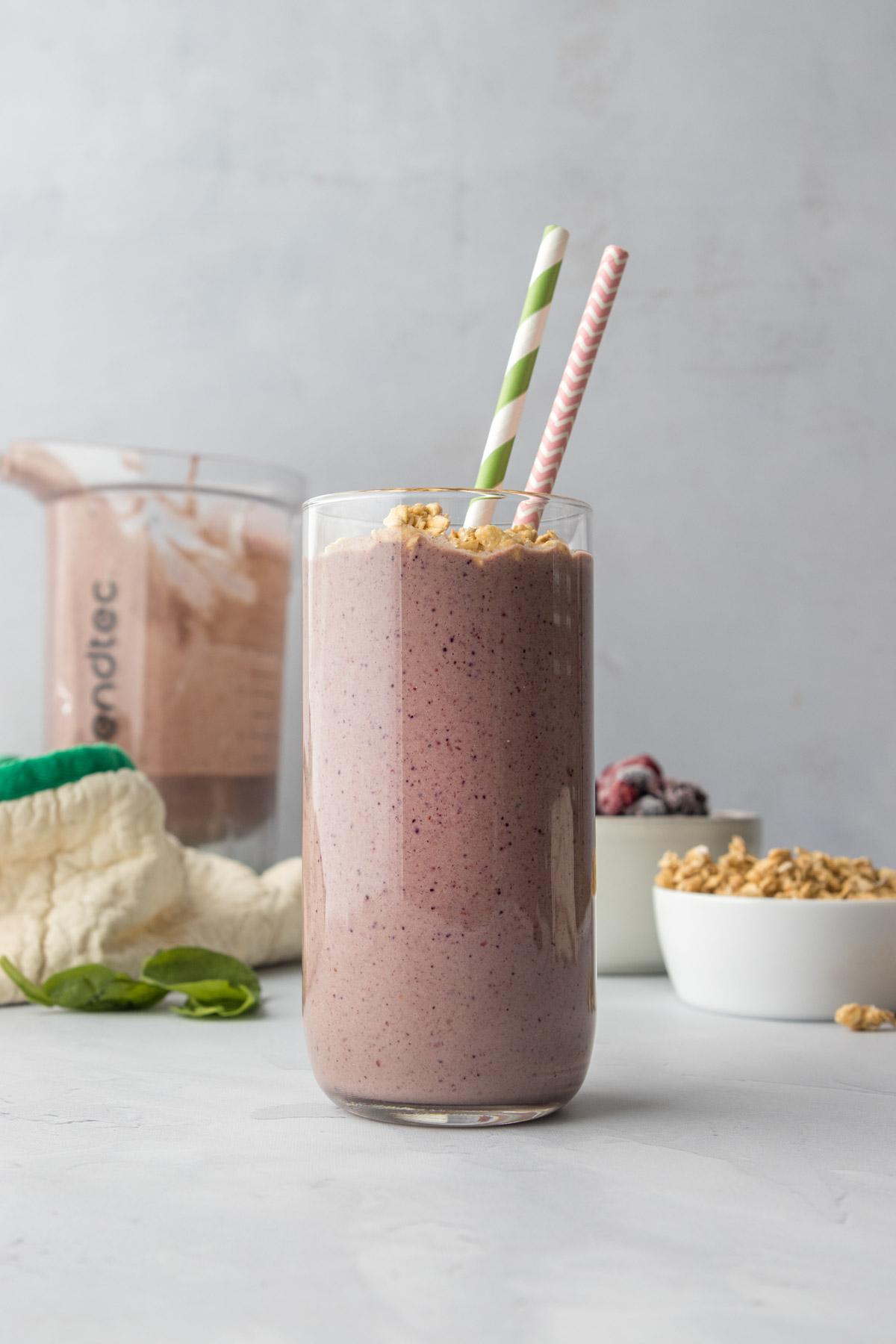 [This recipe was originally posted in August 2018. It has been updated with new photos, cooking instructions, expert tips, FAQ, related recipes, video and ways to repurpose/use up ingredients]
Table of contents
We all need a good and easy smoothie recipe in our back pocket. This berry smoothie with granola is super easy, made with ingredients you may already have, and it's adaptable-meaning you can just ingredients that you have already.
It's based on a smoothie I used to get from Jamba Juice in college. The berry smoothie was creamy, thick, and topped with sliced bananas and granola. I like to blend in the banana because it's easier, but top with granola for a nice crunch.
This smoothie recipe makes one serving, so you won't be left with another serving if you're making breakfast for one.
Plus with the addition of fiber filled granola, the berry smoothie with granola is more filling breakfast than most smoothies.
Ingredients
Scroll down to the smoothie with granola recipe card for the amounts of each ingredient, but here's a quick visual + description of what's in this recipe.
Yogurt: I usually use plain Greek yogurt, it's what I have in the fridge. But use any berry, vanilla, or similar flavored yogurt that you have.
Banana: A fresh or frozen ripe banana adds sweetness and creaminess to this smoothie. I love adding bananas to smoothies.
Frozen Berries: I usually have a big bag of frozen berries in my freezer, so that's what I use, but use one type of berry if that's what you have. Frozen fruit makes for a creamy, thick smoothie with granola.
Spinach: It's one of my fave smoothie add-ins and a great way to use up spinach that's starting to wilt. It blends up well, melds the smoothie flavors together, and doesn't leave you with a spinach-y flavored smoothie. Highly recommend!
Milk: I like using protein-rich milk in smoothies. It doesn't change the flavor a lot, and makes the smoothie blend easier.
Vanilla: I don't always add vanilla to smoothies, but with plain yogurt and berries, it's a nice sweet tasting addition.
Granola: I like to mix in granola instead of blending it in for a nice crunch. It makes your smoothie more satisfying and, well is something a bit different!
Instructions
Scroll down to the recipe card for more detailed instructions. Here's a quick overview + photos to see how to make this recipe in general.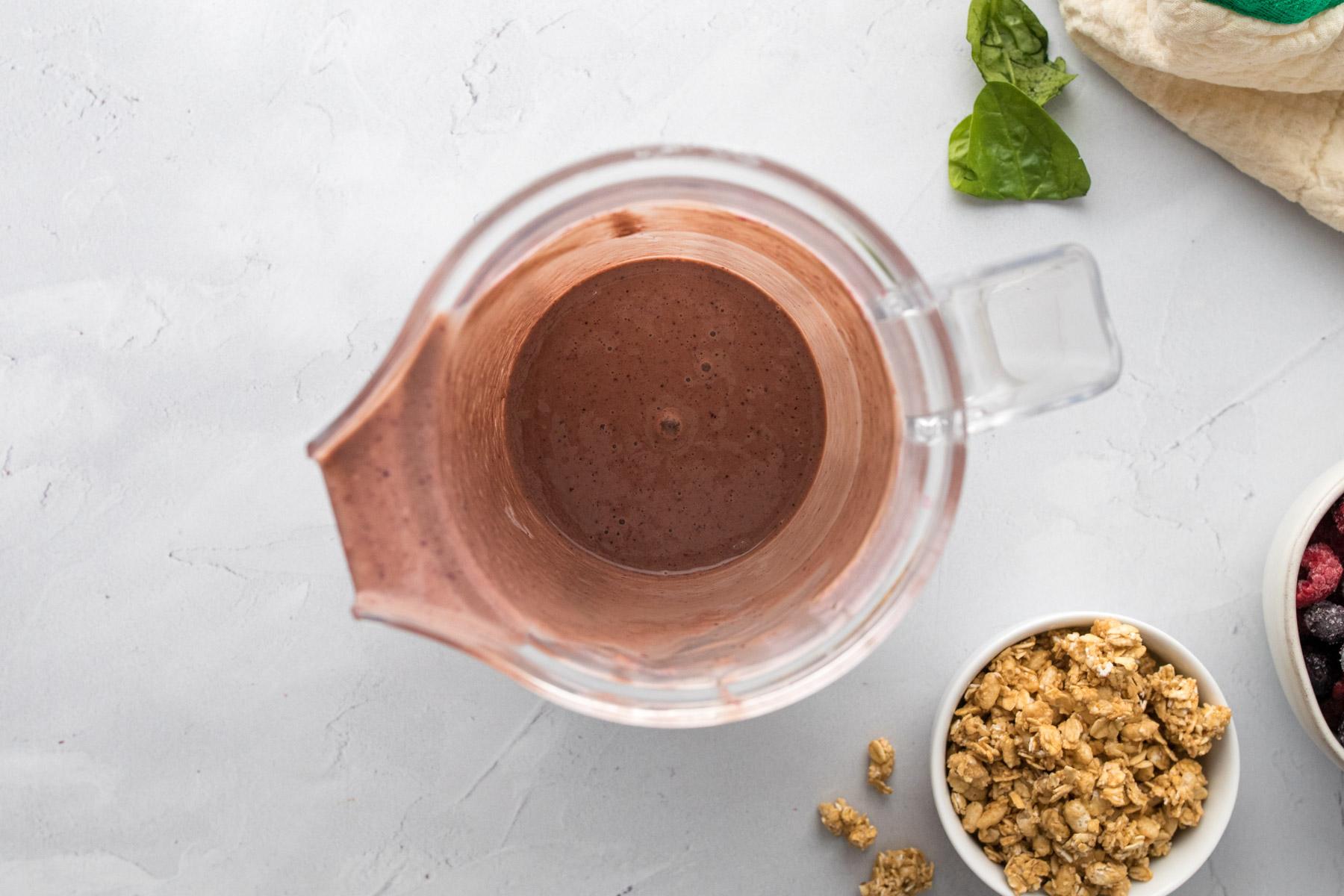 1.Add all ingredients, except granola to blender jar. I like to start with the yogurt and banana for easier blending.
Skip adding vanilla if you're using vanilla yogurt, unless you love vanilla.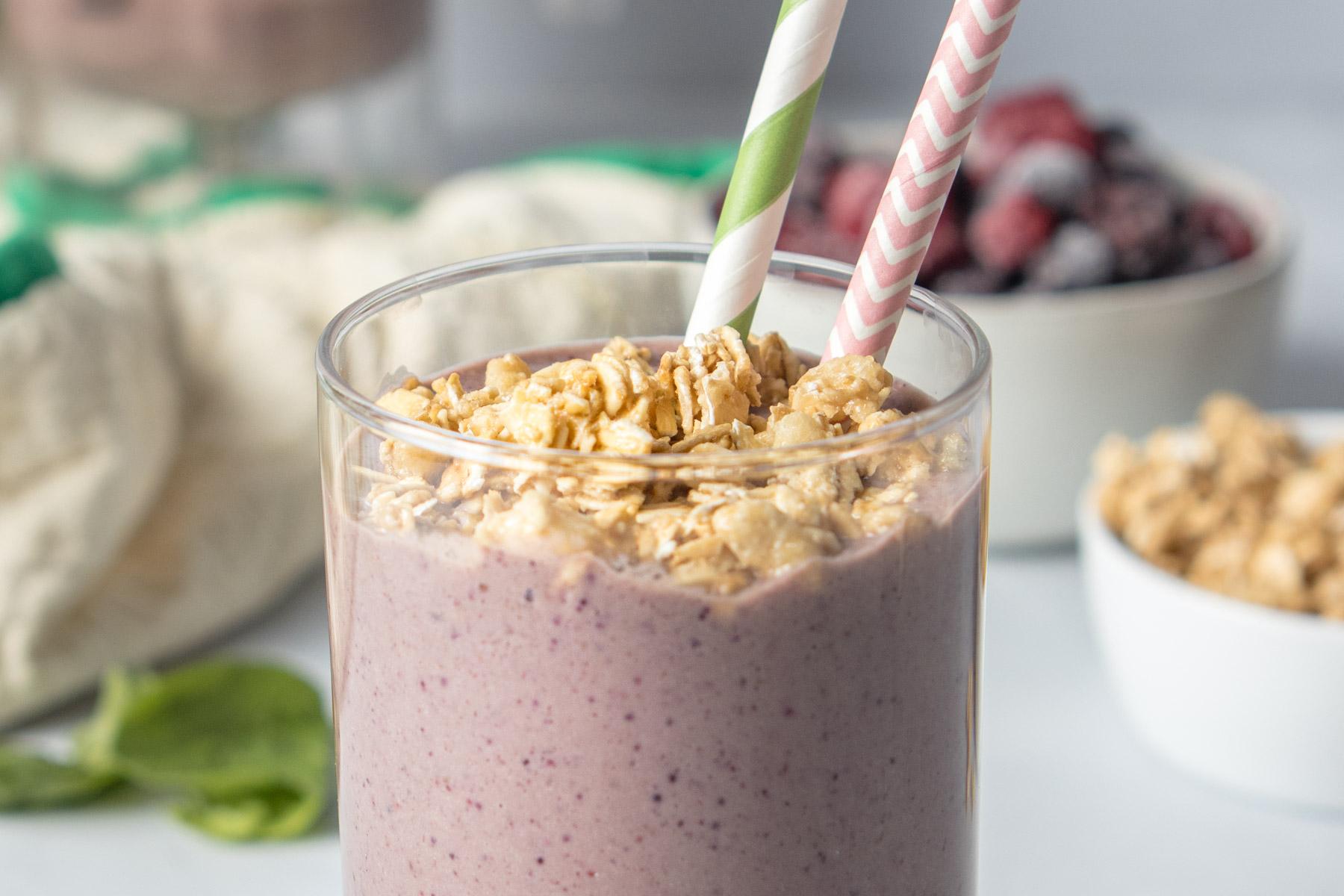 2. Sprinkle granola over your berry smoothie with granola. It's great with pumpkin flaxseed granola or this Homemade Peanut Butter Granola.
I recommend eating this smoothie with a spoon, or sip it.
Storage Tips
You can store leftover granola smoothie, but it doesn't keep well. I recommend drinking it at once. I haven't done this, but you could possibly pour leftovers into an ice cube tray and blend into a future smoothie (for you) to reduce food waste.
Substitutions/Tips
Use whatever kind of yogurt, fruit, granola that you have. It will taste a bit different with substitutions, but you can always taste it and adjust after if needed.
If using fresh fruit, add a couple ice cubes to thicken the smoothie.
Freeze bananas that are too ripe to eat (make sure to peel the peel off before freezing). You can use these in smoothies, banana bread, and you can make banana ice cream with them.
Use wilting spinach (or kale) in this berry smoothie with granola recipe. No need to throw it away. Or add a couple Tablespoons of frozen spinach.
Other great add-ins: flaxseeds, chia seeds, ice cubes, etc
FAQ
Do you put ice in a smoothie?
Ice can definitely go into a smoothie, but it doesn't add any flavor, if you want to use flavorful ingredients, add frozen fruit to make it thick and cold.
Are fruit smoothies healthy?
Fruit smoothies, like this berry smoothie with granola often have lots of nutrients in them, from the fruit. If you add yogurt and milk, there's also some protein and calcium. All foods can fit into a healthful diet, don't try to eat only 'healthy foods'.
Can you make a smoothie with granola?
Definitely. You can either blend granola with your smoothie for it to be smooth or add it on top and stir with the smoothie for granola bits in your smoothie. It adds extra flavor and fiber, I highly recommend this addition.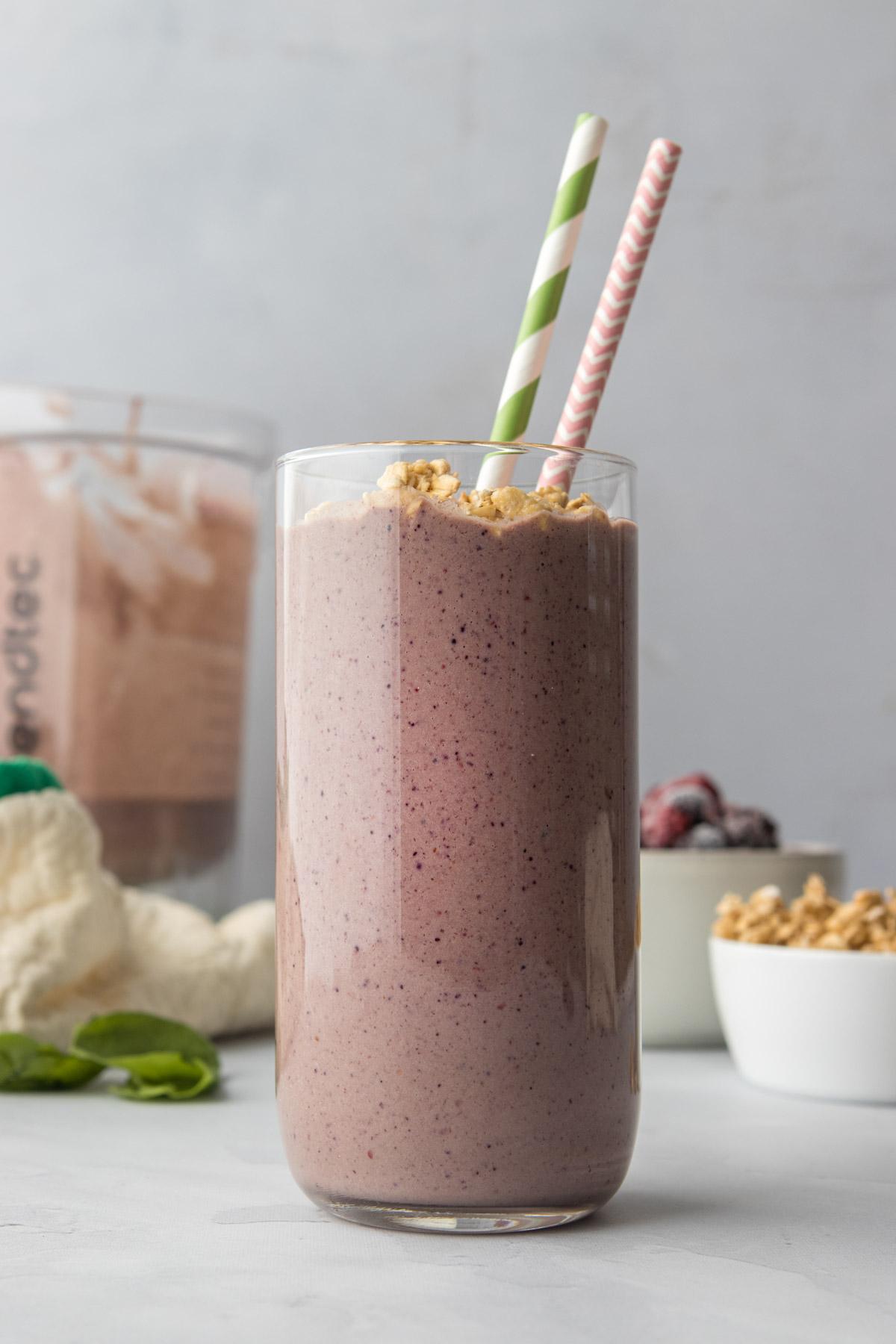 Other good smoothie recipes
What to do with leftover ingredients
When you're cooking for one, you often have leftover produce, cans of whatever ingredient, etc. Here are a couple ideas on how to use up the leftover ingredients. It'll help you save money by wasting fewer ingredients.
Did you make this berry smoothie with granola? Leave me a comment & rating to share how it turned out!
Smoothie with Granola and Frozen Berries
This easy smoothie with granola and frozen berries is a great breakfast for busy mornings. It's delicious, easy, and made with ingredients like yogurt, frozen berries, banana, and spinach that you may already have in your kitchen.
Equipment
High powered blender

Measuring Cups

Measuring Spoons
Ingredients
½

cup

yogurt of choice

or individual container

1

banana

1

cup

frozen berries

handful

spinach

½

cup

milk

or enough to get desired consistency

1

teaspoon

vanilla extract

1-2

tablespoons

granola of choice
Instructions
Add ½ cup yogurt, 1 banana, 1 cup frozen berries, a handful of spinach, ½ cup milk, and 1 teaspoon of vanilla to blender. Blend on high until combined.

Transfer to glass, top with granola, enjoy immediately
Notes
Use your favorite yogurt, I prefer plain so the fruit flavors really come out.
Use a fresh or frozen banana, same with spinach, just use about ⅓ of a handful of frozen since it's concentrated.
Use whatever granola you have, I like this Homemade Peanut Butter Granola or Chocolate Protein Granola.
Want to get more single serving recipes like this smoothie with granola delivered to your inbox? Click here to download my Single Serving Cookbook.
Recipes are great, but you'll need a simple 3 step process to create a meal plan that make cooking easy & helps you stop wasting food. Check out this expertly developed meal planning guide to get started.