This super easy 2 ingredient PB Greek yogurt dip is a great staple to keep in your fridge or at work for those times when you find yourself getting hungry between meals.
This post was created in partnership with Dannon Light & Fit. I have been compensated for my time commitment. However, my opinions are entirely my own and I have not been paid to publish positive comments.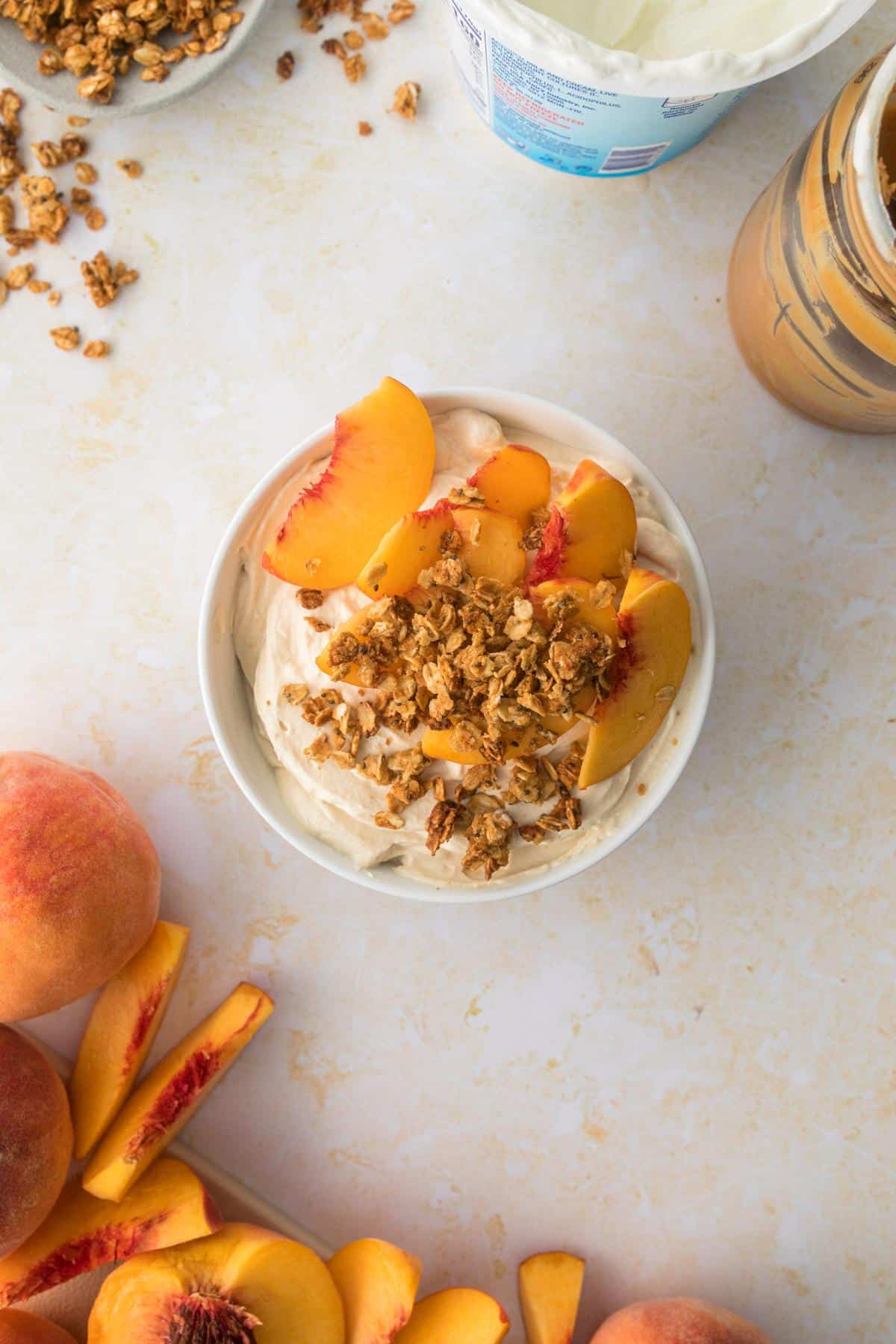 PIN HERE to add to your recipe box.
How this PB greek yogurt fits into my lifestyle
Some days I need a snack, and others I don't. Instead of just leaving things up to chance and my current feelings right then, doing a bit of planning sets me up to have a snack that's nourishing, delicious, and will leave me feeling great throughout the day.
Like I've said before, I started working solely from home at the beginning of the summer and it's been quite the transition. One difficulty that surprised me is having a fully stocked kitchen within a few steps, or I'm working in the kitchen. Unlike my previous jobs, I didn't have as much access to food outside what I packed for lunch.
Obviously it is really helpful for those times that I felt signs of hunger or intentionally wanted a snack, but I've also found myself reaching for food when I wasn't feeling hungry, or actually when I was feeling full but wanted it because it was there. I share this, not to indicate that it's bad to eat when you're not hungry or to feel cravings for any food, or anything, but to show that a) even with my understanding and personal practice of eating intuitively and trying to incorporate mindfulness, I 100% eat for reasons other than hunger or intention.
(by eating out of intention, I guess I just mean that sometimes, I eat when I'm not hungry or needing food, but it want it and I try to incorporate mindfulness so I can enjoy it and pay attention to how my body reacts to that experience)
and b) I am a normal human being who gets triggered (to eat) by seeing food, or seeing a commercial, or just having a random thought, or just wants something for zero reason other than I know that it tastes delicious. In no way do I want to punish myself or feel like I'm not eating 'right' when I do this, especially because that leaves me feeling worse, but I've found that when I do this, I often get stomach aches and don't physically feel good. I may not be able to focus on work any longer, I may not be able to physically feel comfortable after eating past full. I've found a few tactics that help me nourish my body, enjoy it, and still leave space for cravings and changing plans.
One helpful tactic is prepping snacks and meals ahead of time. The point of planning this all out is to provide options without significant barriers for those times you find yourself overly hungry. Because when you wait to eat until you're starving, you're biologically programmed to seek out the densest and easiest options. Obviously there isn't anything wrong with this, and it's a protective system, but if you're in the position to have choices, it's helpful to have a choice that is easy and is set up to leave you feeling satisfied and ready to get back to the daily tasks of life.
Really what I mean by all of this is that when I plan out a few snacks and meals during the day, I eat before I get overly hungry which feels better emotionally and physically, I eat an amount of food that generally leaves me feeling comfortable and my body feels good, and I don't experience an abnormal preoccupation with food. This is good for my wellbeing because I am able to eat foods that I enjoy, I'm able to avoid getting overly hungry or full, and I can eat then move on. That's powerful for me. Plus, I still leave room to change up my eating plans, and that's awesome too!
This is where this PB Greek yogurt dip comes into play. It's deliciously satisfying, and super easy to keep on hand for those times when I'm feeling hungry between meals or just want a quick and delicious bite. Not only does it taste satisfying, but it's got protein and calcium which are essential nutrients for us to consume. The 2015-2020 Dietary Guidelines for Americans recommend increasing intake of nutrient-dense foods, such as fat-free or low-fat dairy products, like yogurt. Yogurt is nutrient-dense and often many yogurts are a good source of protein and calcium. Greek yogurts typically contain more protein than regular yogurts. Plus, Greek yogurt is so smooth, creamy, and delicious! It's really a win-win recipes.
How it'll make your life easier
Well, it's 2 ingredients, it can be stored in the fridge for a couple weeks, and it's fun for the whole family. I'm a firm believer in the fact that healthful choices don't have to be boring. With a balanced variety of delicious choices, Dannon Light & Fit Original Greek Nonfat Yogurt has great options that also fit your active lifestyle. Food is not only to be enjoyed, but it's functional. Properly nourishing yourself for your favorite way to move will allow your body to feel good and to enjoy moving. It takes practice and experimentation, but you can easily find the foods that help keep you feeling good.
This easy dip is an amazing home or work snack, it's also fantastic to pack in your kids' lunchbox. Dip apples, pretzels, graham crackers, bananas, peaches, crunchy pears, celery, whatever else into it. It's delicious and an awesome vehicle for dipping snacks.
Quick Notes on This PB Greek yogurt dip
I used chunky peanut butter, because that's the kind I have in my fridge. Use chunky or creamy, whichever fits your heart's desire.
If you've got a peanut allergy or are sending it to school that doesn't allow peanuts, replace the peanut butter with your favorite nut butter or sunflower seed butter
I learned about this easy peanut butter dip while working as a clinical dietitian at a large hospital in Utah. They'd make this dip in the kitchen and serve with apples to the women in the maternity ward. I immediately fell for this dip.
I like using the vanilla flavor of Dannon® Light & Fit® Original Greek yogurt because you don't have to add a sweetener. The yogurt has vanilla and a touch of sweetness in it already, which is awesome and makes this recipe just 2 ingredients.
PB Greek yogurt dip
This super easy 2 ingredient peanut butter Greek yogurt dip is a great staple to keep in your fridge or at work for those times when you find yourself getting hungry between meals.
Equipment
Measuring Cups

Measuring Spoons

small mixing bowl
Ingredients
1

carton

Dannon® Light & Fit® Original Greek Yogurt, vanilla flavor

2

tablespoons

favorite peanut butter
Instructions
Add peanut butter to carton of vanilla Dannon® Light & Fit® Original Greek yogurt. Stir together.

Serve with apple slices, banana slices, pretzels, graham crackers, peach slices, crunchy sliced pears, celery, or other dipping foods
Video
Notes
Dip apples, celery, graham crackers, cookies, in peanut butter dip.
Make sure to follow @lightandfit on Instagram for more delicious yogurt inspiration
Want tips to live your best live delivered straight to your inbox + a free15 minute dinners eCookbook?
thought so
[mailerlite_form form_id=10]
Let's get chatty:
Have you tried a dip like this PB Greek yogurt dip?
What's your favorite Dannon® Light & Fit® Original Greek yogurt flavor?