Learn how to stock a pantry for one person, or really what to keep in your fridge, freezer, and pantry to be able to throw together quick, delicious meals. Stock it slowly or in a couple trips. Whatever works for you!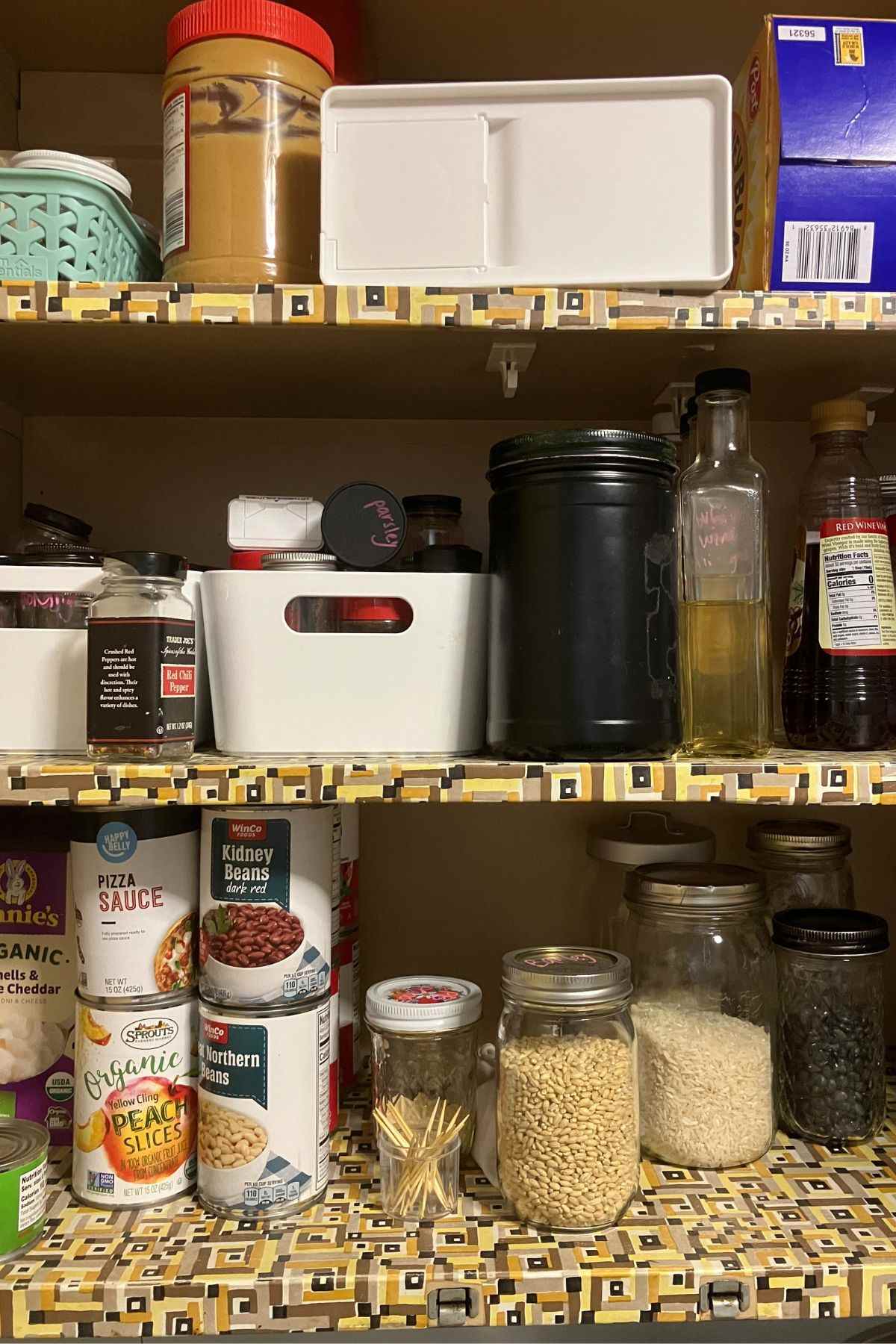 [This post was originally posted in November 2018. It has been updated with updated information, resources, tips, tools, and pantry staples to help you best learn how to stock a pantry for one person]
What you need to know about cooking for one
The two most frequent problems I hear from people who cook for one are: I waste too much food, and it just isn't worth it to cook for myself.
I get it, it's hard to change shopping patterns to reduce food waste (and save money), or it's even harder when you don't know what to buy at the store. That's why I'm showing you how to stock a pantry for one person.
As far as it feeling worth it, well that comes down to whether or not you actually like to cook at all. Sure it's fun to cook for others, it's a way to show care and love, but you deserve that care and love as well.
If you love cooking, but there's something about cooking 'just' for yourself that you hate, you can 100% focus on prepared food or you can find ways to make cooking more enjoyable.
There are lots of ways to do this, but the one I'll focus on here is stocking your kitchen. I'll show you how to stock a pantry for one person. Well a pantry, freezer, fridge.
Having easy ingredients to assemble always around means you can throw together an easy meal without planning or shopping for the week. It's all about being realistic. No need to ALWAYS plan, yet still have tasty food!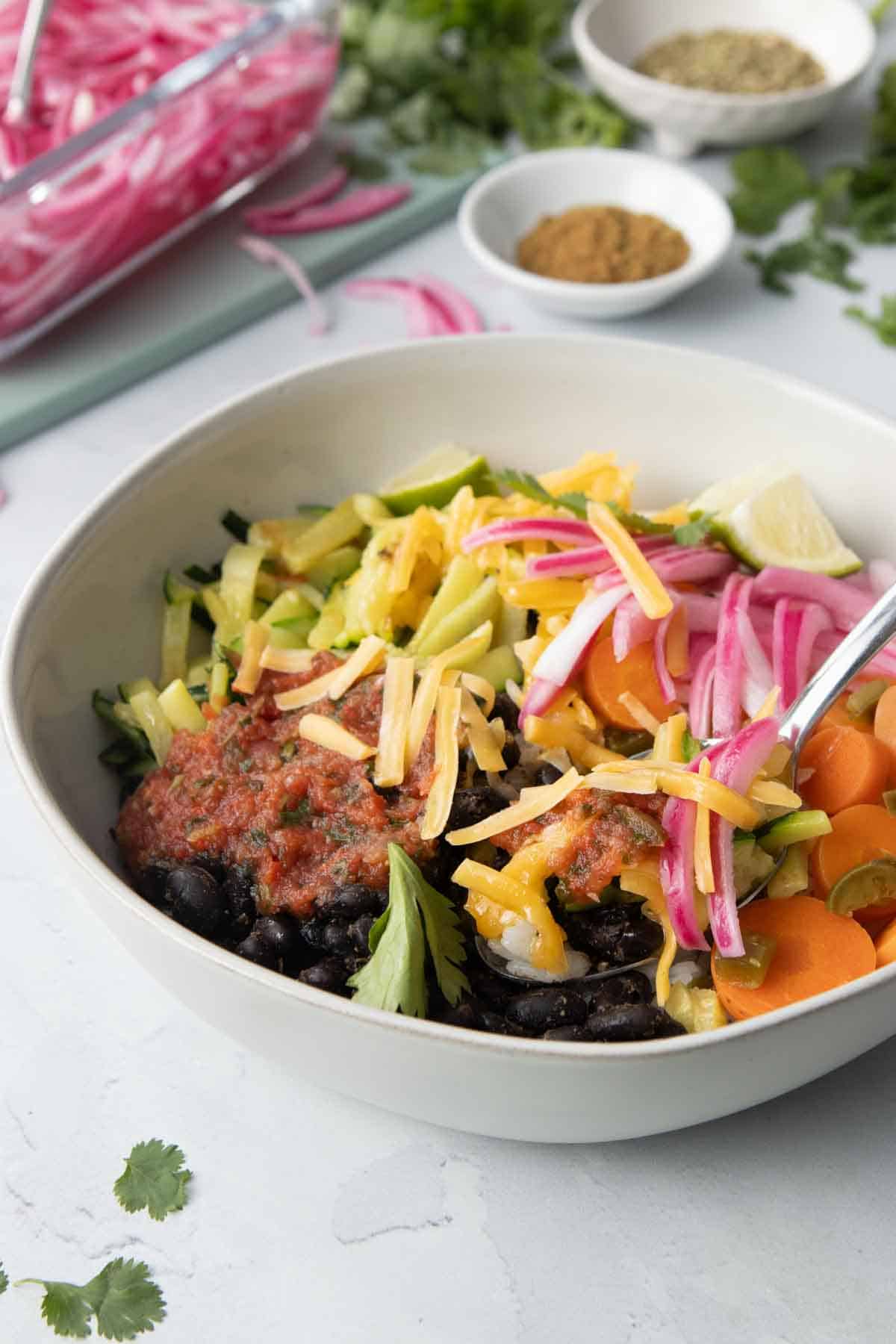 Pantry Recipe: Vegetarian Burrito Bowl
Cooking for One Resources
Why keep your pantry stocked
So here's where we are, for those nights that you are hungry, or get home late and need food ASAP, your pantry will be your best friend. I'm sharing how to stock a pantry for one person to make full meals just for you.
I've got Freezer, Fridge, and Pantry Recipe Ideas for after you learn how to stock a pantry for one person. Make meals easily and within about 15-20 minutes (or less!) and all using pantry staples.
It's easier to have a satisfying, delicious, and balanced meal when you've got a few easy to use ingredients to throw together. Again, that's why I'm showing you how to stock a pantry for one person with your own pantry staples.
Also, let's be reasonable, it may seem great to be able to prep grains or whatever for the week ahead, or to remember to take the 30-60 minutes to cook rice.
But, when you get home from work and want to eat soon because you're hungry or you have to leave again in 30 minutes. The key is learning how to stock a pantry for one person and include ready to eat meals.
There's no time for slow cooking grains, and you probably didn't prep and refrigerate or freeze those grains for quick use.
Check out my Cooking for One Basics video series on Facebook to learn how to actually make those basics easily. Or get the pre-cooked versions.
Well, I probably didn't at least. So with that said, let's be reasonable, if you would love to do that, but don't actually see yourself prepping ahead of time, or waiting for your rice that's ok.
There are options for you. Keep those on your pantry staples list. If you just want to print this pantry staples list out and head to the store, sign up for a free download right here.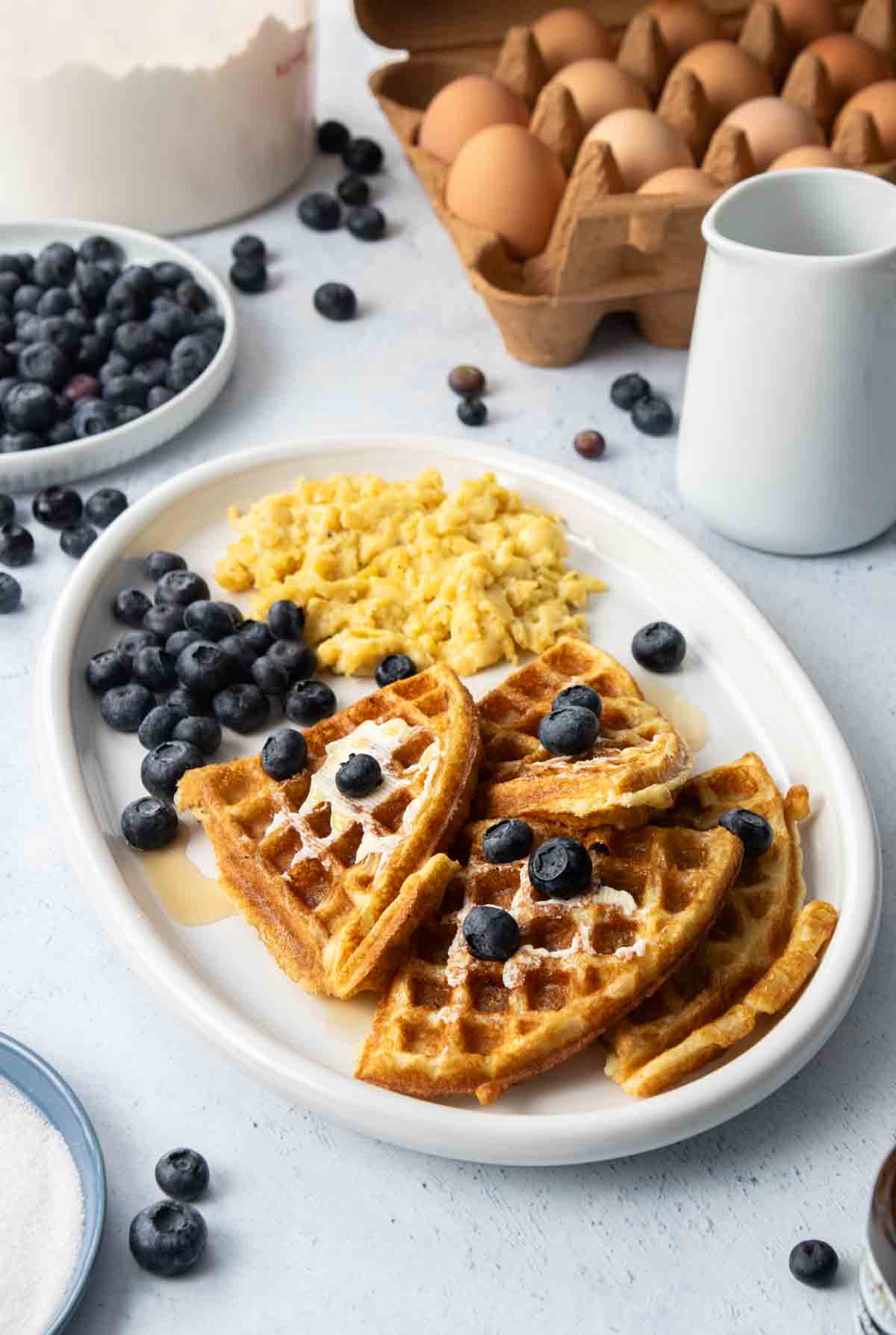 Pantry Recipe: Waffles for One
Cooking for One Shopping Tips
When it comes to actually gathering all the pantry (well, pantry, freezer, fridge) staples, you can get a couple at a time or make one big trip. Learn how to stock a pantry for one person, on your terms.
Just go at your own pace because things like transportation to the store, distance to the store, budget, and other access points are important to consider. So you 100% do not have to get it all quickly.
A couple other tips when actually making your grocery list and shopping:
Order online, have it delivered, pick up, or go to the store. Do what you need/fits within your reasonable options. Stock a pantry for one person on your schedule.
If you're going into the store, consider bulk bins (if your store has them), you can get just as much as you can fit in your bins/whatever or get smaller amounts so the food doesn't go bad.
Get bulk herbs/spices. Again if you have access to bulk bins, bulk herbs/spices are almost always way less expensive than jarred ones, and you can just get what you need instead of a whole jar.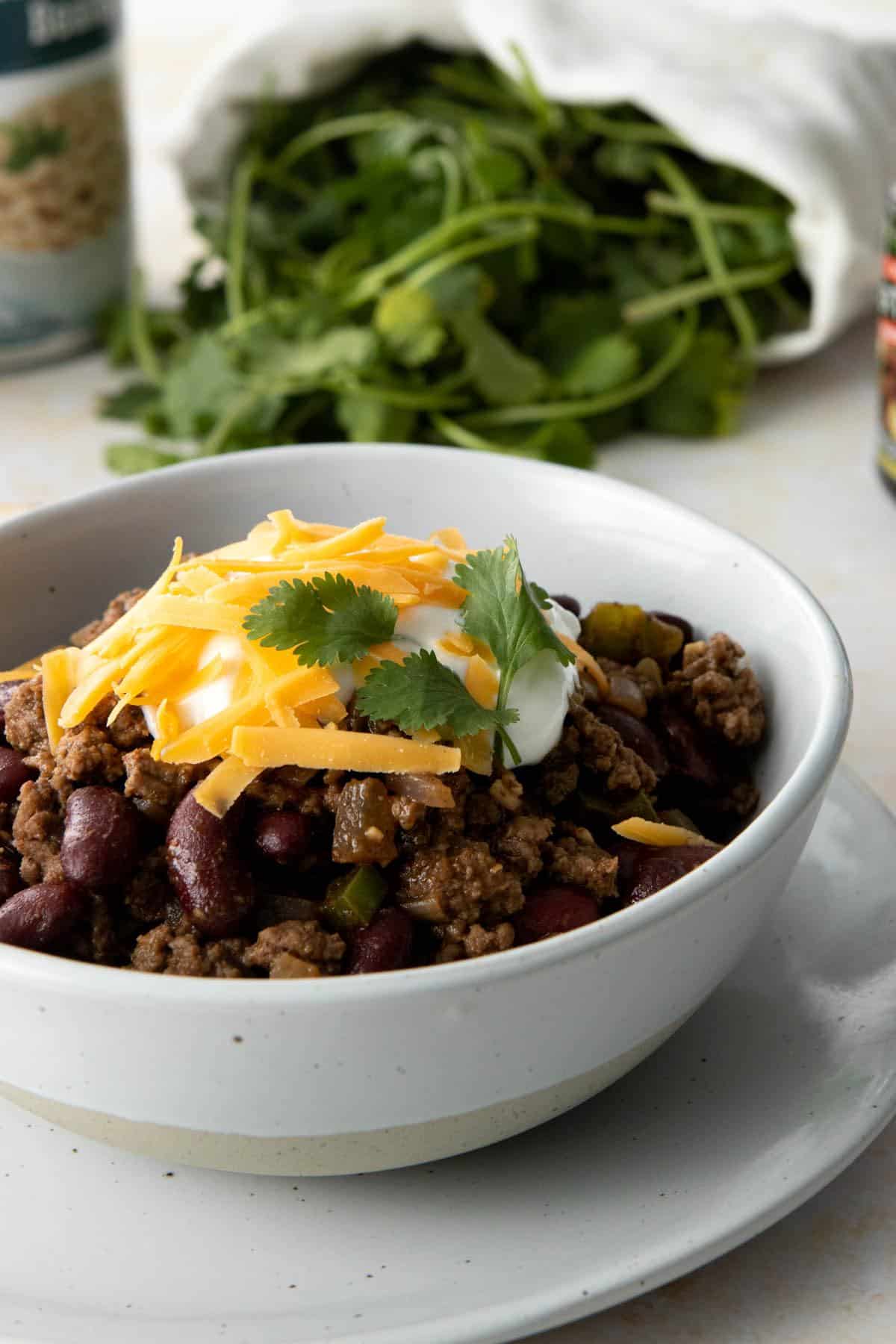 Pantry Recipe: Chili without Tomatoes (you can used jarred or frozen bell peppers)
Tools to Build your Pantry
By tools, I mean containers mostly. There are so many photos and lists of all the tubs and baskets to get to build a gorgeous pantry.
That's great, but expensive. I'll show you how to stock a pantry for one person without having to buy all new containers and baskets etc.
Here are a couple things I find helpful to stock a pantry for one for less and use what you already.
Use food jars/containers. Wash out old spaghetti sauce jars to store your pantry staples in. Etc. Glass ones are great because they're clear, but you can use whatever you already have to save money and get started ASAP.
Get a chalkboard marker. Use it to write what's in the jar on the lid/on the side if needed. It'll help you know what's inside. Bonus points for adding the date you purchased it on.
Get a funnel: If you shop bulk, this is so helpful to reduce wasted food when pouring it into a jar.
Use cardboard boxes: I cut the flaps off a few smaller cardboard boxes to store smaller containers of baking items in higher shelves. That way I can grab the box and pull what I need. it's easier and less likely to drop.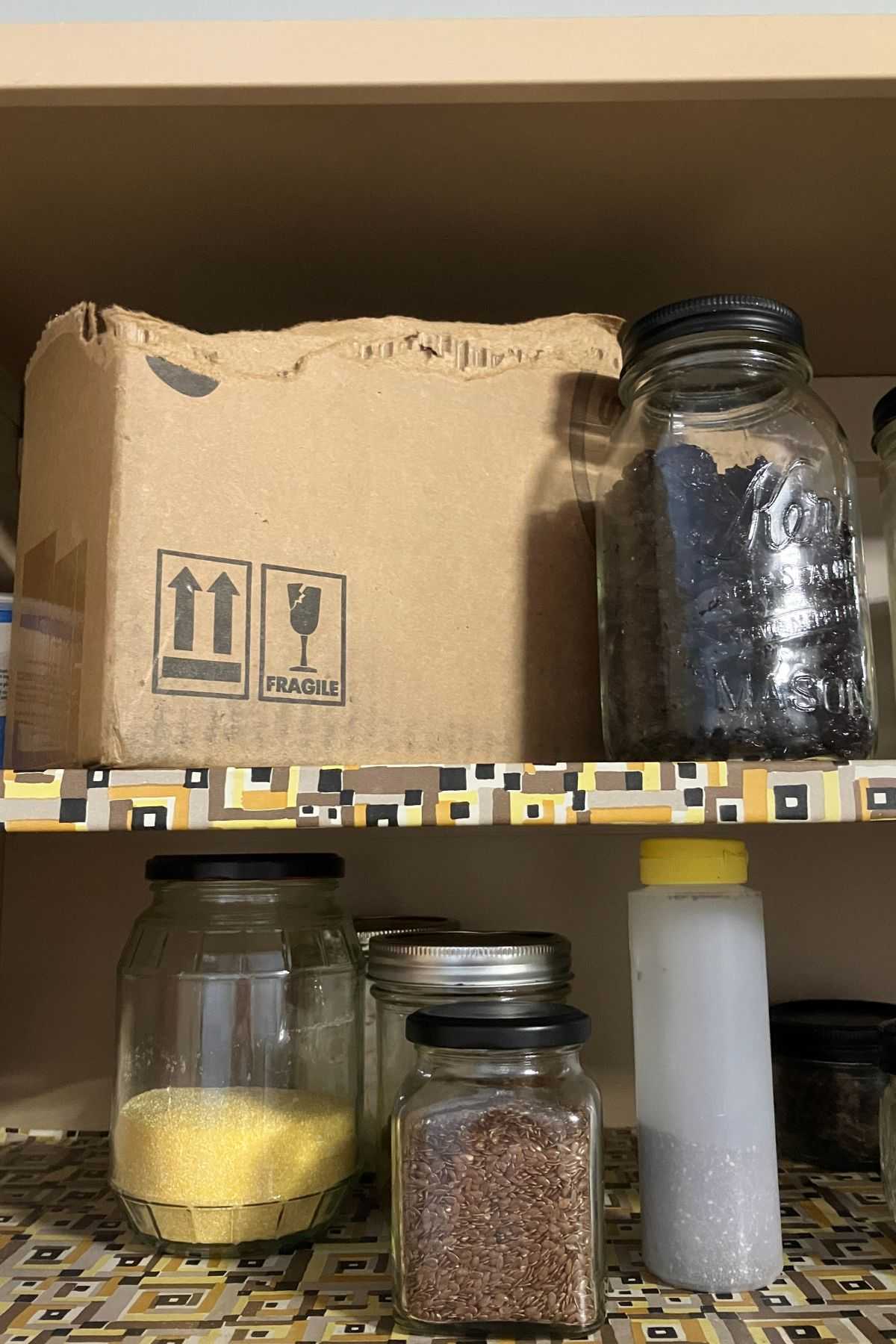 One last thing I love in my pantry, well actually freezer, are Stasher Bags (I got a bunch of used ones on Amazon for a bit less than brand new ones)
They're an investment.
They come in fun colors, are reusable, easy to wash, and store flat in the freezer. I put lots of things in them, and label with my chalkboard marker. I haven't had to replace any, using for the past 7ish years.
Fridge, Freezer, Pantry Staples
This list isn't exhaustive, it's somewhat basic for an American kitchen. It's a great place to start if you're wondering how to stock a pantry for the first time or how to stock a pantry for one person. Adjust to your own needs.
Grains
Keep your favorite grains on hand, try small amounts of new ones too. This is a favorite way to stock a pantry for one person and keep it fun and new.
Rice: Get your favorite kind, including quick rice, frozen rice, or precooked. I like to batch cook extra rice in my Instant Pot and freeze leftovers for later.
Bread: You can freeze sliced bread.
Pasta: I recommend sticking to one or two shapes
Other grains: Quinoa, barley, wheat berries, couscous, etc are great too.
Pancake/Waffle Mix. Make extra servings of the dry ingredients for these recipes, write down amount + additional ingredients. Or buy your fave mix.
Tortillas/Pita: Refrigerate or freeze to last longer. I really like the uncooked tortillas, they're a great add to stock a pantry for one person.
Proteins
I usually freeze my proteins. Buy them already frozen or get on sale and freeze for later. (I store them in my Stasher bags!) Freeze them on a baking sheet, and transfer to a bag for storage.
Frozen uncooked or precooked chicken
Frozen edamame
Eggs: well whole eggs aren't freeze-able. Store in the fridge for a couple weeks.
Sausage
Beans (black, kidney, pinto, etc): buy canned or dry. You can batch prepare some and freeze for later. Beans are versatile and a great add to stock a pantry for one person.
Canned or packet fish
Tofu (silken tofu is shelf stable!)
Frozen fish (like salmon): I don't live near the coast, and lots of seafood is frozen soon after catching. It's already frozen, and less expensive.
Peanut Butter/other nut butter
TVP: This is a newer staple in my pantry. It's textured vegetable protein. It's soy based and super neutral flavor. It's inexpensive and can go in any soup, stew, replace ground meat in sauces or dishes over pasta/rice.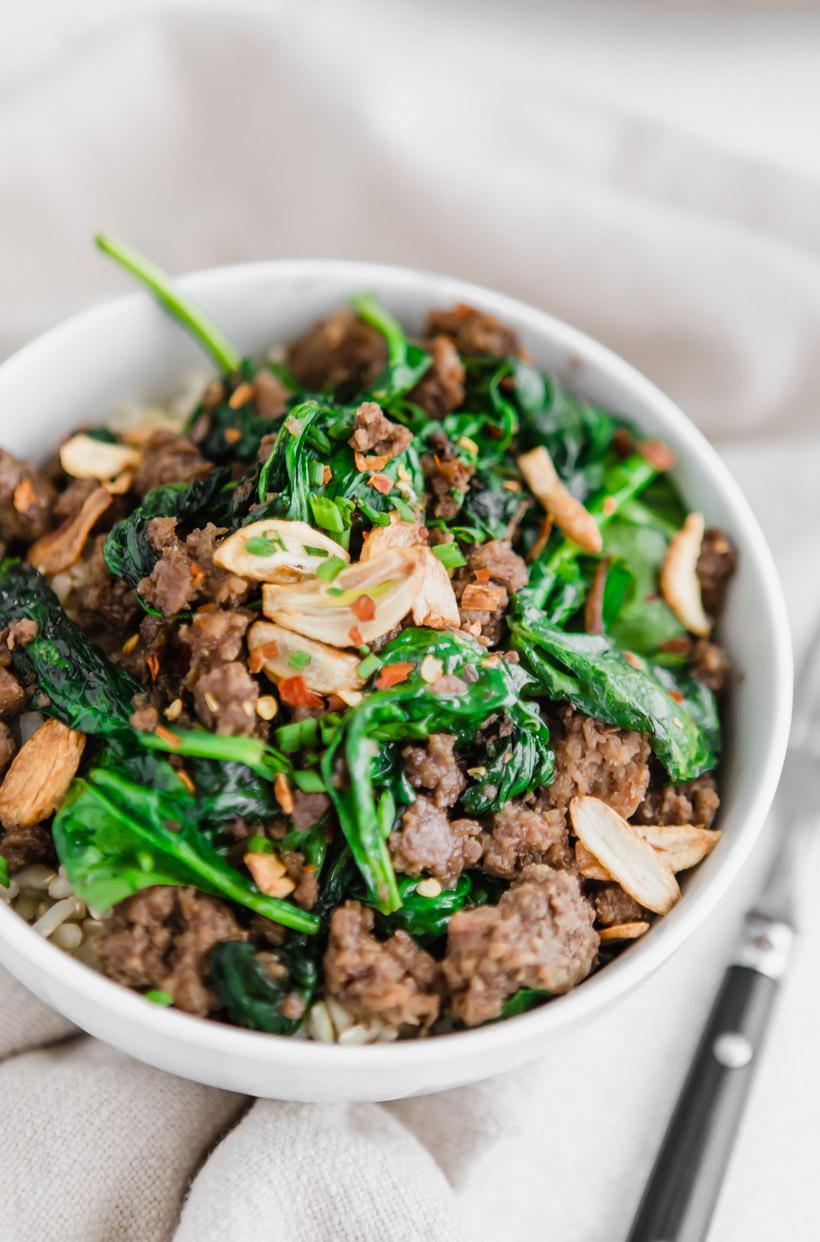 I recently replaced the ground beef with TVP in this Thai Inspired Beef and Spinach Bowl. It turned out super tasty! It's quicker too (you just have to soak it in boiling water/beef broth until the water is absorbed).
Dairy
Plain Greek yogurt (it's so versatile). I use it for breakfasts, replace sour cream (it's another tub to get) with it, and use in baking too. It's a favorite tip to stock a pantry for one person.
Milk
Shredded cheese (I freeze this, it's awesome!)
Parmesan cheese (use a block so it lasts longer than shredded)
Fruits/vegetables
Frozen fruit (hello giant Costco bag of berries)
Frozen vegetables
Frozen Pre-chopped garlic
Canned tomatoes
Fresh fruits/vegetables. I like to wash them and store in a SWAG bag. They last so long! It's another favorite tip to stock a pantry for one person.
Lemons/limes (freeze juice if they're about to go bad)
Premade Meals
Often overlooked, but when I teach stock a pantry for one person, I HIGHLY recommend stashing premade meals in the pantry or freezer. These come in clutch on days where you don't have time or the desire to make anything.
Mac & cheese
Shelf stable meals
Freezer meals
Frozen pizza
Baking Staples
Flour: have some all purpose, gluten free, whole wheat, other flour on hand. Just stick to 1-2, or your favorites when you stock a pantry for one person.
Baking Soda/Baking Powder: they're not just used in baking. Baking soda can also be used to clean.
Chocolate chips: A handful of good chocolate chips is worth a lot!
Granulated sugar
Brown sugar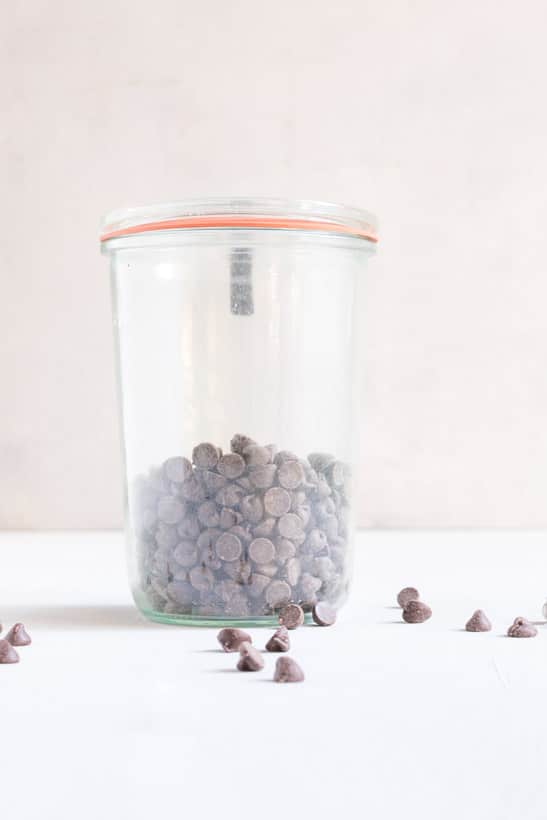 Seasonings
White vinegar: can use it for cleaning, making DIY buttermilk, etc. Storing white vinegar is another favorite ingredient to stock a pantry for one person.
Dried spices and dried herbs (including spice mixes like Italian)
Other vinegar(s): balsamic, red wine, rice, champagne, apple cider vinegar, etc.
Sauces: get what you like/use like BBQ sauce, soy sauce, fish sauce, oyster sauce, pomegranate molasses, etc.
Spicy sauces like sriracha, chili crisp, other hot sauces
Condiments: ketchup, mustard, mayonnaise, etc
Thai red curry paste for this easy Lentil Spinach Curry for One. It's a delicious recipe to make now that you know how to stock a pantry for one person
Salsa: Stock up on your favorite jarred, canned, or homemade. I make my mom's delicious salsa and freeze in ice cube tray for one serving at a time. This is another favorite food to stock a pantry for one person.
General
Canned coconut milk
Extra virgin olive oil
Salt, pepper
Nuts: get a couple of your favorites. Use them in baked foods, in granola, for snacks, etc.
Dried fruit: dried cherries, apples, cranberries, etc are great to have for snacks too
Honey
Maple syrup
Pantry Recipes
Now let's get to some of the easy, flavorful recipes to make with only or ALMOST only stocked ingredients. See what you can do now that you know how to stock a pantry for one person!
Vegetarian Quesadilla Recipe
This vegetarian quesadilla recipe is ready in 10 minutes, it's delicious, and it's the perfect vehicle to use up all those veggies sitting in the back of your fridge.
Check out this recipe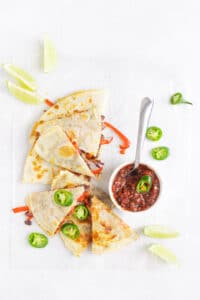 Chapati Roll with Summer Vegetables
This chapati roll, or rolex as it's called in Uganda is the perfect super easy lunch or dinner recipe. All you need is an uncooked tortilla, eggs, cheese, and your fave seasonal vegetables.
Check out this recipe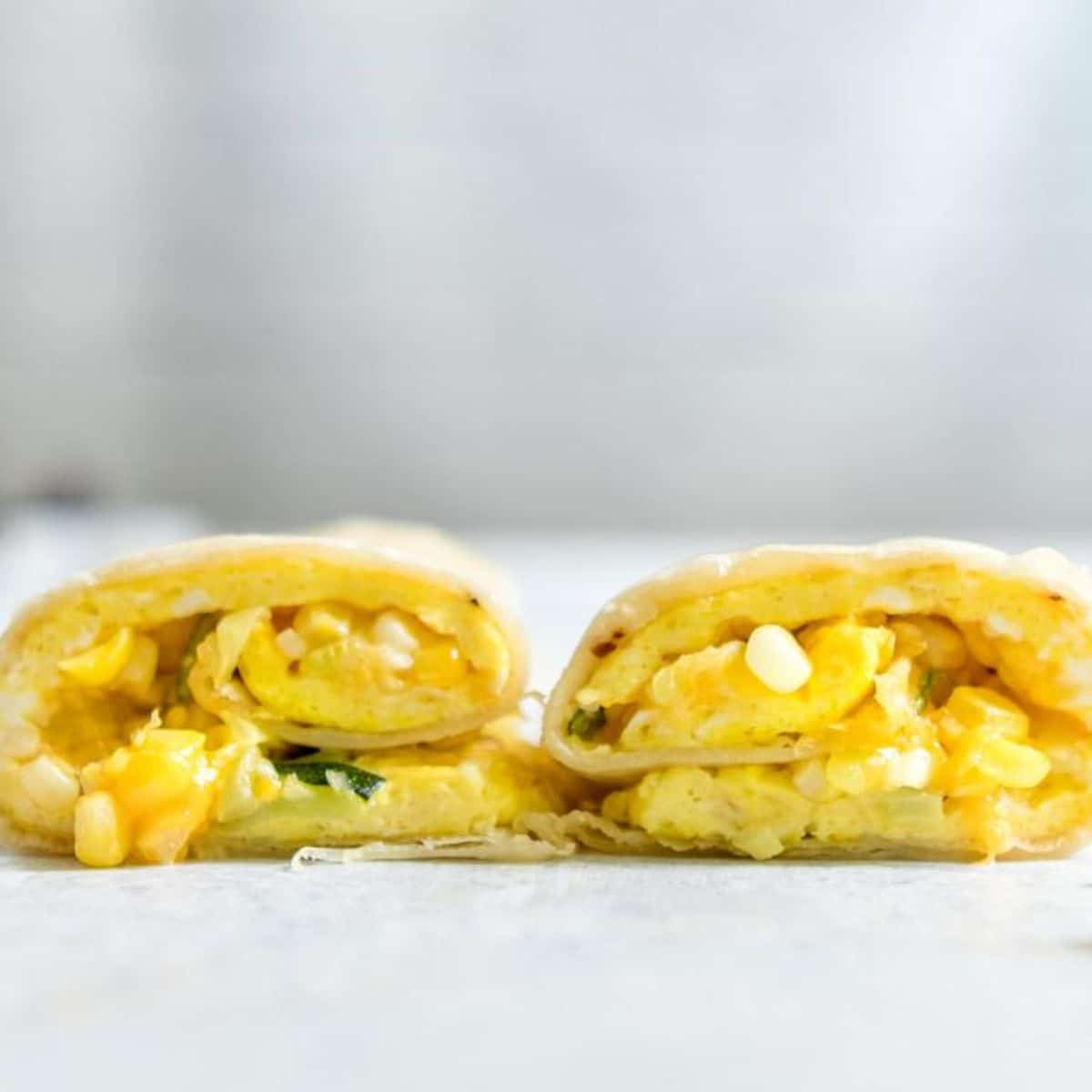 Easy Baked Salmon in a Bag
This easy baked salmon in a bag recipe is bursting with flavor and moisture, you wouldn't believe how easy it is, or that it's done in less than 25 minutes. It's cooked in parchment paper to maintain moisture without any effort or clean up.
Check out this recipe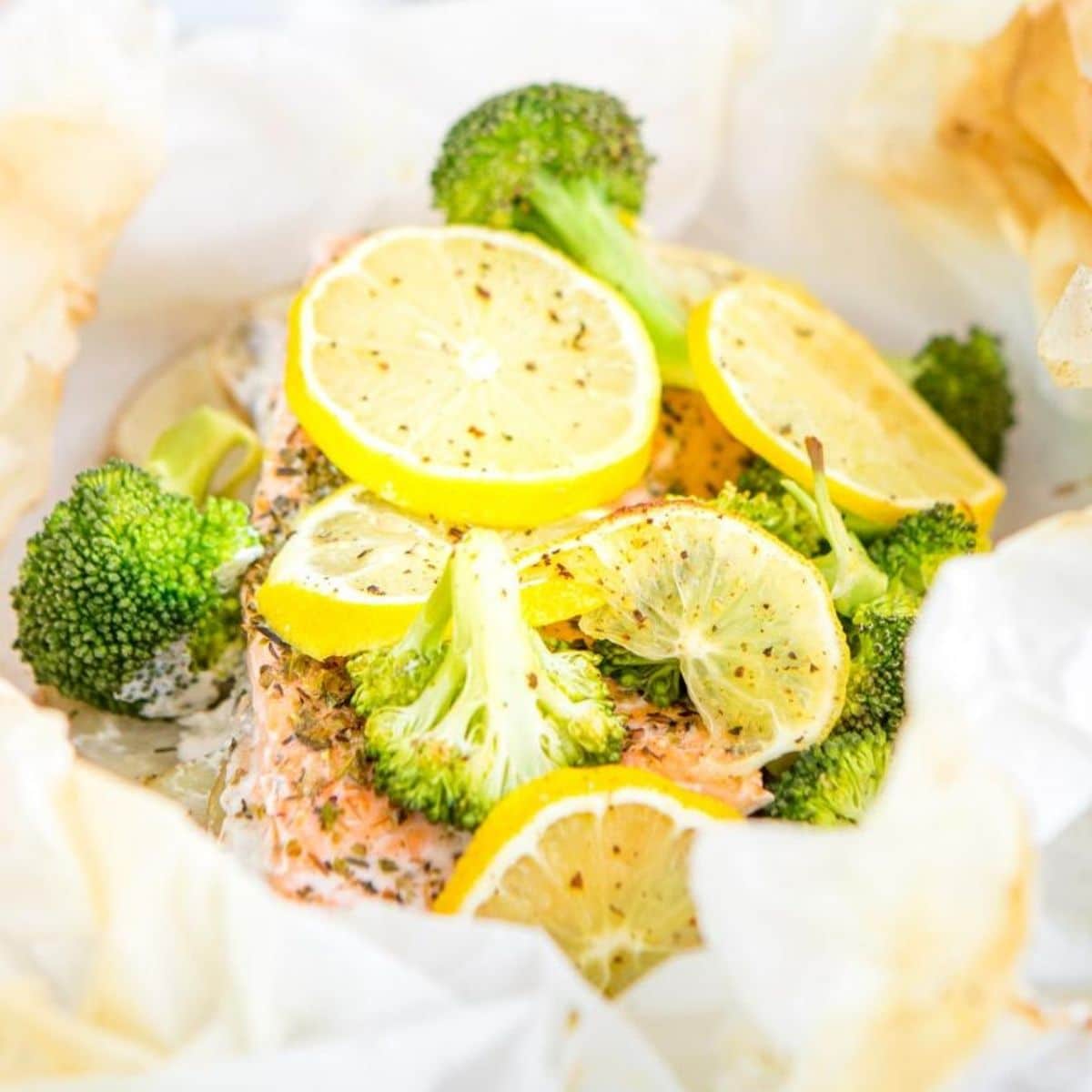 Light Pasta Carbonara
This healthy carbonara pasta is just as good as the best versions you've had, it just has less added fat without skimping on flavor or creaminess. Not only is this carbonara recipe healthy and delicious, it can be made in just about 15 minutes.
Check out this recipe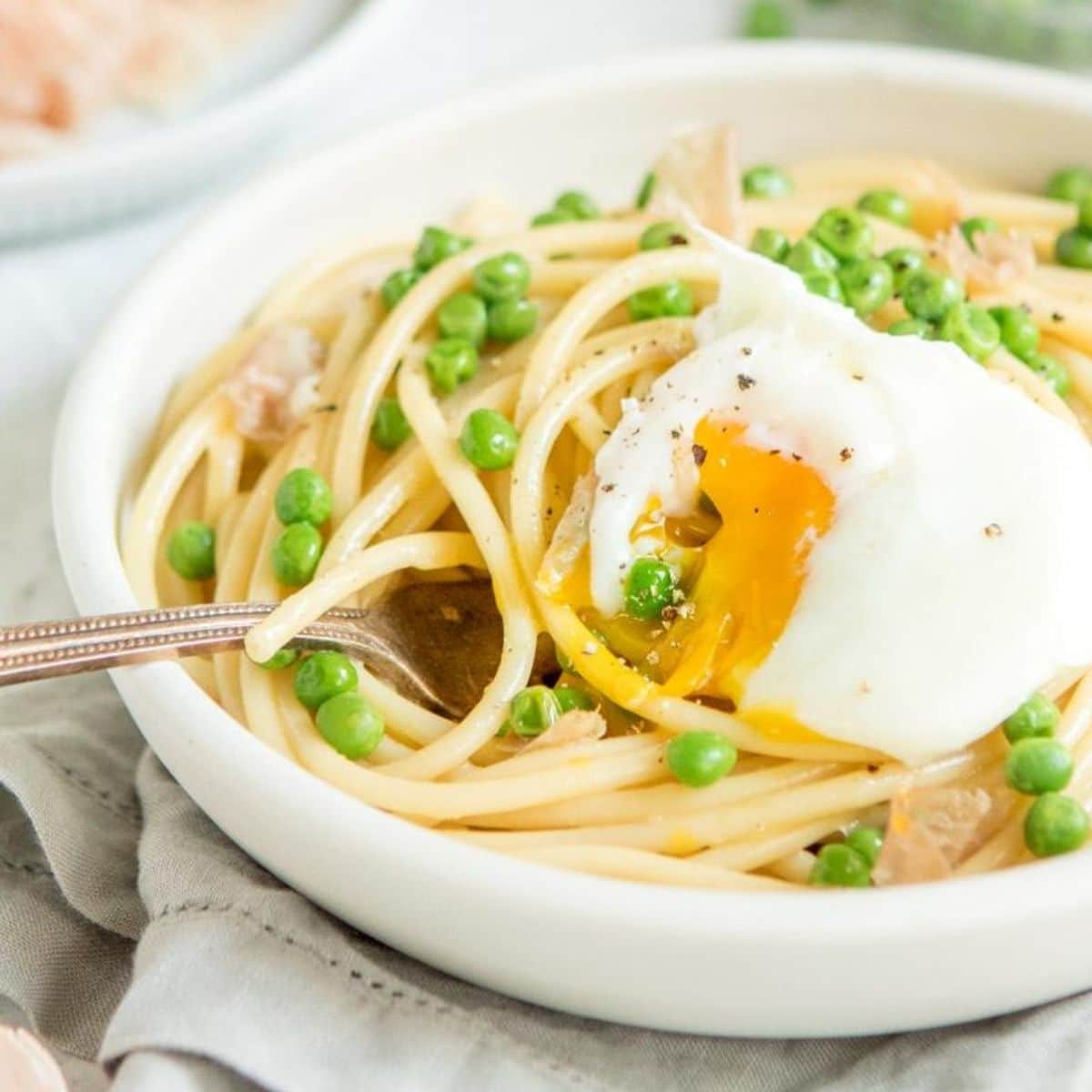 How would you stock a pantry for one person?
Want to get single serving recipes and other tips like how to stock a pantry for one person delivered to your inbox? Click here to download my Single Serving Cookbook.
Recipes and a list of pantry staples are great, but you'll need a simple 3 step process to create a meal plan that make cooking easy & helps you stop wasting food. Check out this expertly developed meal planning guide to get started.