Cooking for one can be challenging, but having all the pantry staples on hand is a great place to start to cook more at home, and make it really easy (and delicious!) These pantry staples are foods you can buy at your local grocery store or order online. This list also includes enough spices & flavoring foods so you can make delicious meals without any planning or prepping. Here's how you Meal Prep for One, Meal Plan for One, and here are A Couple Recipes to Make Ahead of time, just for good measure.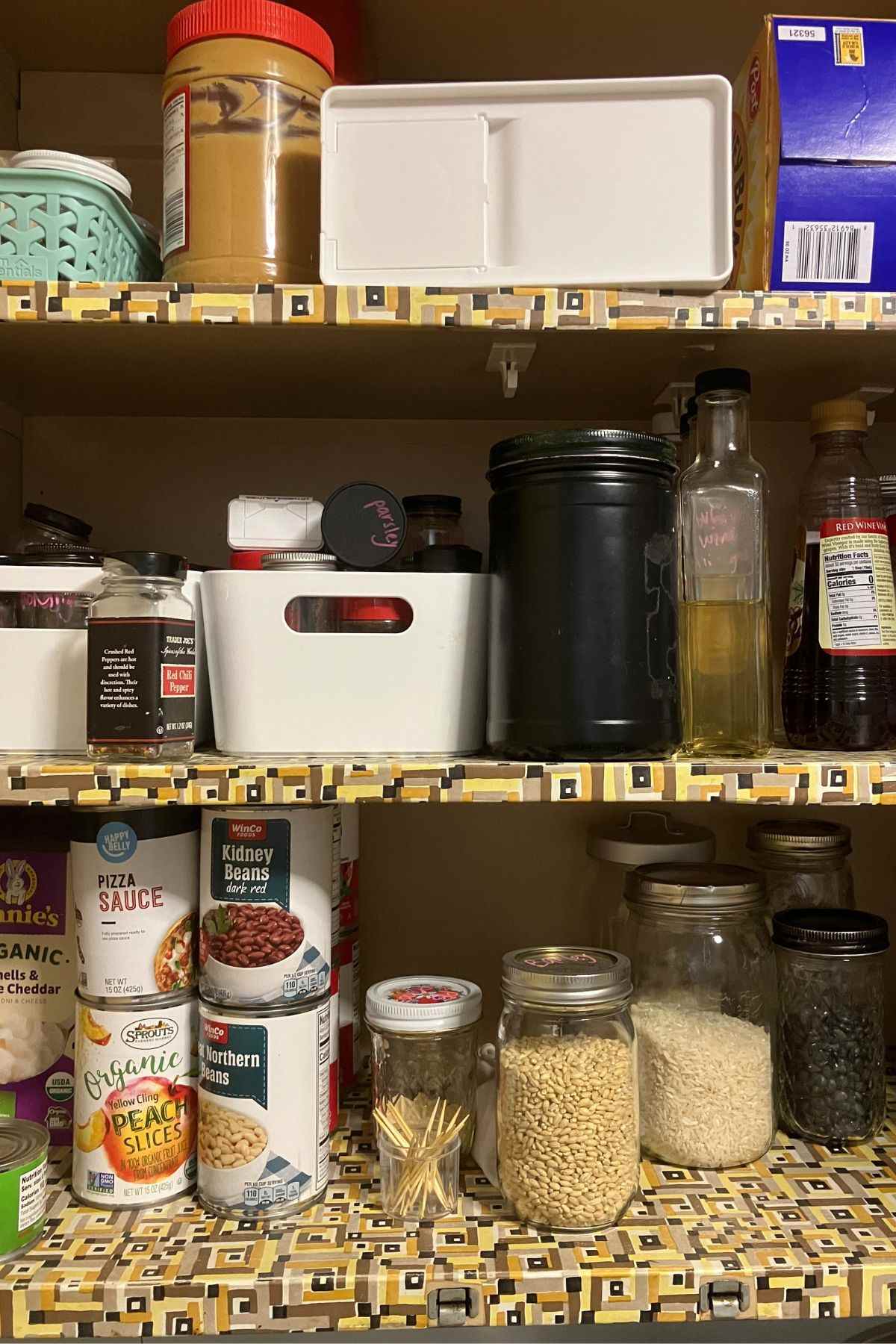 What you need to know about cooking for one
That's my new mission-to help people who are cooking for one. The struggle is real, it's weird, and it can lead us to eat boring foods or eat out more than we may want. And I'm not even going to mention all the produce that goes bad in the fridge.
I've got a whole catalogue of recipes for one (or more, you can always adjust the number of servings in recipes), a podcast where we chat about the realities of and ways to make cooking for one easier, and real life tips to live your best life without resorting to dieting or restriction. That's where stocking my pantry with pantry staples has been a life changer.
Let's be honest, it'd be great to have or to want to take the time to plan out your week of meals. That planning would save us money, time, and we'd eat really deliciously. But the reality is that doesn't happen most days. Even for me. Again, keeping my pantry stocked with my own pantry staples=the best decision I've made.
I surveyed about 100 single women who cook just for themselves, I learned a lot, and related to a lot of the responses I saw. The hardest 2 parts about cooking for one is 1) finding that balance of cooking enough to save time down the line, 2) but not so much that you don't look forward to eating at all AND the struggle it is of cooking for one.
The fact that you're not cooking for anyone else, often don't share meals with others, and all that brings up. Both of these aspects make it really easy to grab something on your way home from work. (in my best Seinfeld voice) Not that there's anything wrong with this, but I would rather eat at home more often, and realized that many of the respondents would as well. There are a bunch of benefits of cooking, but a few large barriers to actually doing it. That's where having a bunch of intentional pantry staples on hand is so helpful. Let me explain...
Why keep your pantry stocked?
So here's where we are, for those nights that you are starving, or get home late and need food ASAP, your pantry will be your best friend. I'm sharing my go to pantry staples that help me make full meals just for myself. I've got recipes that you can make easily and within about 15-20 minutes (or less!) and all using pantry staples.
It's easier to have a satisfying, delicious, and balanced meal when you've got a few easy to use ingredients to throw together. That's why you keep your pantry stocked with your own pantry staples.
Also, let's be reasonable, it may seem great to be able to prep grains or whatever for the week ahead, or to remember to take the 30-60 minutes to cook rice. But, when you get home from work and want to eat soon because you're starving or you have to leave again in 30 minutes. There's no time for slow cooking grains, and you probably didn't prep and refrigerate or freeze those grains for quick use. Check out my Cooking for One Basics video series on Facebook to learn how to actually make those basics easily.
Well, I probably didn't at least. So with that said, let's be reasonable, if you would love to do that, but don't actually see yourself prepping ahead of time, or waiting for your rice that's ok. There are options for you. Keep those on your pantry staples list. If you just want to print this pantry staples list out and head to the store, sign up for a free download right here.
Here's what you can keep in your pantry when you're cooking for one and need food fast!
Grains
quick rice
bread
pasta
quinoa
pita
whole grain pancake/waffle mix (I keep Kodiak Cakes mix on hand because it's DELICIOUS, and you just add equal parts water to mix. It's foolproof and so easy)
tortillas
Proteins
frozen precooked chicken
frozen edamame
eggs
sausage
canned beans (black, kidney, pinto, etc)
canned or packet fish
tofu (silken tofu is shelf stable!)
frozen fish (like salmon)
Dairy
plain Greek yogurt (it's so versatile)
milk
shredded cheese (I freeze this, it's awesome!)
parmesan cheese (use a block so it lasts longer than shredded
Fruits/vegetables
frozen fruit (hello giant Costco bag of berries)
frozen vegetables
carrots
onion
celery
bell peppers
pre-chopped garlic (you can find it in a small glass jar)
canned tomatoes
bagged salads
greens
lemons/limes (freeze juice if they're about to go bad)
veggie soups
General
dried spices (including spice mixes like Italian)
white vinegar
coconut milk
extra virgin olive oil
salt, pepper
BBQ sauce
spicy sauce like sriracha
Thai red curry paste
maple syrup
your fave canned salsa
And don't forget to keep chocolate chips on your pantry staples list, if you're a major chocolate lover like me.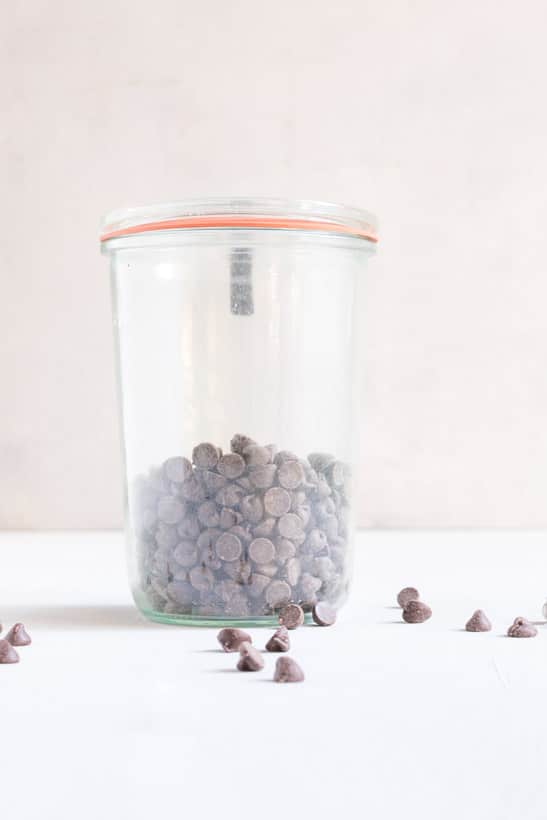 Now that you have a grocery list (yes, use this pantry essentials list as your basic grocery list), I'll share a few of my favorite recipes using these pantry staples. They're easy, they've got ingredients you already have, and they're delicious. Because let's redefine how we think of easy recipes-they totally can be delicious and healthful.
Quick Black Bean & Veggie Quesadilla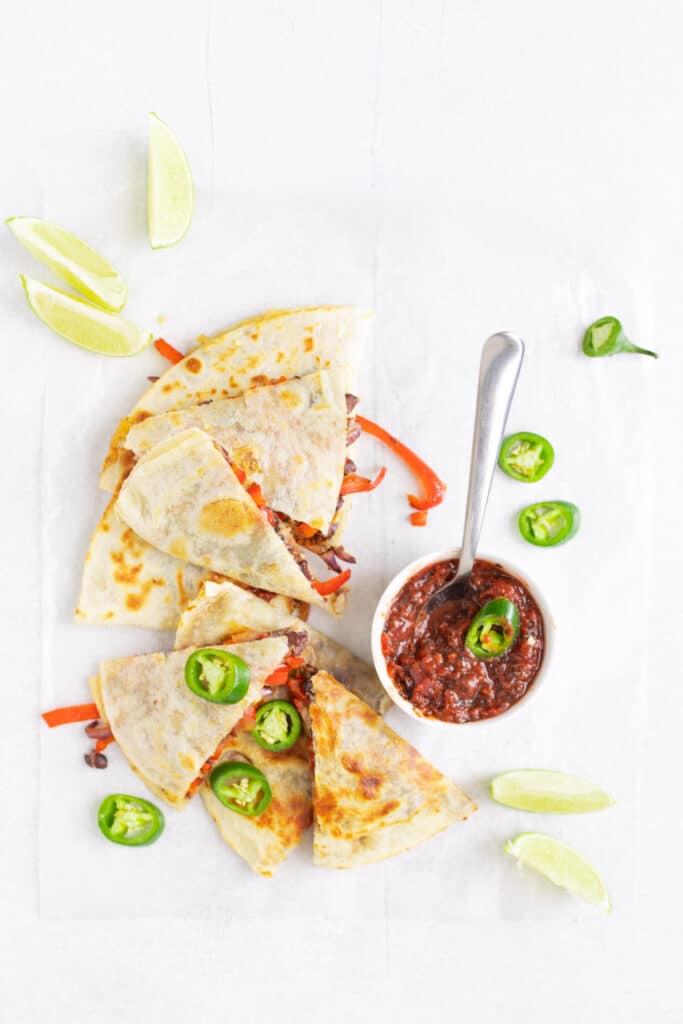 Egg roll with seasonal veggies (aka Ugandan chapati roll)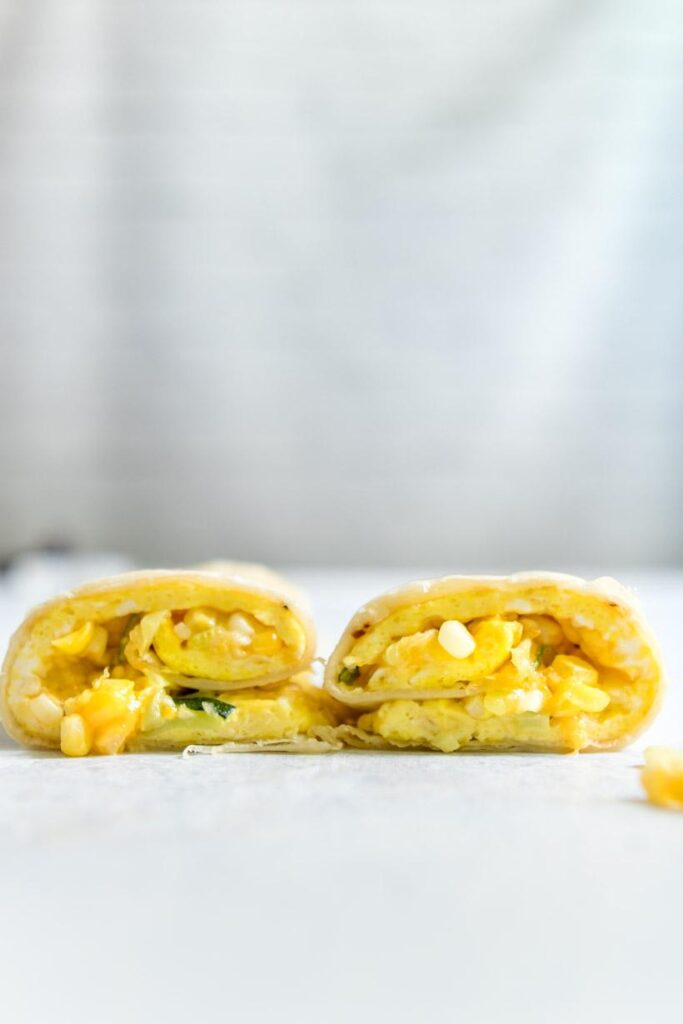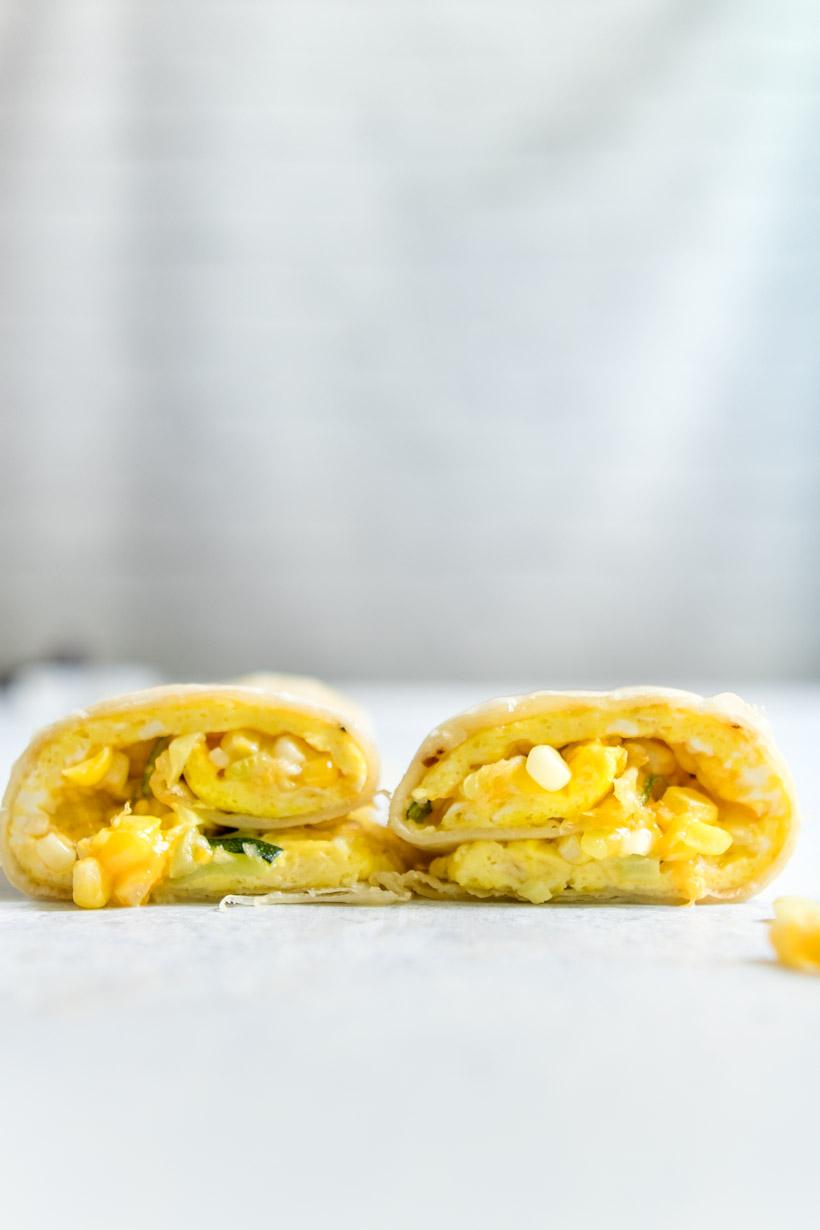 Hearty bean & bacon soup
What are your favorite pantry staples you keep on hand?
Want to get single serving recipes delivered to your inbox? Click here to download my Single Serving Cookbook.
Recipes and a list of pantry staples are great, but you'll need a simple 3 step process to create a meal plan that make cooking easy & helps you stop wasting food. Check out this expertly developed meal planning guide to get started.