This list of delicious and easy pantry recipes for one will help you out on days when you didn't plan dinner. These recipes use simple ingredients that you can keep on hand for days like this!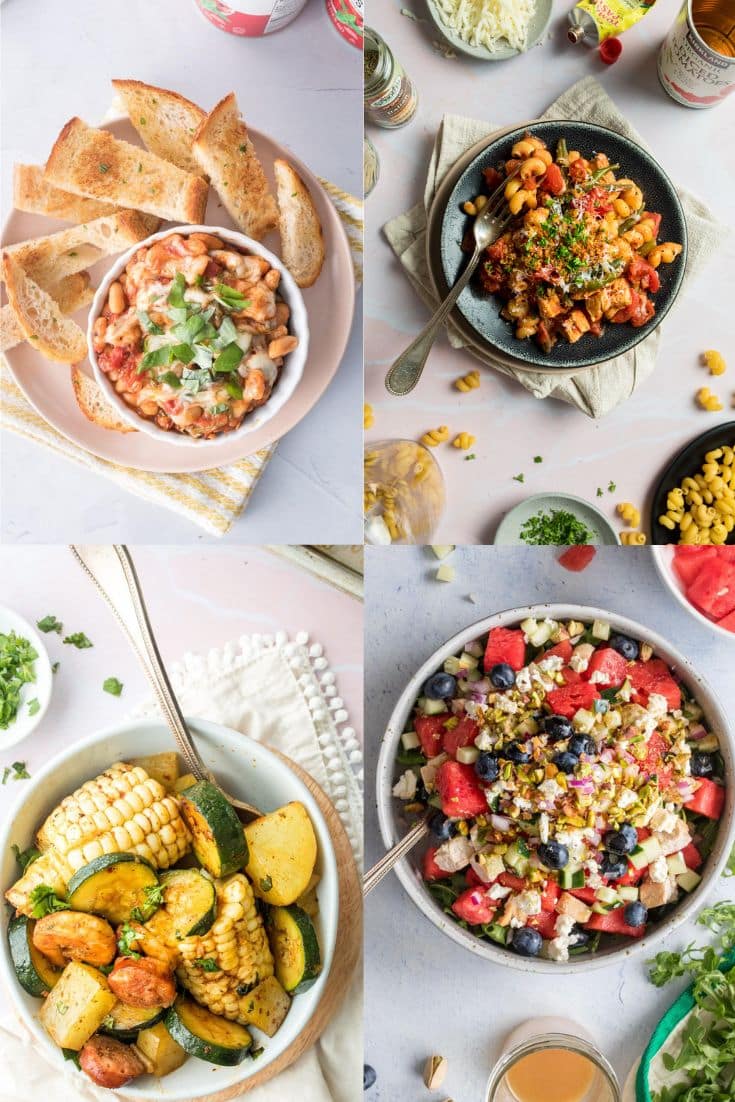 [This pantry recipes post was originally created in March 2020. It has been updated with new recipes, expert tips]
Stock Your Pantry
One of the most helpful tips to make cooking for one easy and doable is to stock your pantry. And what I mean by pantry is really food in your kitchen. Gather essential dried, frozen, refrigerated, and fresh foods.
I know that stocking your kitchen with food can be very expensive, so take as long as you need to build your pantry. Start with the least expensive pantry items (like baking ingredients, beans, rice, etc) and go from there.
Here's what I recommend keeping in your fridge, freezer, and pantry: Pantry Essentials List (or download it here). With this list, you're just a few recipes away from making quick pantry dinners without any planning!
But if you want to have these pantry dinner options as a back up and intentionally plan more meals than not, check out my guide on Meal Planning for One.
Having a few favorite pantry meals on hand is really important and helpful, but planning is too.
For example, I have been relying on pantry meals this past week because I just couldn't get myself to plan meals.
I've got plenty of plant and meat proteins, a few grains, but not many easy ways to season or add vegetables/toppings to my meals. They're pretty boring and I wish I planned a bit more.
A couple days here or there is doable, but if you feel (like I do now) that meals are too boring and not something you look forward to, it's time to add back meal planning to your schedule. It can be simple.
Again check out my Meal Planning for One guide.
Bookmark this page so you can quickly find recipes that use ingredients you have on hand/sound good in the moment. I know you just have a moment-so make the most out of it with these quick pantry recipes!
One Pot Meals
I keep proteins in the freezer, I currently have a couple pork chops. Get managers special meat and freeze it immediately. It's a great way to save money, reduce food waste, and have more options for your pantry recipes.
You can use jarred jalapenos or even green chiles in this soup. Add toppings that you have, cheese, chips, etc would be good in this pantry recipe.
Add any vegetables that you like or have on hand to this bean dish. It's one of my favorite pantry recipes.
Quick Cooking Seafood
Serve this salmon with a couple sides that you have. Fries, rice, crusty bread, vegetables, the options are endless.
Plant Based Meals
This burrito bowl is a great recipe to use what you have on hand. It's like a clean out the fridge pantry recipe.
A can of tomatoes, lentils, rice and any vegetables you have on hand make this curry easy and tasty. This versatile pantry recipe is easy and very tasty. It's also easy to make a few more servings for leftovers.
*this is a great recipe for substitutions. I don't usually have leeks around, so I'd swap it for celery, broccoli, cauliflower, etc. Use it fresh, or freeze for later! Same goes for the farro, barley, rice, or other hearty grain would work well here.
Egg Recipes
*also a great recipe for substitutions. Swap out the veggies for ones you have, or omit them. Use what you have & like. This works for lots of quick pantry recipes.
Chicken Recipes
This easy chicken salad can be adapted to use what you have. Use a pita if you have it, enjoy it over salad if you've got greens, or serve between bread slices. The best way to make pantry recipes is to adapt them to use what you have.
Pasta Recipes
*substitution ideas: swap the prosciutto for bacon or similar meat. Or omit if needed. Making substitutions in these pantry recipes is important to not have to go to the store!
*substitution ideas: if you don't have sausage, swap for ground beef, or quick cooking chicken tenders, or leave the meat out. You can do this with lots of quick pantry recipes.
Did you make any of these pantry recipes? Leave me a comment & rating to share how it turned out!