Didn't plan dinner tonight? Don't worry, these quick pantry dinners for one will save you! You can definitely make something quick and tasty without planning ahead of time with these delicious 20 recipes-that are perfect if you're cooking for one.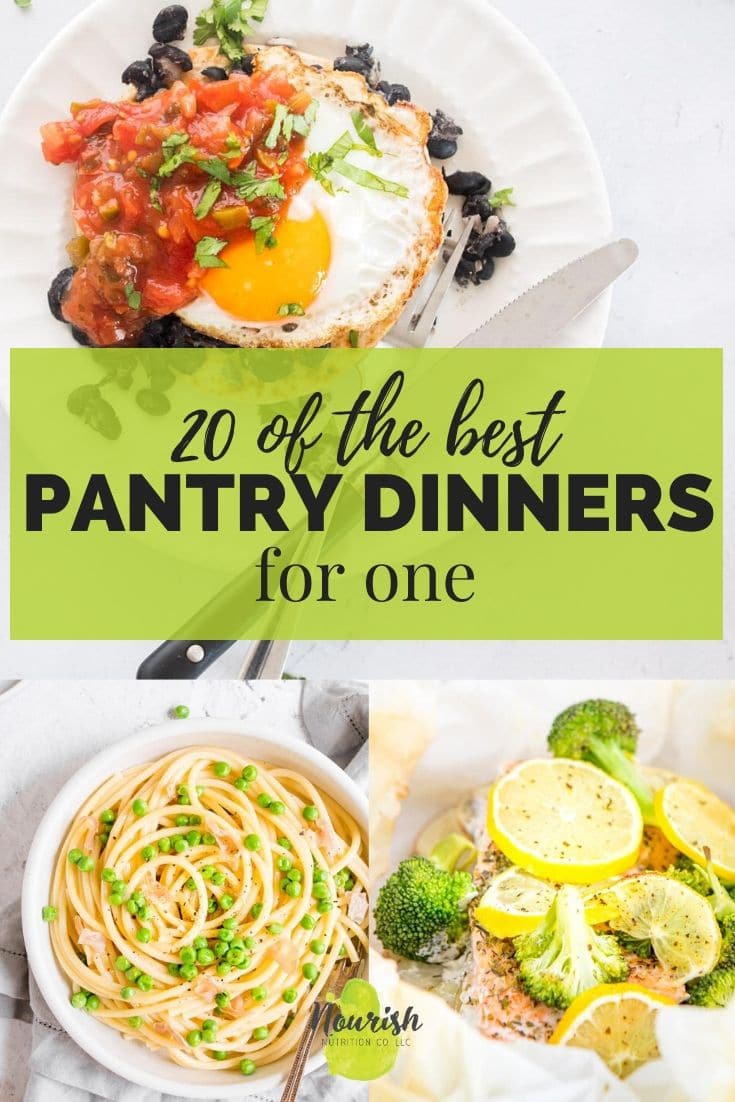 [This recipe was originally posted in March 2020. It has been updated with new recipes, expert tips]
Why cheap pantry meals?
Meal planning is great, when you actually do it (and learn how to do it right), but when you don't it's easy to feel like you have to eat something you don't want-whatever it is. But it doesn't have to be that way. I promise.
That's why I'm a huge fan of stocking my freezer, fridge and pantry so I can throw together delicious and quick pantry dinners-no planning necessary. This will make your life so much easier & enjoyable.
Plus these pantry ingredients are usually cheap, so enjoy your cheap dinners!
Here's what I recommend keeping in your fridge, freezer, and pantry: Pantry Essentials List (or download it here). With this list, you're just a few recipes away from making quick pantry dinners without any planning!
Bookmark this page so you can quickly find recipes that use ingredients you have on hand/sound good in the moment. I know you just have a moment-so make the most out of it with these quick pantry meals!
Quick tips for easy pantry dinners
Keep quick cooking/precooked grains/proteins around. These will save you lots of time!
Quickly thaw seafood by dumping it (inside or out of individual packaging) in hot water for a few minutes. This will save you cooking time and help keep your fish tender.
Swap out vegetables. Sure lots of vegetables taste different, but most dishes would be good with another vegetable, if you want to include it. So, if you don't have cauliflower (for example) swap it for broccoli, beans, etc. It'll still be good!
Google spice/ingredient substitutions. The point of cooking quick pantry dinners is to use what you have. Google substitution for xx ingredient you don't have, and try it!
Try more pantry dinners here, Cooking for One Recipes, and Single Serving Recipes.
Buy frozen seafood and meats, or buy fresh and freeze for later! It'll give you more options for quick meals when you didn't plan-plus frozen meat is usually cheaper. Here's to cheap(er) dinners!
Here are 20 easy pantry recipes for one
Quick Cooking Proteins
Quick Cooking Seafood
Recipes using Beans/Tofu
*this is a great recipe for substitutions. I don't usually have leeks around, so I'd swap it for celery, broccoli, cauliflower, etc. Use it fresh, or freeze for later! Same goes for the farro, barley, rice, or other hearty grain would work well here.
Recipes using Eggs
*also a great recipe for substitutions. Swap out the veggies for ones you have, or omit them. Use what you have & like. This works for lots of quick pantry dinners.
Pasta Recipes
*substitution ideas: swap the prosciutto for bacon or similar meat. Or omit if needed.
*substitution ideas: if you don't have sausage, swap it for ground beef, or chicken tenders (love these because they cook more quickly than chicken breasts), or leave the meat out. You can do this with lots of quick pantry dinners.
Stay safe, wash your hands before making your quick dinner & wear your mask!
Want to get more single serving recipes, like these quick pantry meals delivered to your inbox? Click here to download my Single Serving Cookbook.