Protein mac and cheese recipe is silky, creamy, cheesy, and ready in 20 minutes. One secret ingredient in this pasta recipe adds silkiness and protein without changing the taste of classic, delicious macaroni and cheese.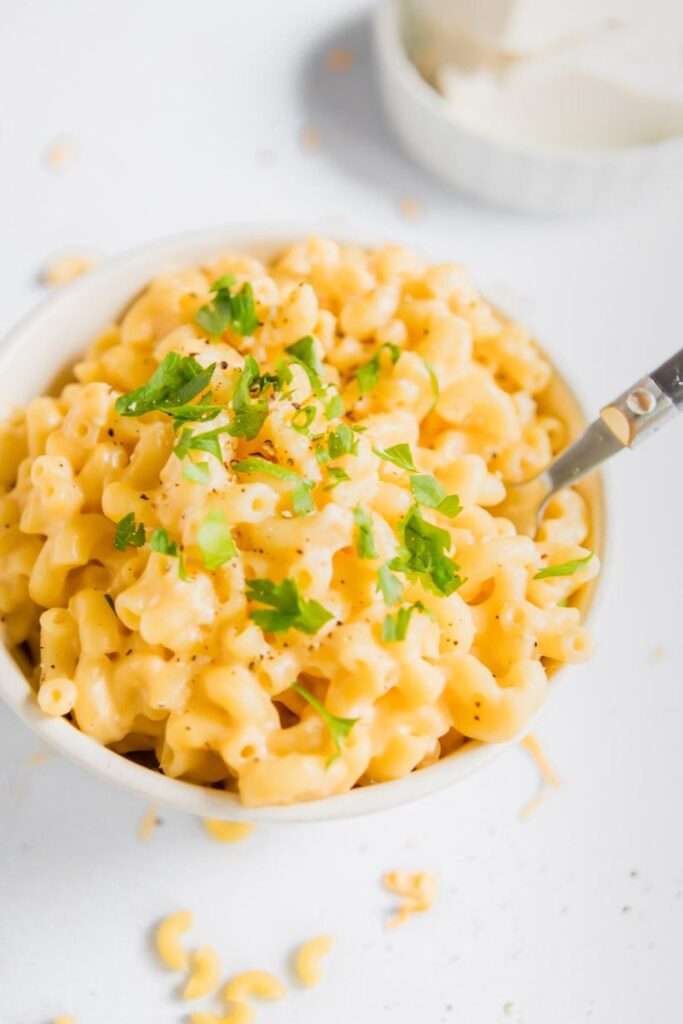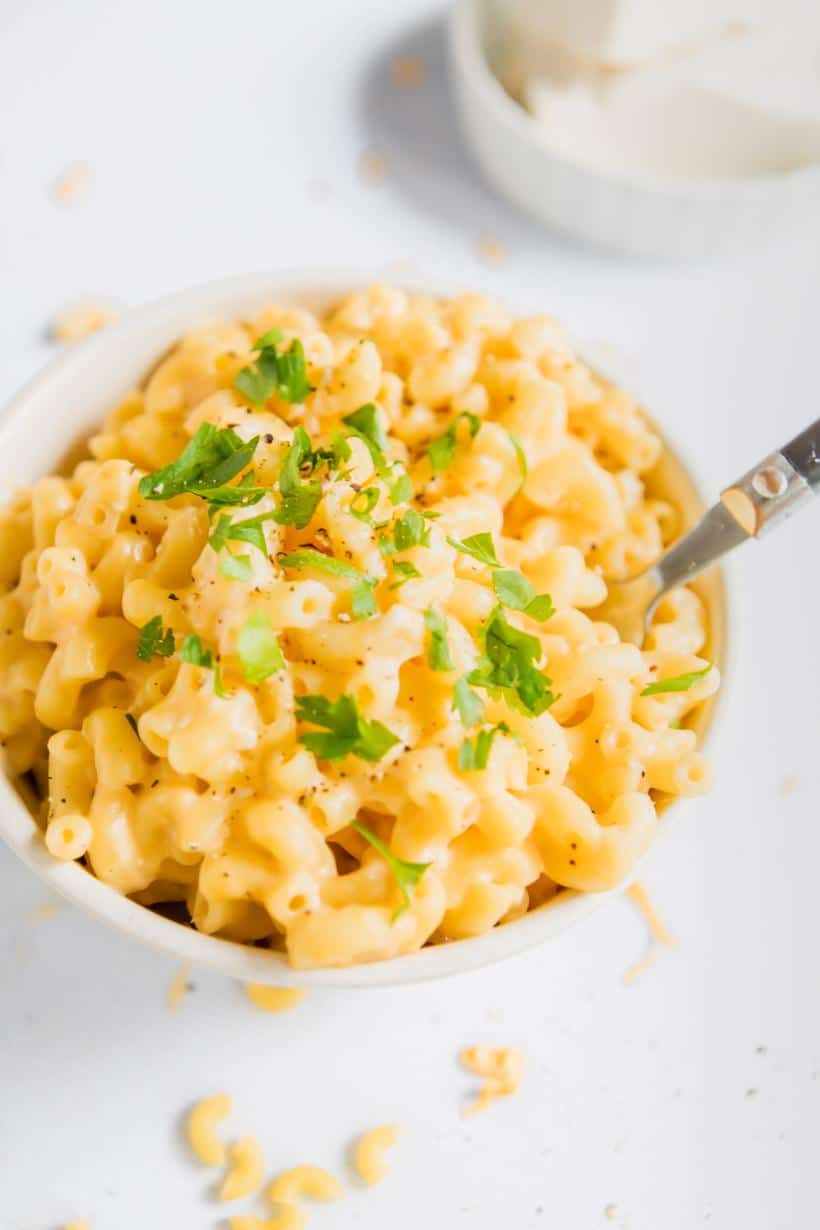 This post was originally created in partnership with The Soyfoods Council. I have been compensated for my time commitment. However, my opinions are entirely my own and I have not been paid to publish positive comments.
[This protein packed recipe was originally posted in April 2019. It has been updated with new cooking instructions, expert tips, FAQ, related recipes, and ways to repurpose/use up ingredients]
Table of contents
Most protein mac and cheese recipes I saw online use high protein pasta and/or Greek yogurt.
Both are totally fine, but if you want a classic, traditional macaroni and cheese, this easy mac & cheese with silken tofu sauce tastes just like the classic version.
This recipe is low maintenance, low effort, and high payoff. It's delicious, creamy, cheesy, and has more protein than traditional mac & cheese since there isn't much protein in cheese.
The tofu adds 4-6 grams of protein without changing the flavor in this protein mac and cheese. That way we all can enjoy an easy pasta dish with protein already in it. Add veggies if you want.
Make Single Serving Mac and Cheese if you want a more traditional, one serving dinner.
Ingredients
Scroll down to the recipe card for the amounts of each ingredient, but here's a quick visual + description of what's in this recipe.
Elbow Noodles: Use whatever kind of noodles you have, but elbow noodles are classic in macaroni and cheese.
Shredded Cheddar Cheese: Shredded cheese melts easiest, and cheddar cheese gives you a cheesy, mac & cheese flavor.
Silken Tofu: Blend it up with milk and garlic salt for a creamy sauce for your protein mac and cheese. Silken tofu has mild flavor, so when you use it, it's got a more classic flavor than adding Greek yogurt or bean pastas.
Milk: It helps blend the tofu up, and makes your protein mac and cheese extra creamy. Milk is a good source of protein too.
Butter: Adds flavor, and the fat will help blend together the cheesy sauce.
Garlic Salt: Adds a sweet, garlicky flavor and salt to your pasta. Or add garlic powder + salt.
Instructions
Scroll down to the protein mac and cheese recipe card for more detailed instructions. Here's a quick overview + photos to see how to make this recipe in general.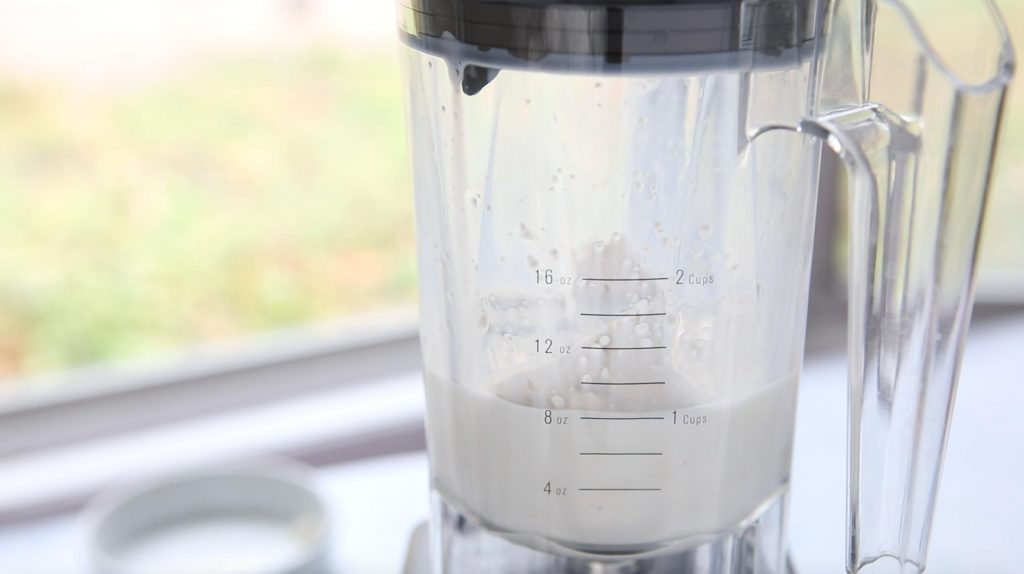 1. Cook pasta according to box instructions. While the pasta is cooking, blend tofu, milk, and garlic salt until smooth.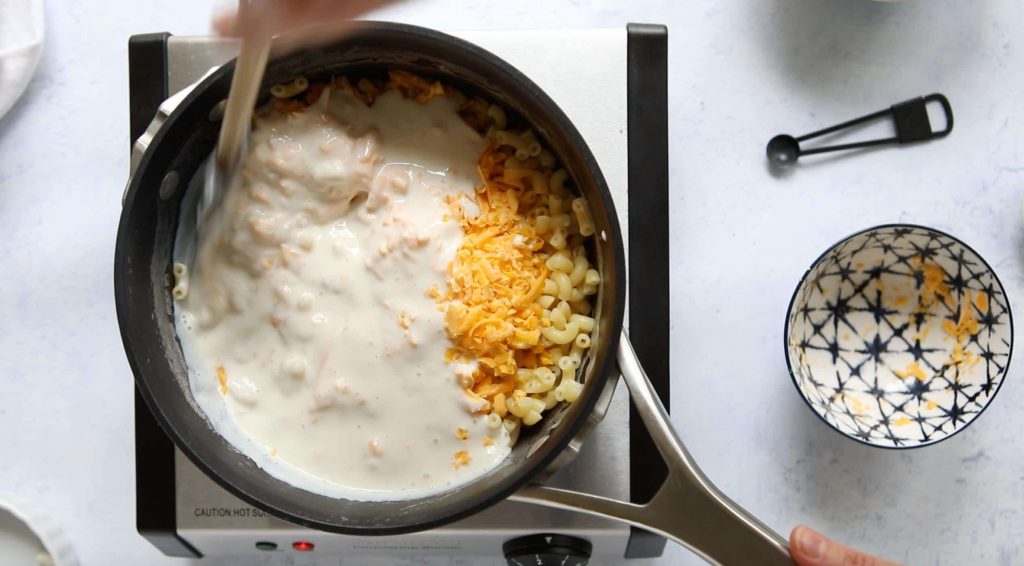 2. Drain pasta. Return pasta back to pan. Add tofu mixture and shredded cheddar cheese. Mix until smooth.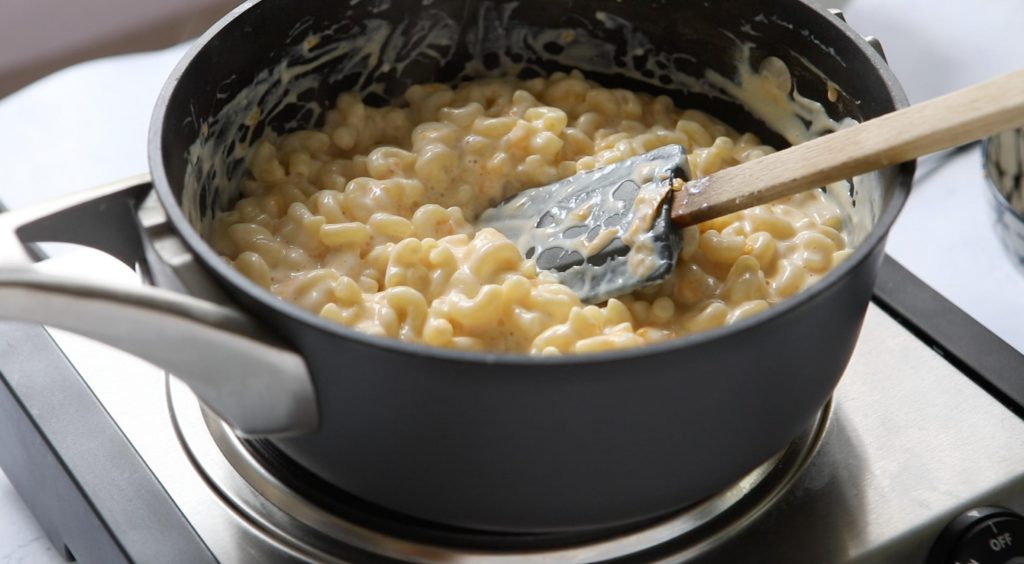 3. Serve pasta immediately.
Storage/Reheating Tips
Store cooked pasta in an airtight container for about a week. Add a dash of water to pasta, then microwave until warm. Your pasta will smell spoiled before it's unsafe to eat.
Substitutions/Tips
Or if you want to add some veggies, add frozen veggies to the cooking pasta when it's got about 2-3 minutes left to cook-to save a dish.
If you've made extra or have leftovers, to avoid that weird reheated pasta texture, add a dash of milk to your pasta after heating it up. Stir well, and your cheese will become creamy once again, and delicious.
Other great add-ins: frozen broccoli or vegetables, dash of paprika, red pepper flakes, etc.
FAQ
Is Mac & Cheese good protein?
Traditional mac & cheese has about 10-17g protein in it, mostly from the milk you add to it. That's why I add tofu to this mac and cheese. Tofu is a good source of protein. It also doesn't change the flavor much.
What protein goes with mac and cheese
Pork chop, Pulled Pork, grilled chicken, Grilled Lamb Steak, and tofu are all good side proteins. Tofu is in this mac and cheese recipe, for example.
How much protein in mac & cheese?
There's about 10 grams of protein in Kraft Mac & Cheese, around 15-18 grams in homemade macaroni and cheese, and 23-24 grams of protein in this protein macaroni and cheese recipe.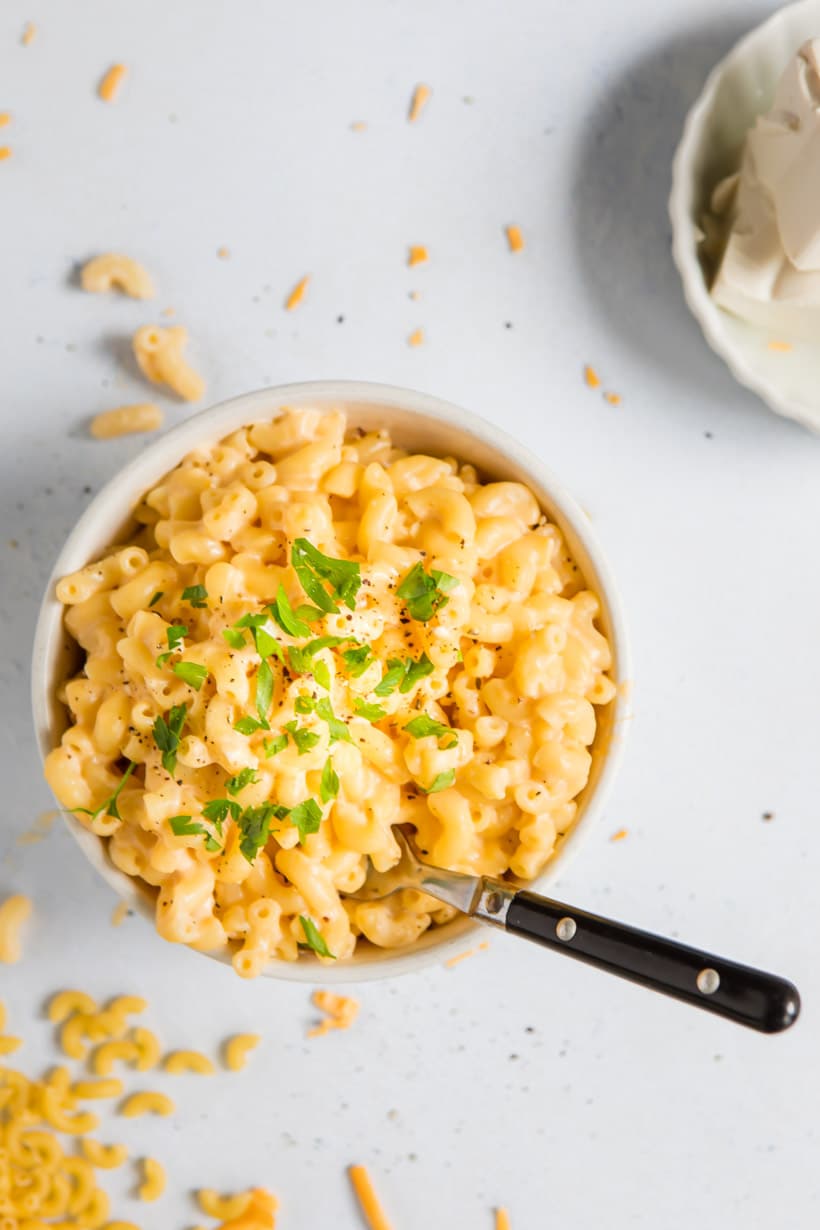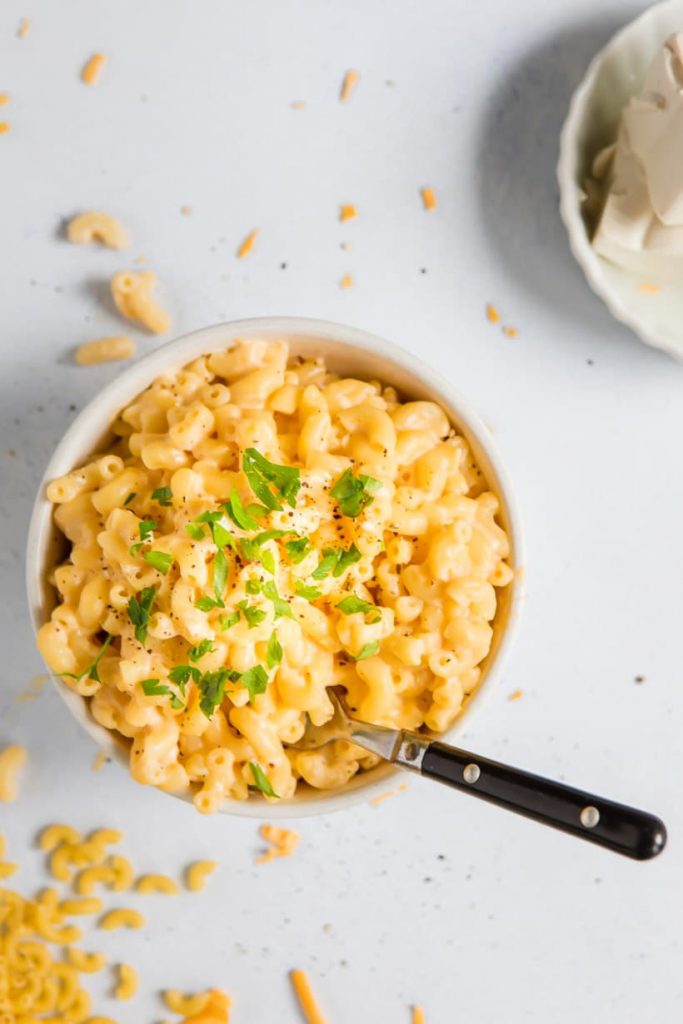 Other good pasta recipes:
What to do with leftover ingredients
When you're cooking for one, you often have leftover produce, cans of whatever ingredient, etc. Here are a couple ideas on how to use up the leftover ingredients. It'll help you save money by wasting fewer ingredients.
Did you make this protein mac & cheese? Leave me a comment & rating to share how it turned out!
Protein Mac and Cheese
Protein mac and cheese recipe is silky, creamy, cheesy, and ready in 20 minutes. One secret ingredient in this pasta recipe adds silkiness and protein without changing the taste of classic, delicious macaroni and cheese.
Equipment
Medium Pot

High powered blender

Grater

Measuring Spoons

Measuring Cups

rubber spatula
Ingredients
1

teaspoon

salt

⅔

cup

elbow macaroni

¼

whole

block of silken tofu

3 oz

¼

cup

milk

I used 2%, you can use any %age

¼

teaspoon

garlic salt

1

teaspoon

butter

⅔

cup

shredded cheddar cheese
Instructions
Bring water and salt (1 tsp) to a boil, in a medium sized pot, over medium-high heat. Cook pasta in this water according to package directions.

While pasta is cooking, add tofu (¼ package), milk (¼ c), and garlic salt (¼ tsp) to blender, and blend until smooth. Set aside.

Once pasta is al dente, drain water. Return pasta to cooking pot, pour tofu, milk mixture over pasta, butter (1 tsp), and sprinkle cheese (⅔ c) over pasta. Stir together until pasta is coated, and cheese is melted. Serve immediately.
Notes
Add your favorite vegetables to the mac and cheese, or have on the side
If you're reheating the macaroni, add a dash of milk and stir together to make it creamy again.
Want to get more single serving recipes delivered to your inbox? Click here to download my Single Serving Cookbook.
Recipes are great, but you'll need a simple 3 step process to create a meal plan that make cooking easy & helps you stop wasting food. Check out this expertly developed meal planning guide to get started.