Italian beans for one is an easy one-pot vegetarian dinner that's cooked in the Instant Pot. Cook white beans from dried to get tender, richly flavored beans. Add some vegetables and enjoy with crusty bread for a full dinner.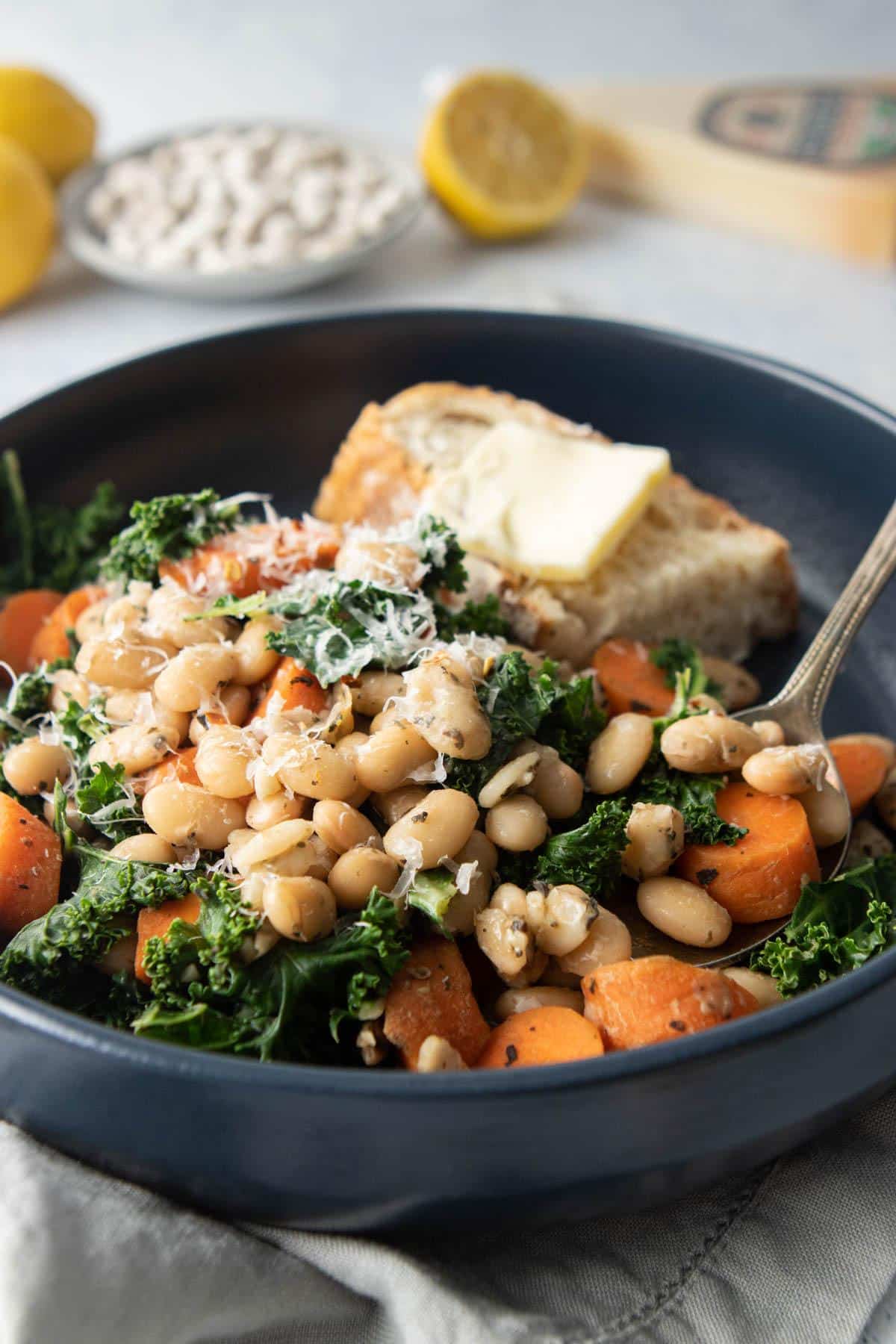 Italian beans for one is an easy dinner, made in an Instant Pot. The recipe takes about 45-50 minutes total, but only about 5-10 minutes of it is hands-on time.
For tender, flavorful beans, you throw beans, chicken or vegetable broth and Italian seasoning in the Instant Pot. Cook it for 32 minutes, then sautee down the broth, to thicken it, in about 5 minutes.
Add vegetables, and garlic, and you're ready!
This Italian beans recipe is easy to multiply for leftovers, and freezes easily. It's not necessarily an Italian recipe, but uses easy Italian seasoning and is a play on this delicious Italian beans and greens recipe from Cucina by Elena.
I've tested cooking the beans with vegetable broth, parmesan rind, garlic, and lots of other options. After all the tests, my favorite combo is as written below.
I LOVED garlic added at the end, it adds a bit of sharp flavor and pairs well with the creamy beans.
Like all recipes, add vegetables, if you'd like. Thick sliced carrots cook perfectly in the 5 minutes of simmering, and I add a handful of kale at the end, to quickly soften. Use whatever you have.
A generous parm topping and lemon makes the beans perfect.
Ingredients
Scroll down to the Italian beans recipe card for the amounts of each ingredient, but here's a quick visual + description of what's in this recipe.
White Beans: Dried white beans (great northern, navy, or cannellini) are inexpensive and versatile. They plump up well in the Instant Pot and take on the flavors in this recipe really well.
Chicken Broth: You can use any kind of broth/bouillon paste + water, but personally, I liked the milder flavor of chicken broth vs vegetable broth in this recipe.
Italian Seasoning: Italian seasoning is a great flavor combo with these ingredients. Adding it early, to cook in infuses in the beans too.
Salt: I like to add a bit of extra salt to cook the beans. But you can always skip this and add when serving, or before sauteeing, if desired.
Vegetables: Add them or not, either works in this Italian beans recipe. I liked slightly crunchy carrots and barely wilted kale in mine.
Garlic: Freshly minced garlic is a delicious, sharp addition. I liked adding it just before serving. Add it with vegetables, before boiling down the water for a sweeter, more mild flavor.
Lemon Juice: Bright, acidic lemon juice is a great addition to these savory beans. Sharp garlic and lemon juice are great on these Italian beans and vegetables.
Parmesan Cheese: A bit more savory, salty flavor is always good, especially through parmesan. It's a tasty topping here.
Instructions
Scroll down to the Italian beans and vegetables recipe card for more detailed instructions. Here's a quick overview + photos to see how to make this recipe in general.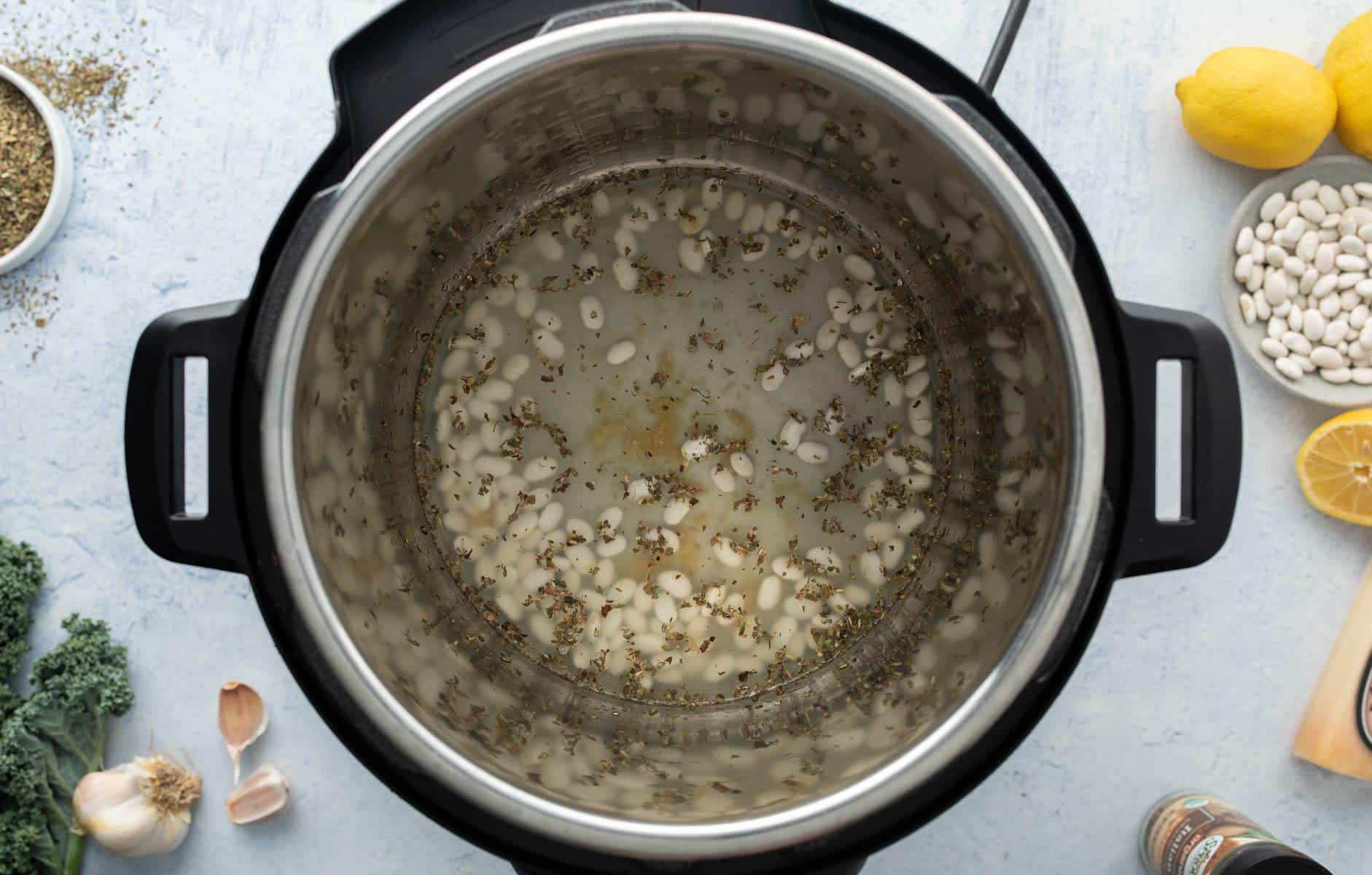 1.Start making your Italian beans by adding your rinsed white beans, chicken broth (I use chicken bouillon paste + water), Italian seasoning, salt to Instant Pot bowl. Stir. Secure lid, set knob to sealing.
I used great northern beans, but you can use cannellini beans, navy beans, or other white beans. You can also use vegetable broth/bouillon.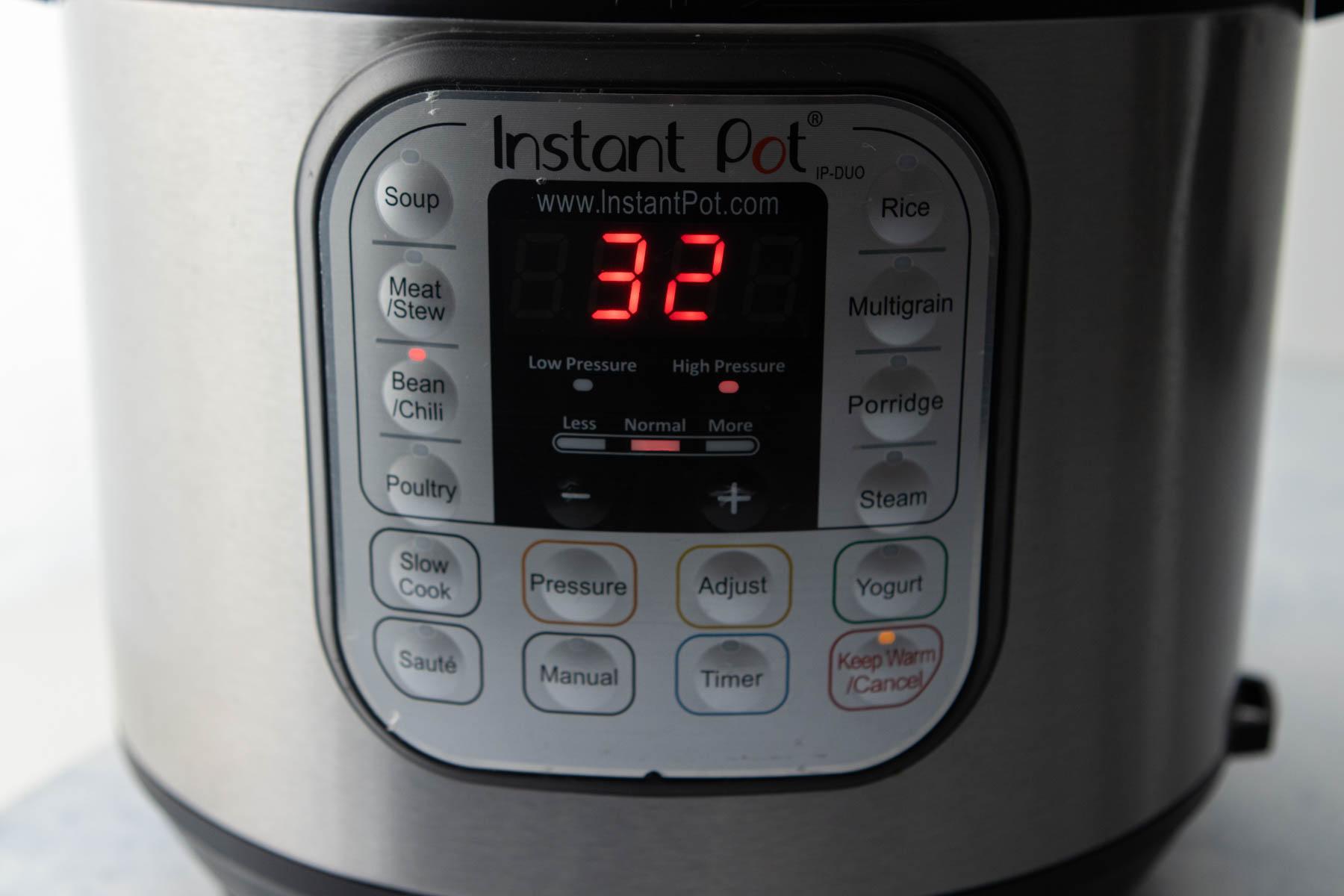 2. Set to CHILI/BEANS, set timer for 32 minutes. Let cook. Chop vegetables, if using.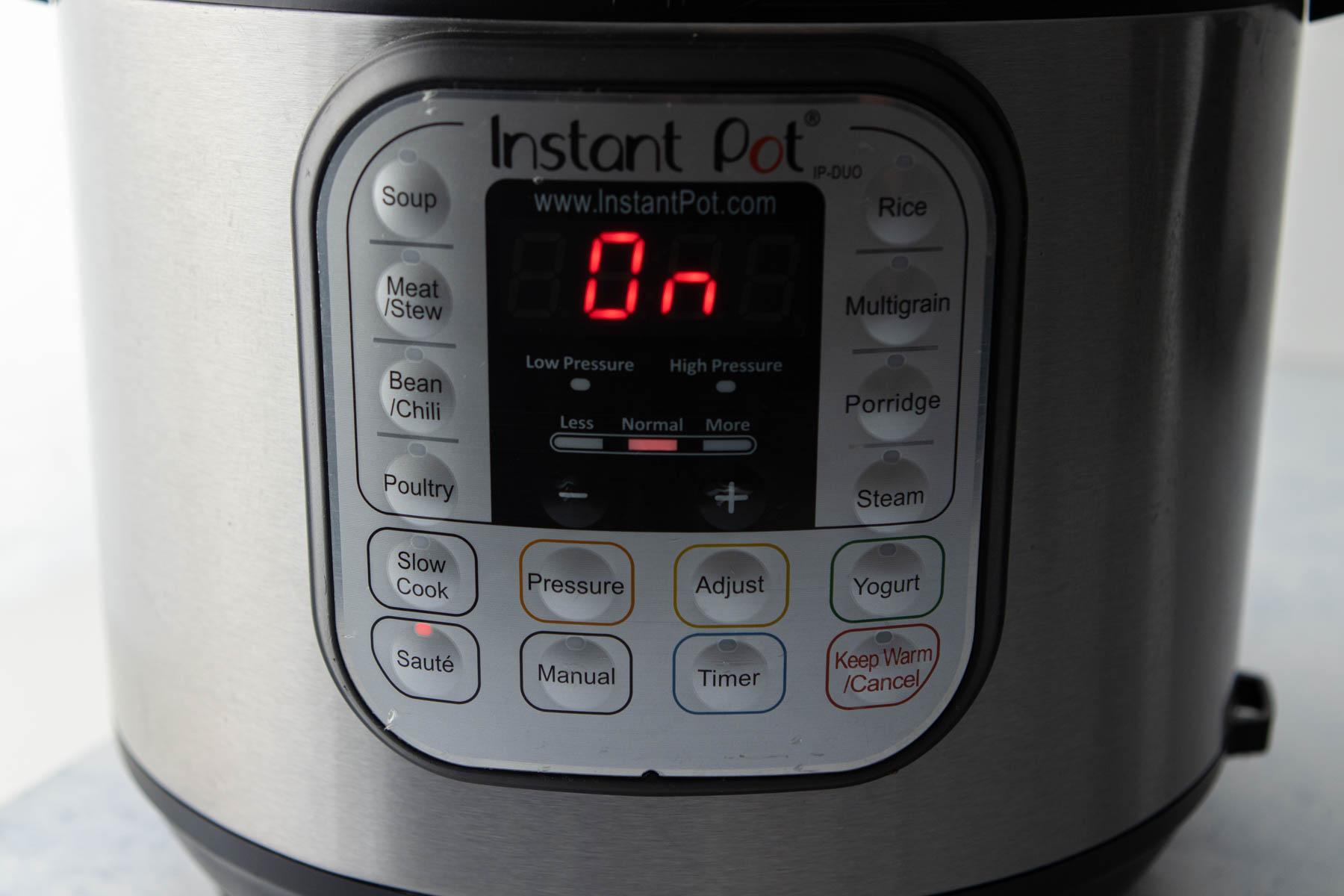 3. Quick release steam when timer goes off. Remove lid. Cancel cook setting, set to SAUTEE.
4. Add hearty/thick vegetables. Stir frequently until broth thickens, about 5-6 minutes.
I like to add the garlic just before serving for a sharp, pop of garlic flavor. You can add it earlier, if desired.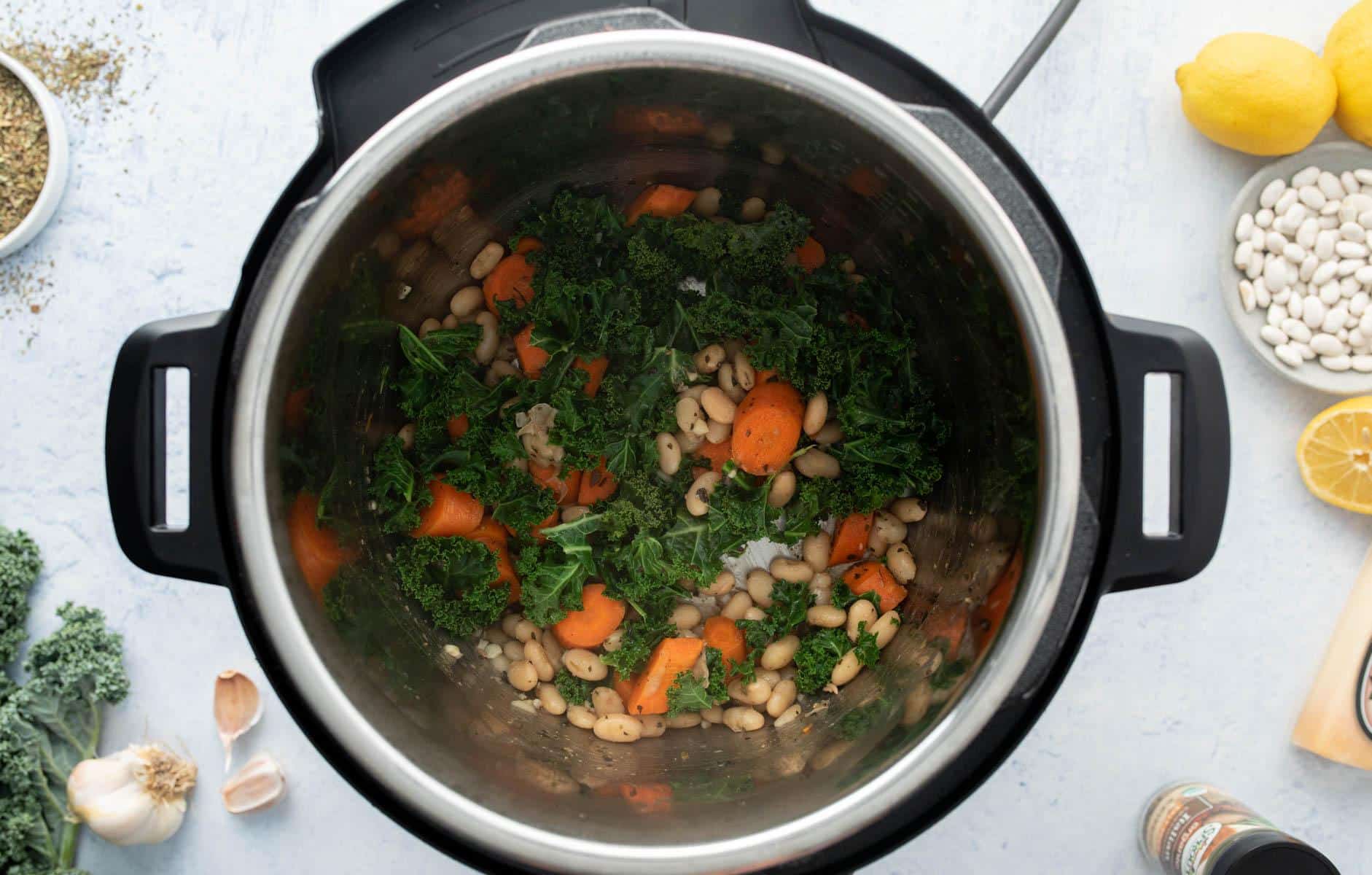 5. Add garlic and other vegetables, about a minute before serving, if desired. Top your Italian beans with lemon juice and parmesan cheese. Serve with crusty bread. Enjoy.
How to Cook on the Stove
Starting with the same ingredients, cook your white beans for about 2 hours over medium heat. Beans will be done once you can easily pierce a bean with a fork. Texture should be creamy and soft.
I wouldn't add baking soda, like in this Pinto Beans and Rice recipe since you're using the broth. Broth with baking soda can be slightly bitter and salty.
How to Use Canned Beans
If you don't have time, an Instant Pot, or the desire to cook dried beans, you can still make these Italian beans, with canned beans. Add about ½ cup of broth, same seasonings. Skip cooking the beans, and start with the sautee step.
You can cook them in a skillet on the stove, instead of in an Instant Pot. You'll have more control over the heat, which is good here.
Storage/Reheating Tips
Store leftover Italian white beans in an airtight container, in the fridge, for up to about a week. Smell beans, if they still smell good, they should be safe to eat.
You can also store your leftover beans in a freezer bag, in the freezer for a couple months. They freeze well, so you can make a larger batch for leftovers.
Substitutions/Tips
Use whatever kind of white beans that you have. You can also use canned beans, see section on using canned beans above.
When testing this recipe, I preferred it with chicken broth over vegetable broth, it has a more muted flavor that doesn't compete as much with the Italian seasonings. But you can use vegetable broth too.
In the mood for soup? You can skip cooking down the broth. Just cook the vegetables separately or enjoy them raw in your soup.
Vegetable ideas: carrots, hearty greens (kale, collards, escarole, etc), broccoli, zucchini, leeks, celery, green beans, etc.
Other great add-ins: You can add whatever vegetables you have on hand to these Italian beans, 1-2 teaspoons of tomato paste, Italian sausage, a sprinkle of red pepper flakes, or freshly ground black pepper are all great additions.
FAQ
What are Italian beans?
Italian beans can be dried white beans (like cannellini beans) or green beans. White beans are pulses and Italian green beans are a green vegetable.

They're very different and can't be switched in recipes, but there are many uses of both.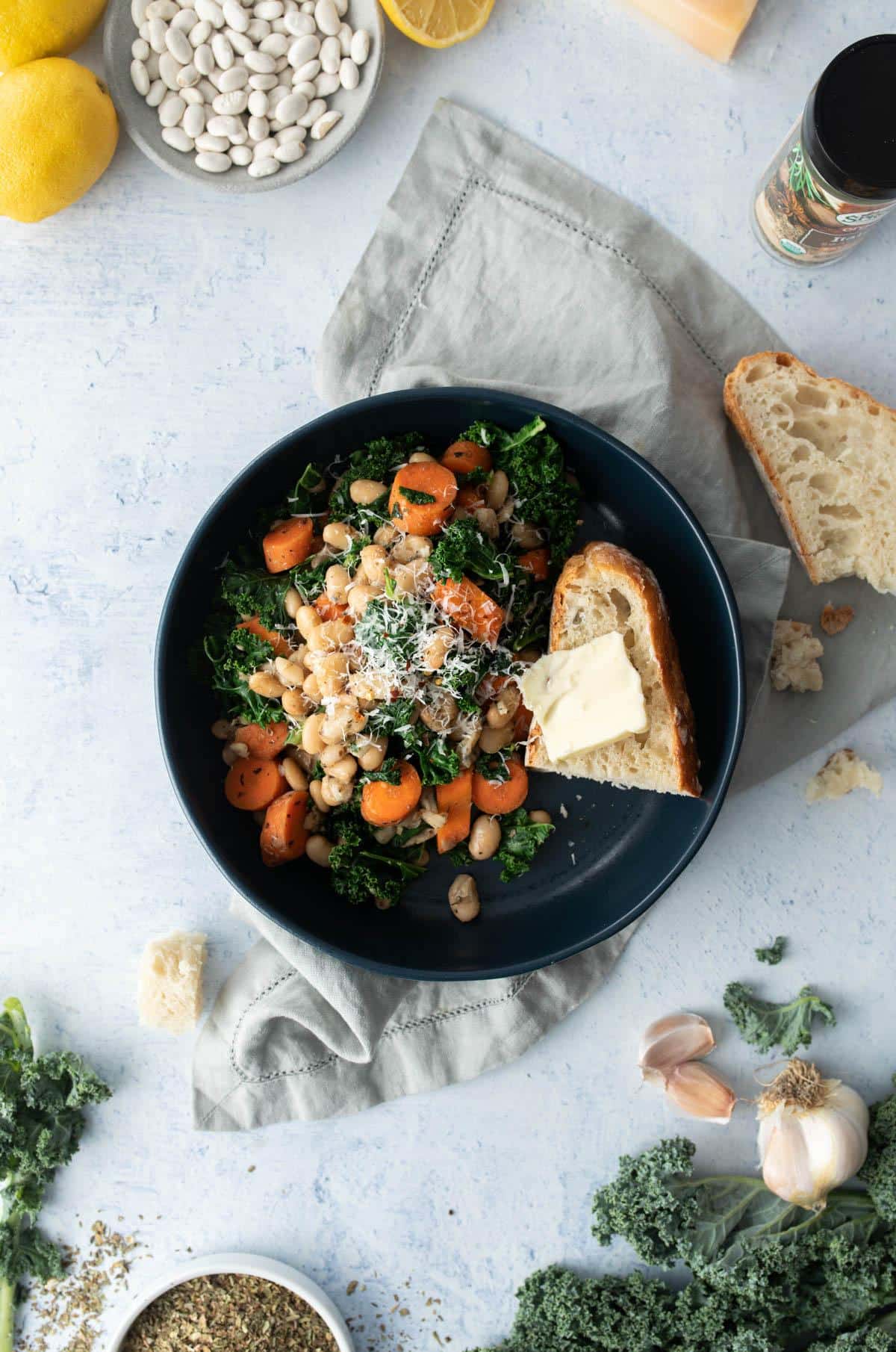 Other good recipes with beans:
Repurpose your beans
Mash your Italian beans and dip vegetables into it, or spread on a slice of bread and add cheese and other vegetables to make a bean, veggie sandwich.
You can serve the cooked beans over pasta too, add olive oil and extra lemon to make a pasta sauce.
What to do with leftover ingredients
When you're cooking for one, you often have leftover produce, cans of whatever ingredient, etc. Here are a couple ideas on how to use up the leftover ingredients. It'll help you save money by wasting fewer ingredients.
Did you make these Italian beans? Leave me a comment & rating to share how it turned out!
Italian Beans for One (Instant Pot)
Italian beans for one is an easy one-pot vegetarian dinner that's cooked in the Instant Pot. Cook white beans from dried to get tender, richly flavored beans. Add some vegetables and enjoy with crusty bread for a full dinner.
Equipment
Instant Pot

or pressure cooker

Measuring cups, spoons

cutting board

knife

Serving spoon
Ingredients
⅓

cup

dried white beans, rinsed

Great northern, navy, cannellini, etc

1

cup

water

1

teaspoon

chicken bouillon paste

or 1 cup chicken broth (minus the extra 1 cup water)

1

teaspoon

Italian seasoning

¼

teaspoon

kosher salt

(optional)

1-2

cups

chopped vegetables

options: carrots, broccoli, celery, leeks, zucchini, kale/hearty greens, etc

½-1

clove

garlic

minced
Topping options
lemon juice

grated parmesan cheese

red pepper flakes

fresh parsley

chopped

serve with crusty bread
Instructions
Add ⅓ cup rinsed white beans, 1 cup water, 1 teaspoon chicken bouillon paste, 1 teaspoon Italian seasoning, ¼ teaspoon kosher salt to Instant Pot bowl.

Seal lid, turn knob to sealing. Set to CHILI/BEAN for 32 minutes.

While cooking, chop 1-2 cups of vegetables. If desired. Set aside.

When timer goes off, quick release steam. Turn off Instant Pot, set to SAUTEE setting.

Add chopped vegetables to beans. Cook until broth thickens, about 4-6 minutes. Add ½-1 clove of minced garlic prior to serving (for a sharp, garlicky flavor, for more mild garlic flavor, add with vegetables).

I also added kale with the garlic, so it didn't get cooked too much. Add earlier, if preferred.

Top with preferred toppings (see ingredient list for ideas), serve with crusty bread. Enjoy immediately.
Notes
You can use canned white beans instead of dried beans. Just skip the 30 minute cooking time, only use about ⅓-1/2 cup of broth, and you can sautee them in a skillet over the stove.
See stovetop instructions above recipe card to cook dried beans on the stove.
Use whatever vegetables you have on hand.
Don't cook down liquid for a soupy consistency. Whatever you prefer.
I really liked this recipe with a sharp pop of garlic flavor, I added the garlic at the end of cooking the beans and vegetables. Add at beginning of sauteeing vegetables for a sweeter/more mild garlic flavor.
Optional toppings: fresh lemon juice, grated parmesan cheese, red pepper flakes, chopped parsley, etc.
You can make extra servings to freeze for a couple months. These beans freeze well.
Want to get more single serving recipes like these Italian beans delivered to your inbox? Click here to download my Single Serving Cookbook.
Recipes are great, but you'll need a simple 3 step process to create a meal plan that make cooking easy & helps you stop wasting food. Check out this expertly developed meal planning guide to get started.