This easy yogurt bowl is one of my favorite breakfast hacks to make my mornings run smoothly and enjoyably.
This post was created in partnership with Dannon Light & Fit. I have been compensated for my time commitment. However, my opinions are entirely my own and I have not been paid to publish positive comments.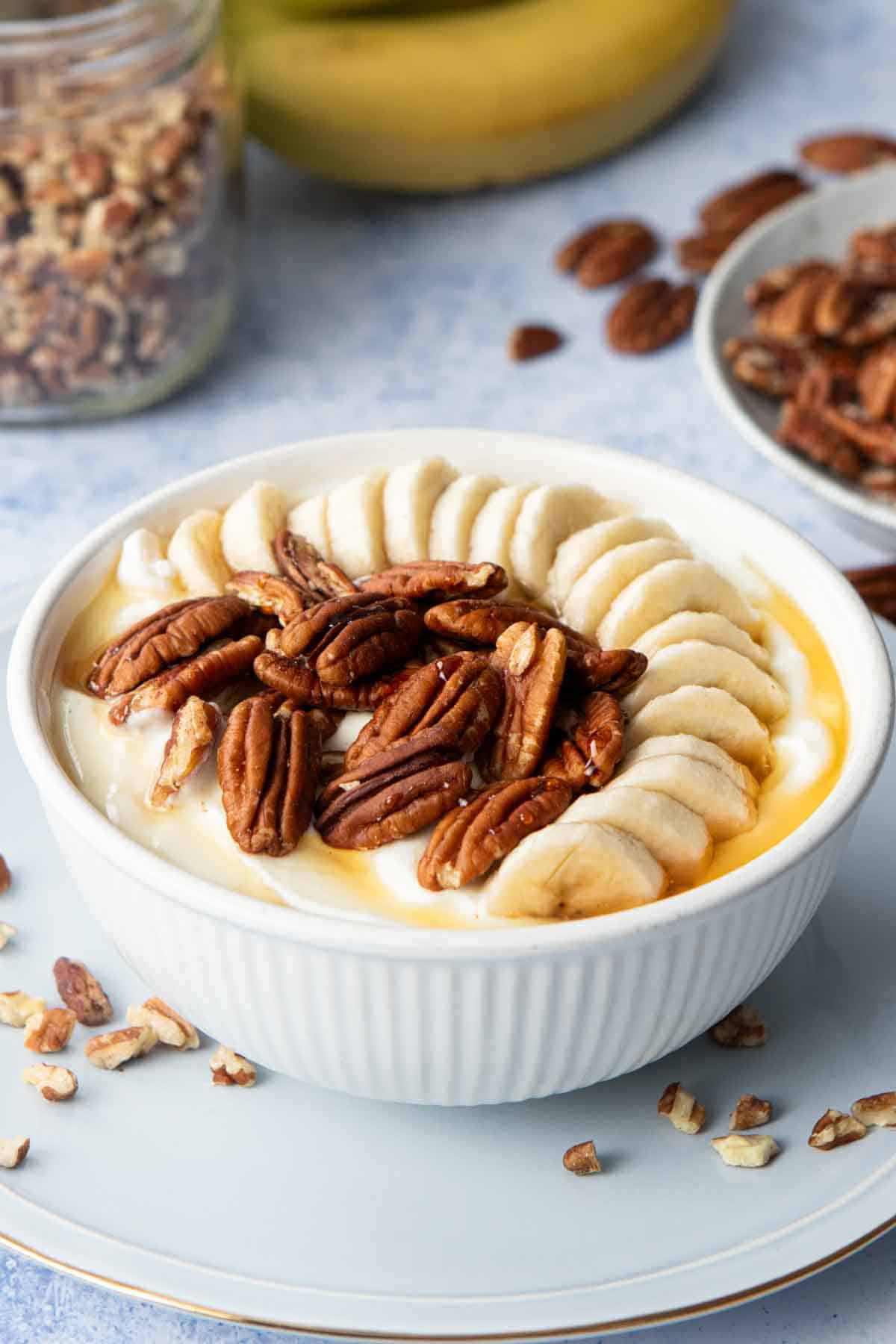 PIN HERE to add to your recipe box.
Before I started working exclusively from home, I dreamed about starting out my day with a slow, home-cooked breakfast. You know, like waffles or smoothies, smoothie bowls (because food blogger here), or an omelet. Since then, I've realized that I'm most productive in the mornings, and nice breakfasts require extra time that I'm still not up to waking up earlier for. Enter delicious granola, yogurt, and fruit. It's more flavorful and exciting than cereal, but not much more work.
how this easy yogurt bowl fits into my lifestyle
Now that you know how little time I want to spend on breakfast, this easy breakfast hack with my favorite yogurt makes a bit more sense, I hope?! I just want a breakfast that will tide me over until my next meal or snack, that tastes delicious, and has a variety of nutrients to help ensure that my body functions well. Luckily, the 2015-2020 Dietary Guidelines for Americans recommend increasing intake of nutrient-dense foods, such as fat-free or low-fat dairy products, like yogurt. Yogurt is nutrient-dense and many yogurts are a good source of protein and calcium. Greek yogurts typically contain more protein than regular yogurts. Plus, Greek yogurt is so smooth, creamy, and delicious!
This easy yogurt bowl, made with delicious berries, granola, and Dannon Light & Fit Original Greek yogurt is easy to eat out of the container (real life hack) or to pour into a bowl with the toppings. I honestly do both, depending on how much time I have- 3 mins vs 5 mins.
This easy yogurt bowl is great, but some days the yogurt, granola, and fruit just won't cut it and I know I'll still be hungry. On those days, I usually add a dollop of peanut butter to my easy yogurt bowl. Sometimes I end up eating a chunk of PB, sometimes I can mix it in well, either way my taste buds and stomach are happy because peanut butter is such a delicious addition to yogurt. Yogurt bowls are awesome because you can customize the ingredients so much to meet your day-to-day flavor and hunger preferences.
For a fat-free or low-fat dairy product, I like Dannon Light & Fit Original Greek Nonfat Yogurts because they're satisfyingly delicious and widely available, plus they're a delicious vehicle for your favorite granola, nut butter, and fruit. Healthy choices don't have to be boring. With a balanced variety of delicious choices, Dannon Light & Fit Original Greek Nonfat Yogurt has great options that also fit your active lifestyle. Food is not only to be enjoyed, but it's functional. Properly nourishing yourself for your favorite way to move will allow your body to feel good and to enjoy moving. It takes practice and experimentation, but you can easily find the foods that help you start the day on a great note.
How this easy yogurt bowl will make your life easier
Do you eat breakfast on your way to work, or at your desk? Bring your toppings in separate baggies so they're fresh, and eat it out of the cup. Or, if you have a few minutes to sit down at home, make yourself a quick & easy yogurt bowl and take some time to enjoy it and breathe before you get the day started.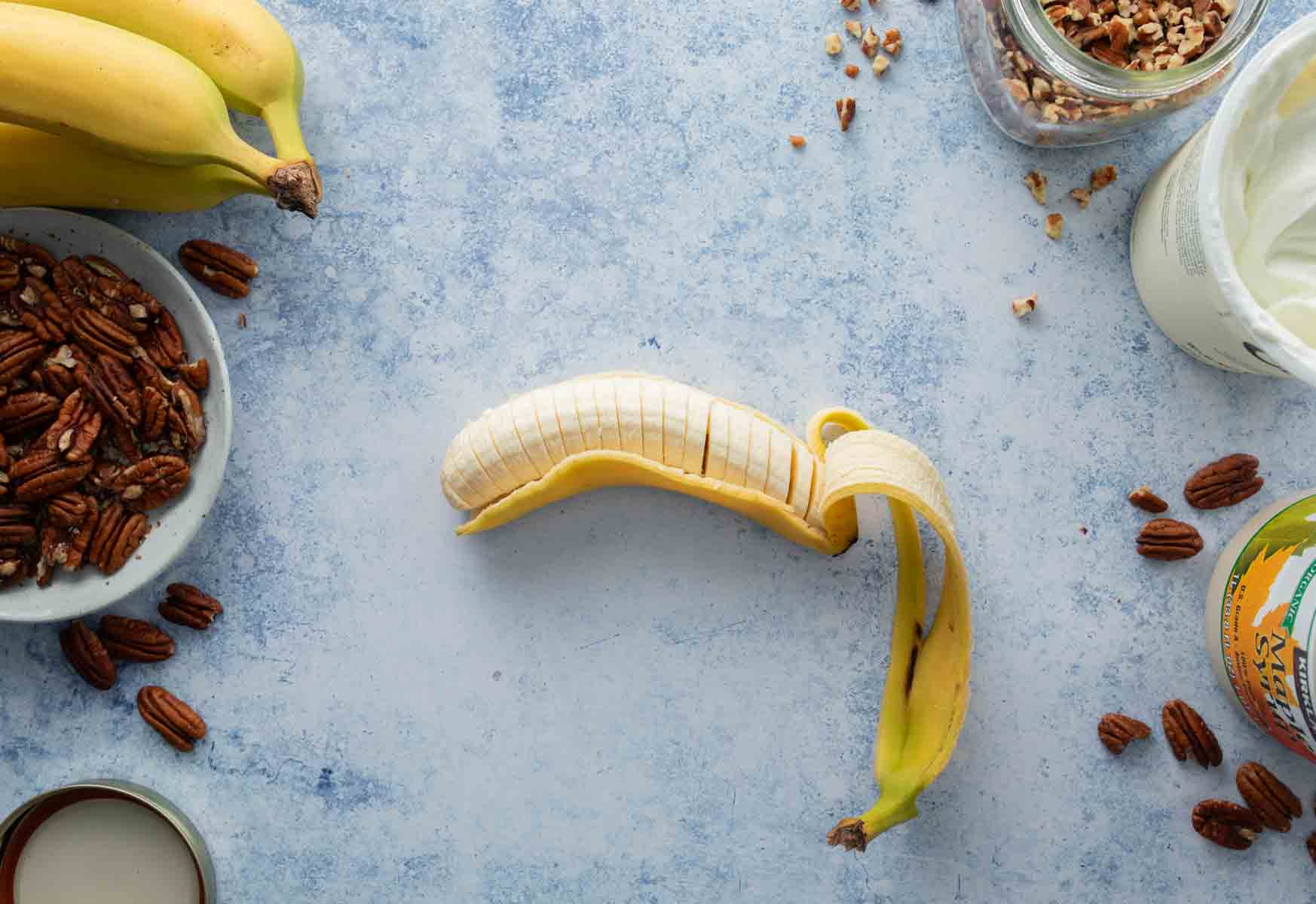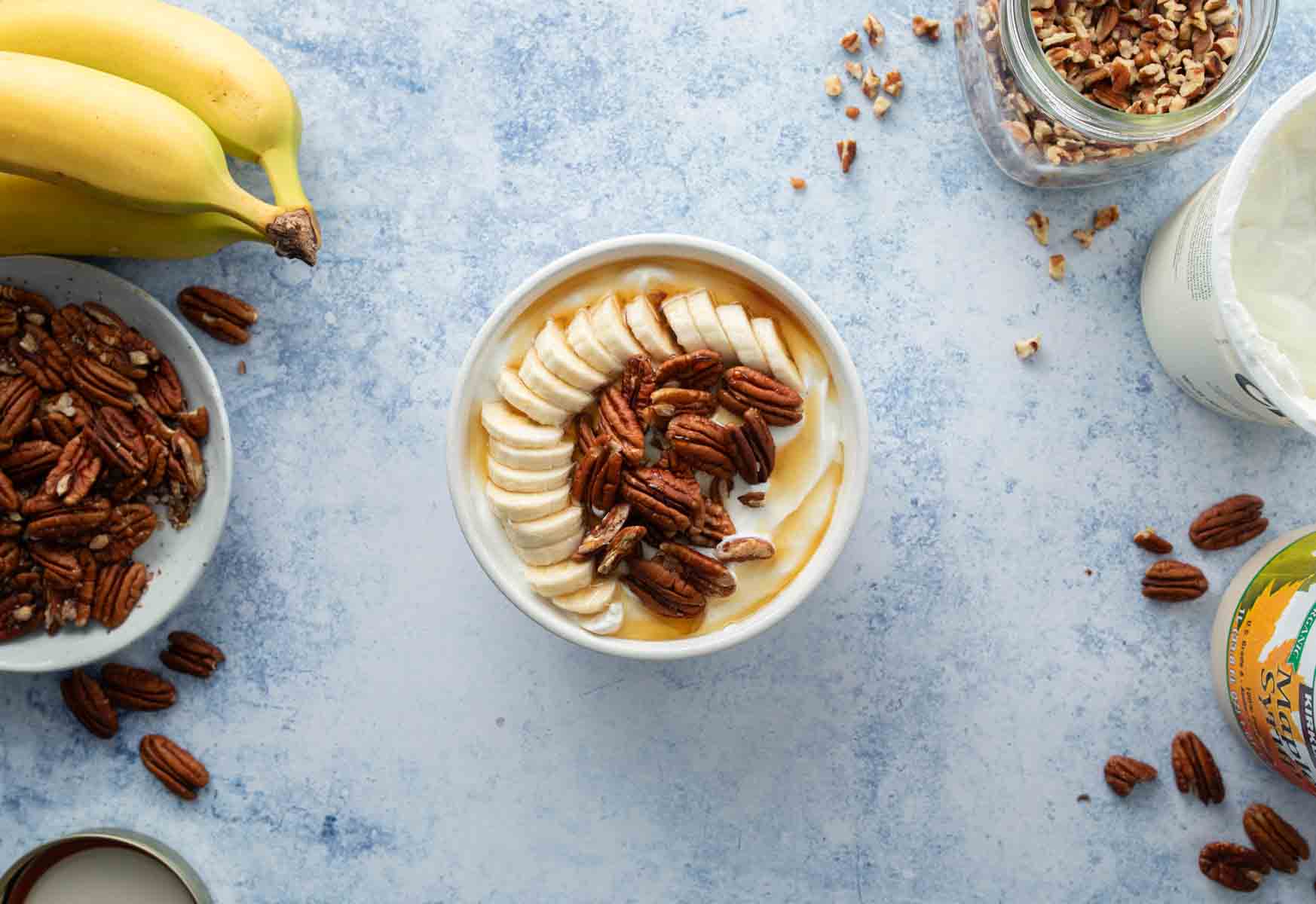 Quick Notes on This Recipe
Any Dannon Light & Fit Original Greek yogurt would be great in this yogurt bowl, but I particularly recommend Cherry, Blueberry, and Key Lime flavors. They're my faves!
I'll include amounts of toppings to get started, but recommend playing around with the toppings to find how much your body needs to feel good. This is individualized nutrition 101.
You don't just have to add berries and granola, I love adding nuts, peanut (or other nut).
Easy Yogurt Bowl
This easy yogurt bowl is one of my favorite breakfast hacks to make my mornings run smoothly and enjoyably.
Equipment
knife

cutting board

Measuring Spoons
Ingredients
1

carton

Dannon® Light & Fit® Original Greek Yogurt, blueberry flavor

or other favorite flavor

¼+

cup

granola

⅓+

cup

fresh sliced fruit

(strawberries, bananas, cherries, blueberries)
Instructions
Top yogurt with granola and fruit, leave in cup, or pour into bowl
Notes
add peanut butter for extra protein and fat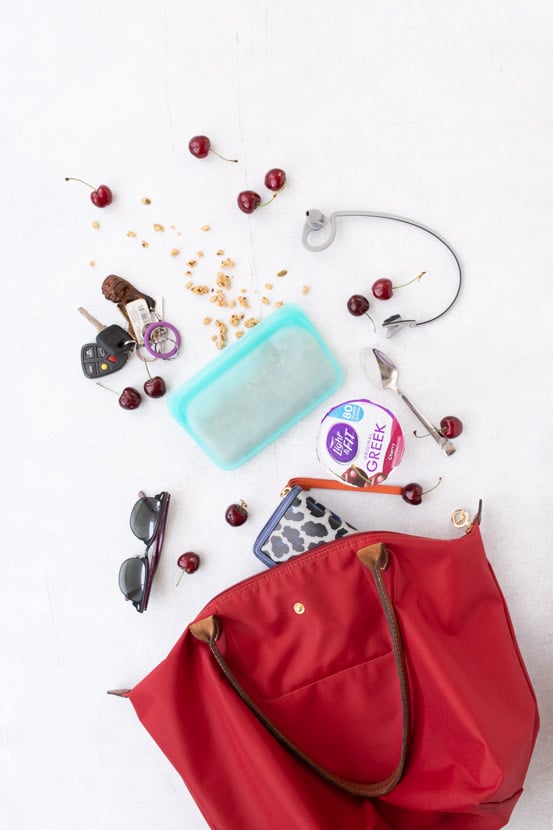 Need a bit more yogurt inspiration? Check out these yogurt breakfast hacks from some of my favorite non-diet dietitians:
I like to make hazelnut chocolate pudding pudding by mixing a hazelnut chocolate spread and plain nonfat yogurt. The hazelnut chocolate adds just the right amount of creaminess to the nonfat yogurt. Adina Pearson, RD
You can add even more protein to your morning yogurt, since protein is the most satiating nutrient! My favorite protein additions: hemp seeds, chia seeds, flax seeds, and sometimes even just some plain protein powder! Mandy Ng, RD, CNSC.
Yogurt is a staple in my fridge so I have quite a few hacks. To name a few - I mix any flavor yogurt in with overnight oats, I prep it the night before for a quick grab and go breakfast. I've also been known to mix a little cocoa powder and peanut butter powder in with vanilla yogurt for a sweeter snack or breakfast. I like to mix plain yogurt in with mashed avocado to make it light and creamy -Jenna Gorham, RD, LD of Jenna Gorham Nutrition.
Yogurt Avocado Toast with Honey and Pink Salt is dreamy! I like to spread Greek yogurt over toast and top with avocado slices, honey and pink salt. Mariana Dineen MS, RD, CDN.
I love vanilla Greek yogurt, adding a generous spoonful of peanut butter, a touch of honey, and some chocolate chips for a protein packed cookie dough-like breakfast! -Emily Holdorf, MS, RDN, LDN of EmPowered Nutrition.
I like vanilla Greek yogurt with fresh strawberries, dark chocolate chips, and a little bit of granola. SO good in the summer! Rose Mattson, MS, RD, CD
One of my favorite ways to enjoy vanilla-flavored Greek yogurt is to mix it with peanut butter until smooth. This mixture can either be refrigerated or frozen. When refrigerated, it can be used as a dip for fruit and even veggies or as a spread for bagels and tortillas. The possibilities are endless! Sydney Cavero-Egusquiza, MS, RD/LD
Make sure to follow @LightandFit on Instagram for more delicious yogurt inspiration
Want tips to live your best live delivered straight to your inbox + a free15 minute dinners eCookbook?
thought so
[mailerlite_form form_id=10]
Let's get chatty:
What's your go-to easy breakfast hack

?

How would you customize your easy yogurt bowl?