These protein overnight oats with peanut butter and banana is a great and delicious way to get the morning started, you just need 5 minutes and a bowl with a lid, no protein powder required. Make extra for breakfasts for the week.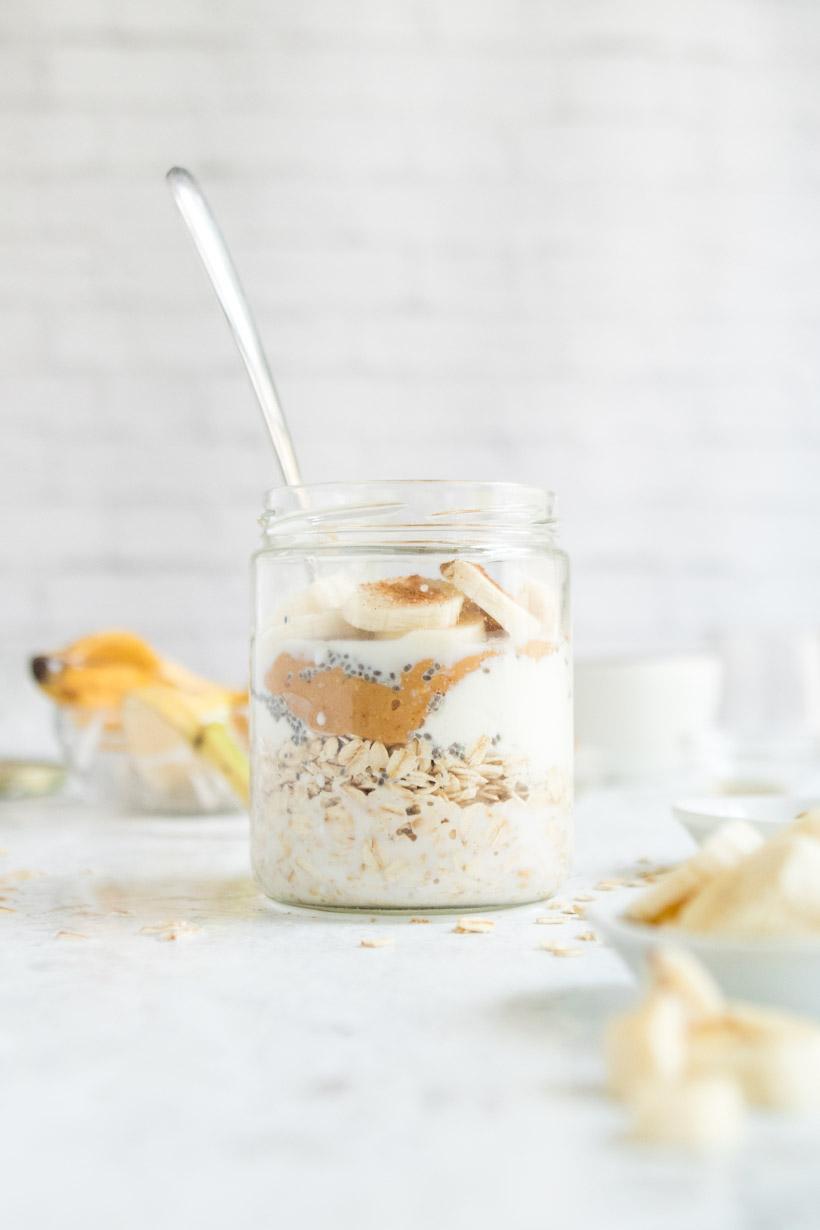 [This recipe was originally posted in April 2018. It has been updated with new photos, cooking instructions, expert tips, FAQ, related recipes, video and ways to repurpose/use up ingredients]
PIN HERE to add to your recipe box.
How will these peanut butter overnight oats make your life easier?
if you're someone who doesn't like the taste of protein powder, peanut butter is a great substitution for overnight oats, like these protein overnight oats, smoothies, and other breakfasts.
You can make these protein overnight oats (or these basic ones or Apple Cinnamon ones) at night OR even once a week for a few days, that way you don't have to spend any time in the morning making breakfast.
These Healthy Breakfast Tacos, Homemade Zucchini Bread, yogurt with this Peanut Butter Granola, Sausage & Egg Casserole are all breakfasts you can make ahead of time and heat up quickly for a delish easy breakfast.
Or you can take a few minutes to whip up this Wild Blueberry Tea Smoothie, Chunky Monkey Chia Pudding, or Easy Yogurt Bowl.
What makes these overnight oats so good?
Greek yogurt
Old fashioned oats
Peanut butter
Chia seeds
Vanilla extract
Cinnamon
Banana
Milk
How do I make these peanut butter overnight oats?
Start making your protein overnight oats by adding ½ c plain Greek yogurt, ¾ c old fashioned oats, 1 T peanut butter, 1 teaspoon chia seeds, and ½ teaspoon vanilla extract to a bowl/jar with a lid.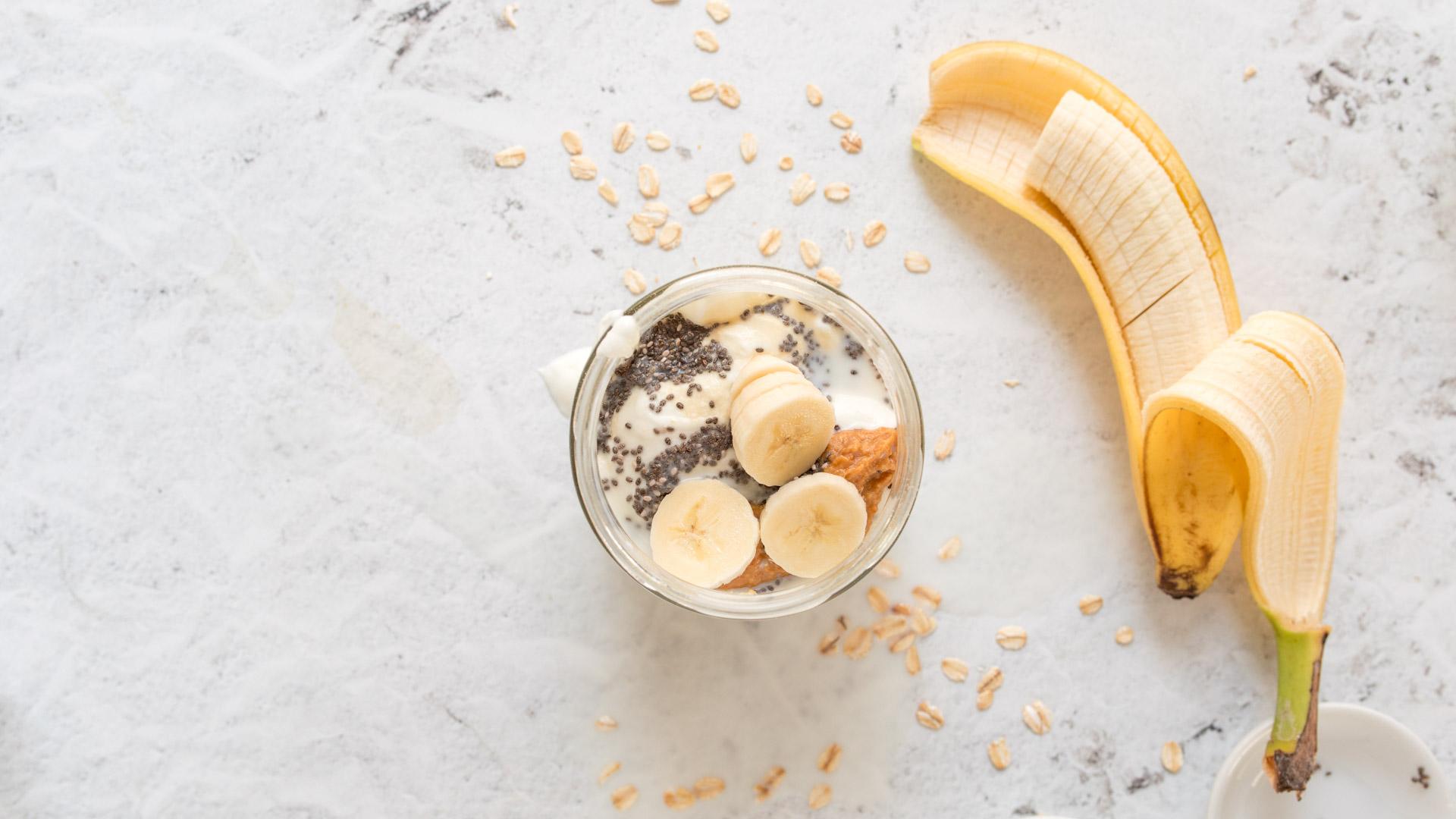 Sprinkle cinnamon over your protein overnight oats ingredients, slice up ½ banana and add to jar, then cover with ~½ cup milk.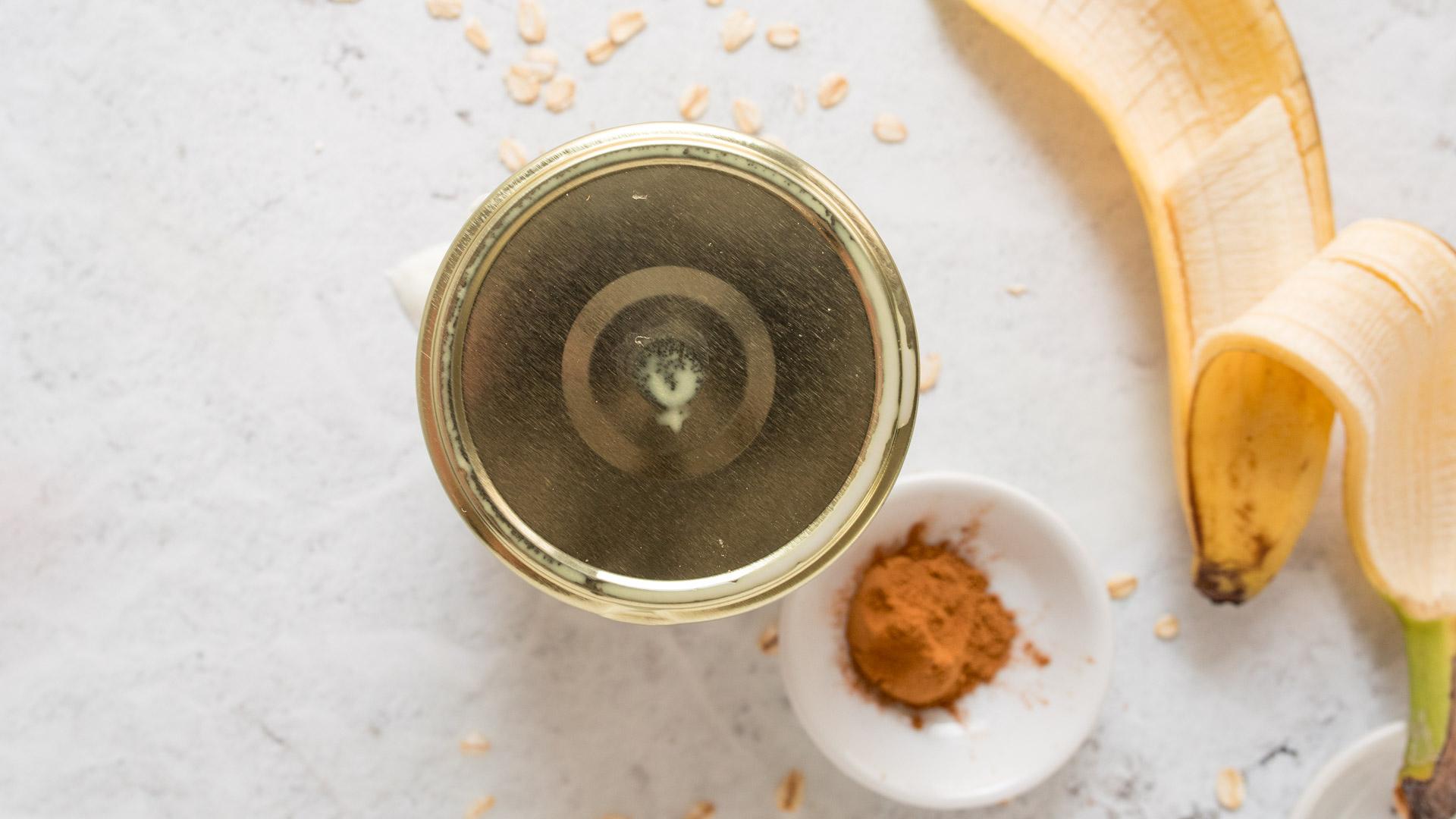 Remove your protein overnight oats from the fridge prior to eating, you can heat it up or eat cold depending on preference.
Expert Tips
Use your favorite type of milk, and as much as you'd like.
You don't have to stir your protein overnight oats either, you can stir it right before eating in the AM.
Use a light weight jar if you're taking it to work. It'll be just as easy but not as heavy.
Adjust the amounts of each ingredient to your preference
Store your protein overnight oats in the fridge for up to 5 days, that means you can make extra for more breakfasts.
FAQ
What's the ratio for overnight oats?
I used 1 part oats to 2 parts milk for these protein overnight oats and others. Honestly I usually eyeball the milk and cover all ingredients. But using less milk will make your protein overnight oats harder and they won't be very easy to eat.
Are overnight oats healthy?
Overnight oats are made with oats, which are a whole grain. As a non-diet dietitian, I usually stay away from calling certain foods healthy, but knowing that oats are a whole grain, I know that they can improve your heart and digestive health.

As you add other ingredients to your protein overnight oats, you'll get nutrients from those foods as well, so it can easily be a whole meal with different food groups, which is a healthful way to eat.
What kind of oats are best for overnight oats?
Use what you have on hand. Old fashioned (or rolled oats) are best to get the best, chewy yet soft oats. Quick oats can get too mushy and steel cut oats can be too chewy. If using steel cut oats, I'd add an extra ¼ or so cup of milk.
What is the difference between rolled oats and quick oats?
Rolled oats (or old fashioned oats) are oats that have been rolled. Quick oats are rolled oats that have been chopped up into smaller pieces so they cook up quicker. The biggest differences between rolled & quick oats are texture and size.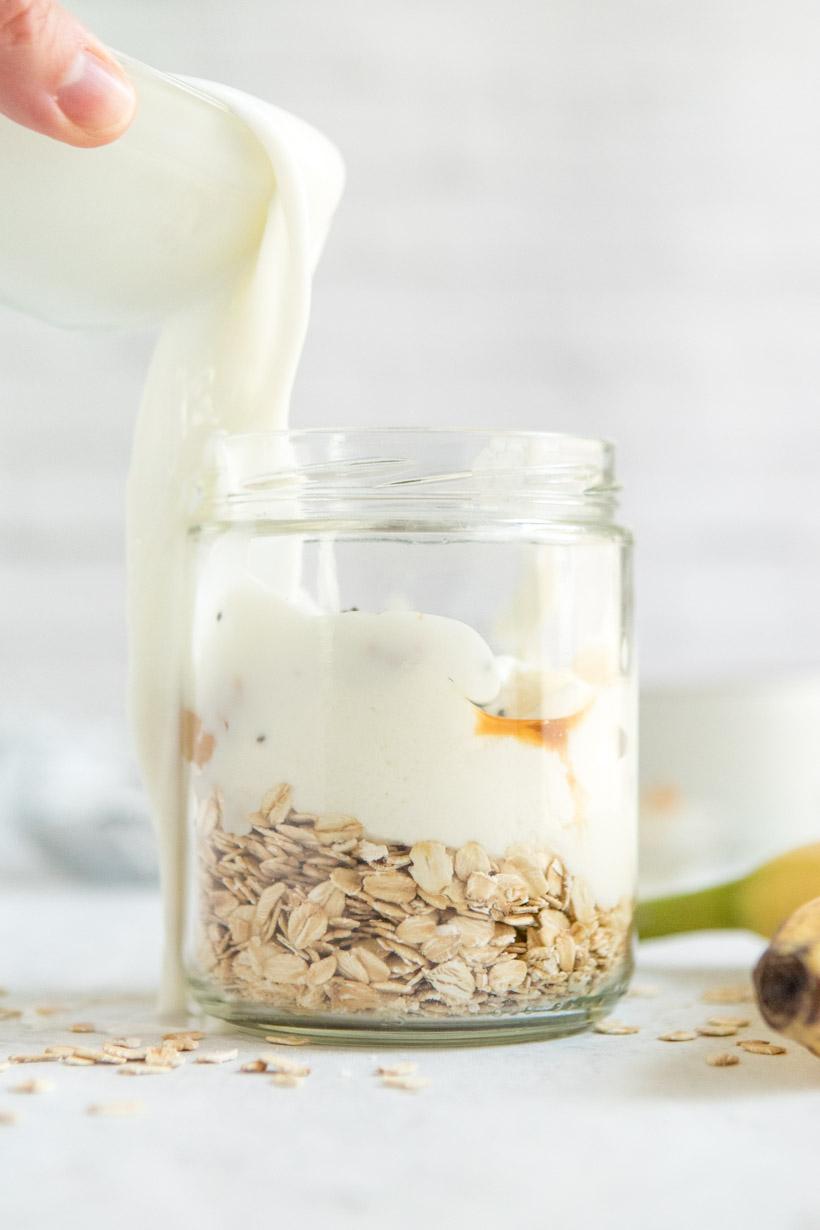 What can I make with leftover ingredients?
Did you make these protein overnight oats? Leave me a comment & rating to share how they turned out!
Peanut Butter Overnight Oats with Banana
These peanut butter overnight oats with banana are a great and delicious way to get the morning started, without any cooking or prepping in the morning.
Equipment
spoon

Jar

Measuring Cups

Measuring Spoons
Ingredients
½

cup

plain Greek yogurt

¾

cup

old fashioned oats

1

tablespoon

peanut butter

1

teaspoon

chia seeds

½

teaspoon

vanilla extract

sprinkle

cinnamon

½

medium

banana

sliced

1

cup

milk

or adjust depending on personal preference
Instructions
Add all ingredients, with milk last, cover and refrigerate until use (up to ~5 days). You can heat it up or eat cold depending on preference.
Video
Peanut Butter Overnight Oats
Notes
if you use vanilla or other flavored yogurt, no need to add vanilla extract
Want to get more single serving recipes like this protein overnight oats recipe delivered to your inbox? Click here to download my Single Serving Cookbook.
Recipes are great, but you'll need a simple 3 step process to create a meal plan that make cooking easy & helps you stop wasting food. Check out this expertly developed meal planning guide to get started.