Individual meatloaf made with ground beef, turkey, or a combination is an easy dinner for one. It can be baked in just 20 minutes, with sides, making it an easy weeknight dinner. This meatloaf for one is so tender and juicy, it's a great comforting meal.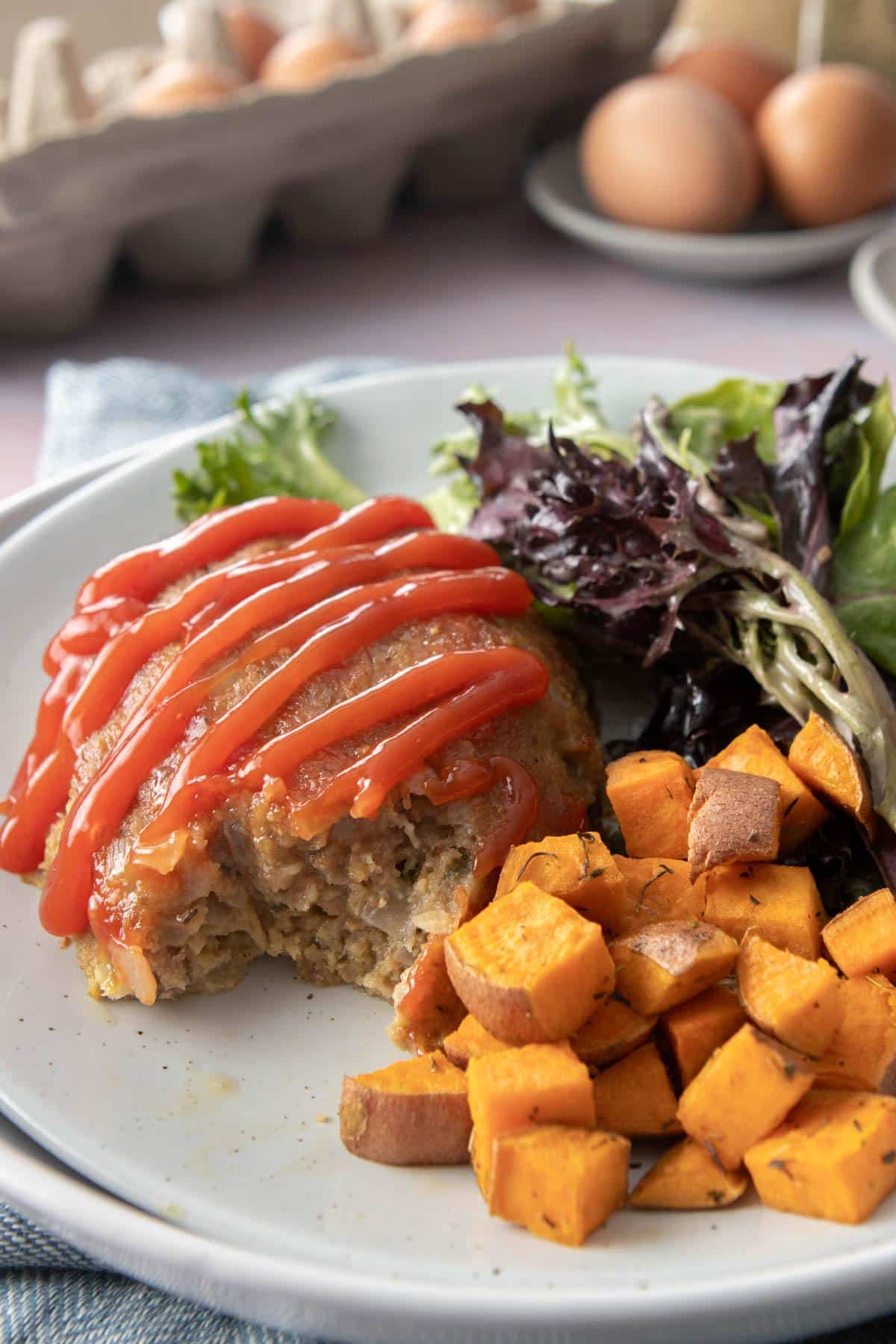 How will this meatloaf make your life easier?
Meatloaf is a classic American dish, it's pretty easy to assemble, but often takes about an hour to bake. Plus many meatloaf recipes serve 6+ people. This easy individual meatloaf is perfect if you're cooking for one. It's faster and turns out very juicy.
Like most recipes here, make this recipe easier by using the ingredients you already have on hand or like better. Ground beef or ground turkey work in this recipe, and you can swap some onion for bell pepper, if you have it. Use fresh or dried thyme too.
Other good sheet pan recipes:
What makes this mini meatloaf recipe so good?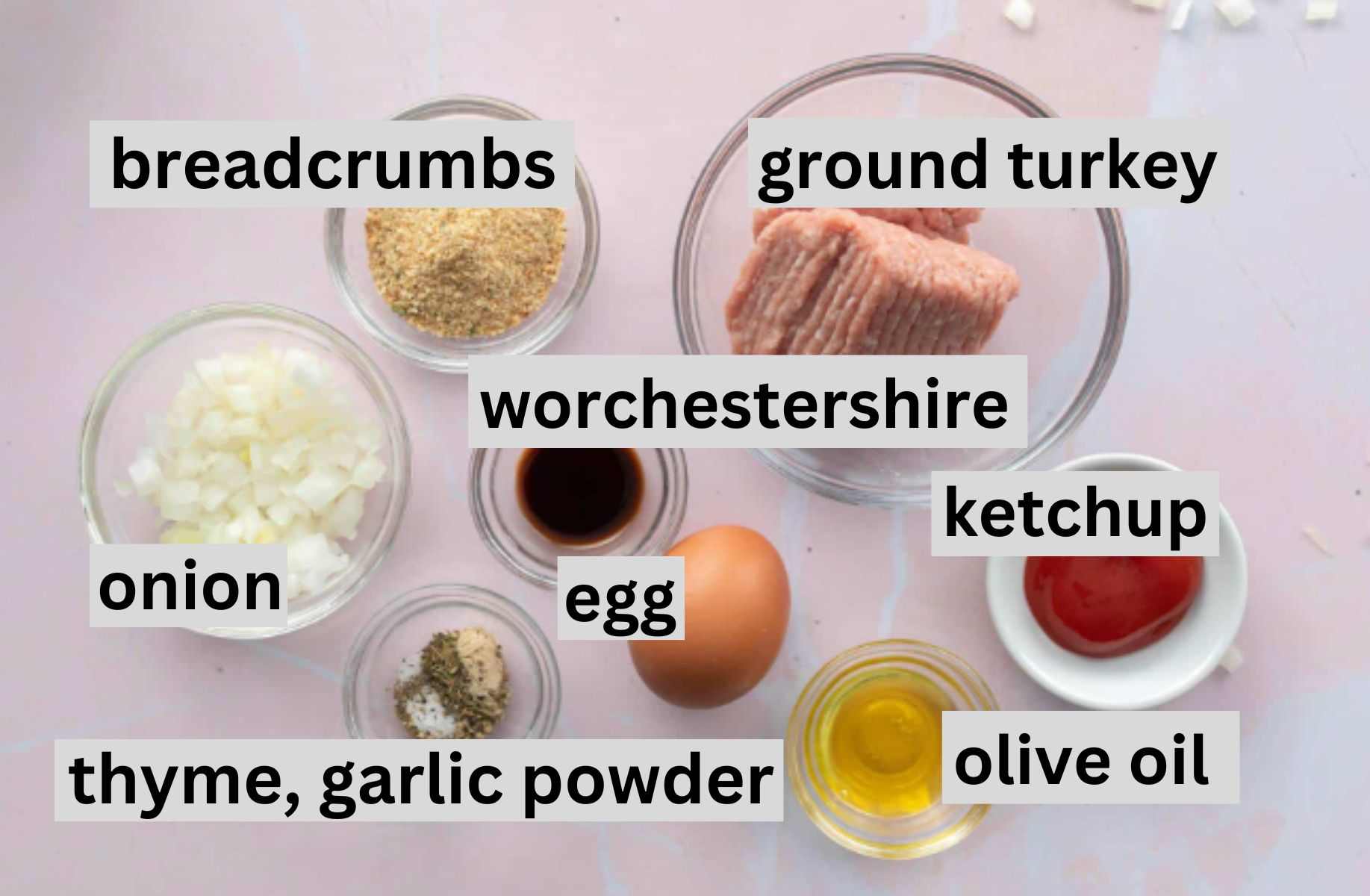 Olive Oil: Helps soften the onions, adds olive-y flavor, and juiciness, especially if you're using lower fat meat.
Onion: Adds sweetness and juiciness to your individual meatloaf.
Dried Thyme: You can also use fresh thyme, about double the amount of dried thyme. Ina Garten adds it to her meatloaf, so I added it to mine.
Salt: enhances the flavors of the other ingredients.
Worcestershire Sauce: It adds a nice umami, sweet, tangy flavor.
Breadcrumbs: Also acts to bind the ingredients together. If your meat mixture is too wet, add extra breadcrumbs. It's great with plain, Italian seasoned, or with panko breadcrumbs.
Egg: It will bind all the ingredients together and add moisture to your individual meatloaf.
Ground Beef or Turkey: Both work in this recipe. Use what you have or like better. With enough egg and onions, the turkey meatloaf is very juicy and tender. ¼ pound of ground beef or turkey makes for a good size for one.
Ketchup: Spread it on top of your individual meatloaf for extra tomato and sweet flavors.
How do I make meatloaf for one?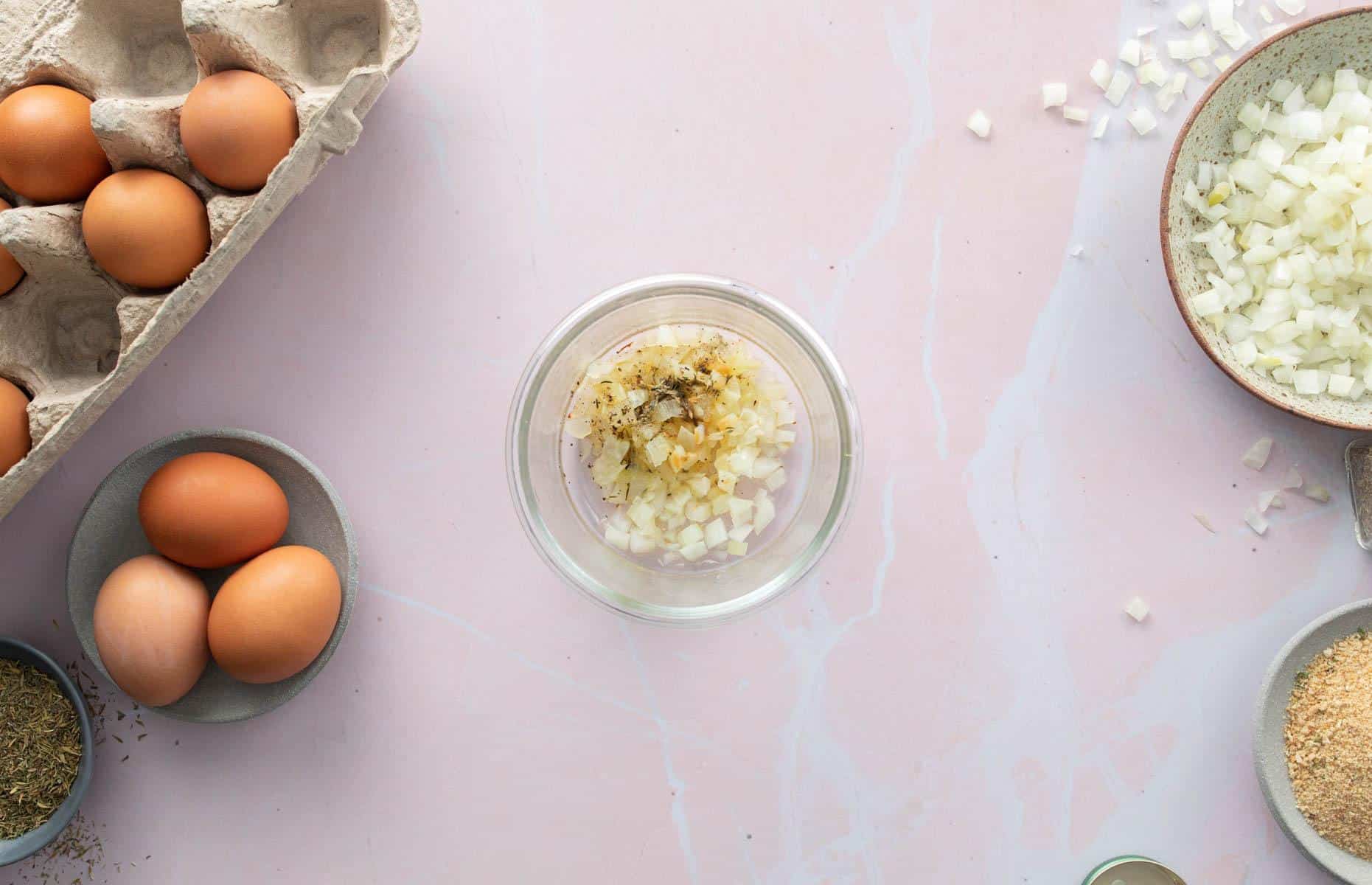 Preheat oven to 350 degrees F.
Start making your individual meatloaf by adding onion, olive oil, and spices to a small, microwave safe bowl. Place lid on bowl and microwave for 2-3 minutes, or until onions are softened and translucent. Set aside.
This method is quicker, and less messy than the stove.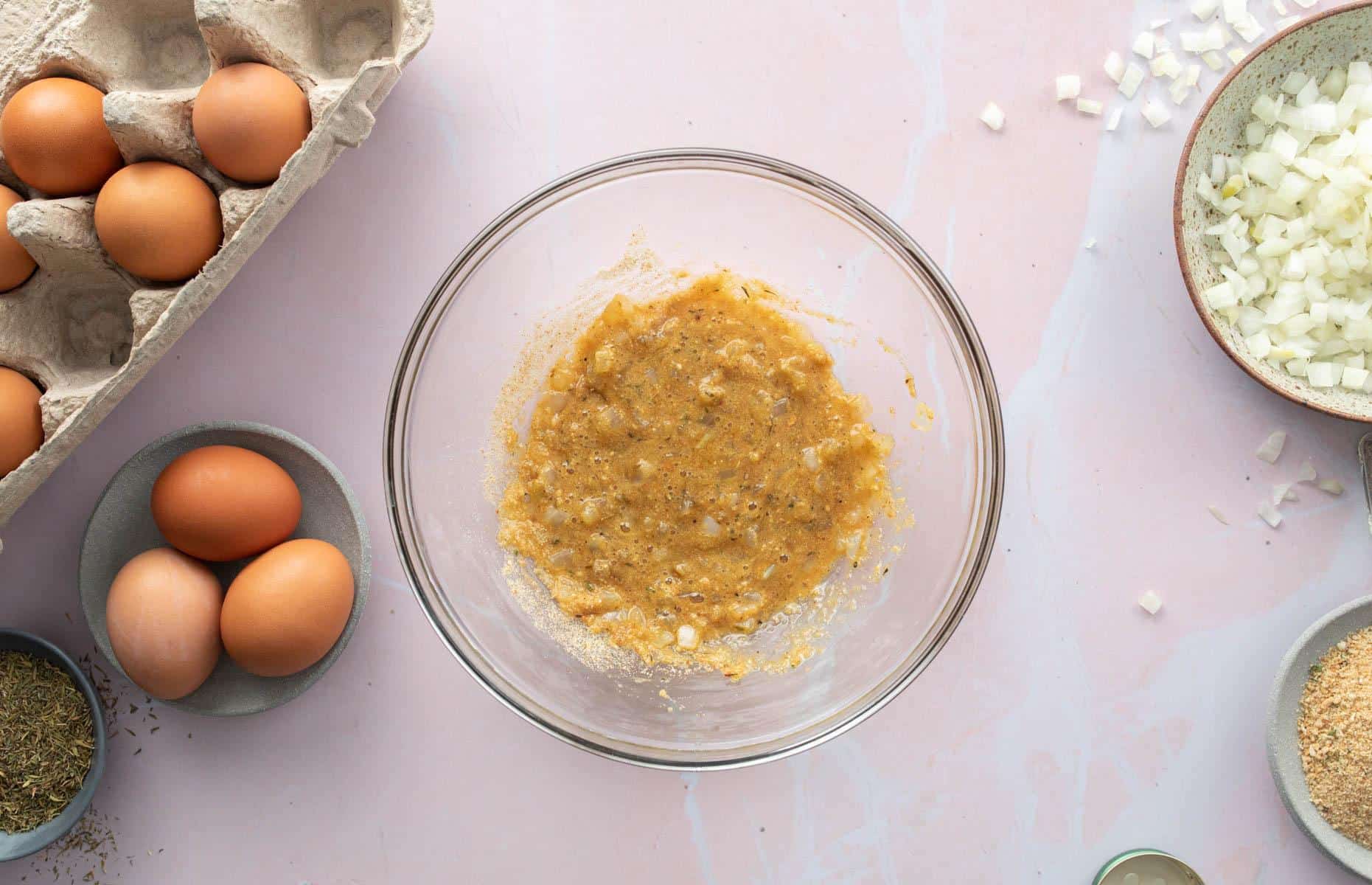 Crack an egg into mixing bowl. Whisk together with fork or whisk until evenly scrambled. Add worcestershire sauce, breadcrumbs, and then onion mixture to mixing bowl. Mix together.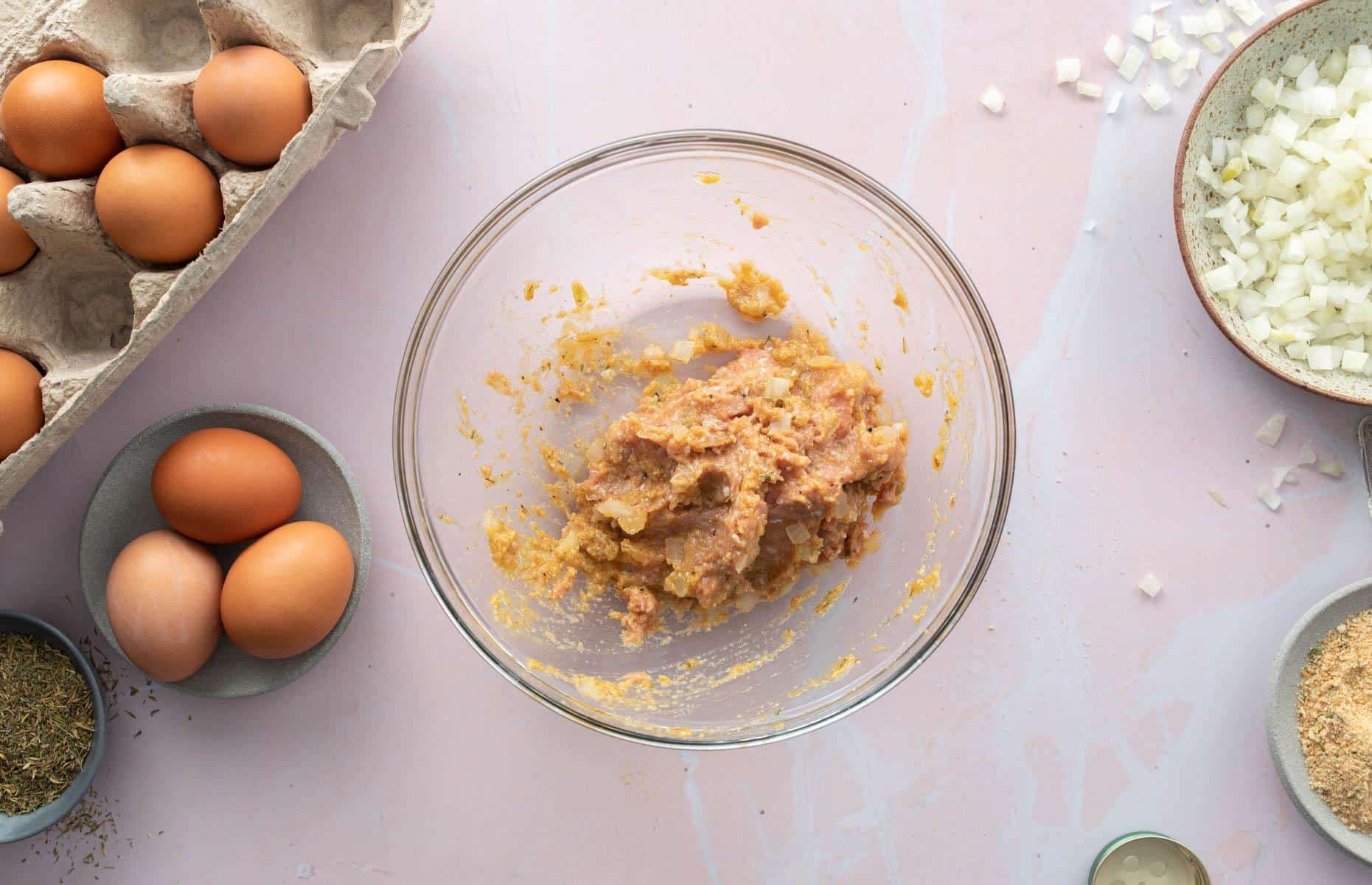 Add in ground meat and carefully incorporate it into egg/onion mixture. Don't mash it. Texture should be very juicy, but not soggy or with liquid in the bottom. Add additional breadcrumbs if necessary.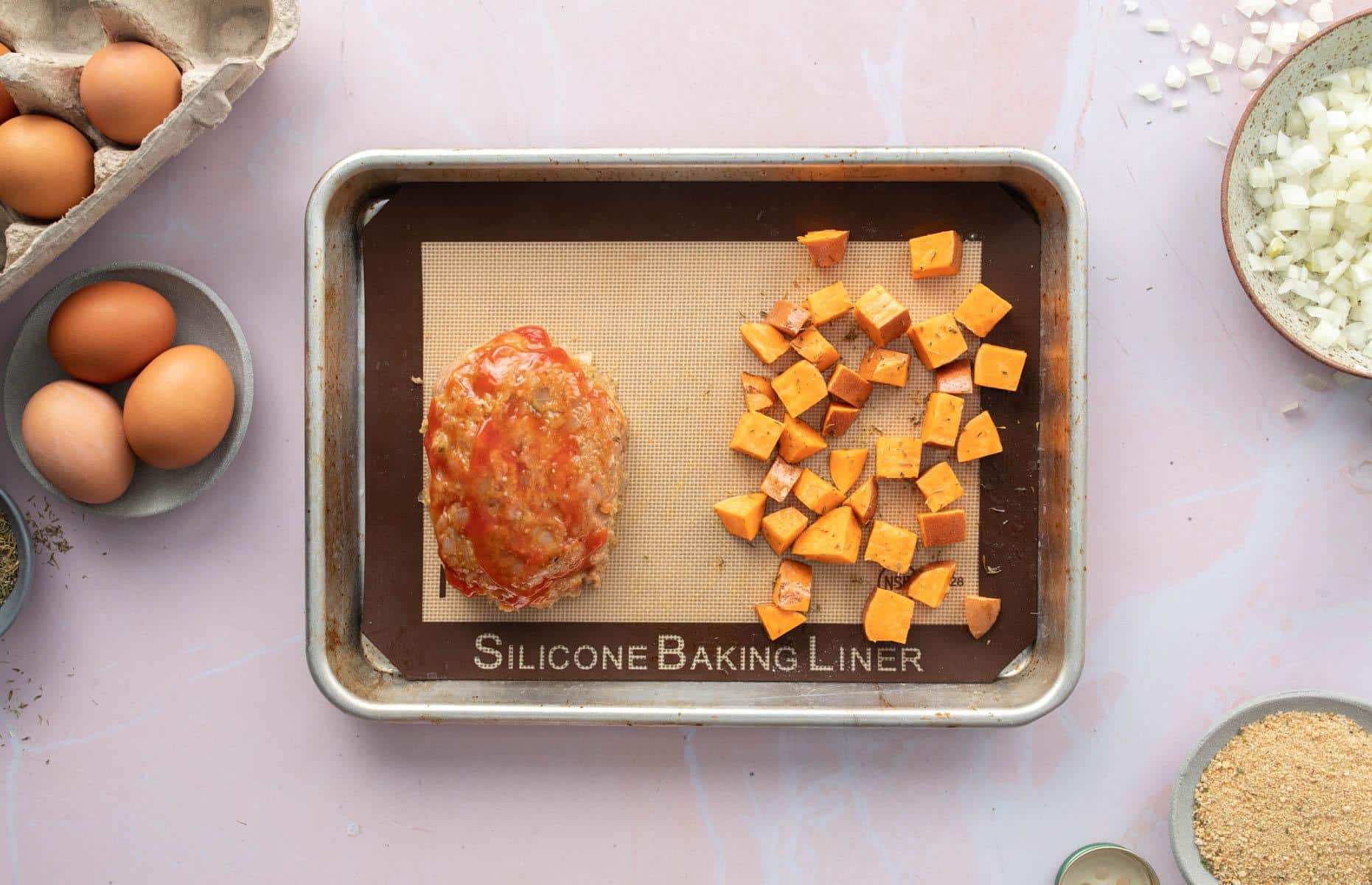 Form into a loaf. Place on baking sheet with baking mat or parchment. Top with ½ ketchup. You can add cubed potatoes and vegetables to the baking sheet too, if you'd like. Season them with more olive oil, thyme, garlic powder, and salt. Or other.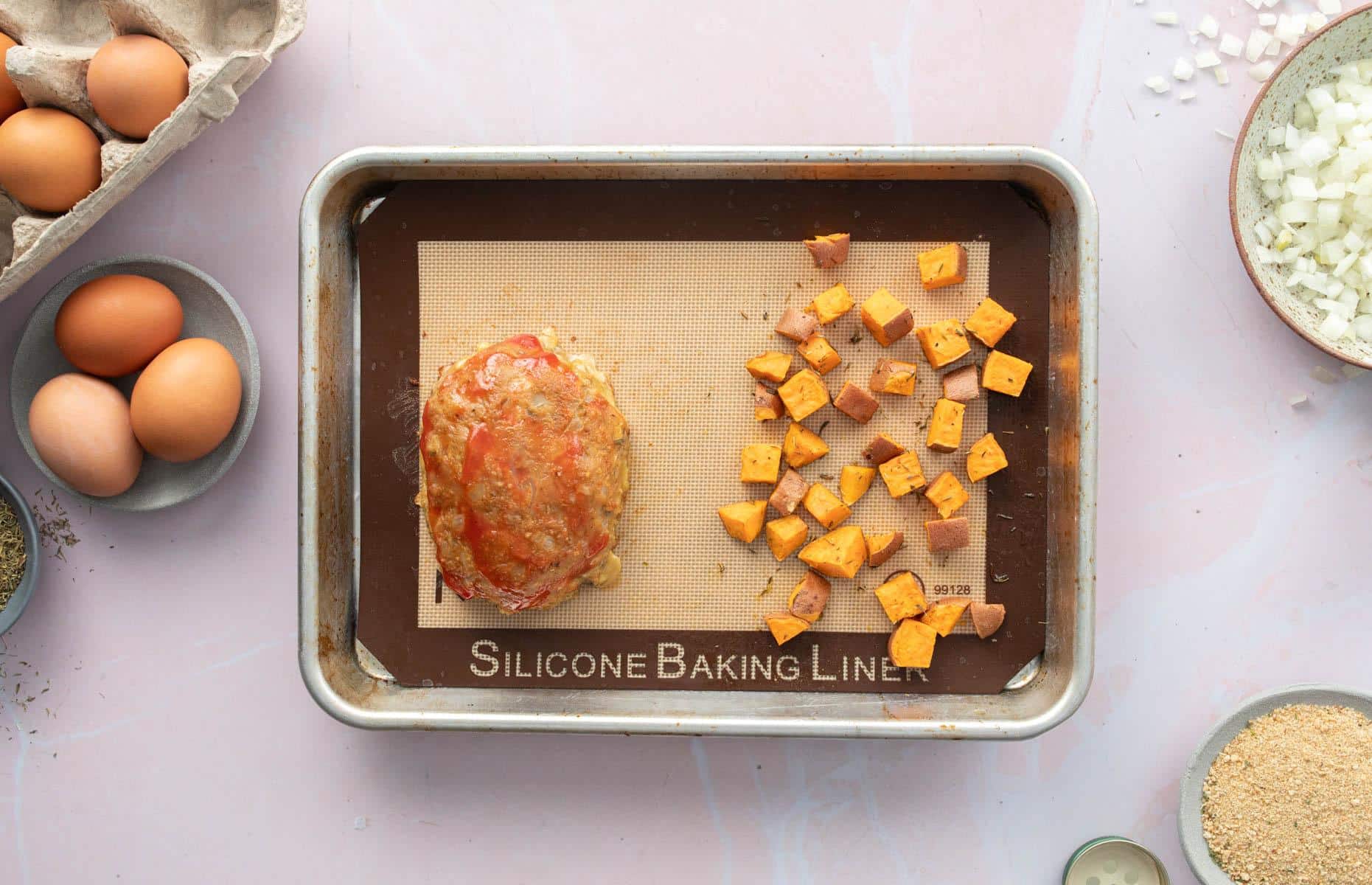 Bake for about 20 minutes at 350 degrees F. Or until center is 165 degrees F. Top with remaining ketchup after it's done cooking.
Enjoy your individual meatloaf and sides immediately. Store leftovers in airtight container for about 5 days in the fridge. Reheat in microwave.
Substitutions/Tips
If using ground beef less lean than 93/7 fat content, skip adding the olive oil to onions. The fat will seep out when baking your individual meatloaf on a baking sheet.
You can replace ½ the onion with diced bell pepper.
If you have fresh thyme, add about ½ teaspoon of it instead of dried.
Use remaining seasonings for sides too, or use oil + Italian seasoning + salt or other favorites.
Mashed potatoes are a great side dish for your individual meatloaf. Make if you'd like.
Other great add-ins: If mixture is too dry, add a dash of milk. Top your individual meatloaf with shredded cheddar cheese, a sprinkle of fresh or dried thyme or parsley.
FAQ
How long to cook individual meatloaf?
It will take about 20 minutes to bake a meat loaf with about ¼ pound ground meat and other ingredients, and that's a loaf shape on a baking sheet, not in a muffin tin or loaf pan.
Do you have to cook onions before putting in meatloaf?
You don't have to cook them, but they'll be softer, sweeter, and make your meatloaf more juicy if they're cooked before adding. This meatloaf recipe calls for microwaving the onions, it's faster and less messy than cooking on the stove.
How do you bake a meatloaf without a loaf pan?
You can form meatloaf into individual meatloafs (1 serving each) and bake on a baking sheet, or break into pieces to fit in a muffin tin. Cooking times will vary.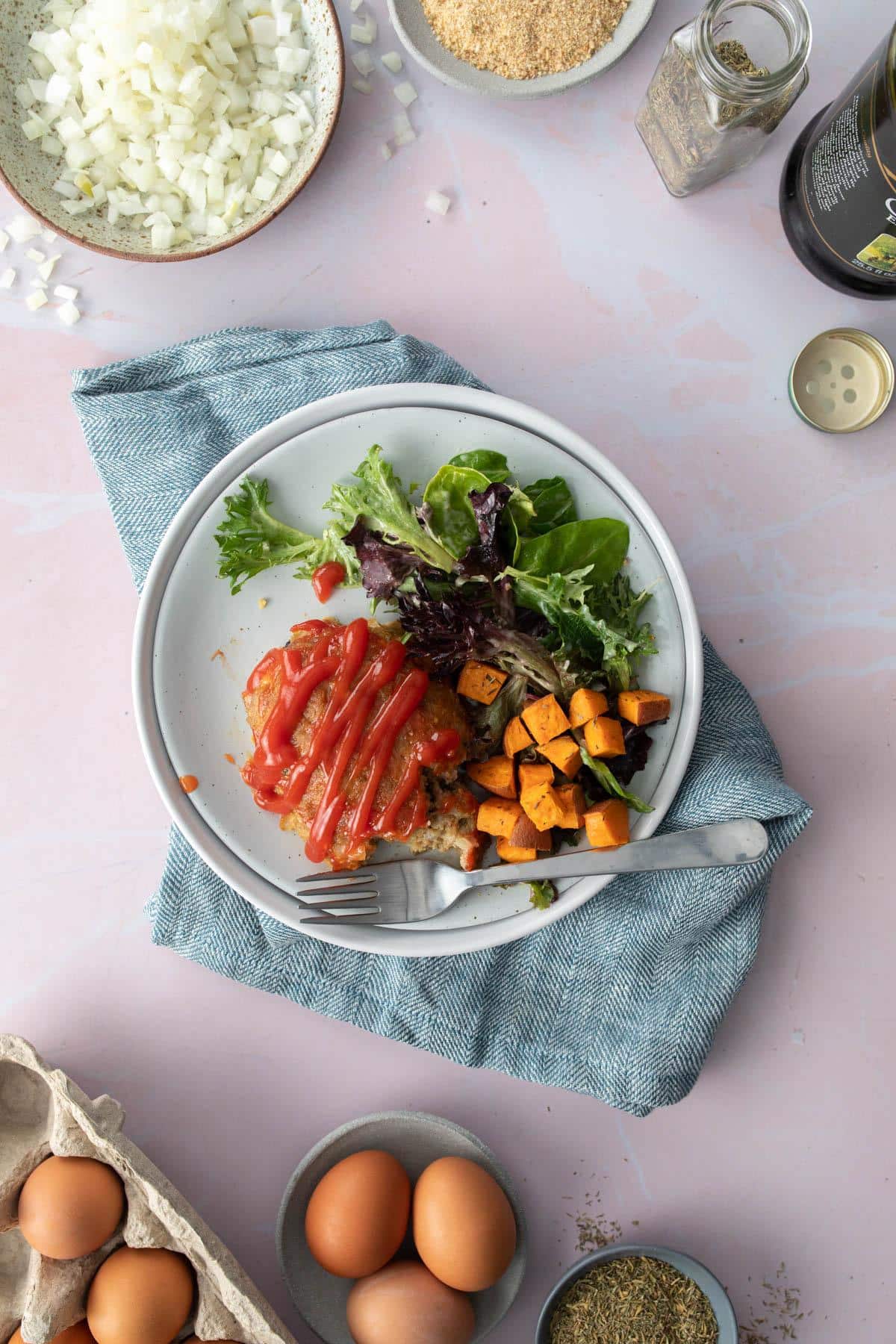 How can I repurpose?
Enjoy leftovers from your individual meatloaf on bread with cheddar cheese as a meatloaf sandwich.
What can I make with leftover ingredients?
Did you make this individual meatloaf? Leave me a comment & rating to share how it turned out!
Individual Meatloaf
Individual meatloaf made with ground beef, turkey, or a combination is an easy dinner for one. It can be baked in just 20 minutes, with sides, making it an easy weeknight dinner. This meatloaf for one is so tender and juicy, it's a great comforting meal.
Equipment
small microwave bowl with lid

Measuring Cups

Measuring Spoons

cutting board

knife

medium mixing bowl

baking sheet

Baking Mat or Parchment Paper
Ingredients
¼

cup

diced onion

1

teaspoon

olive oil

⅛

teaspoon

kosher salt

⅛

teaspoon

dried thyme

⅛

teaspoon

black pepper

⅛

teaspoon

garlic powder

1

whole

egg

1

teaspoon

worcestershire sauce

2

Tablespoons

breadcrumbs

plain, Italian, or panko

¼

pound

ground beef or turkey

don't add olive oil if using ground beef

2

Tablespoons

ketchup
Instructions
Add ⅓ cup diced onion, 1 teaspoon olive oil (don't add olive oil if using ground beef with more fat than 93/7), ⅛ teaspoon kosher salt, ⅛ teaspoon dried thyme, ⅛ teaspoon black pepper, ⅛ teaspoon garlic powder to small microwave safe bowl, place lid on top. Microwave for 2-3 minutes, until onions are softened. Stir together. Set aside.

Add egg to medium mixing bowl. Whisk with fork or whisk. Then add onion mixture, 1 teaspoon worcestershire, 2 Tablespoons of breadcrumbs of choice. Mix together, then add ¼ pound ground beef/turkey. Carefully fold meat into mixture until just incorporated.

Transfer to baking sheet, form into a loaf with hands. Place on baking sheet. Spread 1 Tablespoon ketchup on top. Bake for 20 minutes, or until internal temperature reaches 165 degrees F.

You can cook potatoes, sweet potatoes, and vegetables with your meatloaf. I like to just season mine with olive oil, Italian seasoning, and salt.

Spread remaining 1 Tablespoon of ketchup over meatloaf after baking. Serve with a side of ketchup if desired.

Enjoy immediately or store in an airtight container in the fridge for about 5 days. Or until it smells off. Reheat, covered in the microwave.
Notes
I've tested this recipe with both ground beef and turkey, it's great with both. There's a bit more egg and onions in this recipe than many others, but they both help keep this meatloaf extra juicy. Use either or a mix, depending on your preferences and what you have on hand.

If using ground beef, that's got more fat in it than 93/7, don't add olive oil. The fat will just render out and it won't add any flavor or anything.

You can also replace ½ the onion with equal amount of diced bell pepper.
Make a couple servings for leftovers. Individual meatloafs cook more quickly than a full loaf pan meatloaf.
Easily soften your onions by cooking in the microwave. You can also cook them over the stove, for about 5-7 minutes, or until softened.
Want to get more single serving recipes like this individual meatloaf delivered to your inbox? Click here to download my Single Serving Cookbook.
Recipes are great, but you'll need a simple 3 step process to create a meal plan that make cooking easy & helps you stop wasting food. Check out this expertly developed meal planning guide to get started.