Turn up no fuss breakfasts with this super easy chorizo breakfast casserole. It's filled with just 5 ingredients: eggs, chorizo, o'brien potatoes, and cheese that makes for a delicious make ahead breakfast for busy weekday mornings.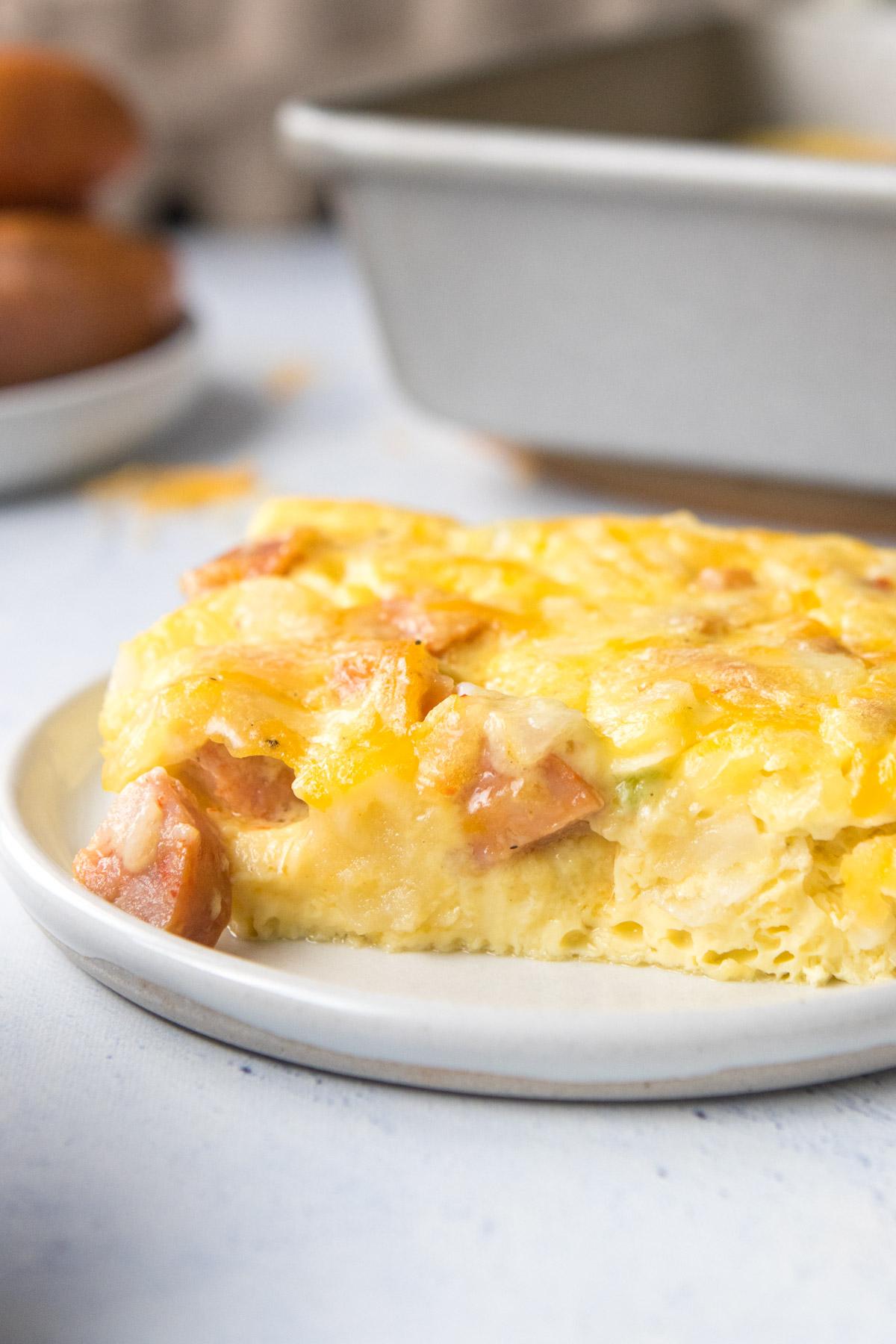 [This recipe was originally posted in March 2018. It has been updated with new cooking instructions, expert tips, FAQ, related recipes, photos, video and ways to repurpose/use up ingredients]
How will this dish make your life easier?
You may have seen recipes for Mexican breakfast casserole. This is really similar. Isabel of Isabel Eats describes how chorizo is used in Mexican dishes, and describes the difference between Mexican chorizo and Spanish chorizo.
The chorizo I found at the store doesn't really fit into either category. it's a like a chorizo spiced regular sausage. The good thing about this recipe is that it's simple enough that any chorizo should work in it.
Make ahead breakfasts like this chorizo breakfast casserole are the perfect start for busy mornings. No cooking, no preparation, all you have to do is quickly heat up this casserole and get on with your day.
Take an hour to whip up this breakfast casserole, and then freeze in individual portions so you can grab and microwave it at home or at the office for a quick and nourishing breakfast.
What makes this breakfast casserole good?
Scroll down to the chorizo breakfast casserole recipe card for the amounts of each ingredient, but here's a quick visual + description of what's in this recipe.
How do I make this chorizo potato breakfast casserole?
Scroll down to the recipe card for more detailed instructions. Here's a quick overview + photos to see how to make this recipe in general.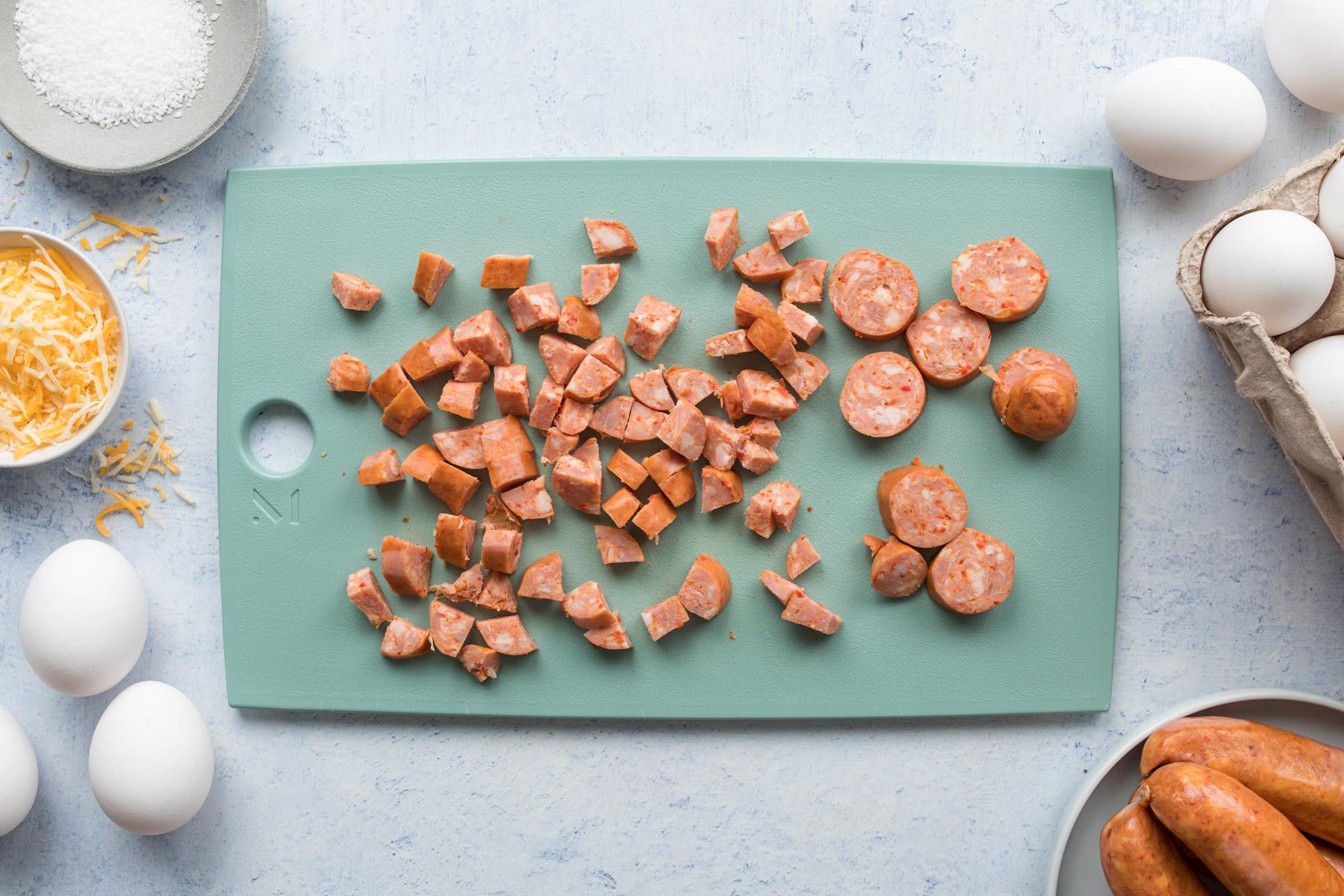 1.Preheat oven to 350 degrees.
2. Cutting 2 precooked chorizo sausage links into small pieces. Brown uncooked chorizo, if you're using it.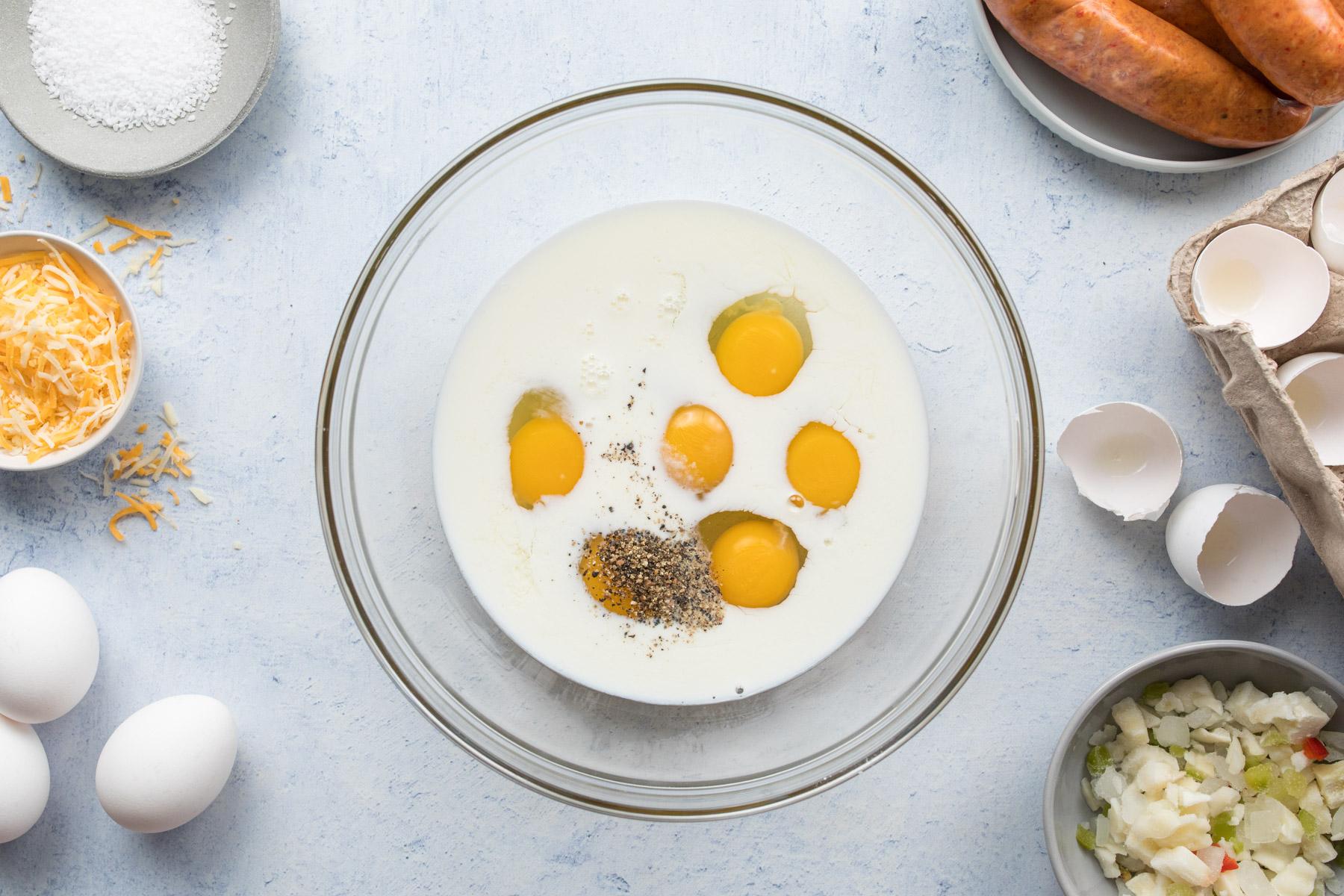 3. Crack eggs into a medium sized mixing bowl, add milk, salt, pepper. Whisk until incorporated.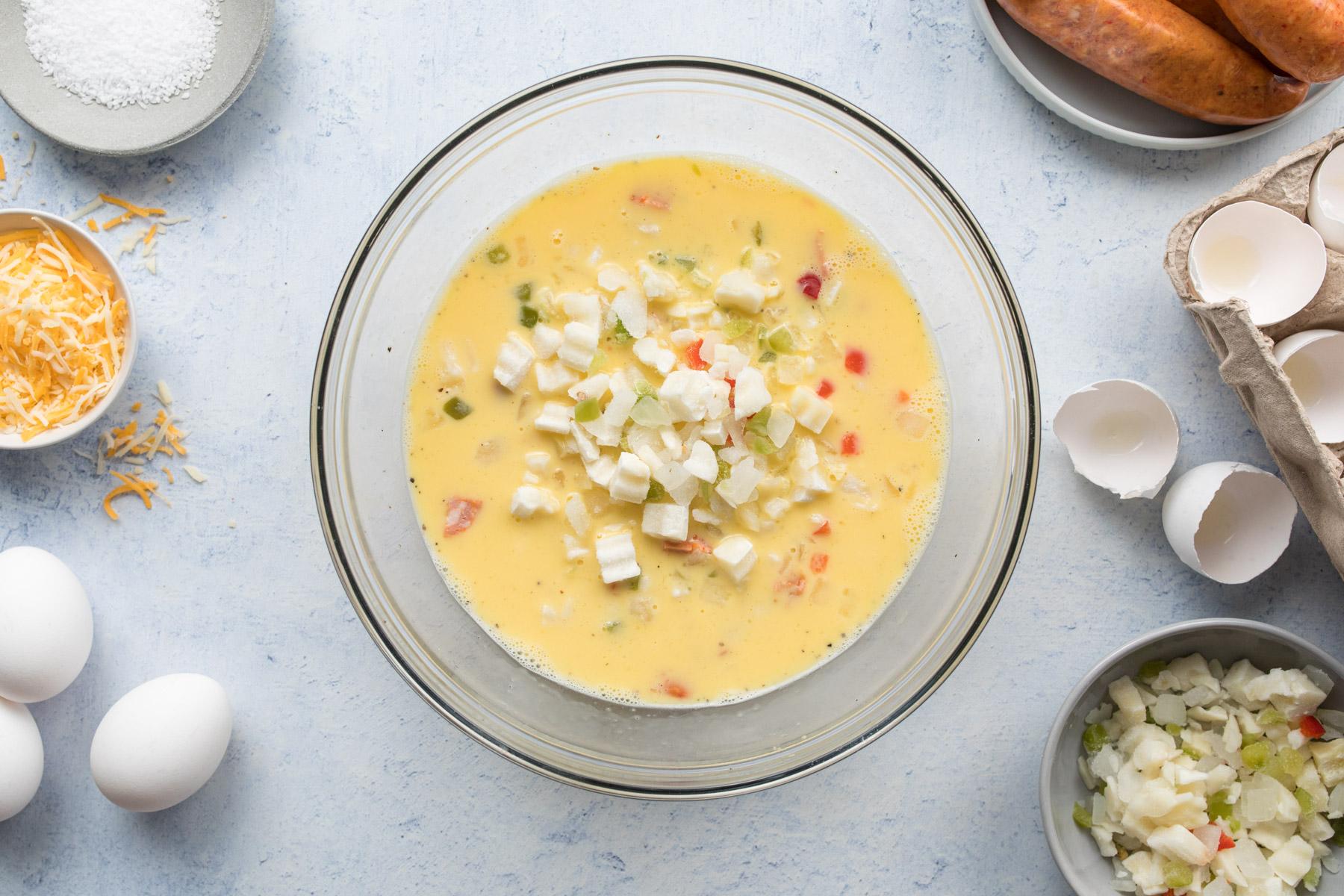 4. Add chopped chorizo sausage to eggs, then frozen potatoes o'brien (which have chopped onion and bell pepper with the potatoes).
See substitutions section for other suggested add-ins and toppings.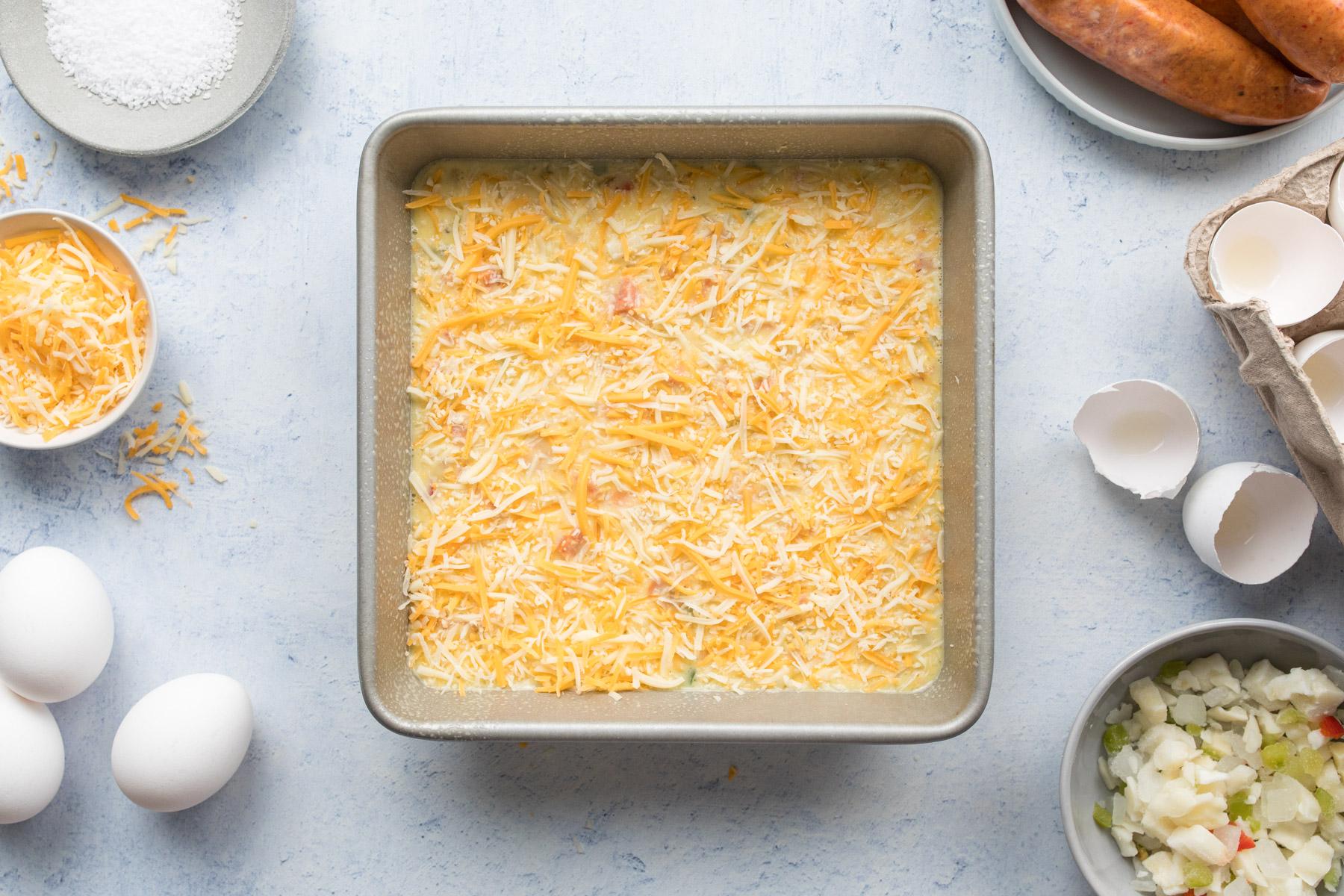 5. Transfer chorizo breakfast casserole to a greased 8x8 inch baking dish. Top with shredded cheese.
6. Bake for 25-30 minutes, until it's cooked through. Enjoy chorizo breakfast casserole or store for later.
Serving suggestions: eat plain, with salsa/other toppings, or in a tortilla.
Storage/Reheating Tips
Store leftover chorizo breakfast casserole in an air tight container in the fridge for about a week, or in the freezer for a couple months. Reheat in the microwave, covered.
Substitutions/Tips
Use precooked chorizo links or uncooked ones. Please cook uncooked sausage before adding it to the egg mixture.
You can swap the potatoes o'brien for other hash browns or potatoes. I like these because they already have onions and peppers for added flavor. They're super easy!
Use leftover vegetables in your fridge/kitchen, or buy pre-chopped vegetables for convenience.
Slice chorizo breakfast casserole into 4-6 pieces and freeze individual portions for quick breakfasts and lunches.
Other great add-ins: onion, bell peppers, spinach, canned diced tomatoes, cheese, zucchini, etc. Use what you have in the fridge.
Great toppings: salsa, avocado, cilantro, tomatoes, guacamole, sour cream, or serve your slice of chorizo breakfast casserole with a tortilla.
FAQ
What are some great side dishes for a breakfast casserole?
Chopped fruit would be a great side dish for a breakfast casserole, or a tortilla would be great with this chorizo breakfast casserole. Or even tortilla chips. There are a few delicious options.
Can you freeze a breakfast casserole?
Yes, it's a great way to a quick meal. Slice it up into individual servings, and then freeze on a baking sheet until frozen and place in a large freezer bag OR freeze in individual servings.
How do you reheat a breakfast casserole?
Place a serving of the casserole on a microwave safe plate and microwave for up to 60 seconds, or until warm. (Microwaving times may vary depending on individual microwave capabilities). Eat immediately.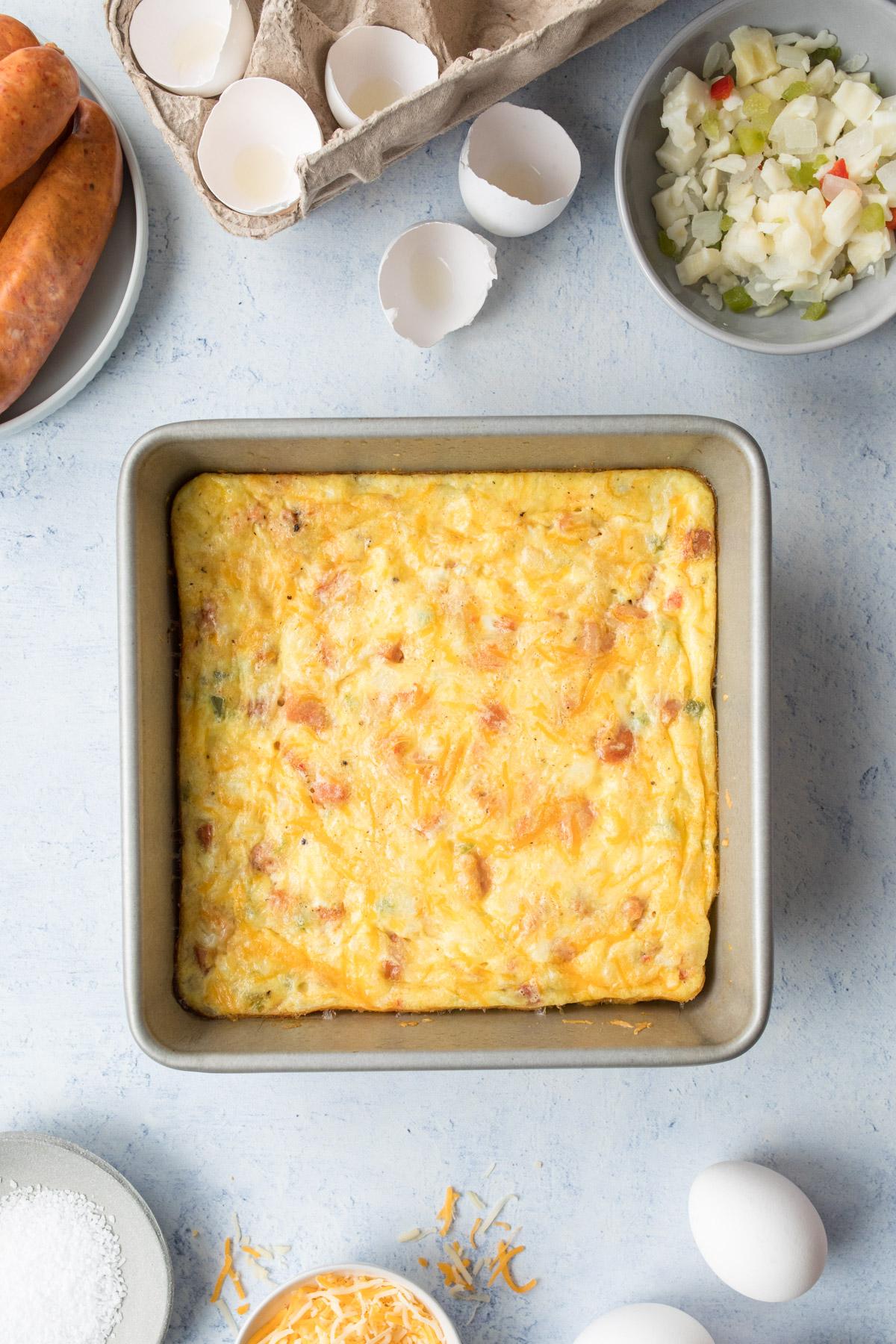 Other good breakfast recipes
How can I repurpose?
Stuff your slice of chorizo breakfast casserole into a baguette or between a couple slices of bread for a quick lunch or dinner (yes, you can eat it outside of breakfast-time).
Heat up a tortilla and wrap a slice of your casserole in it. Top with salsa if you'd like.
What can I make with leftover ingredients?
Did you make this chorizo breakfast casserole? Leave me a comment & rating to share how it turned out!
Chorizo Breakfast Casserole
Turn up no fuss breakfasts with this super easy chorizo breakfast casserole. It's filled with eggs, simple chorizo, hashbrows, and cheese that makes for a delicious make ahead breakfast for busy weekday mornings.
Equipment
Glass Casserole Pan

knife

cutting board

Large mixing bowl

whisk

spatula
Ingredients
2

links

chorizo sausage

or about 6 ounces

6

eggs

½

cup

milk

½

teaspoon

salt

½

teaspoon

black pepper

1

cup

frozen potatoes o'brien

½

cup

shredded cheddar cheese

or similar
Instructions
Preheat oven to 350 degrees F.

Chop 2 links of chorizo sausage into small pieces.

Mix together 6 eggs, ½ cup milk, ½ teaspoon salt, ½ teaspoon ground black pepper.

Add chopped chorizo, 1 cup potatoes o'brien to eggs. Mix together.

Transfer to greased/sprayed 8x8 inch pan. Top with ½ cup shredded cheese. Bake for 25-30 minutes. Or until cooked through. Enjoy immediately or store in fridge/freeze for later.
Notes
If using uncooked sausages, brown in a skillet before adding to egg mixture. You can also brown cooked sausage too, but don't have to.
Add any additional mix-ins that you'd like. Diced tomatoes, more peppers/onions, zucchini, regular hashbrowns/potatoes, more cheese, jalapenos would be great added.
Top with salsa, fresh cilantro, guacamole, or avocado slices if desired.
You can also serve this chorizo breakfast casserole on a tortilla.