This breakfast tacos recipe is piled high with fluffy eggs, meaty mushrooms and peppers, and cheddar cheese in tortillas. You can make them ahead in just 30 minutes and freeze for a quick weekday breakfast. Or make them for brunch!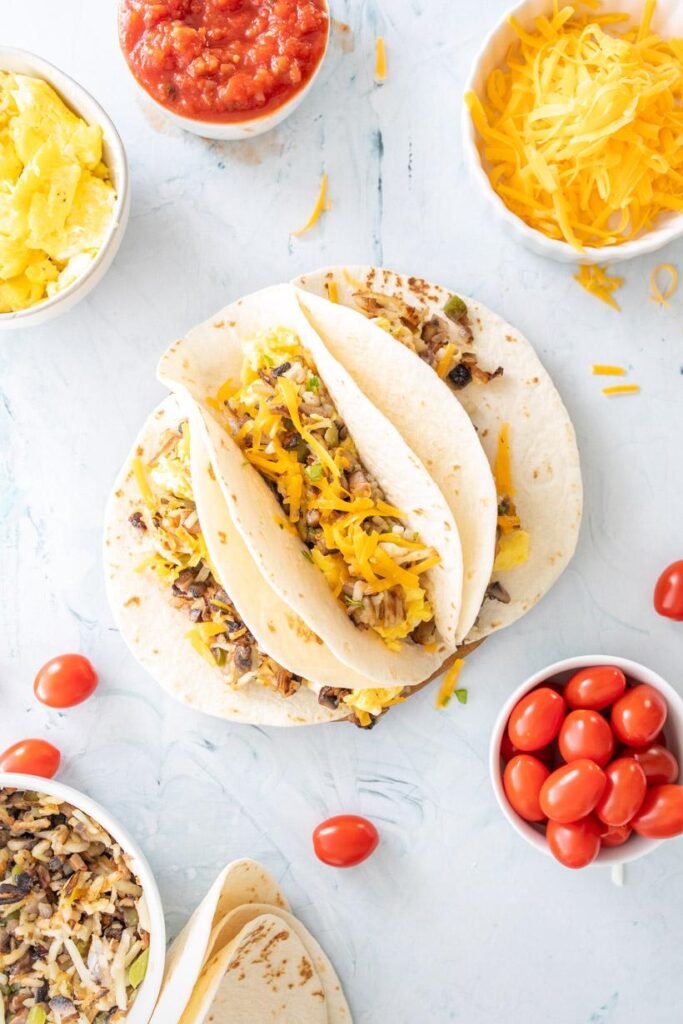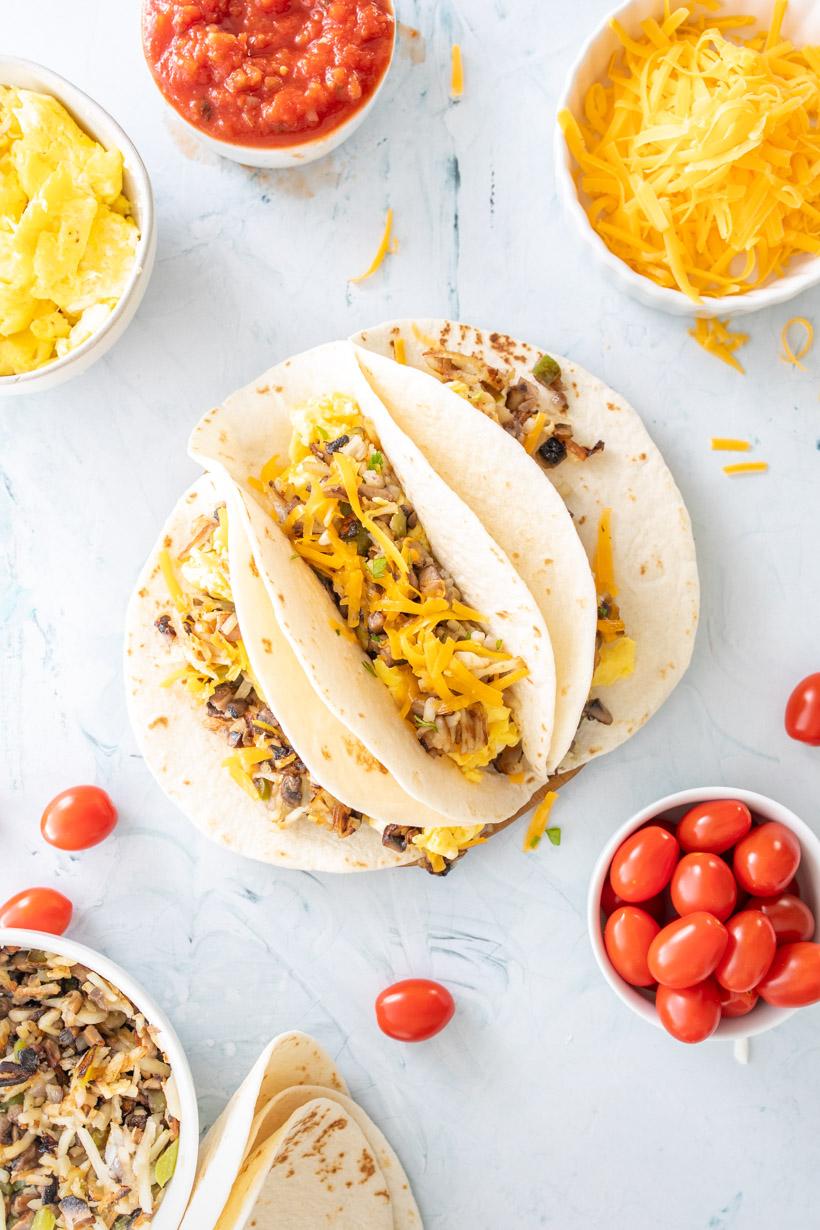 [this breakfast tacos recipe post & photos, descriptions, and instructions have been updated from it's original post in March 22, 2017]
How will these easy breakfast tacos make your life easier?
This breakfast tacos recipe is a great make ahead breakfast for days where you're not in the mood for Overnight Oats or a Yogurt Bowl. Make them for a week's worth of easy breakfasts or a relaxing weekend brunch.
They're great because they take just about 20-30 minutes to make and just require a couple extra minutes to assemble extra so you can have healthy breakfasts for the week.
What makes these tacos so good?
How to make breakfast tacos with eggs?
Start making your breakfast tacos recipe by chopping veggies (peppers, onions, mushrooms, etc) into similar sized pieces. This will allow them to all cook evenly.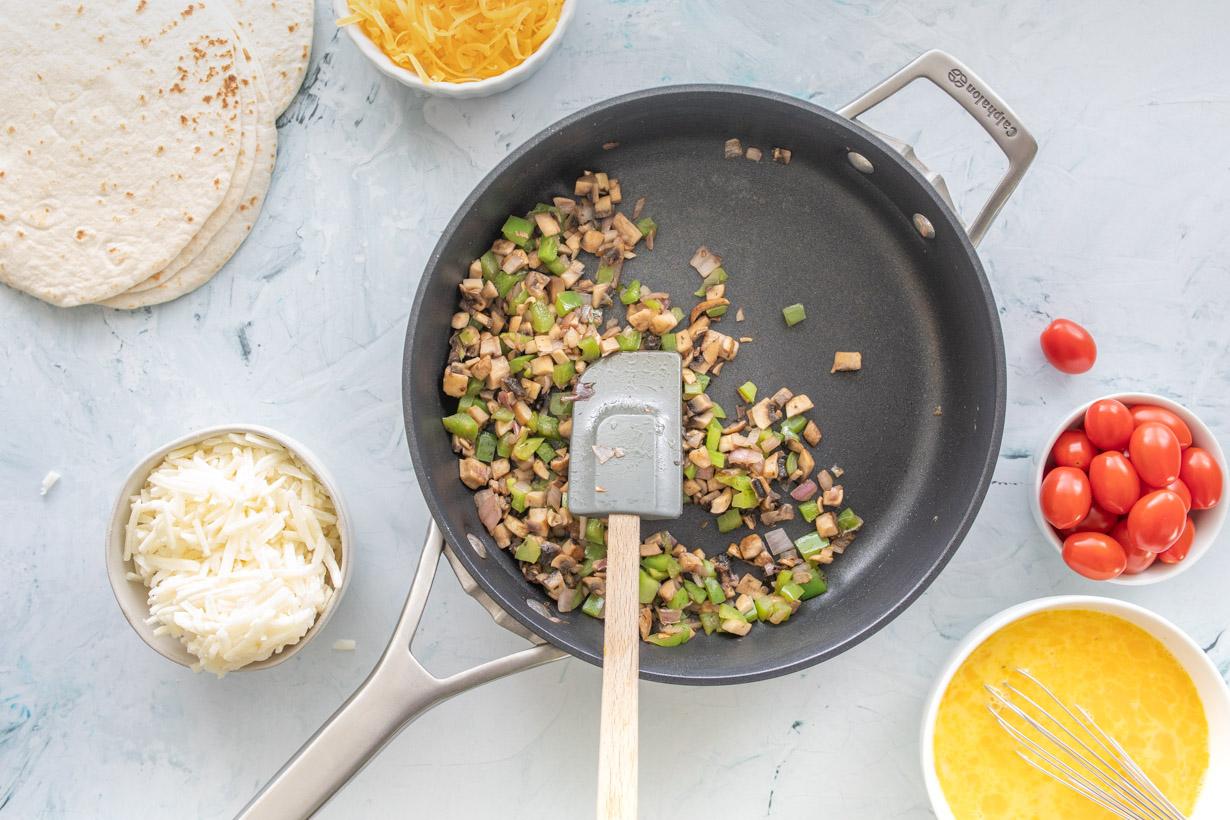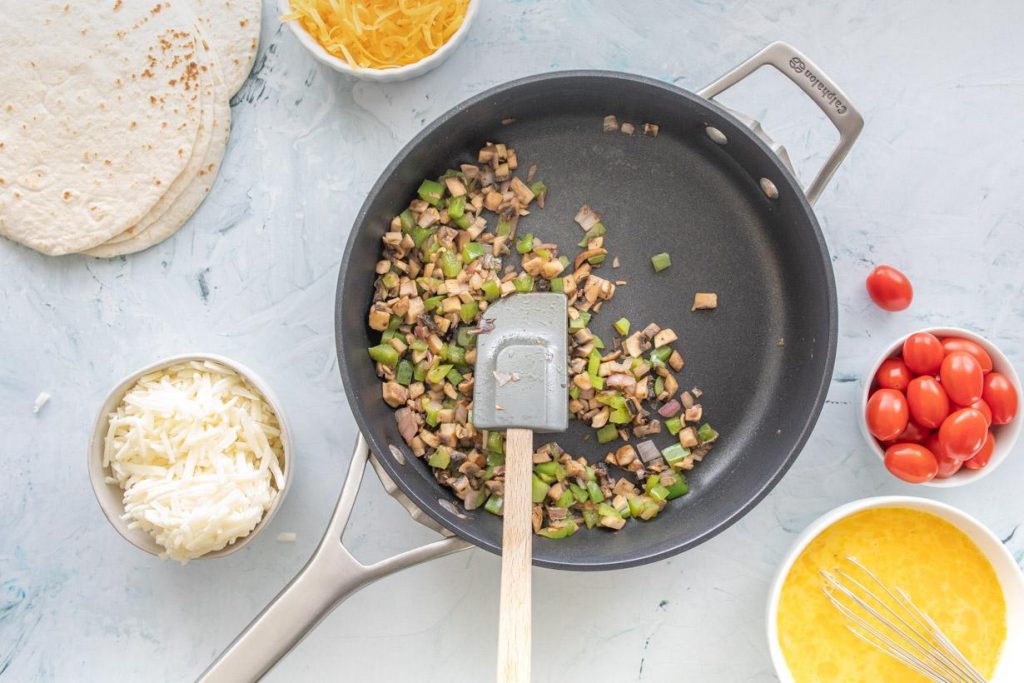 Sautee vegetables in oil for about 7 minutes, until onions are translucent. Stir occasionally.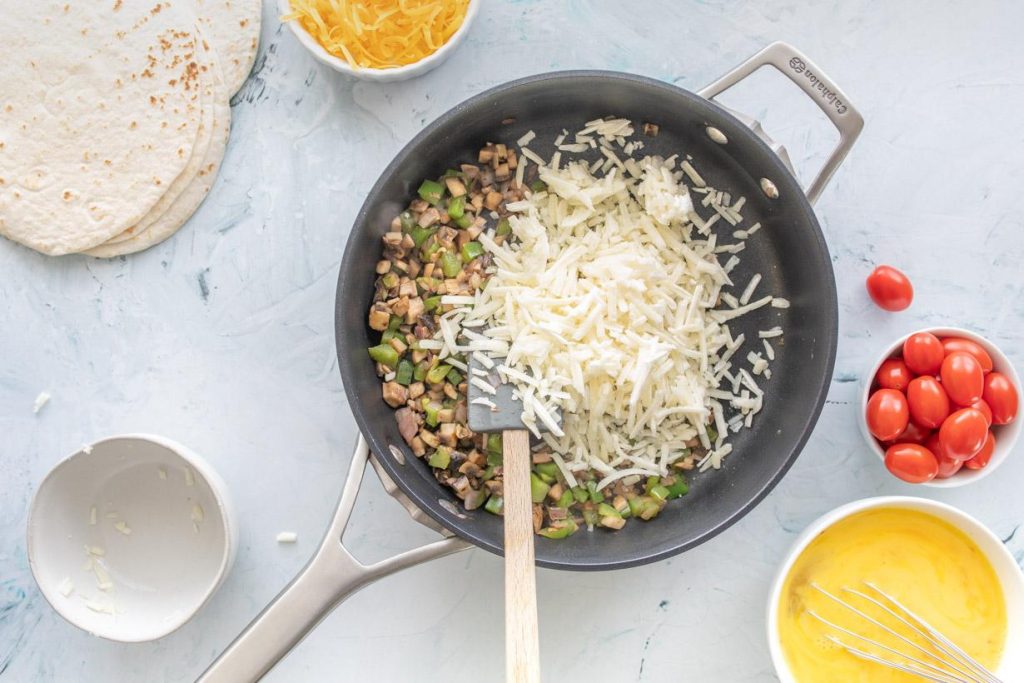 Dump frozen hashbrowns or shredded potatoes in the pan, add more oil. Stir every couple minutes to allow veggies to get crunchy. Cook for about 5-7 minutes.
After veggies are done, mix eggs, milk, and garlic salt in a medium mixing bowl. You can remove veggies from the pan, or leave them in and add egg mixture. Cook, stirring frequently until desired doneness.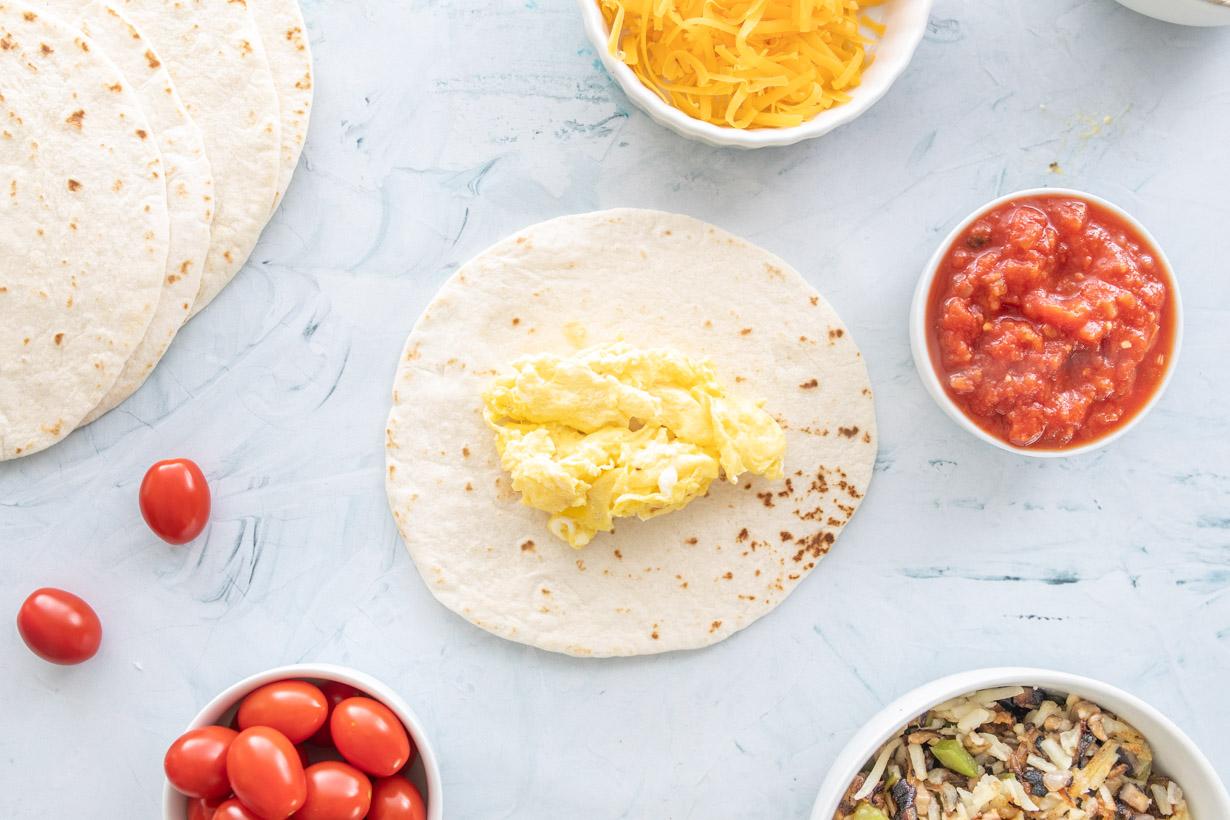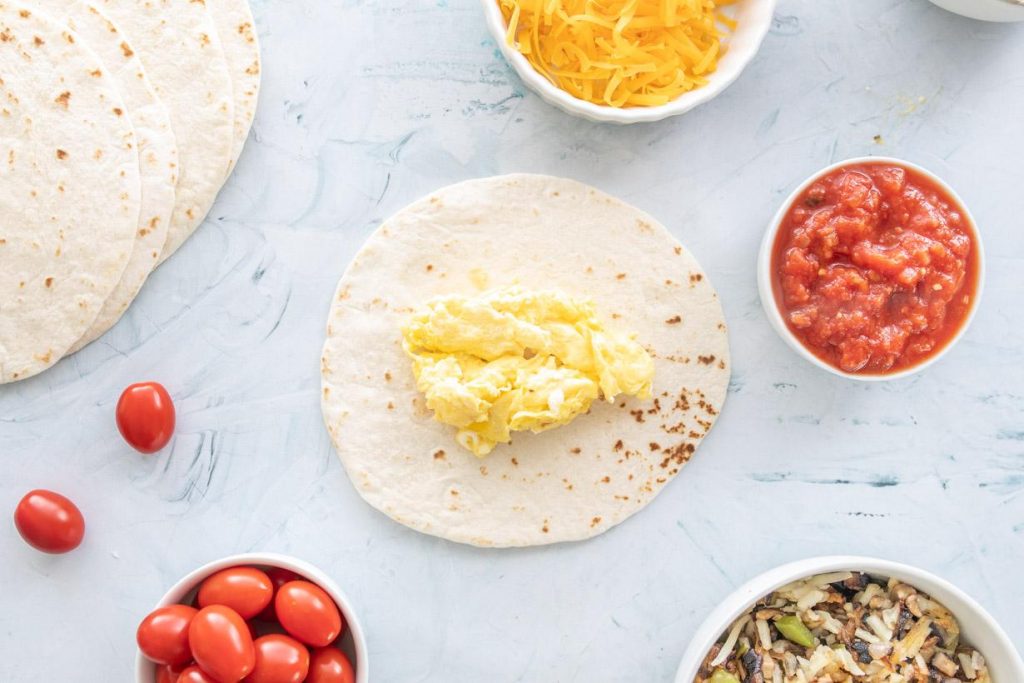 Spoon eggs in the middle of tortilla, in a line so you can fold the sides up to make your breakfast tacos recipe.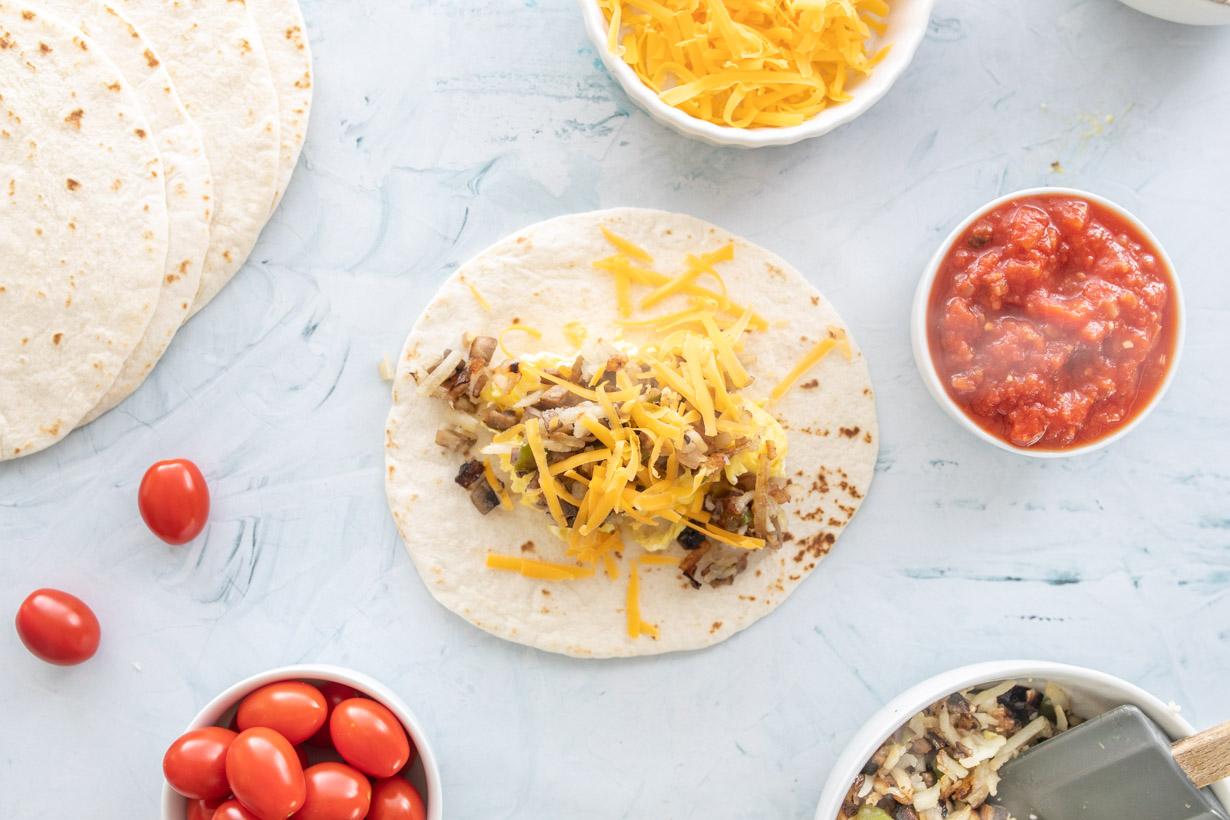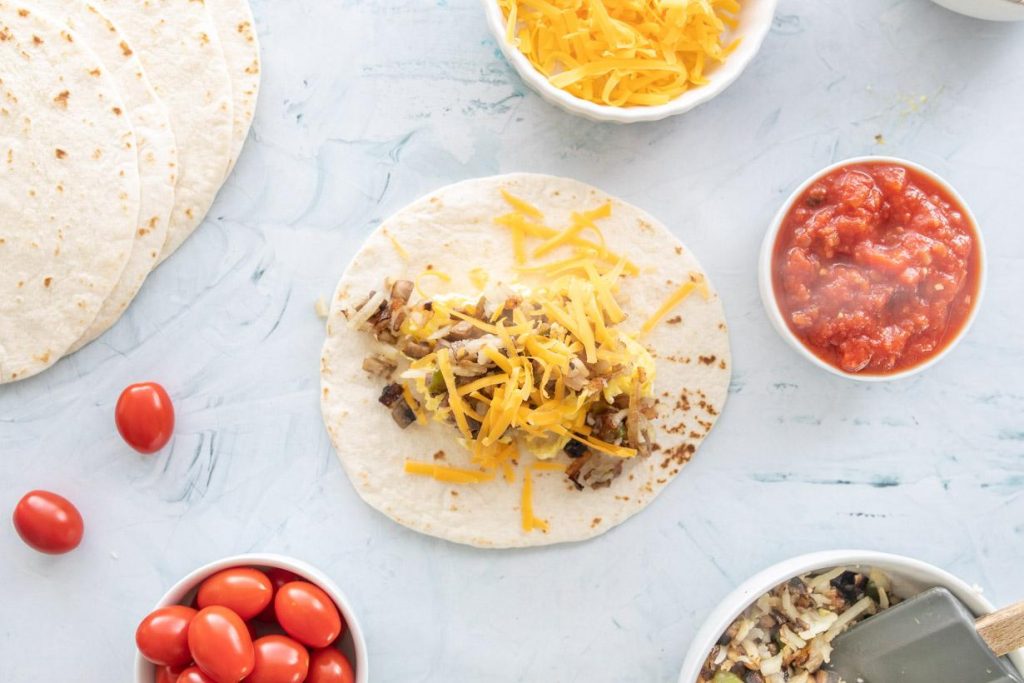 Top eggs with veggie mixture and cheese.
If you wanted to make a larger burrito, just add extra of each to fill up the flour tortilla so you're not left with lots of folded tortilla.
If freezing, don't add salsa or sauce before freezing, roll up and store in a silicone or plastic bag. Heat in the microwave for 1-2+ minutes until hot. Enjoy your quick breakfast tacos recipe any day of the week.
Expert tips
Making your own hashbrowns- after shredding/grating potatoes, immerse in a cold water bath, then pat dry to remove remaining water. This helps remove some of the starch from the potatoes.
You can also top this breakfast tacos recipe with your favorite salsa, avocado, or ketchup if you'd like! (add when eating if making freezer burritos)
Optional Add-ins: add fresh cilantro, bacon, chorizo, canned tomatoes, olives, spicy pickled onions, green onion, etc to your breakfast tacos recipe.
FAQ
How to Make Tacos Freezer Friendly
Do not add salsa or any sauce to your breakfast tacos recipe if you're freezing them. You want to freeze them 'dry' or they'll get soggy and fall apart. Microwave them when you're ready to eat them, cook 1-3 minutes, depending on your microwave.
What goes well with breakfast tacos?
I like to have some fruit or yogurt with this breakfast tacos recipe if I want something extra to eat with these easy tacos. They're great on their own too, so add something more if you need it!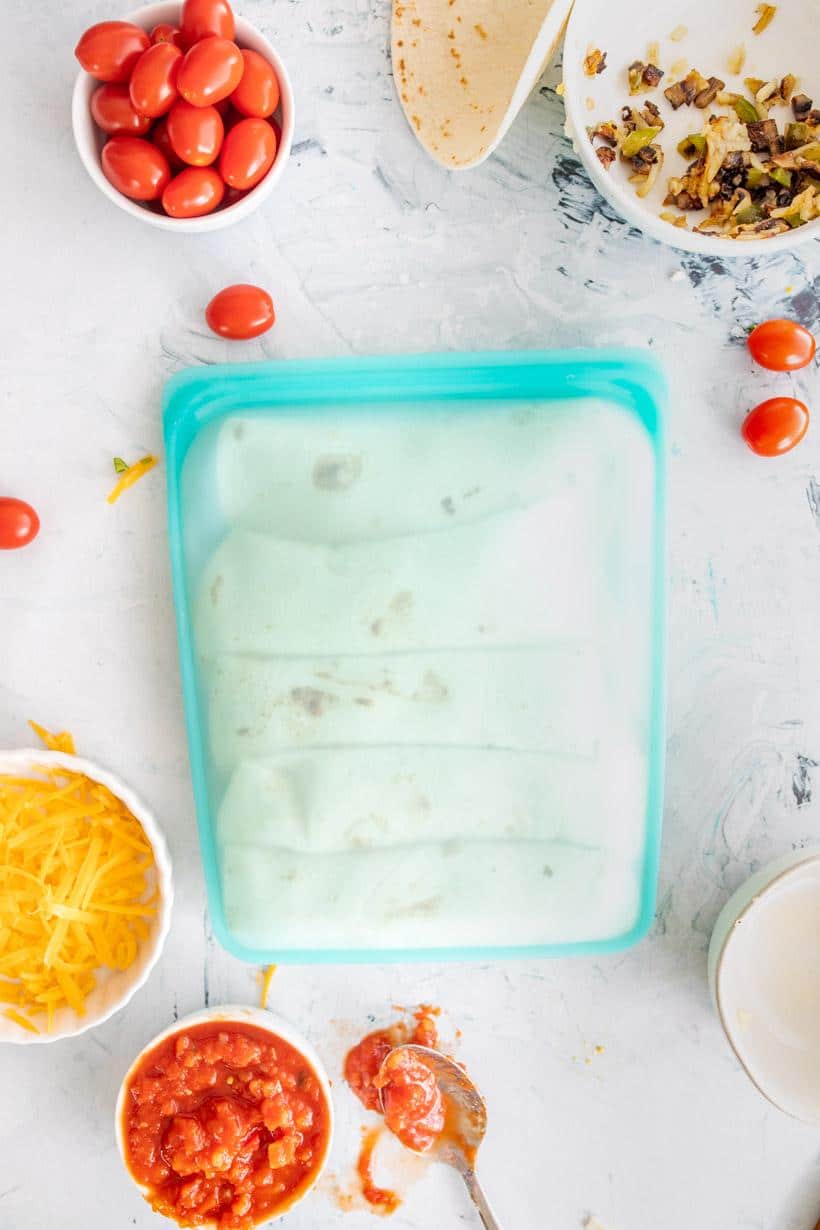 How can I repurpose vegetarian breakfast tacos?
The eggs, vegetables, cheese, & salsa would make a great egg bowl or omelet.
Turn your breakfast tacos recipe into a breakfast casserole like this one.
You could separate the eggs & vegetables for an easy scramble with veggie hash browns.
What can I make with leftover ingredients?
Did you make these healthy breakfast tacos? Leave me a comment & rating to share how they turned out!
Healthy Breakfast Tacos
These freezer healthy breakfast tacos will make you like mornings. Pop these frozen guys in the microwave for an easy and delicious breakfast
Equipment
Large Skillet

small mixing bowl

fork

rubber spatula

cutting board

knife

Measuring Spoons

Measuring Cups
Ingredients
2

tablespoons

canola oil

separated

1

cup

vegetables of choice

ie: onions, mushrooms, zucchini, bell peppers

1

cup

frozen hashbrowns

or fresh russet potatoes

6

whole

eggs

½

cup

milk

1

teaspoon

garlic salt

1

teaspoon

pepper

6

flour tortillas

10" for burritos, 6" for tacos

½

cup

cheddar cheese

shredded
Instructions
Add (1 T) canola oil to large sautee pan, sautee (1 c) chopped vegetables for about 5 minutes.

Add (1 c) hashbrowns and extra tablespoon of oil, cook until crispy. About 10 minutes. While potatoes are cooking, mix together 6 eggs, (½ c) milk, salt and pepper. Set aside.

Once potatoes are cooked, pour egg mixture over vegetable mixture. Fold mixture over until cooked thoroughly, or until eggs are solid and there's little-no liquid left in pan. Check for salt and pepper flavor preference.

Top with cheddar cheese. Fill six 6" tortillas with mixture.

To make FREEZER tacos: Evenly distribute egg/potato mixture into middle of taco or burrito sized tortillas. A 10" or larger tortilla is important to keep all filling inside tortilla!

No need to wrap each taco/burrito individually, unless you'd like to take them on the road. Then it's better to wrap them individually.

Microwave burrito, open side down, on high for 60 seconds when ready to eat. Add favorite toppings, and enjoy!
Notes
Important note about homemade hashbrowns. After shredding/grating potatoes, immerse in a cold water bath, then pat dry to remove remaining water. This helps remove some of the starch from the potatoes. Who really wants to eat gooey sticky potatoes?
You can also top with your favorite salsa, avocado, or ketchup if you'd like! (add when eating if making freezer burritos)
Want to get more single serving recipes and others like this breakfast tacos recipe delivered to your inbox? Click here to download my Single Serving Cookbook.
Recipes are great, but you'll need a simple 3 step process to create a meal plan that make cooking easy & helps you stop wasting food. Check out this expertly developed meal planning guide to get started.