This crunchy apple cucumber salad for one has just 4 ingredients, yet is such an easy and flavorful side salad to throw together. It just takes 5 minutes to prepare and is great with crispy tofu, a grilled pork chop, or succulent shrimp.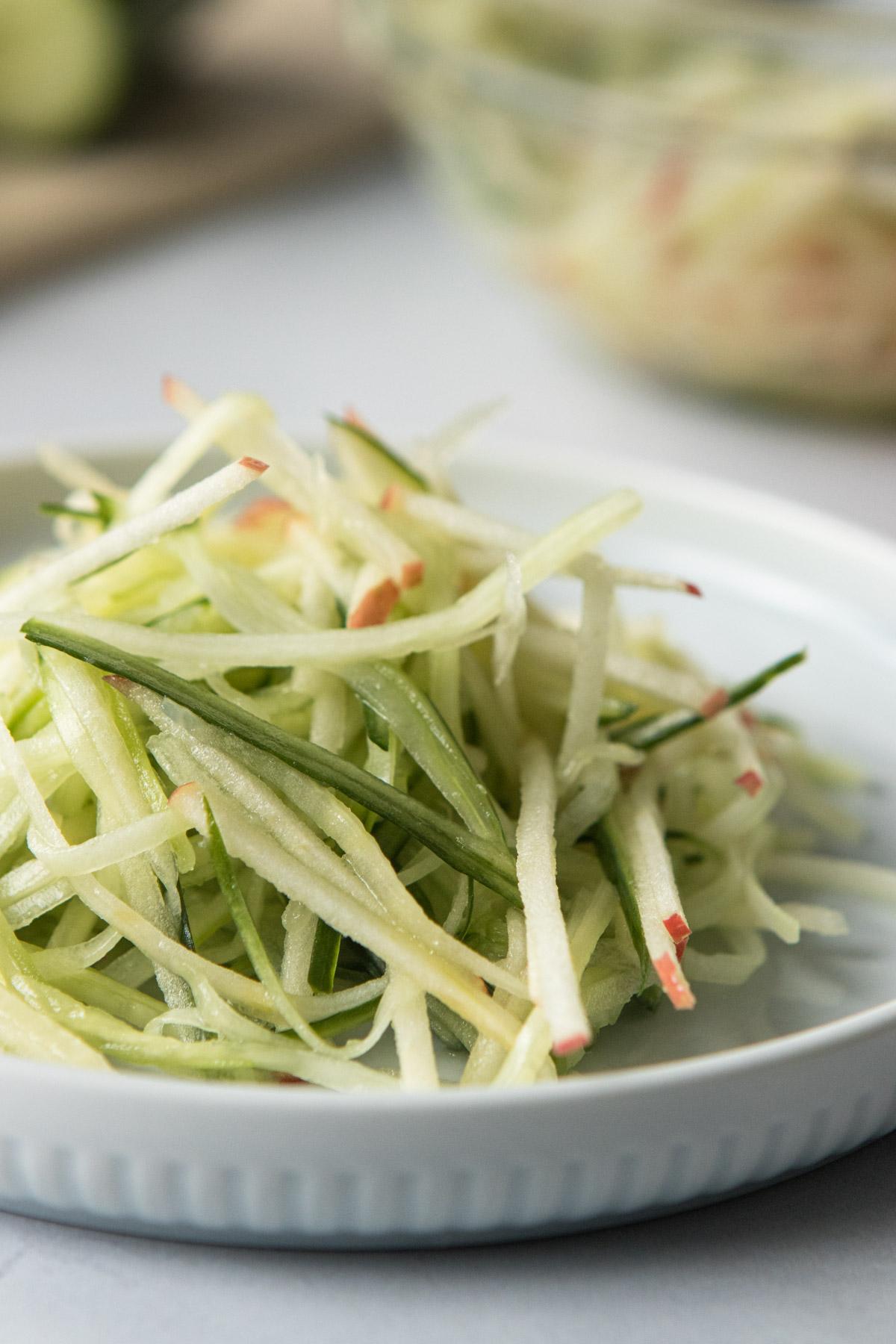 [This recipe was originally posted in November 2021. It has been updated with cooking instructions, expert tips, FAQ, related recipes, and ways to repurpose/use up ingredients]
This apple cucumber salad is a great side dish for one because it's just got 4 ingredients, all of which are pantry essentials + the apple and cucumber.
The produce is sliced very thin for extra crunchiness, although you can chop them for easier prep.
Cooking for One Tip
a) make a one pot or simple dish that's got protein, carbs, and maybe a vegetable in it
b) make a yummy protein and really simple carb/possible veggie
c) make a tasty side and pair it with a simple protein.
This method makes cooking less overwhelming and super easy! That's where this cucumber apple salad comes in. Except it's not only the star of the plate, it's super easy.
This cucumber salad recipe has a 3 ingredient dressing to bring out the flavors.
Ingredients
Scroll down to the apple cucumber salad recipe card for the amounts of each ingredient, but here's a quick visual + description of what's in this recipe.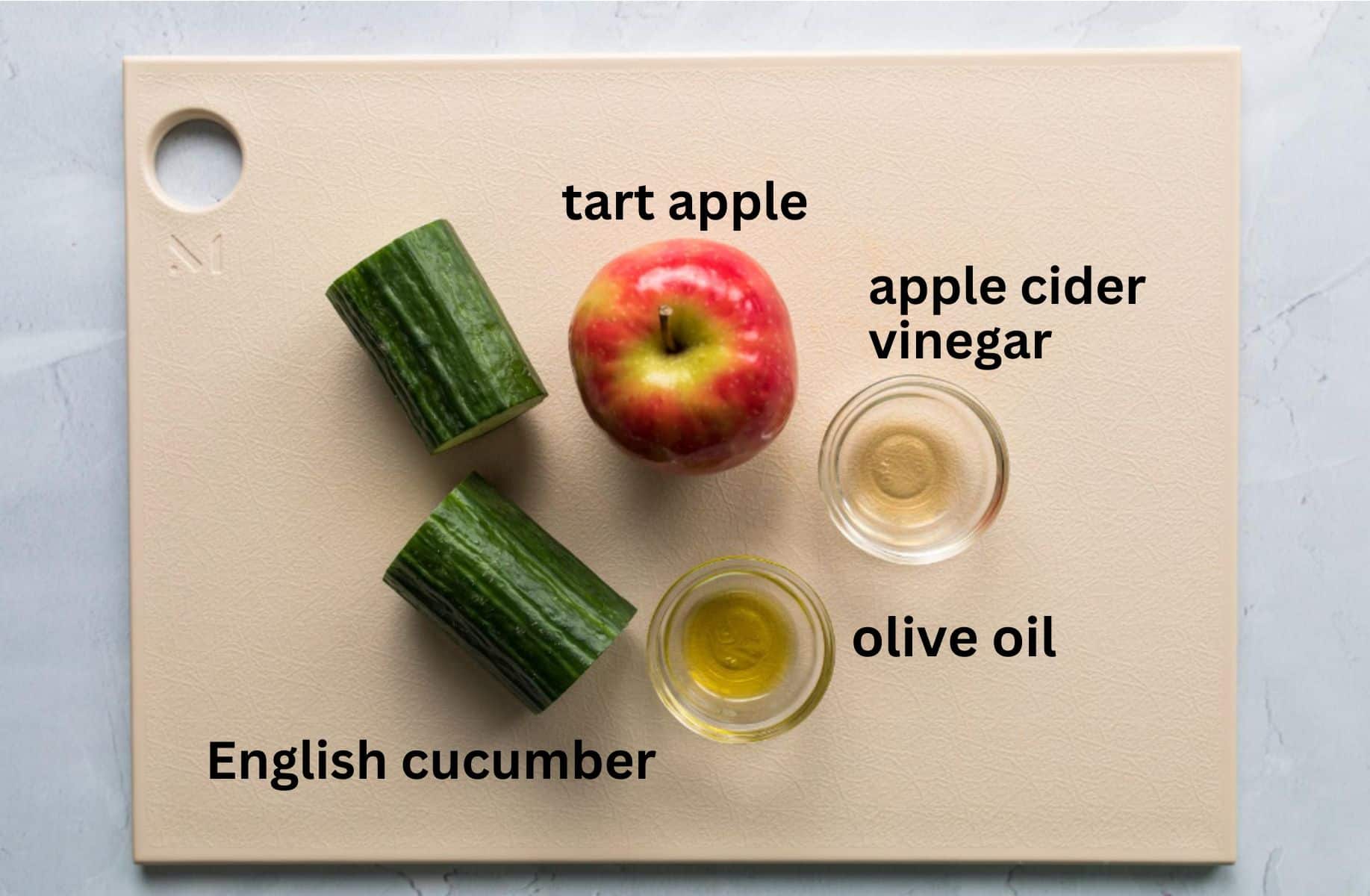 English Cucumber: I like English cucumber for smaller seeds and thinner/less bitter skin. You can leave the skin and seeds intact for extra fiber and nutrients. Smaller Persian cucumbers are just as good in this recipe too.
Apple: A very crisp, sweet/tart apple is my favorite in this cucumber salad recipe. It's easy to thinly slice and is very crunchy. Pink Lady/Cripps Pink, my favorite local Utah Braeburn apple, or your favorite sweet/tart apple.
Olive Oil: Basic ingredient in any good vinaigrette. The olive-y flavor pairs nice with the vegetables and apple cider vinegar.
Apple Cider Vinegar: Just a dash of apple cider vinegar adds lots of tartness and flavor to this simple crunchy salad.
Salt/Pepper: A sprinkle of salt and pepper to taste melds the flavors together and adds a nice peppery flavor.
Instructions
Scroll down to the apple cucumber salad recipe card for more detailed instructions. Here's a quick overview + photos to see how to make this recipe in general.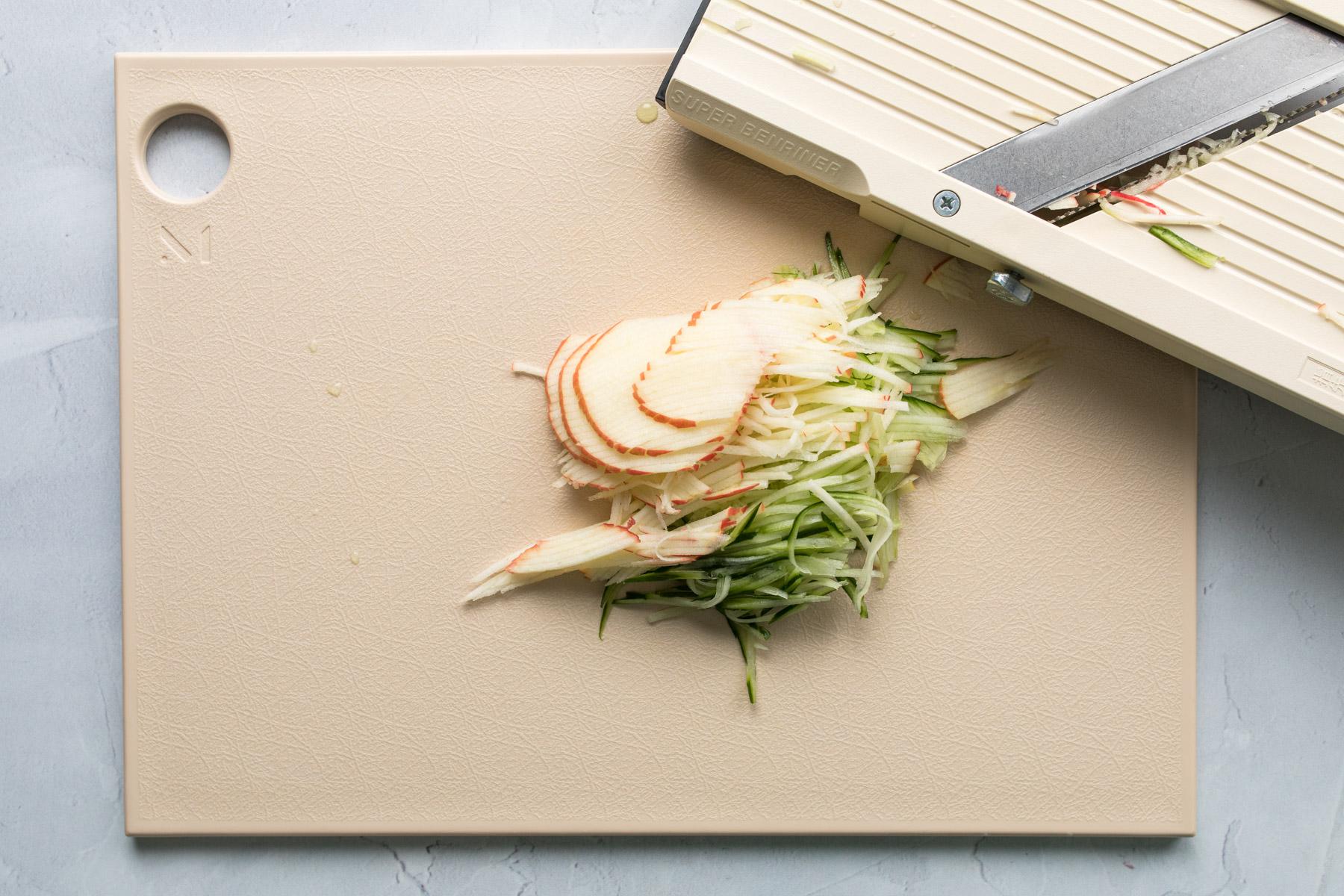 1.Julienne apple and cucumber. Slice thin with a knife or use mandolin, if you have one.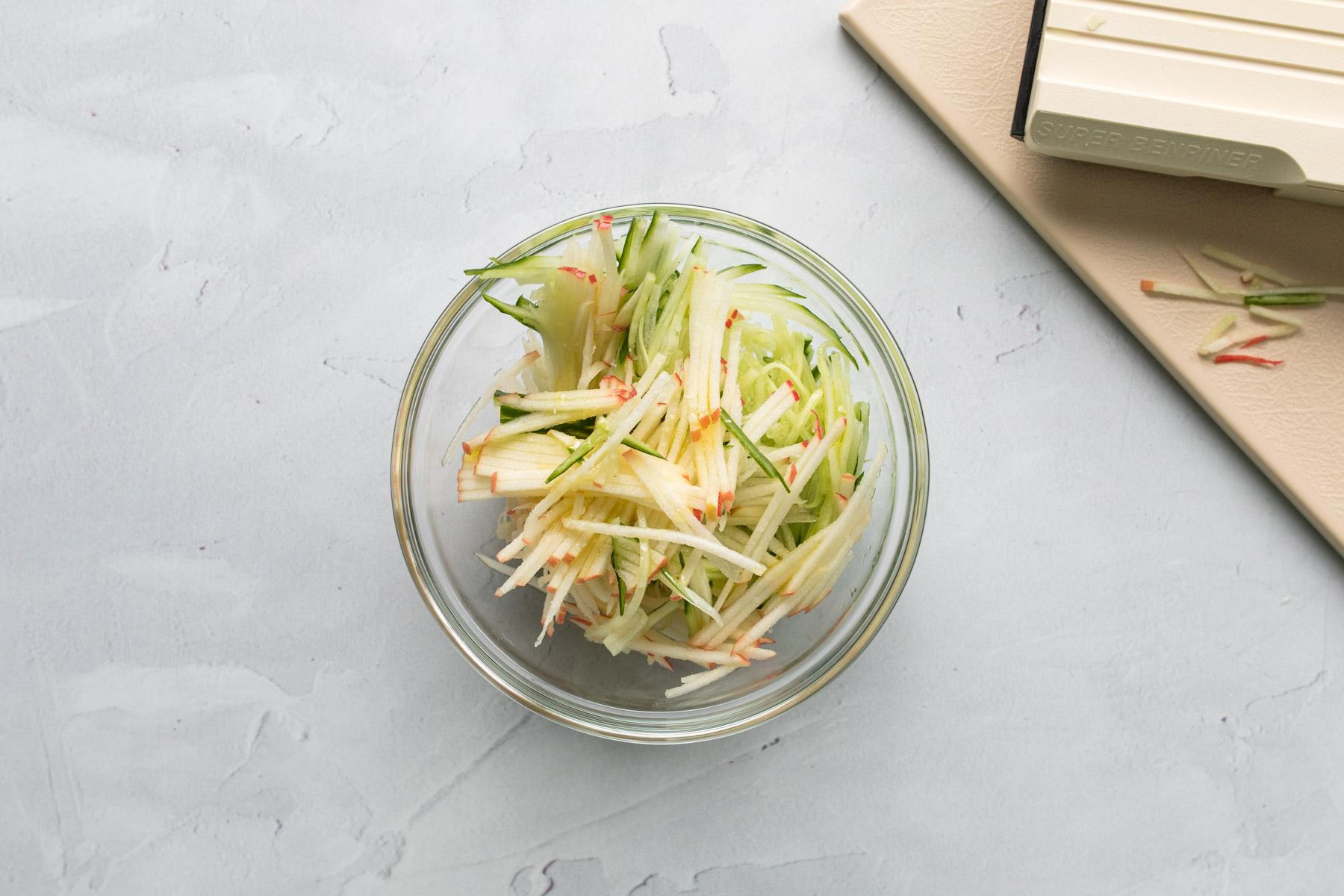 2. Transfer to bowl. Add olive oil and apple cider vinegar, and a pinch of salt. Toss. Let sit at least 5-10 minutes (while making the rest of your meal), or up to a day for more flavor.
Storage Tips
I really recommend only storing this apple cucumber salad for about a day or two in the fridge for max crispness and fresh flavor. You could mix the dressing ahead of time and toss with the vegetables the day you plan on eating it too.
Enjoy at room temperature, or chilled. It's very good chilled.
Serve with
Substitutions/Tips
You don't have to julienne the cucumber and apple, but it's highly recommended so each bite is really flavorful from the bright dressing, and the salad is very crunchy.
Chop produce into equal sized pieces to save effort/time.
Adjust olive oil, apple cider vinegar, and salt in the apple cucumber salad to your taste preference.
You can substitute the apple cider vinegar for red wine vinegar or rice wine if that's what you have or if it goes better with other foods you're making for dinner
Other great add-ins: sunflower seeds, feta cheese, chopped nuts, freshly ground black pepper, jicama, etc.
FAQ
Can you use apple cider vinegar in cucumber salad?
Yes, absolutely. Apple cider vinegar is a great dressing for a cucumber salad or other salad. Just make sure it tastes good with the other dressing ingredients. I like it with olive oil in this salad. Or add oil, dijon, lemon juice.
What is the best apple to use in a salad?
Really you can use any apple, the best one depends on the other flavors in the salad. I recommend tart, crunchy apples because they add lots of flavor and texture to the salad. It's great in this cucumber apple salad.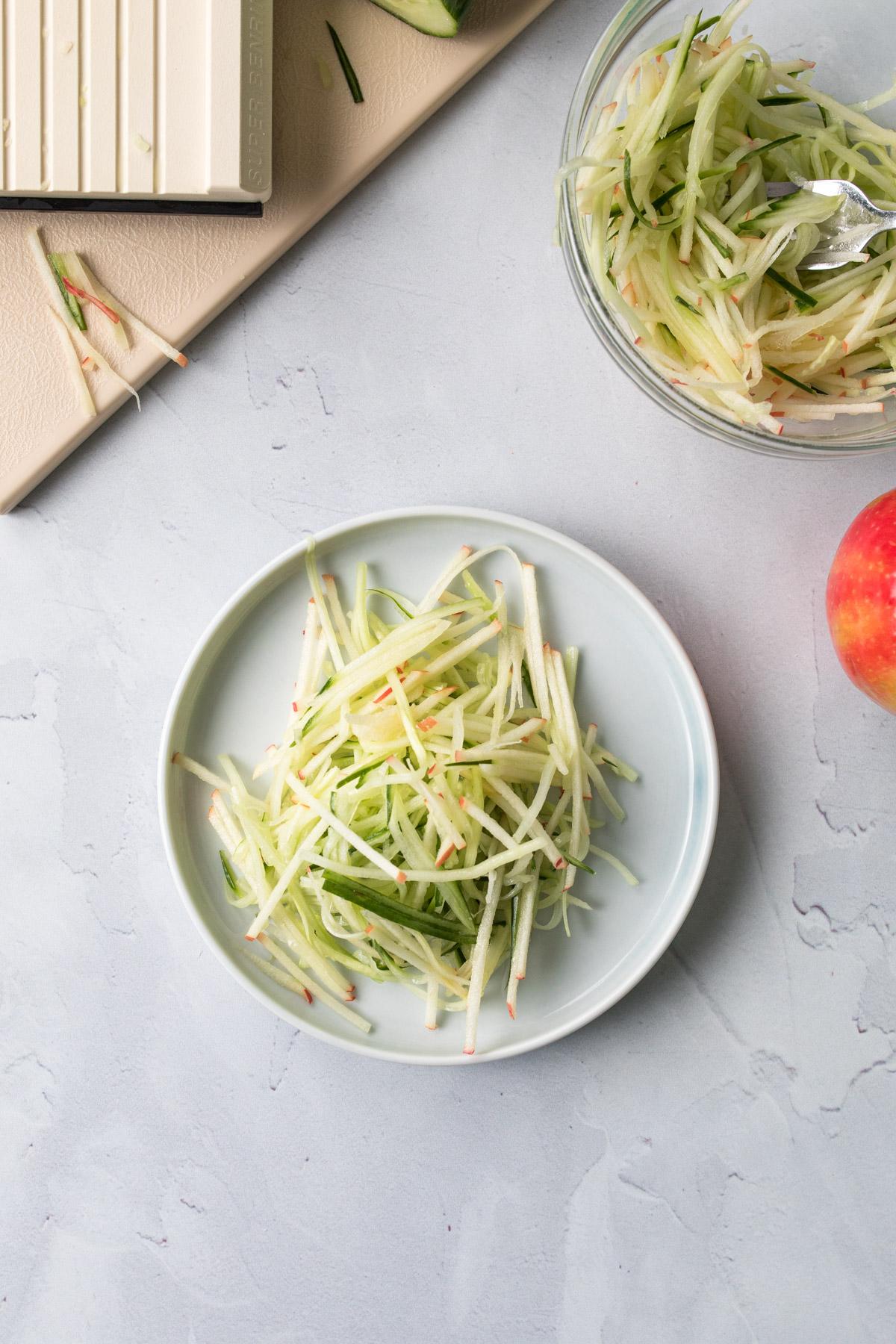 Other good side salad recipes
Repurpose cucumber apple salad
Add leftover dressed apples and cucumbers from this cucumber apple salad to a green salad or a wrap.
What to do with leftover ingredients
When you're cooking for one, you often have leftover produce, cans of whatever ingredient, etc. Here are a couple ideas on how to use up the leftover ingredients. It'll help you save money by wasting fewer ingredients.
Did you make this apple cucumber salad? Leave me a comment & rating to share how it turned out!
Apple Cucumber Salad
This 4 ingredient apple cucumber salad is such an easy and flavorful salad that can be thrown together in just 5 minutes. Enjoy it with crispy tofu, a grilled pork chop, or succulent shrimp.
Equipment
cutting board

Mandolin/Knife

Mixing bowl

fork
Ingredients
⅓

whole

Tart Apple

Granny Smith, Braeburn, Pink Lady

3

inch piece

English Cucumber

1

teaspoon

Extra Virgin Olive Oil

½

teaspoon

Apple Cider Vinegar

pinch

Kosher salt
Instructions
Using a mandolin or sharp knife, julienne 3 inch piece of an English cucumber and ⅓ whole tart apple.

Transfer julienned cucumber and apple to mixing or serving bowl. Add 1 teaspoon of olive oil, ½ teaspoon of apple cider vinegar, and a pinch of kosher salt.

Mix with a fork. Let sit 5-10 minutes (while prepping rest of meal), if you can. Refrigerate for up to 1-2 days for max crispness and fresh flavor.
Notes
Tart apples add the most flavor to this simple apple cucumber salad. I recommend using a granny smith apple, braeburn, pink lady, or other tart apple.
English cucumber skin is more thin than regular cucumbers, I recommend using this cucumber and leaving the skin on.
You can remove the skin of both the cucumber and apple if you'd like, but they add a nice flavor and texture if you leave them on.
You can substitute the apple cider vinegar for red wine vinegar or rice wine vinegar depending on what you have at home or what you're serving this salad with.
Other ingredients to add in: sunflower seeds, feta cheese, chopped nuts, freshly ground black pepper, red chili flakes, etc.
Want to get more single serving recipes delivered to your inbox? Click here to download my Single Serving Cookbook.
Recipes are great, but you'll need a simple 3 step process to create a meal plan that make cooking easy & helps you stop wasting food. Check out this expertly developed meal planning guide to get started.