This easy cucumber salad with tomatoes and basil is the perfect summer recipe, and is a great way to use your garden vegetables. This salad is made in just 10 minutes, and can be turned into an easy dinner for one by adding grilled chicken.
PIN HERE to add to your recipe box.
This cucumber salad is a great side dish to go with Grilled Chicken Burgers, Lamb Burgers with Tzatziki Sauce, or Pressure Cooker Pulled Pork.
How this easy cucumber salad is gonna make your life easier
Summer is the season for vegetables. They're refreshing, delicious, and so great right now. As much as I love vegetables, sometimes.. actually lots of times I'm just not in the mood or have the energy to chop and prepare many vegetables to eat. So I either don't buy them or accidentally let them go bad in the fridge. I love this cucumber salad because I just need 2 veggies + some basil. Chopping them is quick and the results are delicious.
Why you'll love this recipe
Both last and this year I'm growing cucumbers, other than just eating them raw and plain, this easy salad is a great way to use up those garden spoils. Cucumbers, tomatoes, and basil are pretty normal garden staples, so if you are growing your own veggies this summer throw them together into this light refreshing salad.
I also love this cucumber tomato salad recipe because it's simple and is a great side dish to take to a BBQ or summer party.
What goes in this cucumber salad
sliced cucumbers
cherry or grape tomatoes sliced in half, lengthwise
extra virgin olive oil
white balsamic vinegar
salt
basil leaves
How to make this easy cucumber salad
You can use either a regular or an English cucumber. English cucumbers are generally longer and the skin is less waxy. I used a regular cucumber because they were on sale at the store. I don't like the skin so I usually peel most-all of it. Peel as much as you'd like then slice pretty thinly. It goes pretty fast.
I cut both the sliced cucumbers and tomatoes in half so they're similar sizes... and that requires less chopping. I chiffonad-ed (is that a word?) the basil. It sounds fancy but it's easy. You essentially stack a few basil leaves, roll them up into a cigar shape and slice thin slices so you get a bunch of thin ribbons of basil. That way you get basil in each bite of the salad. Here's more direct instructions from the Kitchn on how to chiffonade basil.
Mix together white balsamic vinegar, the mild version of regular balsamic vinegar. It's really nice. Anyways mix it together with extra virgin olive oil, and salt in a small mixing bowl. I had leftover red pepper flakes in my olive oil and really liked them in the salad. So if you like a touch of heat, sprinkle a few red pepper flakes into the dressing too.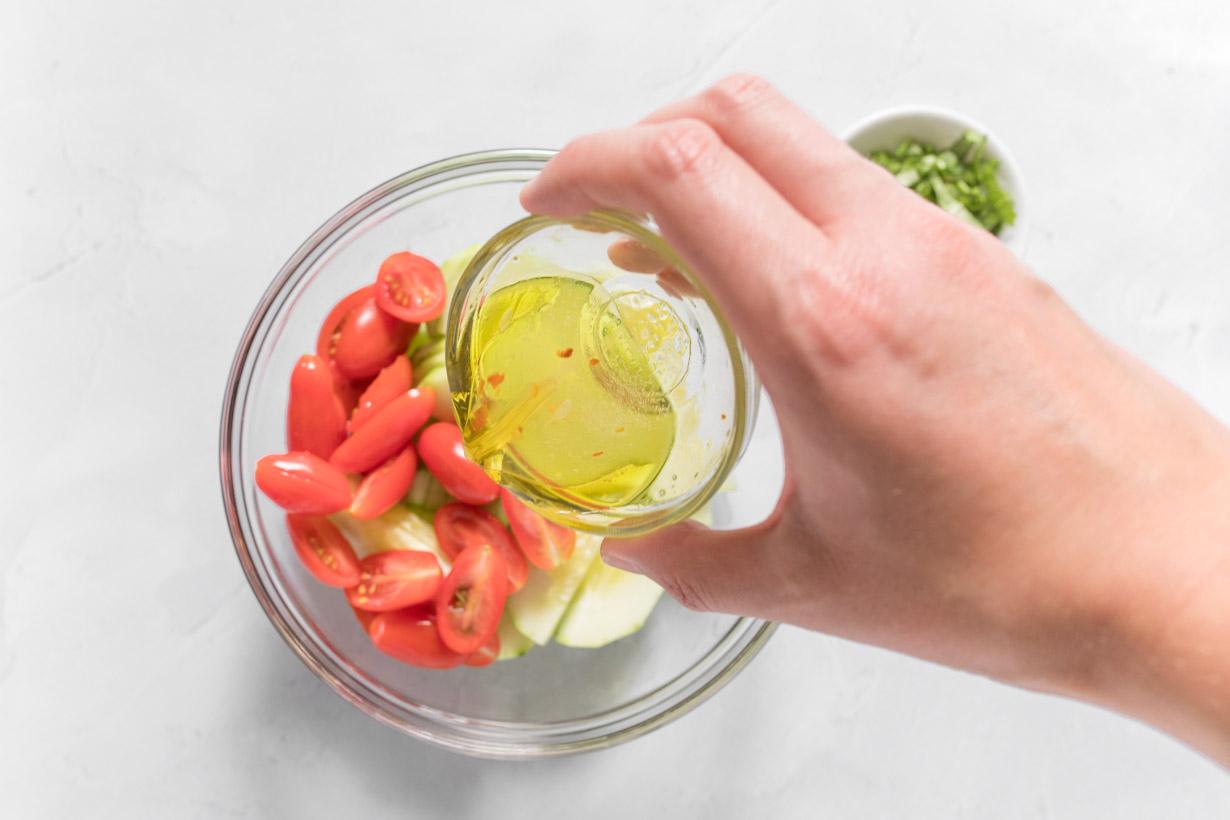 Pour dressing over cucumbers and tomatoes, toss well. I'd also recommend letting it stand at room temperature for at least 15 minutes prior to serving. Top with basil just before serving.
Expert tips
Slice cucumber into similar sized thin slices
You can leave seeds in the cucumber or remove them with a spoon. Either way it's great!
FAQ
Do I have to peel the cucumber?
I'd recommend peeling your cucumber if you buy one at the grocery store, and it's skin is waxy. Personally I think the cucumber skin is too thick, waxy, and often bitter so I usually peel it. English cucumber skin usually isn't as thick and waxy as traditional cucumber skin.
What kind of cucumber should I use?
I used a regular cucumber because they're usually about ⅓ the price of English cucumbers and aren't packaged in additional plastic. That's a totally personal decision, but I don't always mind peeling them so I'm ok buying them. English cucumbers usually have a thinner skin and aren't waxy which makes the skin taste better. That's another option. Farmers market & garden cucumbers shouldn't have the waxy skin, but could have bitter skin. Side note is it skin or a peel? I'm finding both on the web... but more mentions of cucumber peel. Oops!
What kind of tomatos should I use?
I like using cherry or grape tomatoes because they're smaller and often sweeter. But if you've got garden or farmers market tomatoes, they'll probably be as sweet as the cherry ones. I also like the cherry/grape tomatoes because you can leave them whole or just slice down the center & you're good to go.
Ways to repurpose this cucumber salad
I'd eat this salad on top of a sandwich. Any day. Other than that, it's not super repurpose-able because of the dressing. You can eat the tomatoes and cucumbers plain, on a sandwich, or in a salad. I'd recommend leaving the remaining vegetables uncut and plain to use in any of the ways I just mentioned.
Related recipes
this cucumber salad is a great accompaniment to grilled meat, burgers, sandwiches... here are a couple ideas
Did you make these healthy breakfast tacos? leave me a comment to share how they turned out!
Easy Cucumber Salad
This easy cucumber salad with tomatoes and basil is the perfect summer recipe, and is a great way to use your garden vegetables.
Equipment
cutting board

knife

medium mixing bowl

small mixing bowl

whisk
Ingredients
1

cup

sliced cucumbers

½

cup

cherry or grape tomatoes

sliced in half, lengthwise

½

tablespoon

extra virgin olive oil

1

tablespoon

white balsamic vinegar

¼

teaspoon

salt

5-6

basil leaves
Instructions
Add 1 c sliced cucumbers and ½ c tomatoes (sliced in half) to a medium sized mixing bowl. Set aside.

Mix together ½ tbsp extra virgin olive oil, 1 tbsp white balsamic vinegar, ¼ tsp salt in a small mixing bowl. Pour over vegetables, and toss well.

Chiffonade basil leaves and add to salad right before serving.
Notes
How to chiffonade basil: Stack basil leaves, then roll them up into a tube. Slice basil into thin strips and add to salad.
How to turn this into a full meal:

Serve with crusty bread and grilled chicken
Want to get more single serving recipes delivered to your inbox? Click here to download my Single Serving Cookbook.