This pistachio pasta sauce is not only delicious, but it's a great recipe to use up extra greens. Make a full 4 serving recipe to freeze for later so you can have a quick dinner in just 10 minutes. Also try this easy Arugula Basil Pesto.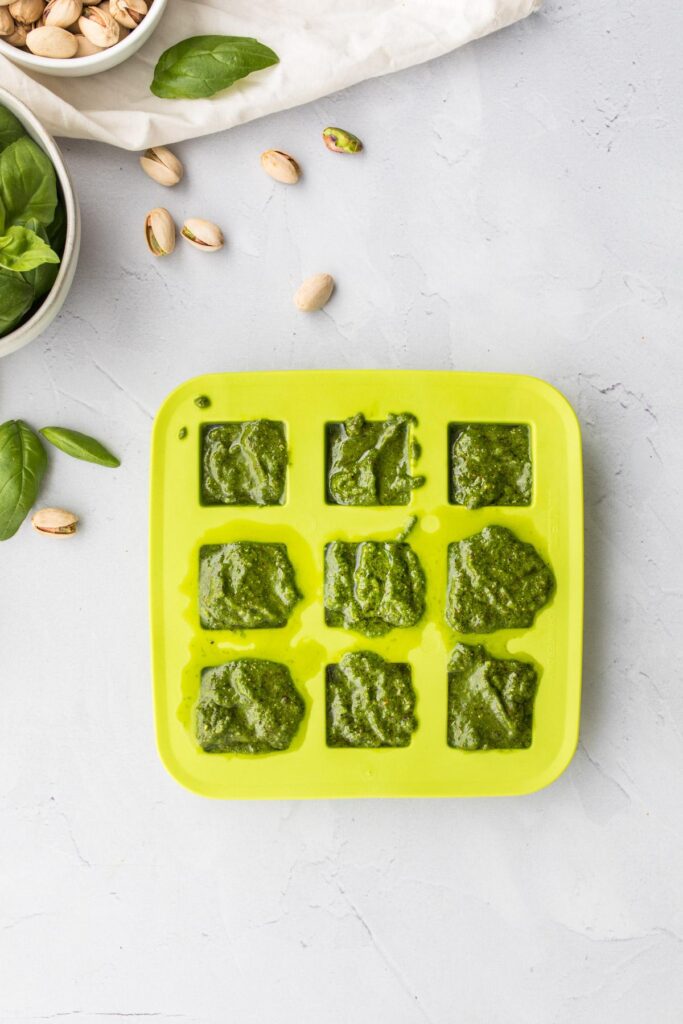 [This recipe was originally posted in November 2018. It has been updated with new photos, cooking instructions, expert tips, FAQ, related recipes, video and ways to repurpose/use up ingredients]
How will this recipe make your life easier?
This simple pistachio pasta sauce recipe is a great way to use up spinach that's just started to wilt or is going bad. You make it in the blender and throw it on your favorite pasta. Add tofu or chicken, and you've got a full meal.
What's even better is that you can freeze leftover sauce in an ice cube tray and grab some for a really quick dinner that doesn't taste like it took just 10 minutes to prepare.
Check out these other great pasta recipes: Black Bean Pasta, 15 Minute Pasta, Pasta with Green Beans and Mushroom Sauce, Lemony Carbonara, or Italian Sausage Tortellini.
What makes this sauce so good?
Pistachios
Spinach
Basil
Mint
Olive oil
Garlic
Parmesan cheese
Lemon juice
How do I make Pistachio Pasta Sauce?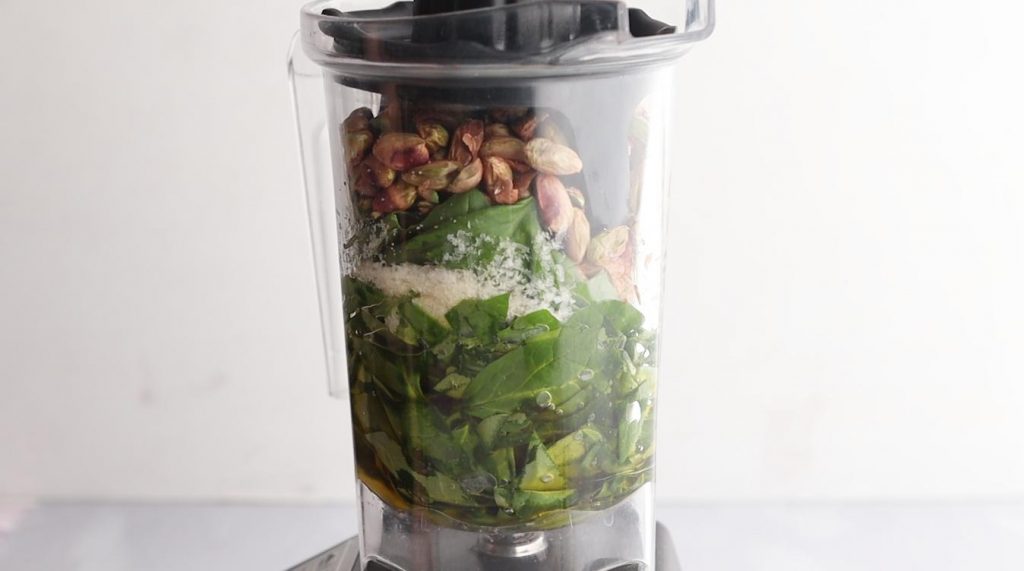 Add 1 c shelled pistachios (about 4 oz), 4 c fresh baby spinach leaves, 1 c basil leaves, ¼ c mint leaves, ¾ c olive oil, 3 cloves garlic, ½ c grated parmesan cheese, 2 tablespoon lemon juice and ⅛ teaspoon salt to a blender.
Blend until smooth. Add up to ¼ cup more oil if needed.
To eat immediately, make this Pesto Pasta, or divide into an ice cube tray and freeze for later.
Expert Tips:
Use up leftover greens with this delicious light pesto sauce to top pasta, chicken, or as a bright & flavorful salad dressing. You can also add it to plain hummus for a delicious snack.
Add more oil if it doesn't blend well.
If using a high powered blender, like the Blendtec I use, don't half the recipe. The blade needs enough greens or ingredients to work with. If you don't make much, the nuts and greens won't get chopped at all.
If freezing, freeze in an ice tray, then transfer cubes to a bag. I've tried to freeze it in a jar & just in a bag, and that's not ideal for smaller meals.
FAQ
What pasta goes with pesto sauce?
The best pasta for pesto are pastas that have lots of curves and grooves. The sauce sticks to those curves and grooves so it sticks to the pasta and is delicious.
My favorites are penne, fusilli, rotini, and orecchiette. Again, anything with ridges or curves. I got these suggestions from a Delish article, check out a more detailed list here.
How do you make pesto pasta sauce from scratch?
Use similar proportions to the ingredients in this recipe: pine nuts, basil leaves, olive oil, lemon, garlic, parmesan cheese, salt and pepper.
What does pesto sauce taste like?
Pesto usually has lots of basil, olive oil, and pine nuts. It tastes nutty, a touch bitter from the basil, and garlicky. You can adjust the amounts in your recipe to make it just as you like.
You can always swap the basil for spinach or arugula and the pine nuts for pistachios depending on what you have on hand. Pesto is a great recipe to use up ingredients you have on hand.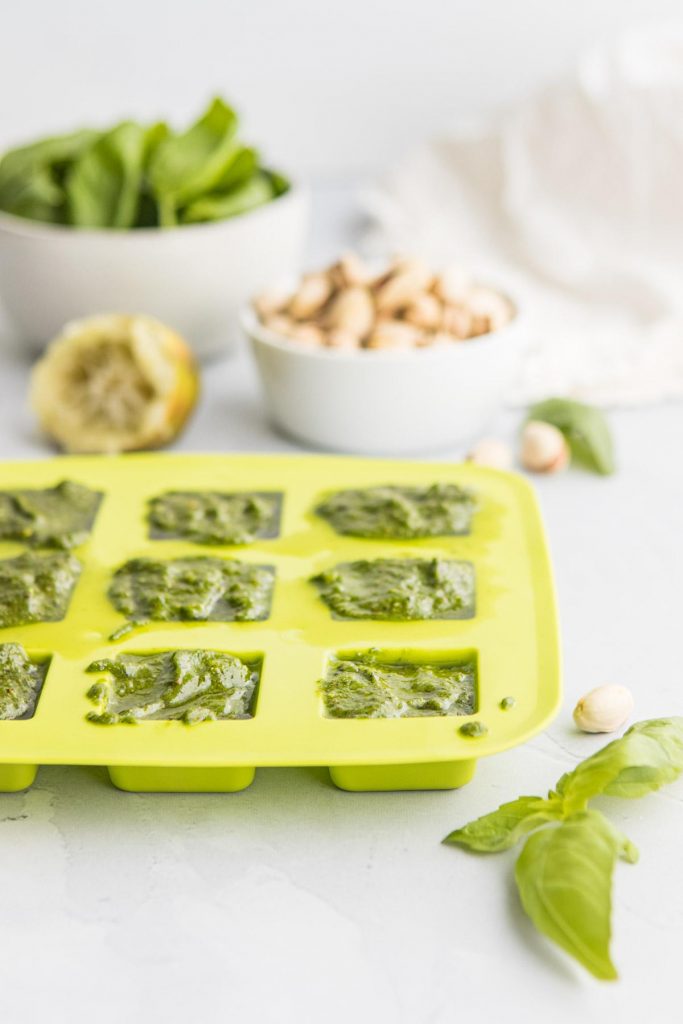 How can I repurpose this pesto?
Dip fresh bread into this pesto
Use as a salad dressing, with extra olive oil
What can I make with leftover ingredients?
Did you make this pistachio pasta sauce? Leave me a comment & rating to share how it turned out!
Healthy Pistachio Pasta Sauce
This healthy pistachio pasta sauce is not only a delicious sauce, but is a great way to use up extra greens. Make a couple servings to freeze for a quick dinner.
Equipment
knife

cutting board

Measuring Spoons

Measuring Cups

High Powered Blender/Food Processor
Ingredients
1

cup

shelled pistachios

(4 ounces)

4

cups

fresh spinach

stems removed

1

cup

basil leaves

¼

cup

mint leaves

¾

cup

extra virgin olive oil

3

cloves

garlic

½

cup

grated parmesan cheese

2

tablespoons

lemon or lime juice

⅛

teaspoon

salt
Instructions
Add all ingredients to food processor or high powered blender. Mix together until smooth. Add more olive oil if it's too dry for you.
Notes
Swap spinach for arugula or other greens
Add up to ¼ cup additional oil if pesto doesn't blend well
Use pesto as a pasta sauce, top fish or chicken, or use as a salad dressing.
You can also freeze this pesto to use later
Want to get more single serving recipes delivered to your inbox? Click here to download my Single Serving Cookbook.
Recipes are great, but you'll need a simple 3 step process to create a meal plan that make cooking easy & helps you stop wasting food. Check out this expertly developed meal planning guide to get started.