You're just 15 minutes away from a warm dish of peach crumble. This peach dessert is made on the stove, and is the perfect quick summer dessert for one. Blueberry Oreo Ice Cream is another great cool summer dessert.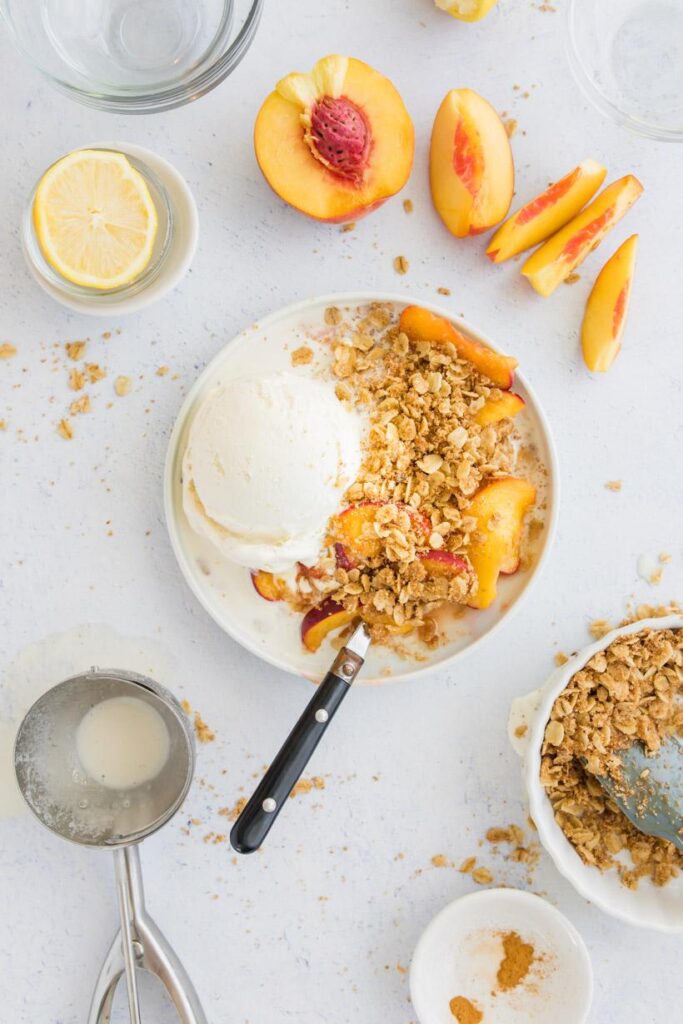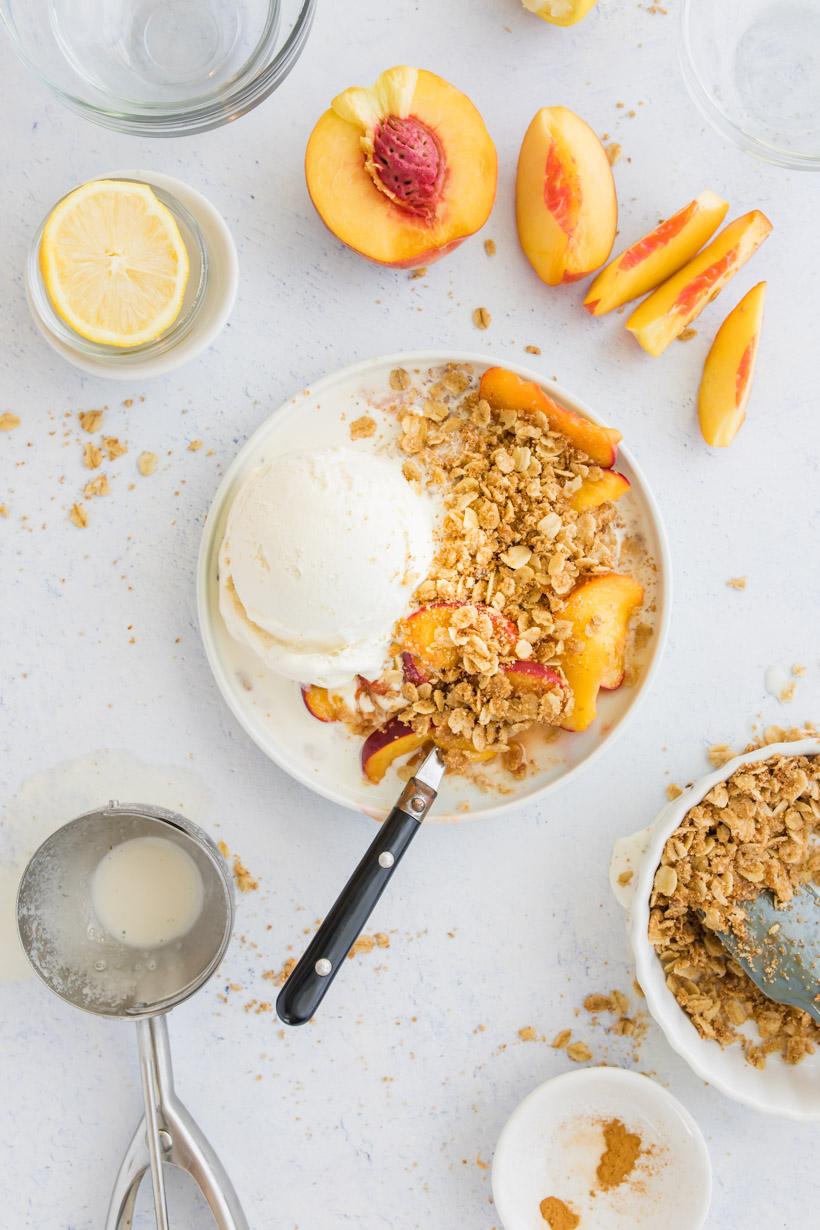 PIN HERE to add to your recipe box.
How this skillet peach crumble is gonna make your life easier
How many times do you want a homemade dessert but don't want to a) take a lot of time b) have a whole pan of brownies or dozens of cookies c) turn the oven on for dessert for one?
That happens to me a lot, and then I end up satisfying my sweet tooth with something not so satisfying and 5 other things because satisfaction is important.
Well, if you're like me, this super easy & quick skillet peach crumble is the perfect late summer dessert. It's made quickly on the stove & makes 1 serving. Done. Here are 2 others: Apple Crisp for One and Single Serving Chocolate Chip Cookie.
Why I love this recipe
Outside of the peaches, this is a recipe you can make with ingredients you've already got on hand.
butter
rolled oats
brown sugar
whole wheat flour
ground cinnamon
salt
peach
lemon juice
How to make skillet peach crumble
Start out with oats, brown sugar, butter, salt, cinnamon, a peach, and some lemon juice.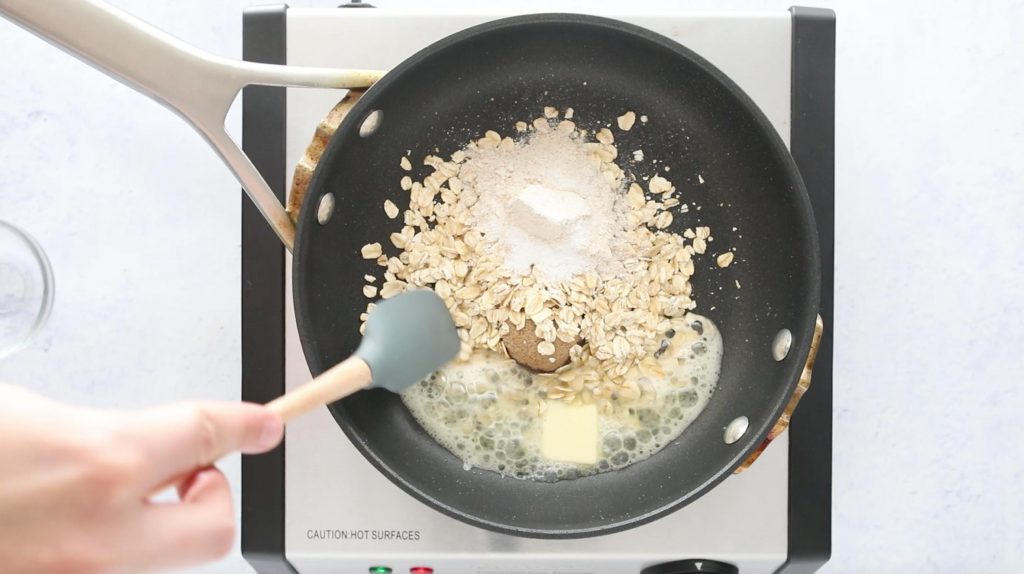 Make the crumble by cooking the oats, flour, salt, and cinnamon in part of the butter & part of the brown sugar. Cook over medium heat. Stir the crumble to ensure all the oats get evenly coated with the other ingredients, and browned. This will take about 3-5 minutes.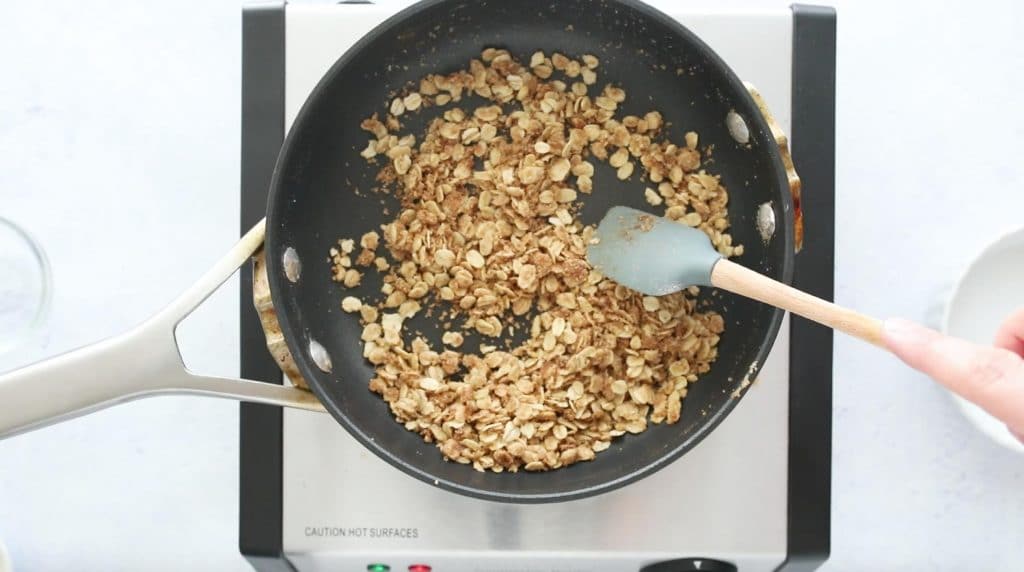 It'll look like this photo above. Once oats are slightly softened and very fragrant, remove pan from stove and pour into a serving bowl. Set aside.
Add remaining butter & brown sugar with the sliced peach and lemon juice to the hot sautee pan. Stir peaches, and cook until soft, about 4-5 minutes.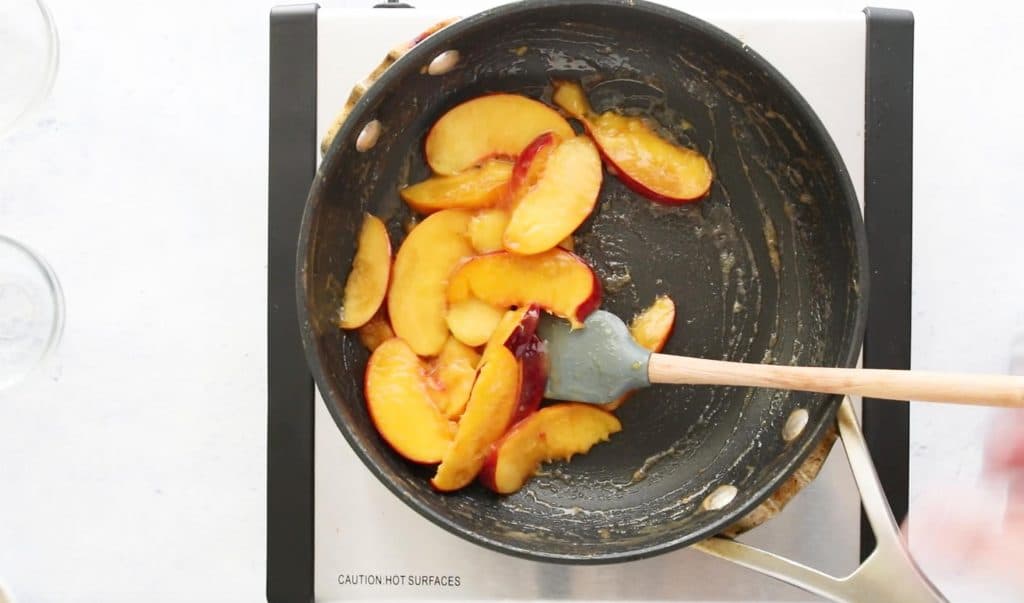 Peaches will be evenly coated with sauce, sauce will thicken, and peaches will become soft. Remove from heat, and pour in same bowl with the crumble topping. Top with ice cream if desired.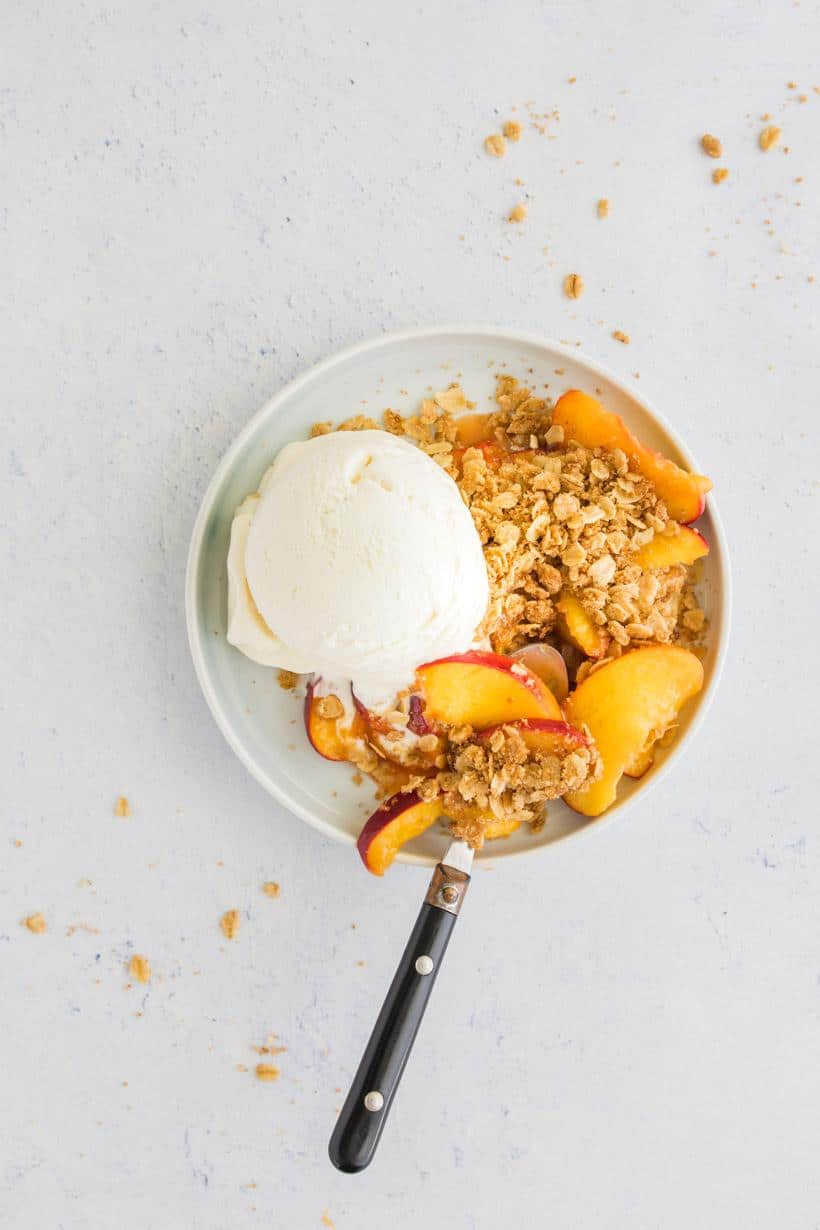 Eat immediately, and if you've got vanilla ice cream in your freezer, that's such a wonderful addition.
Expert tips
Just dump all crumble ingredients in together, I made this once by toasting the oats in melted butter & sugar and once by adding all ingredients at once. They turned out the same, so save your time and just dump all the ingredients in together.
Go big and get some locally grown seasonal peaches. This simple dessert is even better with really flavorful, ripe peaches.
FAQ
How does this compare to a traditional baked crisp?
I'll be honest, the texture isn't quite as good as a crisp you bake in the oven. It's not quite as crumbly, and the oats aren't quite as soft. But I prefer this recipe because it takes 15 minutes to prepare vs 50+ when it's in the oven. The oats are a bit more chewy, but I still made it twice in two days and didn't get a sore jaw either time. Sure we're sacrificing a touch on texture, but the flavor is still really great!
What's the difference between a peach crisp and a peach crumble?
Crumble toppings are usually a bit more dense & cakey than a crisp topping is. This skillet topping is a bit cakey because you add flour, and it's very crisp because you quickly toast the oats in butter & brown sugar.
Can I use canned peaches?
Absolutely! Personally I'd rather eat canned peaches than out of season grocery store peaches. Canned peaches are picked at their peak ripeness meaning that they'll have a super peachy flavor & will be beautifully sweet.
Ways to repurpose this peach crumble
Unlike me, if you do have leftovers or decide to double or triple the recipe, it's really great heated up the next day & served with ice cream again. Or, I love adding a dollop or more of yogurt to my leftover crisps to eat as a breakfast.
Other recipes using peaches
Did you make this skillet peach crumble? leave me a comment to share how it turned out!
Skillet Peach Crumble
You're just 15 minutes away from a warm dish of peach crumble. This peach dessert is made on the stove, and is the perfect quick summer dessert for one.
Equipment
cutting board

knife

small skillet

Measuring Cups

Measuring Spoons
Ingredients
2

tablespoons

butter

divided

¼

cup

rolled oats

4

teaspoons

brown sugar

divided (1 T + 1 tsp)

2

teaspoons

whole wheat flour

¼

teaspoon

ground cinnamon

¼

teaspoon

salt

1

whole

peach

1

teaspoon

lemon juice
Instructions
Heat skillet over medium heat. Once skillet is hot, add 1 ½ tablespoon butter, 1 tablespoon brown sugar, ¼ c rolled oats, 2 teaspoon flour, ¼ teaspoon salt & cinnamon to pan. Stir until toasted, about 3-5 minutes. Pour into bowl.

While crumble mixture is cooking, slice peach into ¼ in slices.

Once crumble is out of the pan, add remaining butter (½ tbsp), brown sugar (1 tsp), 1 teaspoon lemon juice to pan. Stir until peaches are soft, about 3-4 minutes. Pour into bowl with oat crumble. Top with ice cream if desired. Enjoy
Video
Stovetop Peach Crumble for One
Notes
Easily double or triple the recipe to feed more people, just cook in a larger skillet
Use fresh peaches in season so it'll taste the best
Top with fresh vanilla ice cream or whipped cream
Eat immediately
Want to get more single serving recipes delivered to your inbox? Click here to download my Single Serving Cookbook.