Enjoy all the wonderful late summer produce such as peaches and tomatoes on this simple and delicious 20 minute personal caprese pizza with peaches.
PIN HERE to add to your recipe box.
How this peach prosciutto pizza is gonna make your life easier
This pizza with peaches is great because the only chopping required is to slice the cheese, tomatoes, and peach. There aren't many ingredients so it'll be fast to chop the few that need chopping. So it comes together quickly.
Make your own pizza dough (I made this super easy Food Network dough) or buy pre-made dough to make your life even easier!
This Buffalo Chicken Flatbread Pizza, Pear Prosciutto and Arugula, Chicken Bacon Ranch Flatbread or Fig and Prosciutto pizza are other great homemade pizza dishes.
What makes this summer pizza?
How do I make a caprese peach pizza
Start making your caprese pizza with peaches: preheat oven to 450 degrees. Slice your tomatoes and mozzarella, place on paper towel or towel to remove some liquid.
Cut pizza dough in half, save one half. Roll dough out on baking mat or parchment paper and then slide it on a baking sheet.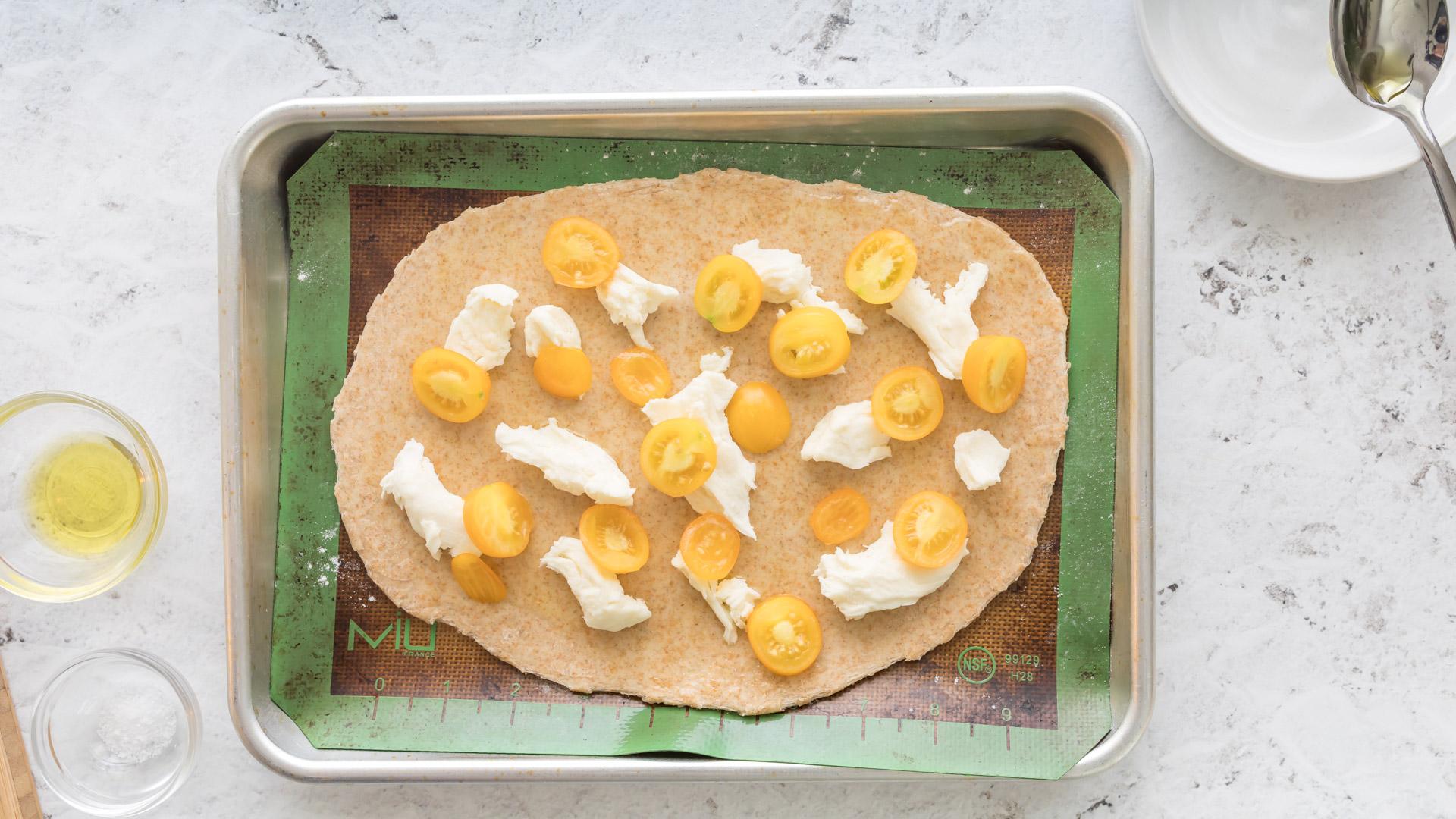 Brush olive oil over pizza dough, then place cheese and tomatoes evenly around pizza. Bake at 450 degrees for 8 minutes.
Evenly distribute prosciutto over pizza. Bake for another 2-3 minutes or until prosciutto and crust are golden brown.
Remove pizza from oven and place peach chunks and fresh basil leaves on pizza, sprinkle salt, and drizzle balsamic reduction or glaze over your pizza caprese.
Cut caprese pizza with peaches into slices and eat immediately.
Expert tips/Substitutions
Lay the tomatoes & cheese on a paper towel for 10 minutes to release some of their moisture. If not, your caprese pizza with peaches will come out watery in the middle and can easily become soggy.
Roll pizza dough out on a baking pad or parchment paper that you'll bake it on to prevent it from getting over stretched and form holes.
I don't recommend cooking the peaches unless you're able to use a pizza oven or grill, the peaches got too watery for me when I tried to cook them.
Make your own balsamic reduction with balsamic vinegar
Make grilled pizza by using your grill for a pizza oven hack (it can get hotter than your oven and is quick, so quick)
Substitution ideas: honestly this pizza is so good as it is, but goat cheese would be great on it, and burrata would be out of this world. Jalapenos or even a couple of Spicy Pickled Onions would be a good addition.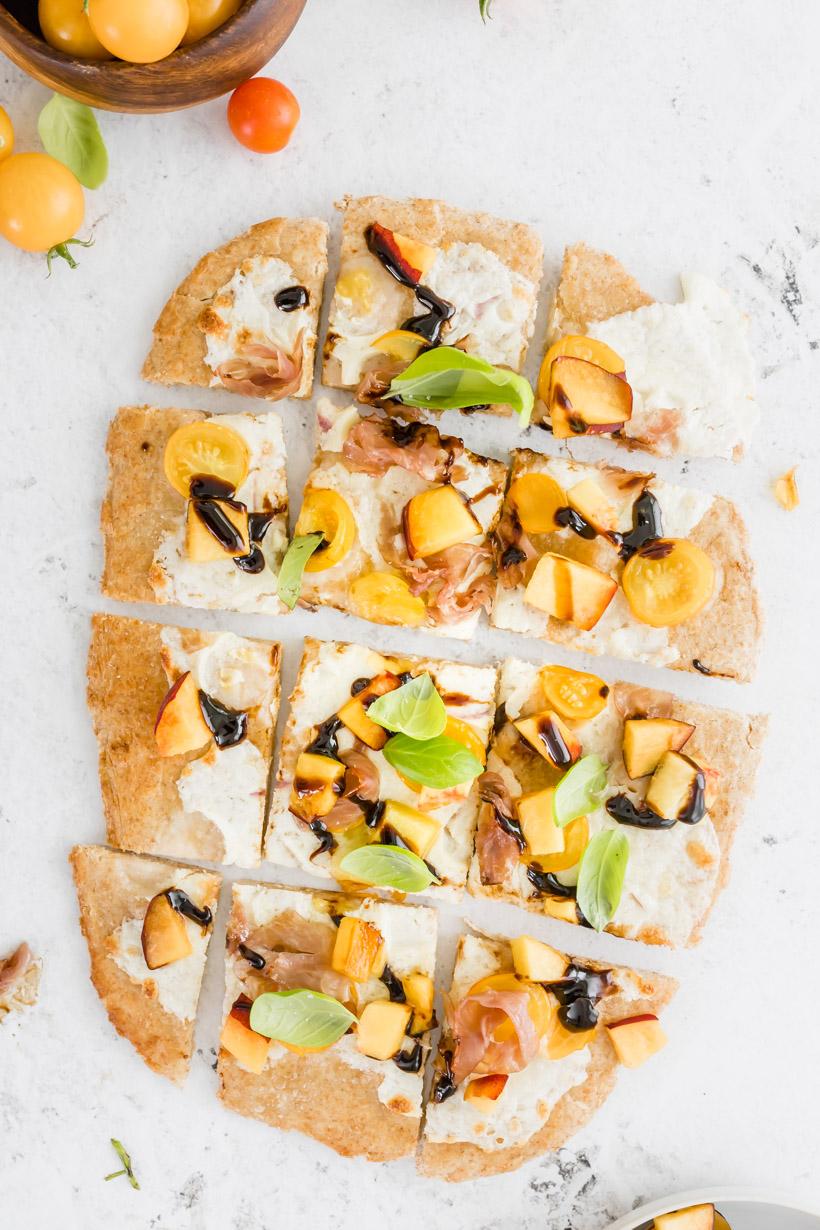 FAQ
What kind of dough do I use?
I made my own (it's super easy & a great low waste option). I made ½ recipe of this Food Network dough and substituted about half the flour with whole wheat flour. I then cut the dough in half and froze the 2nd half.

For one less step, I'd recommend buying your favorite pre-made dough instead of pre-made crust. Or if you're in need of an even quicker dough-buy pre-made flatbread.
What kind of balsamic glaze do I use?
I bought a balsamic glaze from Sprouts & have been really happy with it. You certainly can make your own glaze but if you're anything like me, you're not going to take the 15+ minutes to make it every time you want a balsamic glaze.
What kind of mozzarella cheese do I use?
Buy mozzarella cheese that's not packed in water. You don't want a puddle of water in the middle of your caprese pizza with peaches.
What can I make with leftover ingredients?
Did you make this Caprese Pizza with Peaches? leave me a comment to share how it turned out!
Caprese Pizza with Peaches
Enjoy all the wonderful late summer produce such as peaches and tomatoes on this simple and delicious 20 minute personal caprese pizza with peaches.
Equipment
oven

cutting board

baking sheet

rolling pin

knife

cutting board
Ingredients
½

premade

pizza dough

1

teaspoon

olive oil

½

cup

mozzarella cheese

1

cup

tomatoes

2

oz

prosciutto

¼

whole

peach

chopped

basil leaves

¼

teaspoon

salt

balsamic glaze
Instructions
Preheat oven to 450 degrees. While oven is preheating, slice 1 c tomatoes and ½ c mozzarella cheese. Let sit on a paper towel until ready to assemble pizza.

Roll out pizza dough, then brush with 1 teaspoon olive oil.

Assemble pizza by placing individual slices of ¼ c mozzarella cheese and 1 cup tomatoes all over pizza. Bake for 8 minutes.

Remove pizza from oven after 8 minutes, then place slices of (2 oz) prosciutto on top of pizza. Bake for another 2-3 minutes.

Once prosciutto and pizza crust are crispy, remove pizza from oven. Spread chopped peach over pizza, then your desired amount of basil leaves and a sprinkle of salt. Drizzle balsamic glaze over pizza. Slice and serve immediately.
Video
Peach and Prosciutto Caprese Pizza
Notes
Use fresh, seasonal peaches for the best flavor
You can substitute ham, bacon, or panchetta for the prosciutto
Top with red chili flakes and or parmesan for more flavor
Want to get more single serving recipes like this caprese pizza with peaches delivered to your inbox? Click here to download my Single Serving Cookbook.
Recipes are great, but you'll need a simple 3 step process to create a meal plan that make cooking easy & helps you stop wasting food. Check out this expertly developed meal planning guide to get started.