This delicious Spanish tortilla de patata recipe is the quickest and most delicious way to use up vegetable scraps in the kitchen.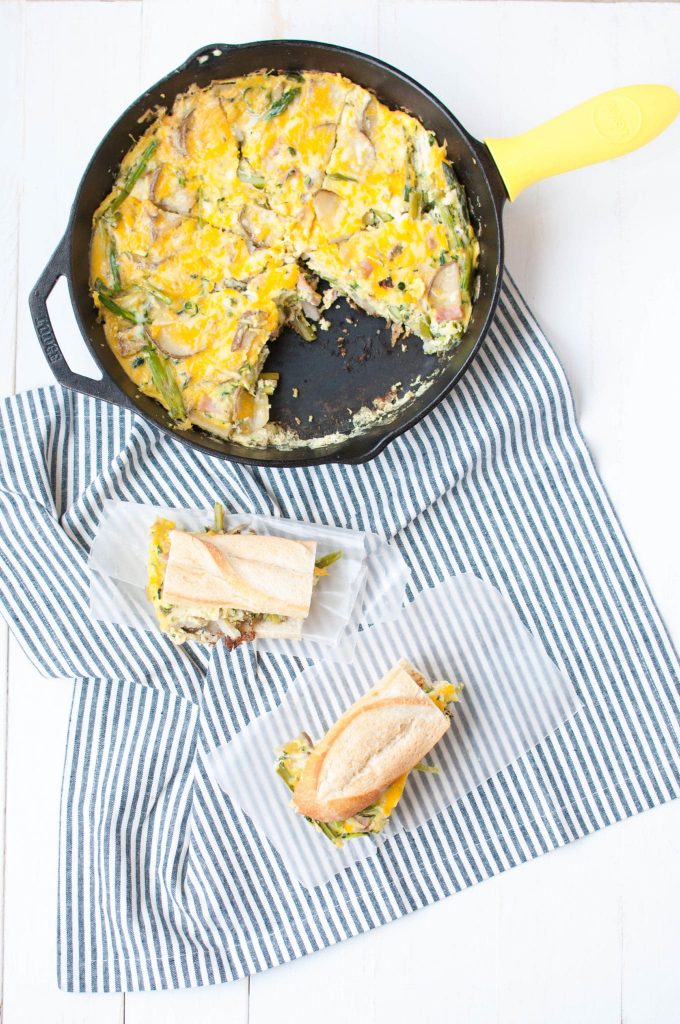 This month's Recipe Redux is all about finding ways to reduce food waste. Since today is Earth Day, it's no better day to share my fave recipes to dump extra food scraps into: a Spanish Tortilla de Patata.
I posted a similar recipe on Be Truly Nourished a few years ago, but just had to do another because
Tortilla is SOOOOOO good and equally easy
It's a great way to use up those random vegetables in your fridge & other leftovers
It photographed well back then, I knew it'd photograph way better now
I searched through the archives to find these glorious photos of my last go. Again, they're really good for how inexperienced I was. Sometimes you do get lucky.
I was introduced to tortilla de patata 7 (yikes!!!) years ago while I studied abroad in Spain. Tortilla is a popular meal around Madrid, at least that's what the woman I lived with said.
Tortilla is fantastic because it can double as a delicious egg sandwich for leftovers, as a bocadillo (a sandwich). Spaniards eat these all the time! and I see why, they're so easy and delicious!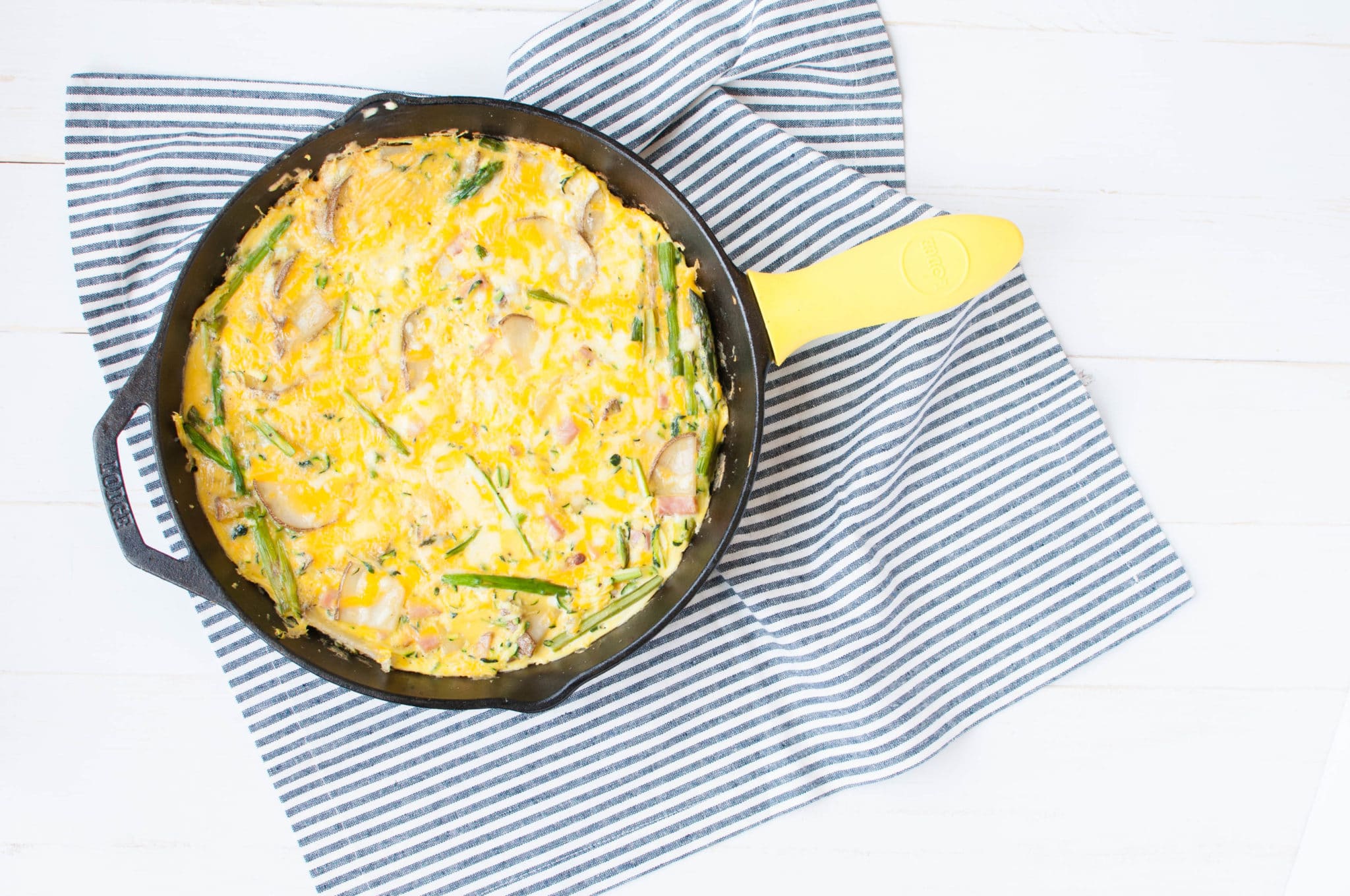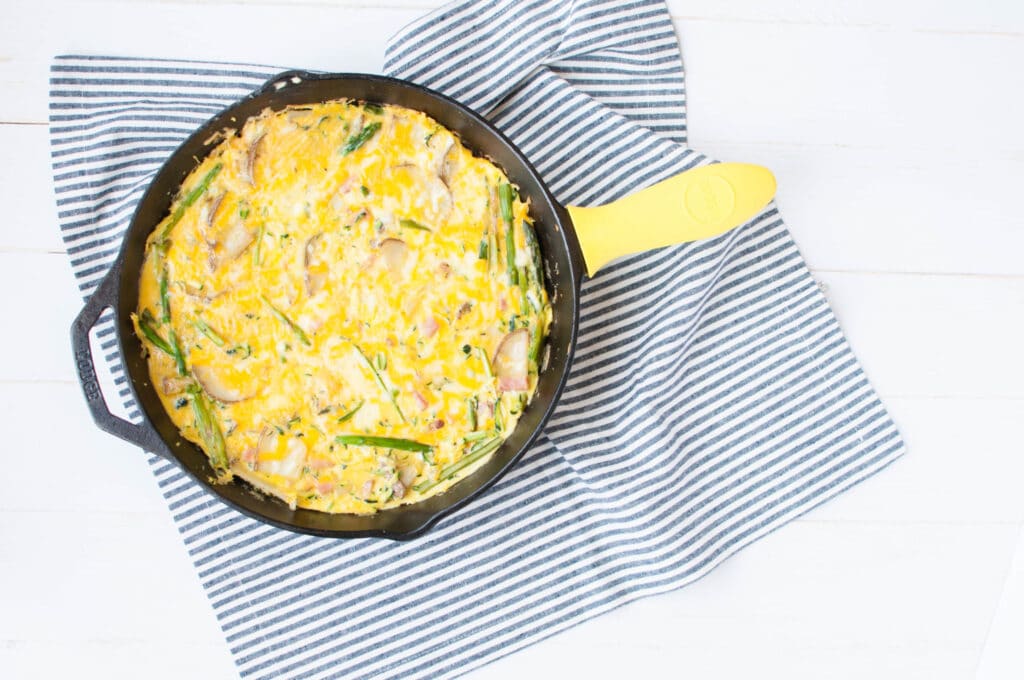 A traditional tortilla is just eggs & potatoes, but I love green vegetables, and love to use up what I've got in the fridge.
I hate wasting food, and have found that making these clean out your fridge types of dishes (like these vegetarian black bean tacos) help me use up food before it goes bad. It's a win-win.
(This plus the fact that I don't flip the tortilla, imagine flipping a giant egg dish like an omelet. I know, right?! I've stopped trying to flip it because a) cast iron is HEAVY and b) that's too stressful.)
Covering your pan with a lid does the trick... and is WAY easier!
Spring Tortilla de Patata
This delicious Spanish tortilla de patata recipe is the quickest and most delicious way to use up vegetable scraps in the kitchen.
Equipment
knife

cutting board

Measuring Spoons

Measuring Cups

Large Skillet
Ingredients
cooking spray

2

Tablespoons

Extra Virgin Olive Oil

2

cloves

garlic

minced

1

whole

russet potato

sliced thinly

1

teaspoon

salt

½

teaspoon

pepper

3

cups

thinly sliced asparagus/vegetables

12

eggs

1

cup

milk

½

cup

shredded cheese

1

sourdough baguette
Instructions
Heat up a large cast iron skillet, once hot spray skillet with cooking spray, then pour olive oil into pan.

Add one layer of potatoes to pan, then garlic and salt and pepper. Sautee potatoes and garlic until potatoes are softened, about 10 minutes, stirring occasionally. Chop asparagus while potatoes are cooking, if it's not pre-chopped.

Once potatoes are softened, add in remaining vegetables. Cook for 5 minutes, or until asparagus is slightly softer and brightly colored. Stir occasionally.

Scramble eggs with milk while vegetables are cooking. Add egg mixture to vegetables. Quickly stir asparagus to evenly distribute it. Cover with lid to evenly cook eggs, about 20 minutes.

When eggs are just a bit runny, top with cheese. Cover and cook until tortilla is firm to the touch. (you can also gently shake the pan to see if anything is runny). About 5-10 minutes.
Notes
I used asparagus, shredded zucchini, and ham leftover from Easter dinner.
You can use any vegetables you have on hand.
Serve leftover tortilla in a baguette for lunch
What would you add to this tortilla de patata?
Want tips to live your best live delivered straight to your inbox + a free15 minute dinners eCookbook?
thought so