Make a batch of this 5 ingredient BBQ ranch dressing, and you've got a dressing/dipping sauce that's versatile and flavorful. It'll definitely be your go-to salad dressing, chicken marinade, fry dip, and whatever else.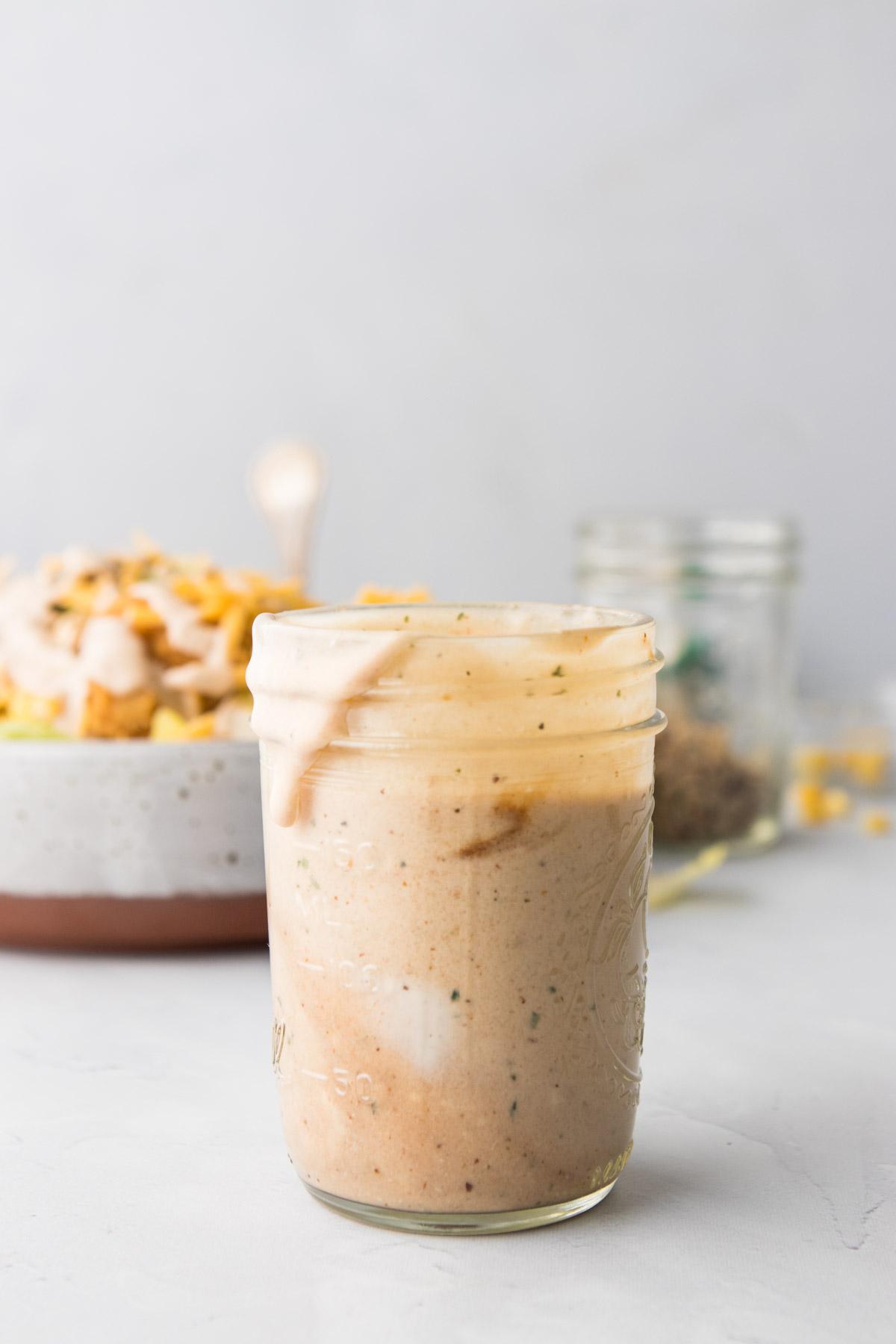 [This recipe was originally posted in July 2021. It has been updated with cooking instructions, expert tips, FAQ, related recipes and ways to repurpose/use up ingredients]
If you're a big ranch dressing fan like I am, elevate your fave salad dressing and dip with some BBQ sauce, and you've got a ranch-y tangy BBQ ranch dressing that's great on oh so many foods.
There are lots of homemade ranch dressing recipes out there, and they're good and all, but if you're anything like me, you love the traditional mix it yourself Hidden Valley ranch. Don't mess with something that works & is easy.
Instead of making your own ranch dressing, get yourself a packet (or a jar of the seasoning for less waste!), add your own mayo & Greek yogurt, milk, and BBQ sauce.
What makes this easy bbq ranch so good?
Scroll down to the recipe card for the amounts of each ingredient, but here's a quick visual + description of what's in this recipe.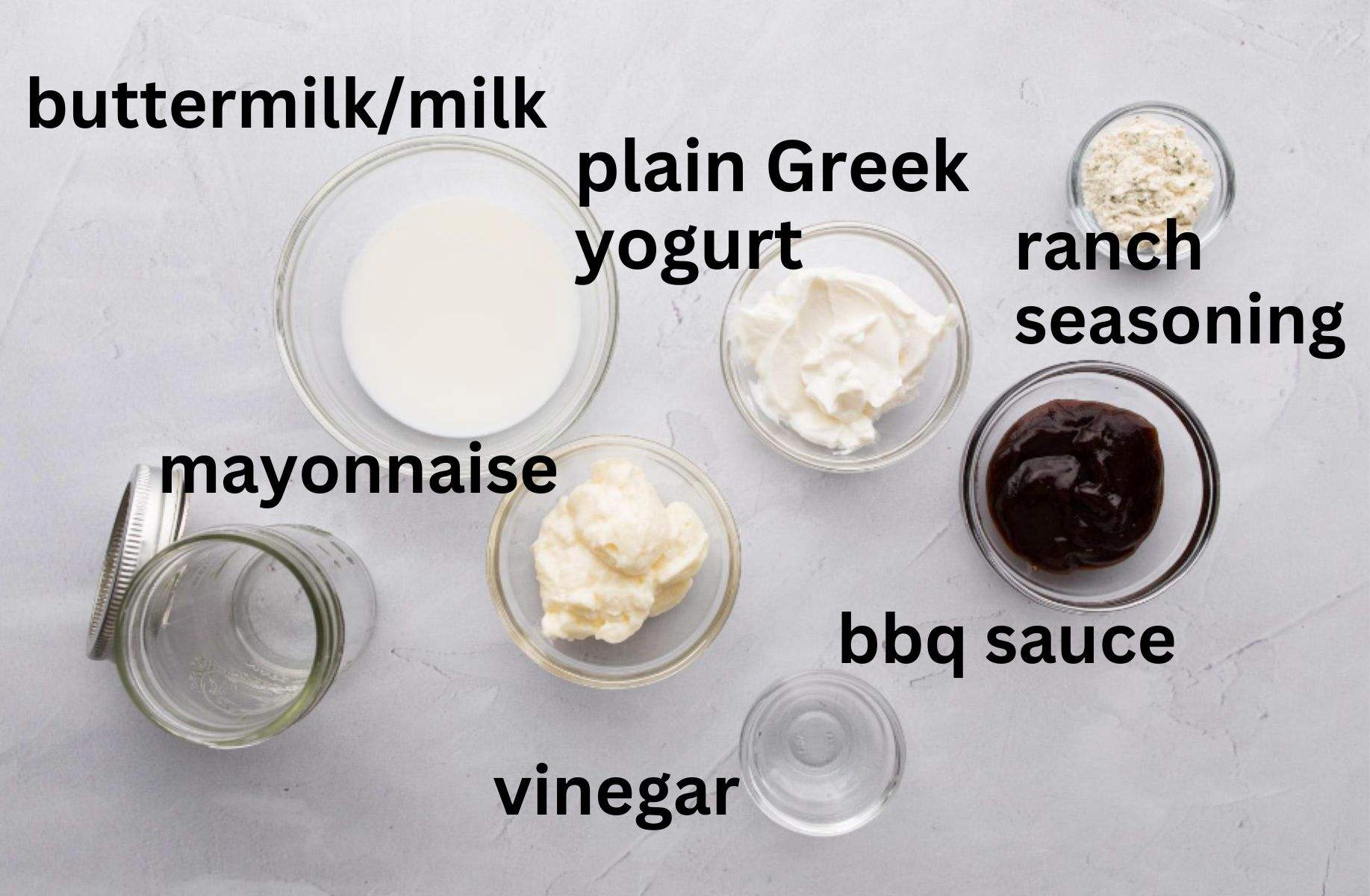 BBQ Sauce: Use your favorite BBQ sauce. You might need to adjust the tangy ingredients based on how sweet/tangy your sauce is.
Mayonnaise: A classic ranch ingredient. It's creamy, acts as a thickener, and adds a touch of sweetness.
Plain Greek Yogurt: I like to add plain yogurt to semi-homemade BBQ ranch dressing to add some tanginess. It's really nice.
Buttermilk: use buttermilk or milk + 1 teaspoon vinegar or lemon juice.
Ranch Seasoning Mix: Use a premade mix or DIY your own.
How do I make this sauce?
Scroll down to the recipe card for more detailed instructions. Here's a quick overview + photos to see how to make this recipe in general.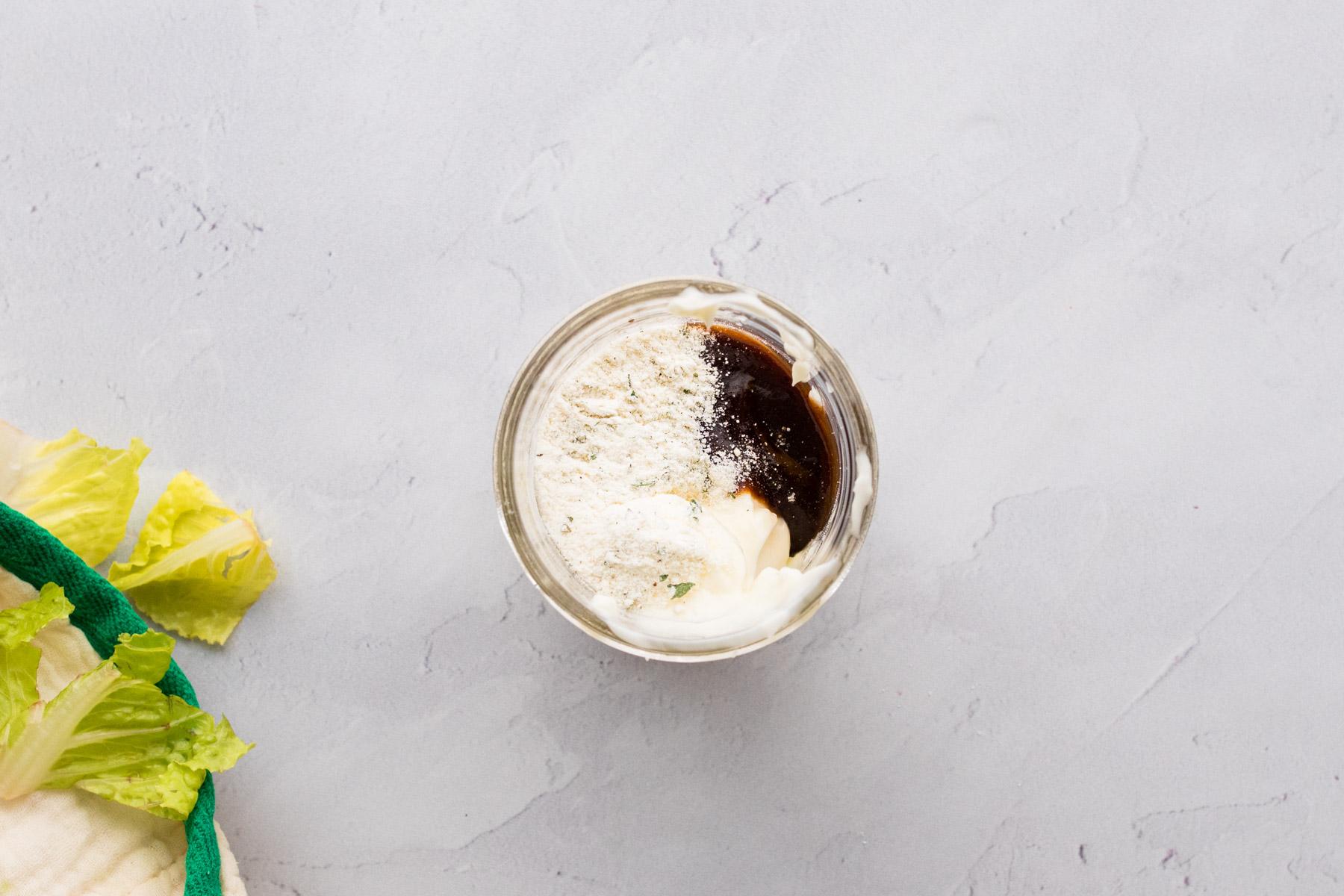 Add plain Greek yogurt, mayonnaise, buttermilk, BBQ sauce, and Ranch dressing mix to mixing bowl or jar.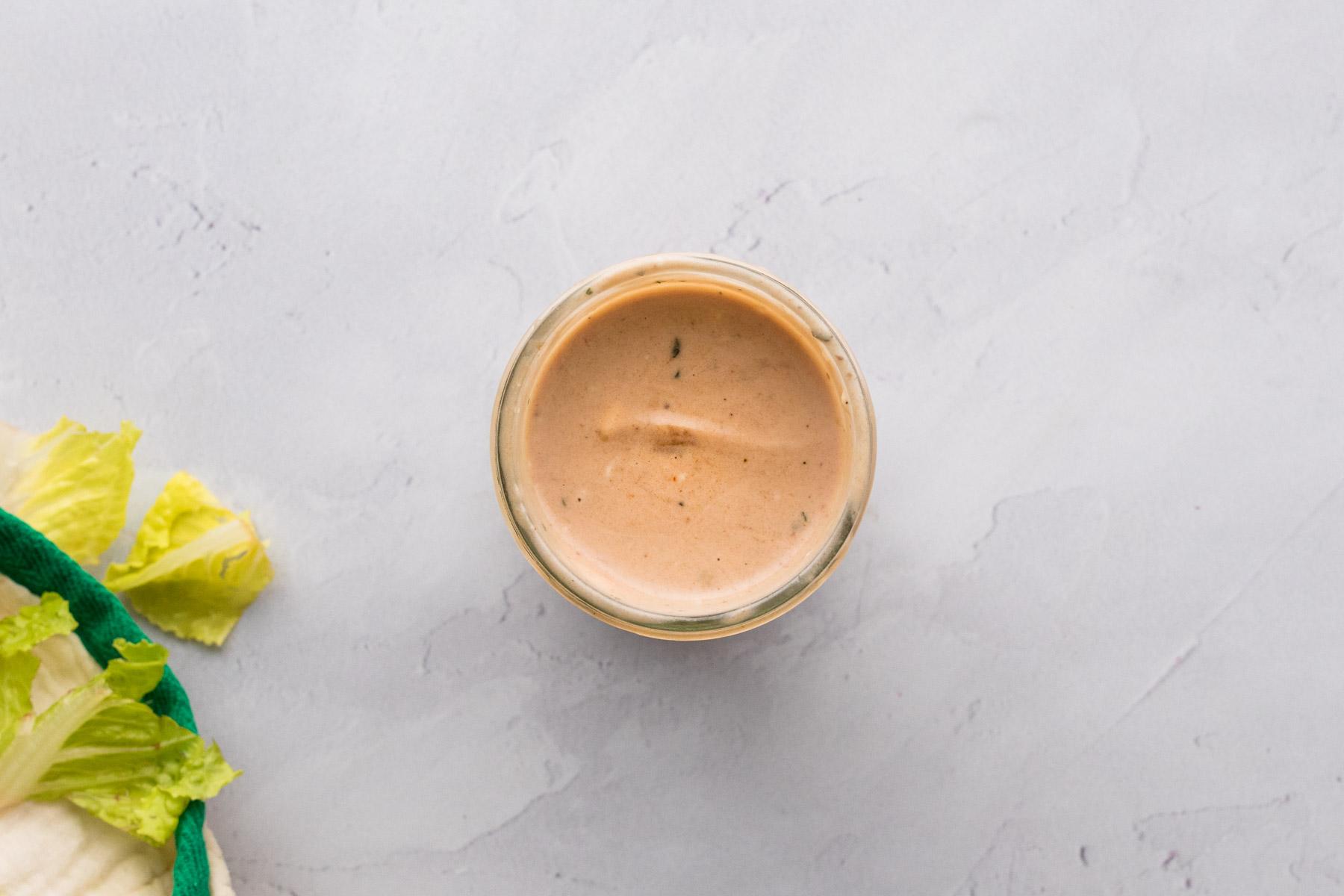 Whisk together or shake in a jar with an airtight lid.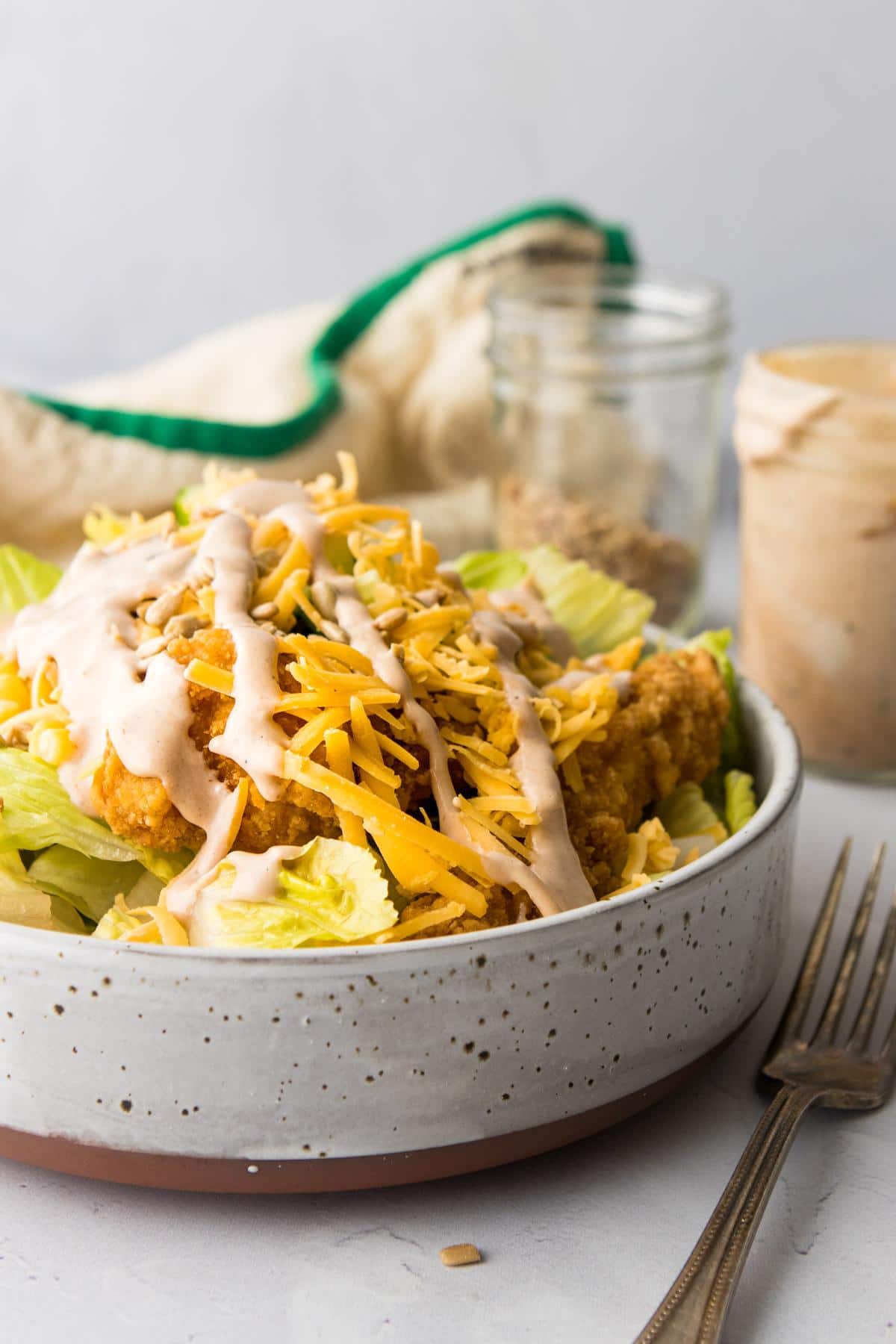 Pour BBQ ranch dressing over salad or onto a plate to use as a dip. It's really versatile!
Storage Tips
Store leftover BBQ ranch dressing in an airtight container in the fridge for about a week. Store it separately than whatever you're using it for, so that food doesn't get too soggy.
Substitutions/Tips
Adjust buttermilk/milk addition depending on whether you're making BBQ ranch dressing or dip. Add less if you're making a dip so it's thicker.
I add plain Greek yogurt in this barbecue ranch recipe instead of all of the mayonnaise the recipe calls for because it adds a nice tangy flavor. But you're free to substitute the yogurt for all mayo!
Substitute Greek yogurt for sour cream. Either would be great in this recipe.
Milk + vinegar or lemon juice is a good buttermilk substitute. It tastes just as good as buttermilk in this BBQ ranch dressing recipe.
This makes a small batch of ranch BBQ sauce, which is great if you're cooking for one or a couple people. If you want to make more-click the slider in the recipe card to adjust the number of servings.
FAQ
How long can salad dressing stay outside of a fridge?
The USDA recommends keeping hot foods hot and cold foods cold. They recommend keeping hot/cold foods out at room temperature for 2 hours or less, and if it's 90 degrees or warmer, only keep food out for an hour.

Do the same with your BBQ ranch dressing and whatever you're eating it with.
What is the best BBQ sauce?
My favorite brand is Sweet Baby Ray's BBQ sauce. It's really good in this semi-homemade BBQ ranch dressing. It's tangy, sweet, and has some nice spices in it. Delish posted an article on their favorites here.
Does all ranch have mayo?
Most ranch dressings have mayonnaise and other dairy ingredients in it. Sweet, smooth mayo is really delicious with the spices and herbs in traditional ranch dressings.

My favorite brand, Hidden Valley, has a great spice packet that you can use to make your own, and that uses mayonnaise and buttermilk. Personally, I like mayo + plain Greek yogurt for extra tangy flavor.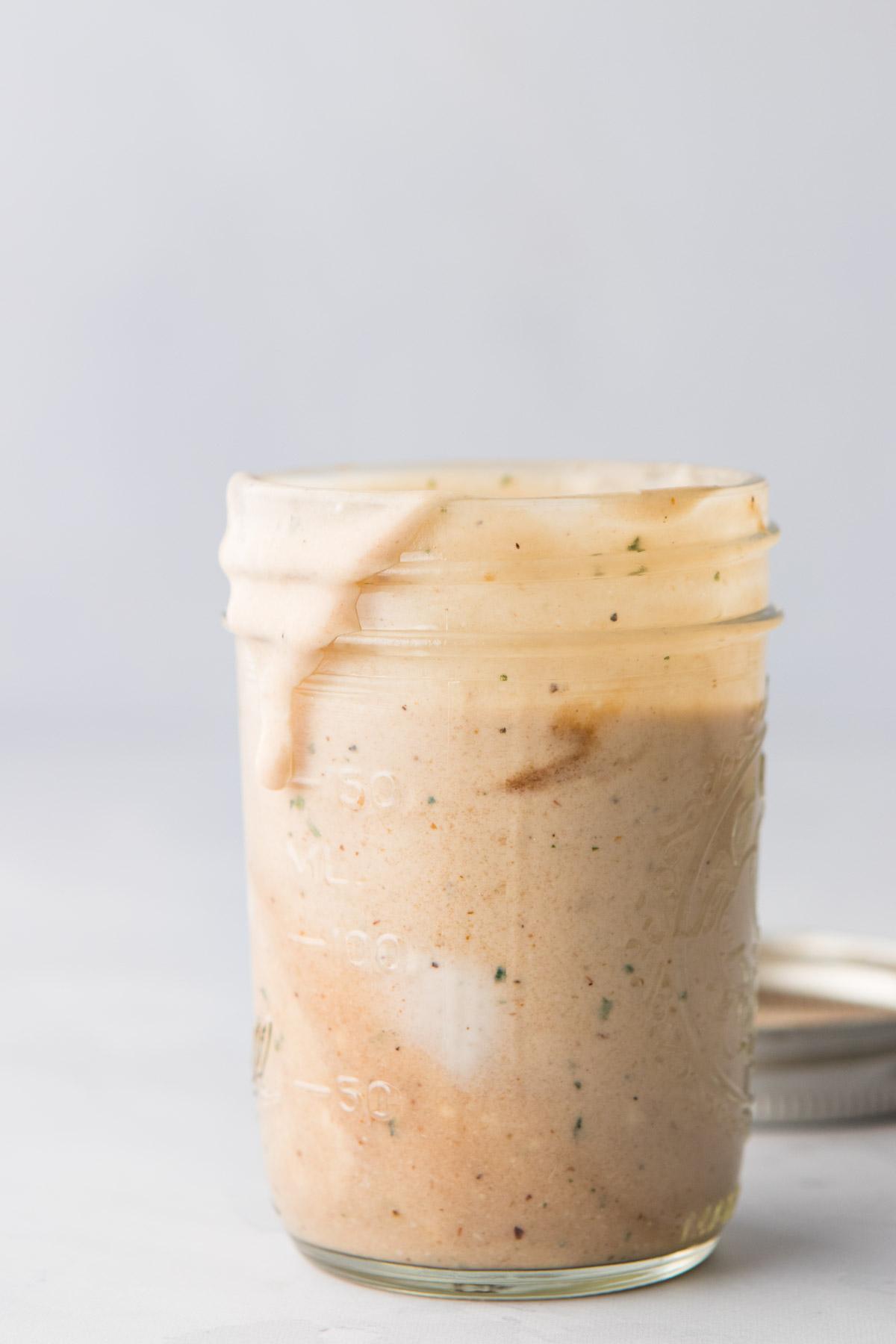 Serve over a chicken salad
I highly recommend making a simple chicken salad to dress with this BBQ ranch dressing. Here are a couple ingredients to include in your salad:
Romaine lettuce
Chicken strips or other cooked chicken
Corn kernels
Shredded cheddar cheese
Sunflower seeds
Serve it with these other recipes
What to do with leftover ingredients
When you're cooking for one, you often have leftover produce, cans of whatever ingredient, etc. Here are a couple ideas on how to use up the leftover ingredients. It'll help you save money by wasting fewer ingredients.
Did you make this BBQ Ranch Dressing? Leave me a comment & rating to share how it turned out!
Semi-Homemade BBQ Ranch Dressing
Make a batch of this 5 ingredient BBQ ranch dressing, and you've got a dressing/sauce that's super versatile and bursting with flavor. It'll definitely be your go-to salad dressing, chicken marinade, fry dip, and whatever else you want to eat it with. It'll definitely bump up your dressing and sauce game!
Equipment
Mason Jar with Lid

Measuring Cups

Measuring Spoons
Ingredients
BBQ Ranch Dressing
¼

cup

plain Greek yogurt

¼

cup

buttermilk

or milk + 1 teaspoon lemon juice or white vinegar

3

tablespoons

mayonnaise

2

tablespoons

BBQ sauce

I use Sweet Baby Ray's original

1 ½-2

teaspoons

ranch dressing mix
Salad
chicken

lettuce

black beans

corn kernels

shredded cheddar cheese

sunflower seeds
Instructions
Pour ¼ cup plain Greek yogurt, ¼ cup buttermilk (or ¼ cup milk + 1 teaspoon lemon juice OR white vinegar), 3 Tablespoons mayo, 2 Tablespoons BBQ sauce, and 1 ½-2 teaspoon ranch dressing mix into a wide mouth mason jar.

Screw jar lid on tight, and shake until dressing is mixed well and smooth. Whisk if you can see small chunks after shaking.

Pour over salad with ingredients in ingredient list or use to dip chicken or fries into. You can also use this as a marinade for grilled chicken. It's really versatile!
Notes
Adjust amount of buttermilk/milk you add depending on how thick you want your dressing. To make a dip, omit some milk for desired thickness, you can add all liquid or more for salad dressing.
I substitute some of the mayonnaise in the traditional recipe with plain Greek yogurt for a tangy addition. You can replace the ¼ cup greek yogurt with more mayo if you'd like.
This BBQ ranch dressing is great as a salad dressing, marinade, or dip for fries or other foods.