Miso butter salmon is a great 4 ingredient main dish for one. The umami, salty, and sweet flavors in miso butter sauce pair well with salmon and vegetables. It's ready in 20 minutes and goes great over rice with vegetables, like cabbage.
A bit About miso
Miso isn't an ingredient I've bought much before, but have always enjoyed restaurant dishes with it. Luckily there are lots of great dishes you can make with miso, and it's flavorful on it's own, so you don't have to add lots of ingredients to it to taste good.
Pascale Yamashita a Japanese recipe developer and food photographer gave a great intro to miso on Food Network. Here's her interview.
This miso butter salmon recipe I came up with, was loosely based off of 3 delicious recipes I found online. Easy Miso Butter Salmon from Ketch-up with Linda, Miso Butter Salmon Recipe from No Recipes, and Miso Salmon from Just One Cookbook.
While this recipe isn't traditional Japanese, it incorporates a traditional Japanese ingredient: miso.
How will this salmon make your life easier?
Aside from cooking the rice, you can make the salmon and veggies all in one pan. Steam the salmon and veggies to keep the salmon tender, and prevent the miso from burning.
Individually packaged salmon filets are great in miso butter salmon recipe. They can be thawed in the fridge overnight or in a hot bowl of water in about 5-10 minutes (in packaging). I don't recommend microwaving salmon, because it'll get tough.
Sustainable Seafood
Buying seafood that's more eco-friendly isn't usually the least expensive option, or always available. If you have the money, access, and desire to choose sustainable seafood, go for it. If not, no problem at all.
For years, the Monterey Bay Aquarium has been at the forefront of providing recommendations/information about sustainable sourcing seafood through Seafood Watch. They have resources on their website and app.
Other good salmon recipes:
Pan Seared Salmon with Summer Salad
What makes this salmon with miso butter so good?
Salmon: Use your favorite type of salmon for this recipe. Frozen salmon is a great option for most people, it's less expensive, and is often frozen quickly after being caught, so it's kind of more fresh than fresh for most people.
Butter: Softened butter adds a nice sweet and rich flavor to your dish. It mixes well with miso and just melts into the salmon in this miso butter salmon recipe.
Miso: White miso, in particular, has a slightly nutty, umami (savory) flavor. White miso is the most mild type of miso, then yellow and red is the most umami and strongest flavor. I recommend white or yellow to not overpower the salmon.
Garlic: Minced garlic adds a nice sweet flavor to this easy dish.
Rice: A more traditional Japanese side, simple rice is great with miso butter salmon and veggies.
Vegetables: I really enjoy cooking cabbage with my miso butter salmon, but sliced carrots, broccoli, zucchini, and other vegetables would be good with it too.
How do I make it?
Start your rice, cook according to package directions. Chop vegetables, if applicable.
Pat salmon dry with towel or paper towel. Individually frozen salmon filets often have lots of water/liquid in the package after they're thawed.
To start your miso butter salmon, mix together room temperature butter, miso paste, and garlic. If butter is a bit cold, and not incorporating well, microwave the mixture for 5-10 seconds, and stir.
Heat a large skillet over medium heat. Once hot, add about ½ of miso butter to pan.
Place fish in center of skillet, skin side up, if there's skin. Add vegetables around salmon. Spoon remaining on vegetables.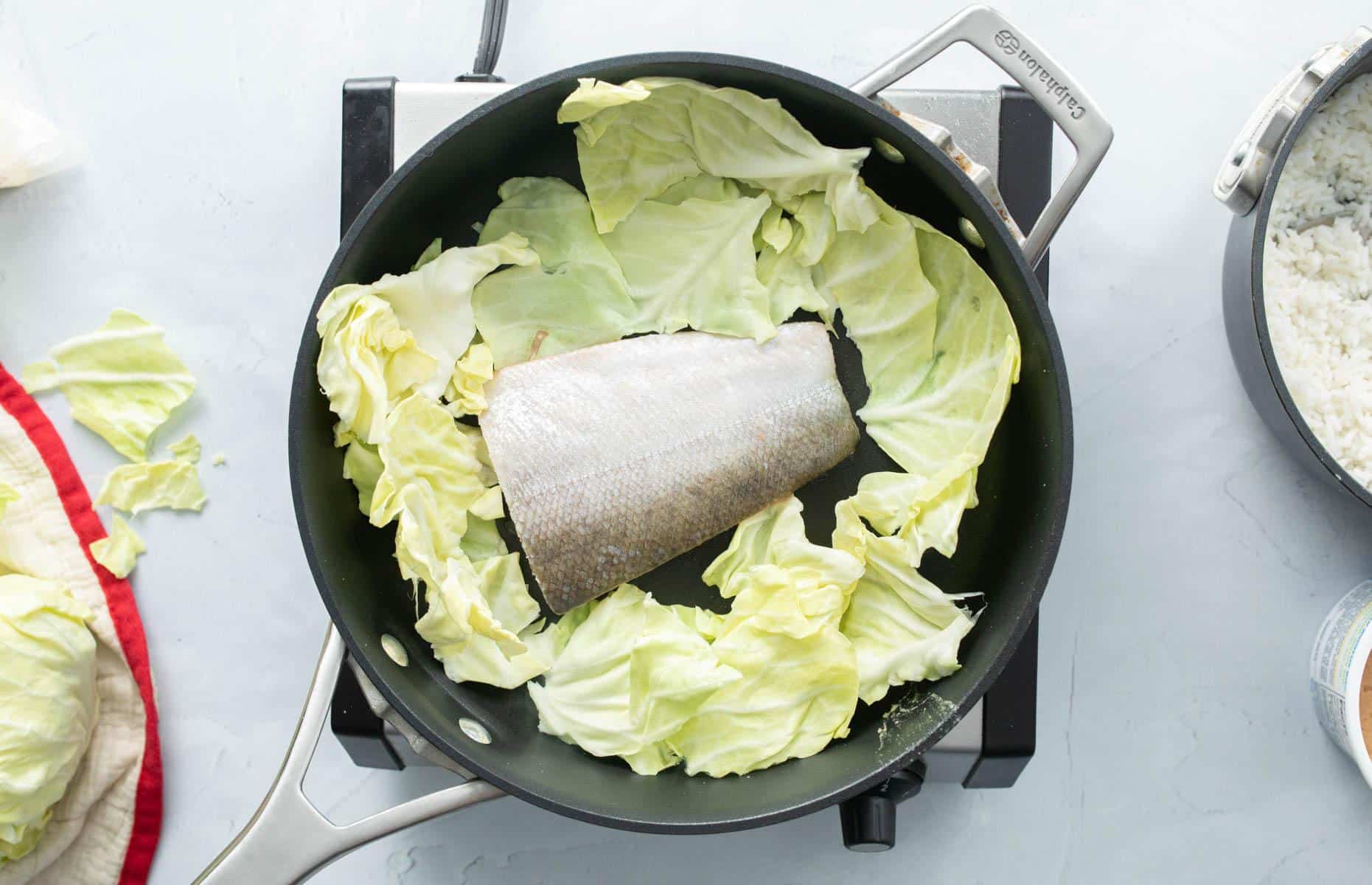 Cook your miso butter salmon and cabbage for 3 minutes. Add water if needed, like if it seems like anything is burning. A little brown on your salmon is ok, but you don't want to burn the miso.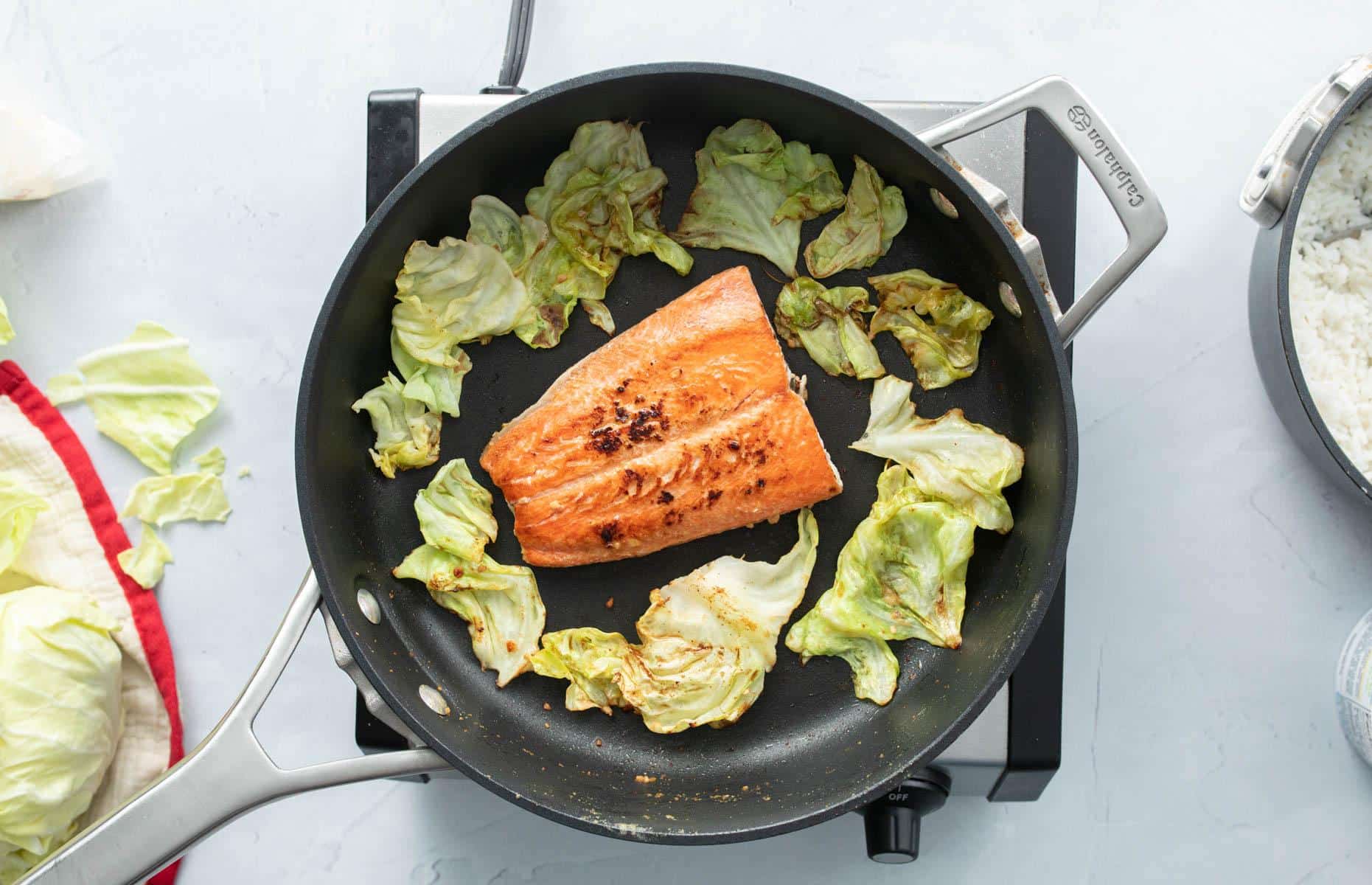 Flip, and cook until fish is cooked, about 5-6 minutes, or once it reaches about 140/145 degrees F. Stir vegetables occasionally.
Serve miso butter salmon and vegetables over rice. Enjoy. Store leftovers in an airtight container in the fridge for about 5 days, or until it starts to smell funny. Reheat, covered in the microwave or eat cold.
How to Cook in Air Fryer
You can make your miso butter salmon in an air fryer, just follow the directions for this Air Fryer Salmon from Frozen.
Preheat air fryer for 5 minutes at 390 degrees. Then cook salmon 5 minutes. Then add ½ miso butter and vegetables, if desired. Cook another 5-7 minutes, until salmon is cooked. Top salmon and vegetables with remaining miso butter.
Cabbage would get dry and burned in the air fryer. You can pan fry it with some water, or cook carrots or another vegetable in the air fryer.
Substitutions/Tips
You can use whatever type of miso you have access to, but I recommend using white or yellow miso for a more delicate flavor, and so it doesn't overpower the salmon flavor.
Serve your salmon with whatever vegetables you have, or without. Either works.
Steaming the salmon and vegetables helps keep your salmon tender, and prevents the miso from burning. If you don't like soft vegetables, you can cook those separately or not cover the salmon and veggies. Don't cook it over too high heat.
Other great toppings: sesame seeds, sliced green onion or cilantro.
FAQ
Is it safe to cook salmon by adding nothing but butter and oil and frying it?
It's safe if the salmon reaches 145 degrees F before eating it. But adding some seasoning to your salmon might make it taste better. This miso butter salmon recipe is easy, takes about 20 minutes, and is very flavorful.
What goes well with miso salmon?
Rice and cabbage are great with this miso butter salmon. But you can substitute the cabbage for carrots, zucchini, broccoli, cauliflower, mushrooms, etc.
How can I repurpose?
Serve leftover miso butter salmon over greens and rice with a simple dressing made of miso, neutral oil, garlic, and lemon or lime juice.
What can I make with leftover ingredients?
Did you make this Miso Butter Salmon? Leave me a comment & rating to share how it turned out!
Miso Butter Salmon for One
Miso butter salmon is a great 4 ingredient main dish for one. The umami, salty, and sweet flavors in miso butter sauce pair well with salmon and vegetables. Serve it over rice with vegetables, like cabbage.
Equipment
towel or paper towel

small/medium mixing bowl

spoon

Large Skillet

fish turner
Ingredients
½

cup

rice

uncooked* approximately, or use how much you usually make

1

Tablespoon

butter

softened

1

teaspoon

white miso

or yellow miso

1

clove

minced garlic

½ teaspoon

1 ½

cups

vegetables

hand torn cabbage or other chopped vegetables. See ideas in notes section.

4-6

ounce

salmon filet

with or without skin

2-3

Tablespoons

water

optional
Instructions
If frozen still, place 4-6 ounce salmon filet (in packaging or a sealed bag) in a large bowl of hot water. Leave until thawed, about 8-10 minutes. You can change the water to speed up thawing.

Prepare about ½ cup uncooked rice according to package directions.

Heat large skillet over medium heat. While preheating, prepare miso butter by adding 1 Tablespoon softened butter, 1 teaspoon miso pasta, and 1 clove of minced garlic to a small mixing bowl. Mix until incorporated. Set aside.

When fish is thawed, pat dry with a towel or paper towel.

Add a spoonful, about ½ of the miso butter to hot pan. Place fish in center of heated pan, skin side down, if it's got skin. Add 1 ½ cup vegetables to pan, top with about ½ of remaining miso butter.

Cook about 3 minutes. Add water to pan if it seems like the fish/vegetables are burning.

Flip, cook about 5-6 minutes, or until salmon is between 140-145 degrees F. Stir vegetables occasionally.

Serve over rice. Enjoy immediately.

Store leftover salmon in airtight container, for about 5 days, or sniff it. If it smells good, it's ok to eat still.

To reheat, microwave, covered. Or enjoy cold.
Notes
I recommend white or yellow miso in this recipe.
You can cook the salmon and vegetables without a lid (and without added water to steam), but, flip fish after about 5 minutes, and watch temperature as the miso can burn easily (although if it gets barely burned, it'll taste fine)
Vegetable options: zucchini, mushrooms, broccoli, carrots, cauliflower, etc.
Other topping ideas: sesame seeds, green onion, etc.
Want to get more single serving recipes delivered to your inbox? Click here to download my Single Serving Cookbook.
Recipes are great, but you'll need a simple 3 step process to create a meal plan that make cooking easy & helps you stop wasting food. Check out this expertly developed meal planning guide to get started.