Need a drink more interesting than water, or a tasty late night beverage to help you sleep? This three ingredient tart cherry spritzer is the answer, it's sweet, tart, and takes just 5 minutes to make.
I made this recipe after attending a sponsored event with the Cherry Marketing Institute, my expenses were covered on this trip, and I received free tart cherry foods. I was not compensated for my time and was not asked to create this recipe.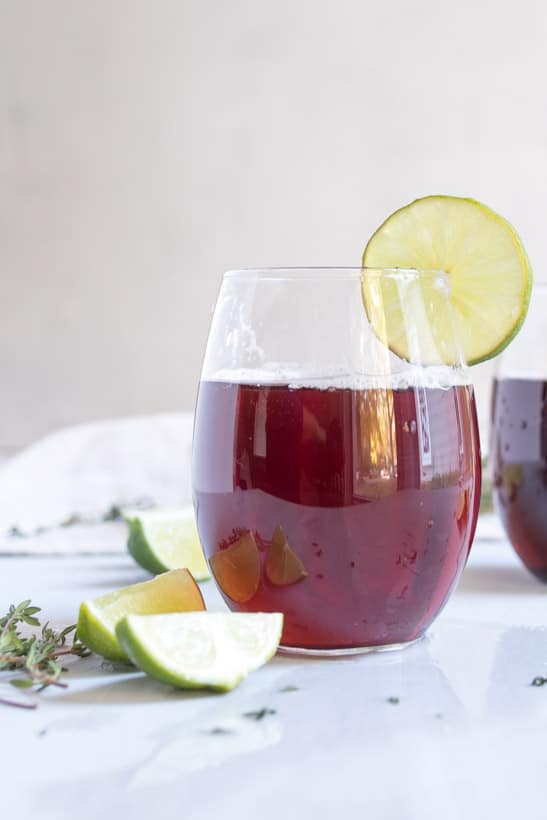 PIN HERE to add to your recipe box.
You can also make No Churn Frozen Yogurt with Tart Cherry Sauce with the tart cherry juice concentrate.
Back in July, I got to tour a tart cherry orchard in Utah, Utah is one of the seven states where they're grown in the US. I had no idea these little gems were grown so close to me! Not only was this trip informative and fun, but I learned how delicious tart cherries are!
From a nutrition perspective, Montmorency tart cherries have lots of anthocyanins, which potentially have effects on our sleep, exercise recovery, arthritis, gout, heart health, and gut health. It's worth trying something with so many health benefits! And let me tell you, it's worth continuing to include tart cherries into your eating patterns because they're delicious! Make sure to pour tart cherry concentrate over frozen greek yogurt or ice cream.
Here are a couple photos I took at the tart cherry harvest:
How this tart cherry spritzer fits into my lifestyle
As much as I love and rely on water, it can easily get boring. Especially on those hot days or days that I'm wanting to drink a lot. I've found that adding a splash of fruit juice to my water is a great way to add extra flavor. Adding tart cherry concentrate is awesome because it's got a punch of tart cherry flavor. I'm all for homemade sodas, and this homemade tart cherry soda is as delicious as it is easy.
Since moving, dealing with work stresses, and weird temp issues in my apartment, I've been looking for ways to help me sleep. I started drinking this tart cherry spritzer before bed to help me sleep at night, and it's actually helped me! Montmorency tart cherries are a natural source of melatonin, which helps regulate our internal clock. Since there are no risks of drinking a capful of tart cherry concentrate, and it tastes delicious, why not?!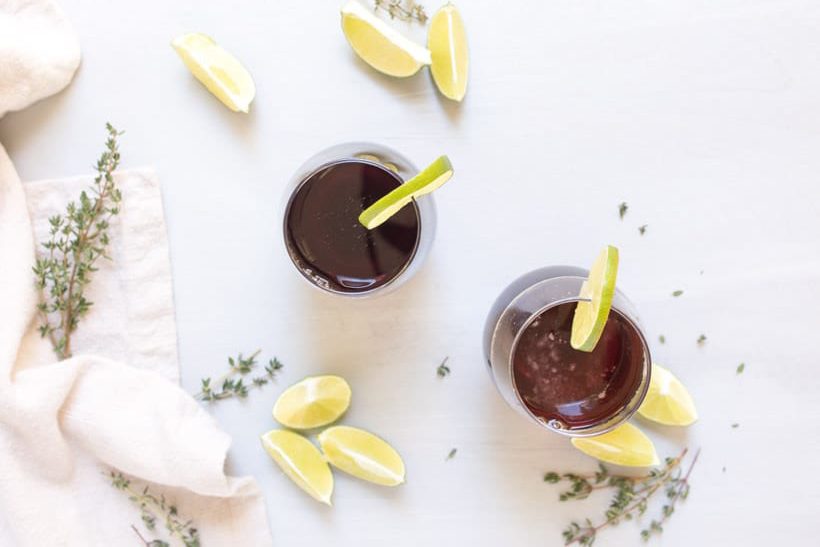 How it'll make your life easier
This tart cherry spritzer seriously takes seconds to throw together! So if you're entertaining and want a fun easy drink, or if you feel like you need something more interesting than water, this is your answer. It's easy, delicious, and is made with ingredients that I almost always have around.
Quick Notes on This Recipe
This recipe is awesome because it's so easy and delicious. This tart cherry spritzer recipe just takes 2 minutes, 3 ingredients and tart loving taste buds.
Play around with proportions, want it extra cherry-ey? Add just a bit more tart cherry concentrate. Squeeze in as much lime juice as you'd like.
Is it a bit too tart for you? Add a bit of sugar to your drink to make the perfect tart cherry mocktail.
Here are a few of my other fave easy drink recipes-
Did you make this tart cherry spritzer? Leave me a comment & rating to share how it turned out!
Tart Cherry Spritzer
Need a drink more interesting than water, or a tasty late night beverage to help you sleep? This tart cherry spritzer is the answer.
Equipment
knife

cutting board

Carafe or Pitcher

Measuring Spoons
Ingredients
1

tablespoon

Montmorency Tart Cherry Concentrate

1

cup

sparkling water

1

teaspoon

lime juice
Instructions
Pour Montmorency tart cherry concentrate into glass, add sparkling water and lime juice. Stir, and serve immediately
Notes
Play around with the proportions, you can add as much or as little of each ingredient as you'd like.

Use lemon juice if you don't have lime juice
Want to get more single serving recipes delivered to your inbox? Click here to download my Single Serving Cookbook.