This refreshing tart cherry juice concentrate spritzer is delicious and has the health benefits of tart cherry juice in it. This Pomegranate Lime Spritzer and Smashed Cranberry Mocktail are also delicious.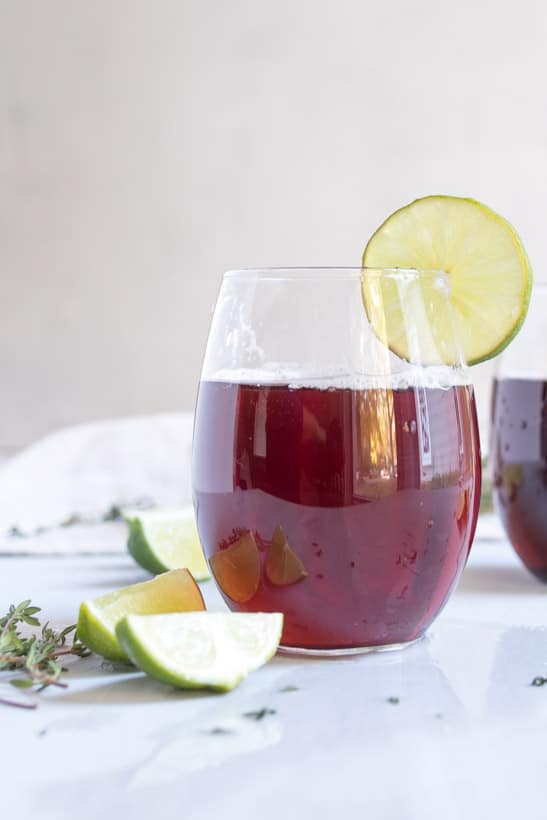 [This recipe was originally posted in November 2018. It has been updated with new photos, cooking instructions, expert tips, FAQ, related recipes, video and ways to repurpose/use up ingredients]
How will this cherry spritzer make your life easier?
This tart cherry juice concentrate spritzer is the perfect go to drink when you're bored of plain water and need something refreshing and delicious.
It's great to drink before bed, because a potential tart cherry juice benefits is helping you sleep better.
Try these other easy drink recipes: Sparkling Berry Lemonade and Mimosa Mocktail.
What makes this spritzer so good?
Tart cherry juice concentrate
Sparkling water
Lime juice
How do I make a tart cherry spritzer with cherry concentrate?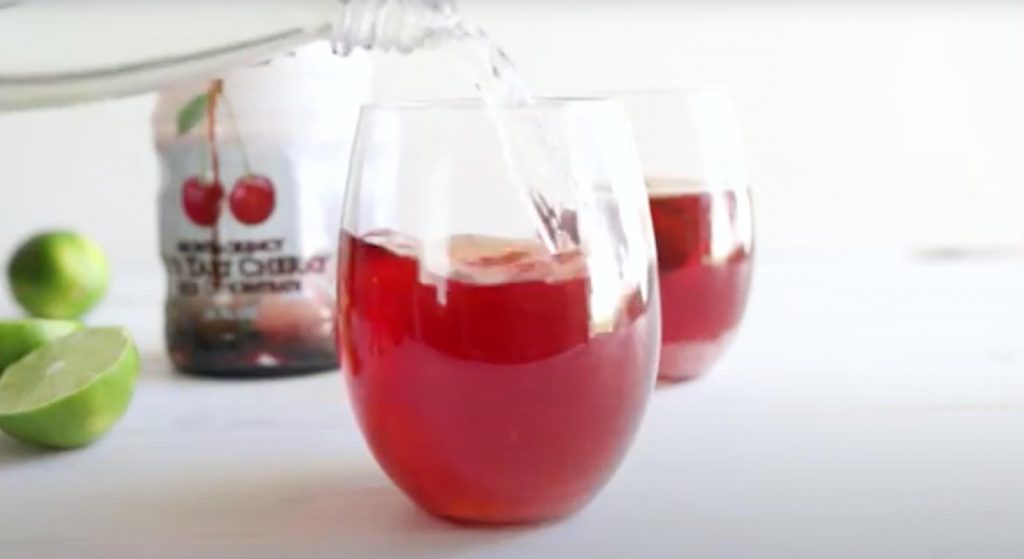 Start by grabbing the glass you plan on drinking this spritzer out of. Pour tart cherry juice concentrate into it. Follow that with your favorite sparkling water (I recommend plain or citrus), and then squeeze lime juice into it.
Stir and you're good to go!
Substitutions/Tips
Use plain sparkling water or citrus flavored for this drink.
Play around with proportions, want it extra cherry-ey? Add just a bit more tart cherry concentrate. Squeeze in as much lime juice as you'd like.
Is it a bit too tart for you? Add a bit of sugar to your tart cherry juice spritzer to make the perfect tart cherry mocktail.
This drink is really easy to make lots of servings of. Just mix it all together in a big jug and taste to make sure it's good!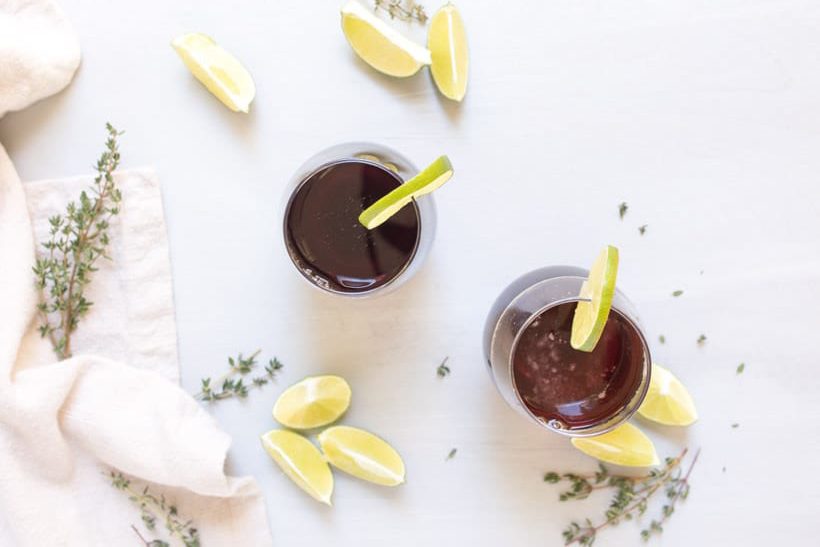 FAQ
Can you drink tart cherry juice concentrate straight?
You can drink it straight, but it is really delicious with lime juice and sparkling water added like in this cherry juice spritzer drink.
Is it safe to drink tart cherry juice everyday?
As far as I know, it is safe to drink it everyday. While I don't know exactly how much you should drink, I would assume that if you drink 1 cup or less (or the equivalent of tart cherry juice concentrate) each day, you'll be fine.
What are tart cherry juice benefits?
From a nutrition perspective, Montmorency tart cherries have lots of anthocyanins, which potentially have effects on our sleep, exercise recovery, arthritis, gout, heart health, and gut health.

It's worth trying something with so many health benefits! And it's worth continuing to include tart cherries into your eating patterns because they're delicious! Pour over frozen greek yogurt or ice cream.
What can I make with leftover ingredients?
Did you make this tart cherry juice concentrate spritzer? Leave me a comment & rating to share how it turned out!
Tart Cherry Juice Concentrate Spritzer
Need an easy drink to wind down at night? This refreshing tart cherry juice concentrate spritzer is delicious and has the health benefits of tart cherry juice in it.
Equipment
knife

cutting board

Carafe or Pitcher

Measuring Spoons
Ingredients
1

tablespoon

Montmorency Tart Cherry Concentrate

1

cup

sparkling water

1

teaspoon

lime juice
Instructions
Pour Montmorency tart cherry concentrate into glass, add sparkling water and lime juice. Stir, and serve immediately
Notes
Play around with the proportions, you can add as much or as little of each ingredient as you'd like.

Use lemon juice if you don't have lime juice
Want to get more single serving recipes like this tart cherry juice concentrate spritzer delivered to your inbox? Click here to download my Single Serving Cookbook.
Recipes are great, but you'll need a simple 3 step process to create a meal plan that make cooking easy & helps you stop wasting food. Check out this expertly developed meal planning guide to get started.