Up your hydration with this easy peach water with basil. Enjoy it immediately or let it chill for at least an hour for maximum flavor. Find other flavor combinations with oranges, ginger, and strawberries.
It can be hard to drink enough water, especially during the summer. That's why adding flavorings to the water makes it easier and more enjoyable to drink enough.
Take advantage of late summer peaches to make a delicious peach water with basil. Or add additional toppings for extra flavor. Adding fruit and herbs adds a variety of extra nutrients to your water.
Make a larger batch of peach infused water to drink throughout the day. It'll get more flavorful the longer it chills (as long as you leave some fruit in it).
When testing this recipe, I learned that you'll need at least an hour of chilling time to change the flavor of the water, if using sliced fruit. If you can't wait that long, muddle the fruit for better flavor infusion into the water.
You can also blend up the fruit and water to make a smoother drink. If the texture of whole chunks of fruit or muddled fruit doesn't sound good to you, blending up your peach water with basil is the way to go.
Ingredients
Scroll down to the peach water recipe card for the amounts of each ingredient, but here's a quick visual + description of what's in this recipe.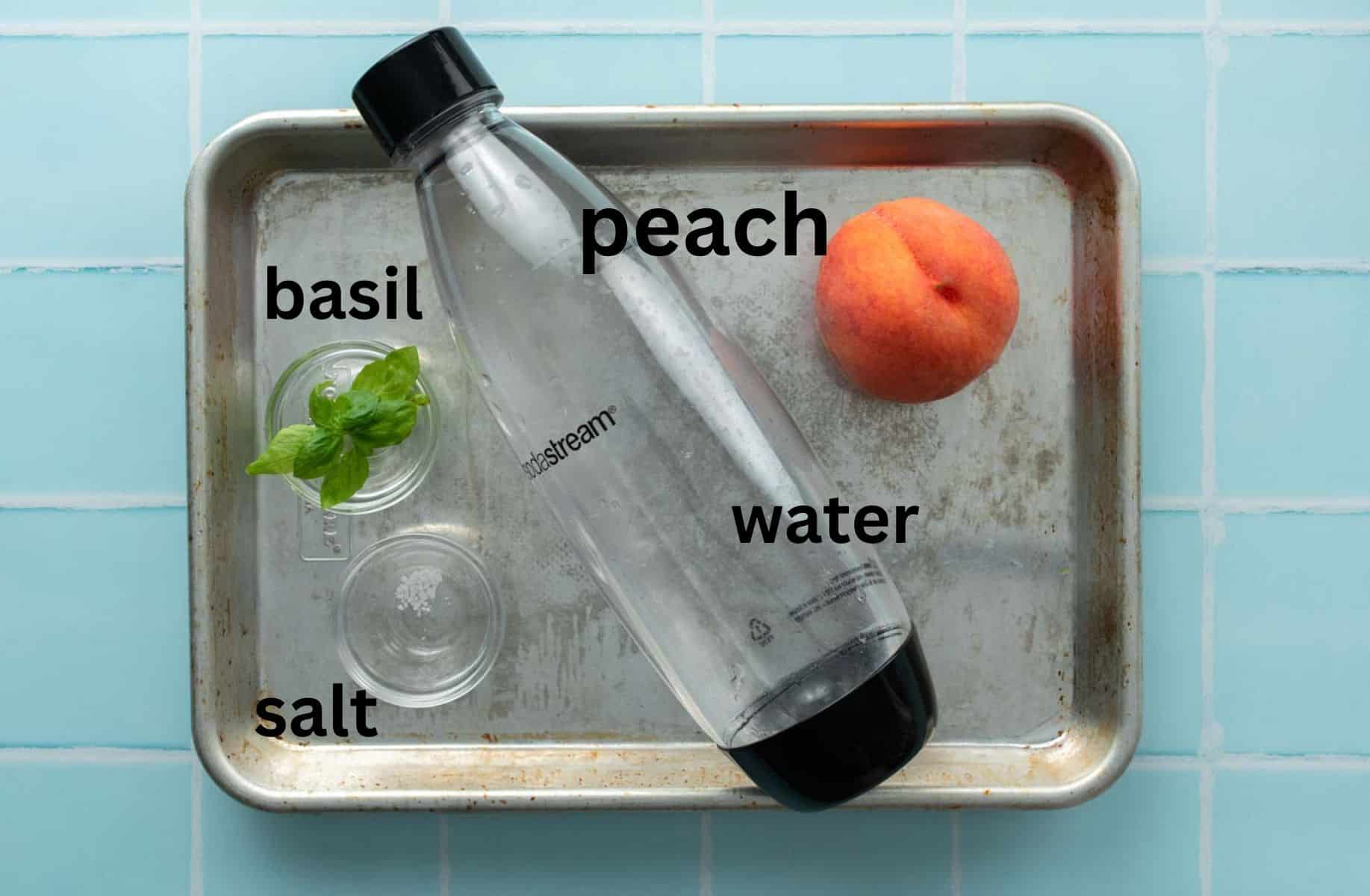 Peach: Choose a very ripe peach in the late summer/early fall for the most sweet flavor.
Basil: use basil or another herb that you have. Rosemary or mint would be good in this drink as well.
Salt: a tiny pinch of salt will bring out the peach flavor and basil. You can skip it, but it does make a difference.
Water: use flat or sparkling water in this peach water. I prefer sparkling for the additional punchy taste and experience, but use what you have.
Instructions
Scroll down to the recipe card for more detailed instructions. Here's a quick overview + photos to see how to make this recipe in general.
1.Slice peach.
2. Add peach, basil leaves, pinch of salt to glass. Add additional flavor add-ins, if desired.
3. Pour water over fruit. Chill in the fridge for at least an hour for best flavor. Add ice, if desired. Enjoy chilled peach water.
More Flavor Add-ins
Start with peach slices, basil (or another herb), and a pinch of salt. Add extra flavors to your peach water with one ingredient from each category, or more.
Fresh ginger: I recommend adding a slice or a couple of ginger so you can eat it or not. If it's grated or cut small it might be hard to avoid. The more it's sliced, the more flavor you'll get out of it.
Herbs: Cut or rip apart your basil leaves for extra basil flavor. Same goes for mint, rosemary, or other herbs. You can muddle them too.
Citrus: Add some orange, lime, or lemon juice or peel for extra flavor.
Fruit: Raspberries, strawberries, cherries, mango, pineapple slices, apple, etc.
Sweetener: add a spoonful or so of sugar, honey, or maple syrup. Adjust to your preference.
I liked the peaches, basil, about a Tablespoon of orange juice, a slice of the orange peel, and ginger in mine.
Storage Tips
Make extra servings of this peach water to serve when entertaining or if you want some peach water throughout the day. You can add water to it about 2-3 times. After that, the fruit will have lost most of its flavor.
Store in the fridge. If using sparkling water, you can cover it to preserve the bubbles. More ways to preserve the bubbles: limit stirring and handle the glass/storage container gently.
Here's a Cooks Illustrated video on carbonation to see how it works.
Substitutions/Tips
Muddle the fruit and herbs for more flavor quicker. But it doesn't look as nice.
Add ice if desired.
Blend fruit and water together if desired. You can replace some of the water with ice cubes for a frostier peach water.
You can replace the water in the fruit maybe 2-3 times during the week as you drink it. But adding more water than that to the fruit mix will leave you with weak peach water. Or enjoy fruit with each glass and make it over again.
You can use canned peaches, although the flavor will be different than using fresh. Add a spoonful of the juice to add extra peach flavor.
Frozen peaches will work too, the flavor will be closer to fresh peaches, and the frozen peaches will act like ice cubes, but flavorful ones.
Other great add-ins: see flavor add-ins above (I recommend ginger, herbs, citrus, fruit, and sweeteners).
FAQ
Is peach infused water good for you?
Adding peaches to water can make your drink more flavorful. Adding any fruit to water will add vitamins and minerals to your water, which is often a good thing.
Can you put peaches in water?
Peaches are a great addition to water. They're soft, flavorful, and sweet. This is a great combination to make your water taste good and refreshing. Fresh peaches are great, but you can add canned or frozen peaches.
Other good drink recipes
What to do with leftover ingredients
When you're cooking for one, you often have leftover produce, cans of whatever ingredient, etc. Here are a couple ideas on how to use up the leftover ingredients. It'll help you save money by wasting fewer ingredients.
Did you make this peach water? Leave me a comment & rating to share how it turned out!
Peach Water
Up your hydration with this easy peach water with basil. Enjoy it immediately or let it chill for at least an hour for maximum flavor. Find other flavor combinations with oranges, ginger, and strawberries.
Ingredients
½

whole

peach

ripe

8

ounces

water

still or sparkling

2-4

leaves

basil

pinch

salt

(optional)

optional toppings: slices of ginger, orange, orange peel, strawberries. Ice.
Instructions
Slice ½ whole ripe peach into bite sized pieces. Transfer to glass.

Add 2-4 basil leaves to peach. Sprinkle a pinch of salt (optional). Add additional ingredients, if desired (ginger, orange slices, strawberries, etc)

Pour about 8 ounces of still or sparkling water over peach slices. Cover and refrigerate for at least an hour for more infused flavor.

Enjoy chilled. Add ice prior to serving, if desired.
Notes
This drink is best after chilling for at least an hour. That time allows fruit to infuse the water with flavor.
You can use still or sparkling water. Cover sparkling water and be gentle to reduce releasing the bubbles before enjoying.
You can easily make extra servings for a crowd or more peach water for yourself.
If you don't have time to chill the infused water, muddle peaches and basil (and any additional ingredients) then add water. This will help infuse the water with a bit more flavor.
Optional add-ins: sliced fresh ginger, orange slices, orange peel, strawberries, other fruit.