This healthy creamy asparagus soup is delicious, easy, and made with Greek yogurt instead of cream. You won't even notice the difference. Plus it's done in just 25 minutes, so you can have a delicious quick dinner!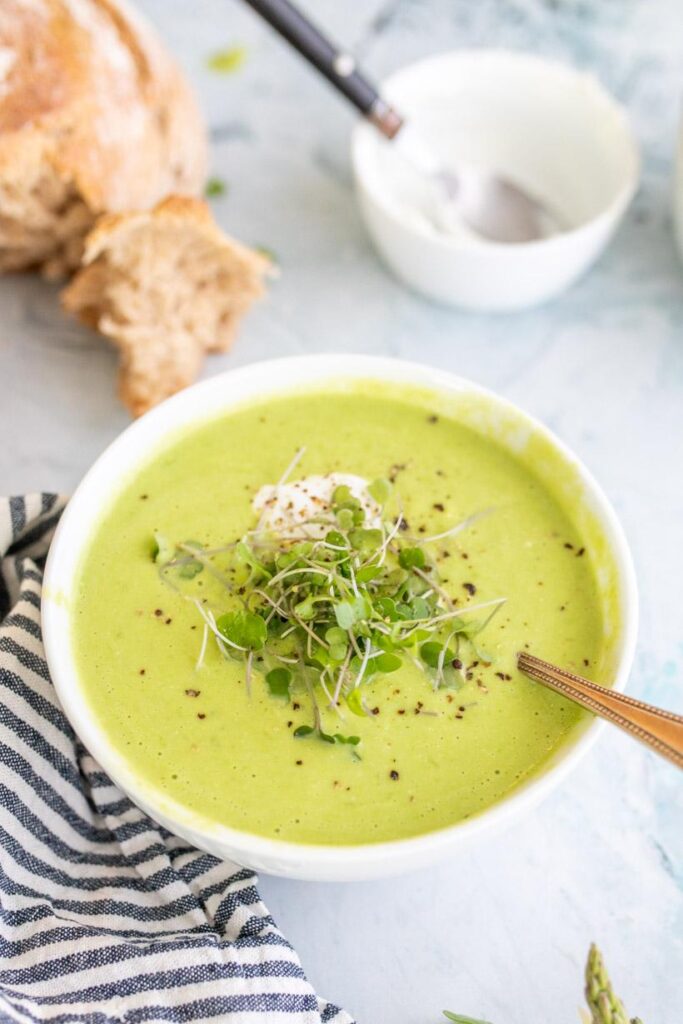 PIN HERE to save for later
Love soup? This 30 Minute Pumpkin Chili, Curry Pumpkin Soup, and Sweet Potato Soup are all great soup options.
How it'll make your life easier
With your full-fat Greek yogurt, you'll get that delicious & silky creaminess, you'll get probiotics that are great for your gut and overall health, and you'll also get uber satisfying and actually not-bad-for you milk fat. I'd call that a win-win-win. Everybody wins.
Along with some healthy fats, this soup is chalk full of delicious spring asparagus.
Quick notes on this recipe
Is this soup healthy?
Instead of just focusing on all the nutrients in food, I like to step back and think about how I can incorporate more foods that I enjoy into my day. Healthy is a term that's more broad than we usually define it, and I'd definitely include stress and anxiety about food into how I define healthy eating. With that said, if you feel anxious and stressed about what you're putting into your body, you're not improving your health with that worry, even if you're putting lots of nutrient dense foods in your body.
Can I use different vegetables in this soup?
Absolutely, the base of stock, garlic, onions, and dairy products will go well with any vegetable really. I've had this soup with mushrooms instead of asparagus, it was so good & so creamy still. You can add whatever vegetables you have on hand that you like sauteed.
Creamy Asparagus Soup
This creamy asparagus soup is the perfect spring soup, it's smooth, creamy, yet light enough for the springtime.
Equipment
knife

cutting board

Measuring Spoons

Measuring Cups

Stockpot

High powered blender

rubber spatula
Ingredients
1

tablespoon

extra virgin olive oil

½

whole

yellow onion

chopped

1

clove

garlic

chopped

½

teaspoon

salt

¼

teaspoon

freshly ground black pepper

1

lb

fresh asparagus

washed and trimmed

½

cup

vegetable or chicken broth

1

cup

milk of choice

½

cup

plain Greek yogurt
Instructions
Heat stockpot over medium heat, add (1 T) olive oil once warm. Take Greek yogurt out, and let sit at room temperature while soup cooks

Add chopped onions (½ medium sized) to hot olive oil. Saute onion for ~3 minutes, then add (1 clove) garlic and (1 lb) asparagus. Continue to saute for 3-5 additional minutes.

Pour broth of choice over vegetables. Return to simmer, and cover. Simmer on medium-low heat for 15-20 minutes. Asparagus will be fork tender.

Add (1c) milk, then transfer to high powered blender. Puree until desired smoothness. You can also use an immersion blender to puree soup.

Top soup with (¼ c) Greek yogurt. I used whole-milk. Add salt and pepper to taste.
Notes
Serve with grilled cheese sandwiches or delicious crusty bread.
Save 2nd serving for leftovers.
Ways to Repurpose this recipe:
Eat extra soup as leftovers or freeze leftovers.
Sautee up whole onion and whole bunch of asparagus + 2 cloves of garlic to add to pasta or another dish.
Tell me
How have your opinions about fat changed?
Have you tried creamy asparagus soup?
Want to get more single serving recipes delivered to your inbox? Click here to download my Single Serving Cookbook.