If you're cooking for one, it's really helpful to have a list of easy meals for one person in your back pocket. These recipes are easy, quick, and flavorful.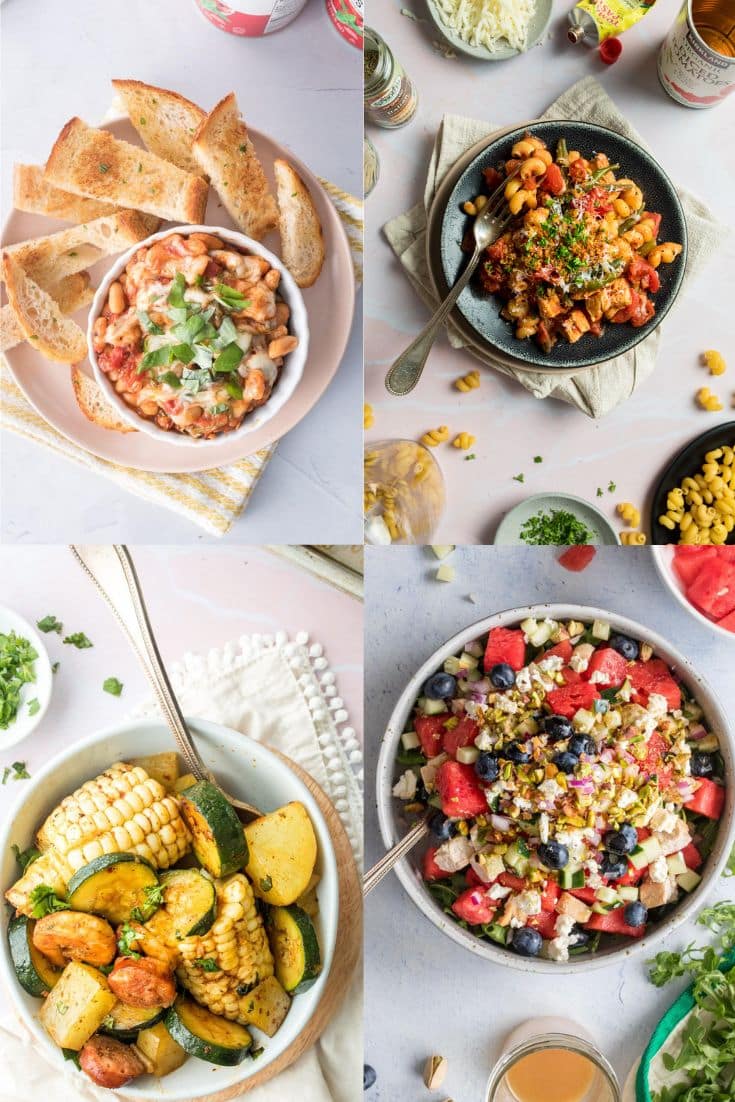 How to make cooking for one easy
This list of recipes is a great place to get started if you cook for one, but here are a couple easy cooking for one resources to make cooking easy and more enjoyable.
Weeknight Dinners for One
What do lazy dinners for one look like?
I'd definitely describe myself as a solo cook who loves to cook. But I don't like cooking every single day, and 90% of the time, I don't want to spend more than 30 minutes cooking dinner. I also don't want to have to go to the store to get one ingredient.
Making easy recipes incorporates a few things to me. It includes:
Ingredients easily found at most American grocery stores
Not too many steps in a recipe
Not too many dishes. Lots of one pan meals.
A meal that's one dish, a simple main dish + a unique and exciting side dish, or an interesting main dish with a side with the same seasonings.
Quick 30 or shorter meals
Is there still space to make more complex recipes, or recipes with ingredients not often found at typical American grocery stores? Of course, but it's not required every day. 45 minute recipes aren't every day recipes, unless it's mostly cooking time.
Pantry Meals
Interested in eating more plant based meals? This white bean tomato bake is easy and has all the best spaghetti flavors.
This quick plant based dinner is flavorful, comforting, and easy. It's a great option out of all the easy meals for one person.
Enjoy the best flavors from a burrito in this pantry rice and bean soup. Serve it with a quesadilla for a full meal.
Chicken parm is such a delicious meal, but traditional recipes are a couple too many steps. This one pot version with an easy crispy topping makes for an easy dinner.
15 Minute Recipes
Fried rice is a classic very quick dinner recipe. You can adapt the recipe to use ingredients you already have on hand. Use frozen shrimp and veggies in this 10 minute recipe.
There are lots of easy single serving meals, this air fryer frozen salmon takes just a few minutes to assemble, and you can let your air fryer do all the work.
Dinner doesn't get any easier than in the microwave. This easy mac & cheese can be made in a mug for dinner in a few.
Who would have thought you can make pizza in the microwave? Dinner in 10.
Microwave dinners again! Pasta can cook well in the microwave, so might as well turn that easy pasta into a creamy, delicious, alfredo pasta.
One Pot/One Pan Recipes
Eggs can be so easy, and they can also be flavorful and special. This easy single serving frittata is easy, flavorful, and special.
Delicious pasta dinner in 15 minutes. This mac & cheese is special, creamy, and super cheesy.
Easy dinner + easy clean-up is the perfect combination for dinner. Let your oven do all the work with this special dish.
Turkey sandwiches are easy, but turn it up with a chipotle sauce and freshly fried bacon.
Tomatoes are great in chili, but you don't even need them here. This chili takes about 30 minutes, and is super comforting and tasty.
Layer in all the beans and veggies for this crunchy delicious crunchwrap.
Chicken Recipes
Pizza is always a great option, top it with fresh ranch dressing, chicken, bacon, and veggies.
Enjoy all the best summer flavors in this strawberry salad with chicken.
Make this chicken, veggie, pineapple bowl for an easy, flavor filled dinner.
Pasta doesn't have to be boring. Make this chicken, bacon, and mushroom pasta in one pot. In 20 minutes, you'll have a delicious, easy dinner.
Salads are very easy and a great option if you're cooking for one. The delicious peanut butter dressing really makes this salad.
Seafood Recipes
Make tender fish from frozen with this instant pot fish recipe. Some of the best easy meals for one person use frozen fish.
Make canned tuna really shine in this easy caesar salad. It's a great way to turn a simple salad into something filling and delicious.
Cooking shrimp, veggies, and potatoes in foil makes for a flavorful, easy dinner. This recipe can be made at home, on a grill, or campfire. It's versatile.
Vegetarian Recipes
Tacos act as a great easy dinner. Throw them together with whatever random ingredients you have in the fridge. Quick meals often use pantry ingredients.
Throw more veggies and beans into a bowl with your favorite grains for this easy meal.
Coconut milk, red curry powder, lentils, veggies, and rice make for an easy dinner. This dish is ready in about 30 minutes.
Add your favorite protein and grain to this salad for a full, satisfying veggie filled dinner. Customizable salads are great when you're cooking for one.
Use up whatever ingredients you have in the fridge. Veggies, beans, tomatoes, and cheese are delicious on this tortilla based pizza.
FAQ
Did you make any of these easy meals for one person? Leave me a comment & rating to share how they turned out!
Want to get more single serving recipes delivered to your inbox? Click here to download my Single Serving Cookbook.
Recipes are great, but you'll need a simple 3 step process to create a meal plan that make cooking easy & helps you stop wasting food. Check out this expertly developed meal planning guide to get started.