Cooking for one? Here are 14 different chicken recipes for one person. These recipes include soup recipes, pasta recipes, salads, flatbread/pizza, and easy lunch recipes that all use chicken. Single serving recipes at their best.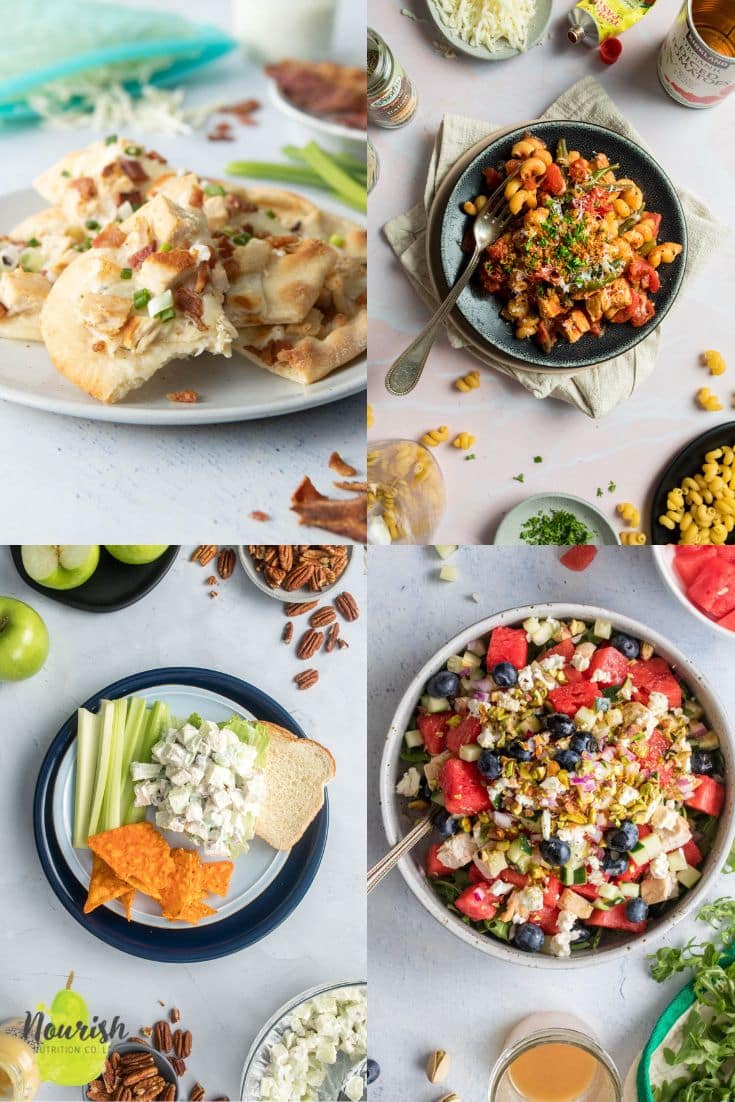 Tips to Cook for One
If you're new to cooking for one or your cooking is feeling stale, here are a couple resources to get you started/re-inspire you. Remember, there's no need to always cook at home, but if you like cooking, this will make it easier and more enjoyable.
What Should I Cook for One Person?
Soup
Chicken soup is a comforting classic. For good reason. Make this easy chicken recipe for one person for a quick, comforting dinner. White wine and lemon are added for a boost of flavor.
Chicken and mushrooms is such a classic, delicious combination. Add both to this easy soup, that you can make in your Instant Pot. Double or triple this chicken recipe for one person so you can have leftovers.
Pasta
Chicken parm is such a delicious dish, but it honestly takes more work than I'd like. With a few hacks, like pan frying breadcrumbs, you get all the delicious chicken parm flavors, without the mess and time.
Chicken, mushrooms, and bacon with pasta! Need I say more? I love this flavor combo, and what makes it even better is that it's ready in 20 minutes. It's a delicious chicken recipe for one person.
Salad
I usually enjoy seasonal watermelon plain, but why not enjoy it with other ingredients in this easy watermelon chicken salad. It's easy, and perfect for a light summer meal.
This chicken salad is great over greens, but it's really delicious with a crusty chunk of bread, or served as a sandwich. It's a great winter-y take on a classic chicken salad, which again, is the epitome of easy chicken recipes for one person.
Flatbread/Pizza
Pizza is my favorite way to use up random vegetables in the fridge, it's fun, always something to look forward to, and a great way to reduce food waste. This buffalo chicken flatbread/pizza is a nice vehicle for random ingredients.
Chicken, bacon, AND ranch on a pizza/flatbread? Yes please, enjoy this easy dinner as is or add some random veggies in your fridge to reduce food waste.
Easy Lunch Ideas
Like I said, chicken salad options are endless. Here's a classic version that's great in a pita, bread, or on greens. It's great as is or with even more add-ins.
I never would have thought of adding chicken to an omelet, but this omelet is so comforting and delicious. It's a great way to use up leftover chicken in a slightly unexpected way. It makes an easy chicken dinner or breakfast.
If you like crunchy chicken salads, this chicken pecan and apple salad is perfect for you. Chicken salad is a classic quick chicken recipe for one person, and for good reason-it's easy, tangy, and add-in options are endless.
I love a good burrito bowl, lots of textures, flavors, and a delicious sauce... in a bowl?! yes please. Another great way to use up random ingredients in your fridge, but in a delicious way.
Other Chicken Recipes
I'll be the first to admit, a recipe that takes 45 minutes to make? Not usually something I'd wait for. But this recipe is assembled quickly, is easy to clean up, and, well it has chicken and bacon. So it's worth trying. Again-chicken and bacon.
Serve this chicken and broccoli over rice for a delicious, easy recipe. It makes 2 servings, but honestly you'll want the leftovers. It's as good, if not better day two.
FAQ
Did you make any of these chicken recipes for one person? Leave me a comment & rating to share how your recipe(s) turned out!
Want to get more single serving recipes delivered to your inbox? Click here to download my Single Serving Cookbook.
Recipes are great, but you'll need a simple 3 step process to create a meal plan that make cooking easy & helps you stop wasting food. Check out this expertly developed meal planning guide to get started.