Make any of these easy pasta recipes for one for a quick weeknight dinner. These delicious recipes make cooking for one easy and something to look forward to. You deserve to eat deliciously!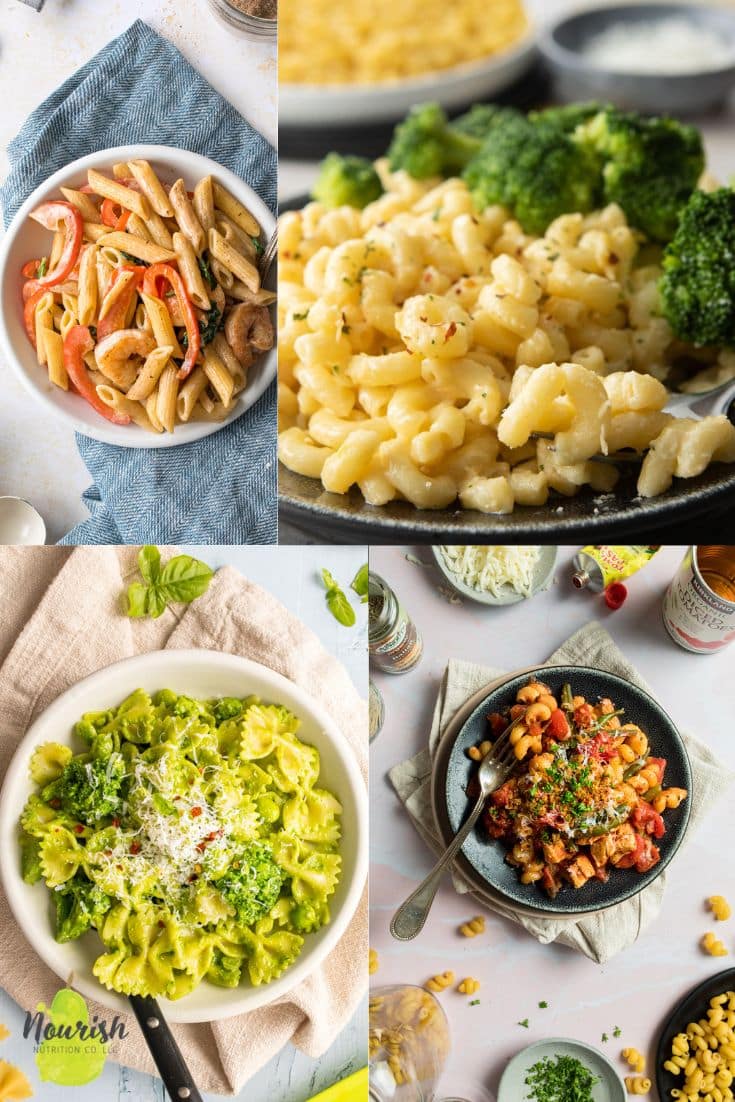 Cooking for One Tips
These single serving recipes are a great place to get started if you cook for one, but here are a couple easy cooking for one resources to make cooking easy and more enjoyable.
Other recipes:
Pastas Using a Can of Tomatoes
Black Bean Pasta
Shop your pantry to make this quick black bean pasta. In just 15 minutes, you can chop up some veggies, throw in canned black beans, tomatoes and other ingredients from your pantry to make a delicious dinner.
Check out this recipe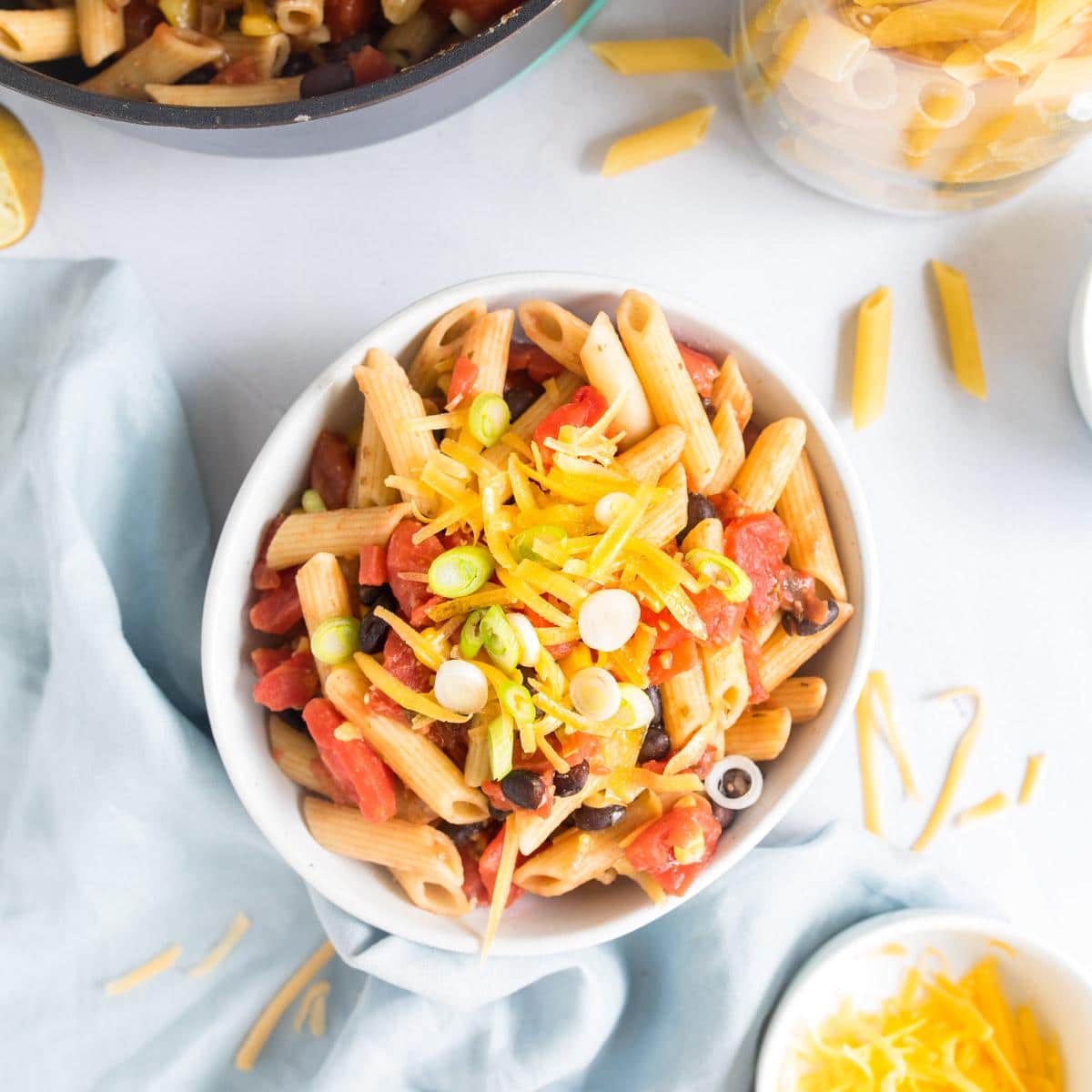 One Pot Chicken Parmesan Pasta
Make this 20 minute, pantry ingredient, one pot chicken parmesan pasta with crispy breadcrumbs instead of traditional crispy, cheesy chicken parmesan without the extra time, steps, and mess.
Check out this recipe
Canned Tomato Pasta
Make this easy canned tomato pasta with pantry ingredients. It comes together in just 15 minutes and doesn't taste like you threw it together. Freshly cooked pasta, a can of tomatoes, Italian seasoning, basil, and Italian sausage are delicious in this meal.
Check out this recipe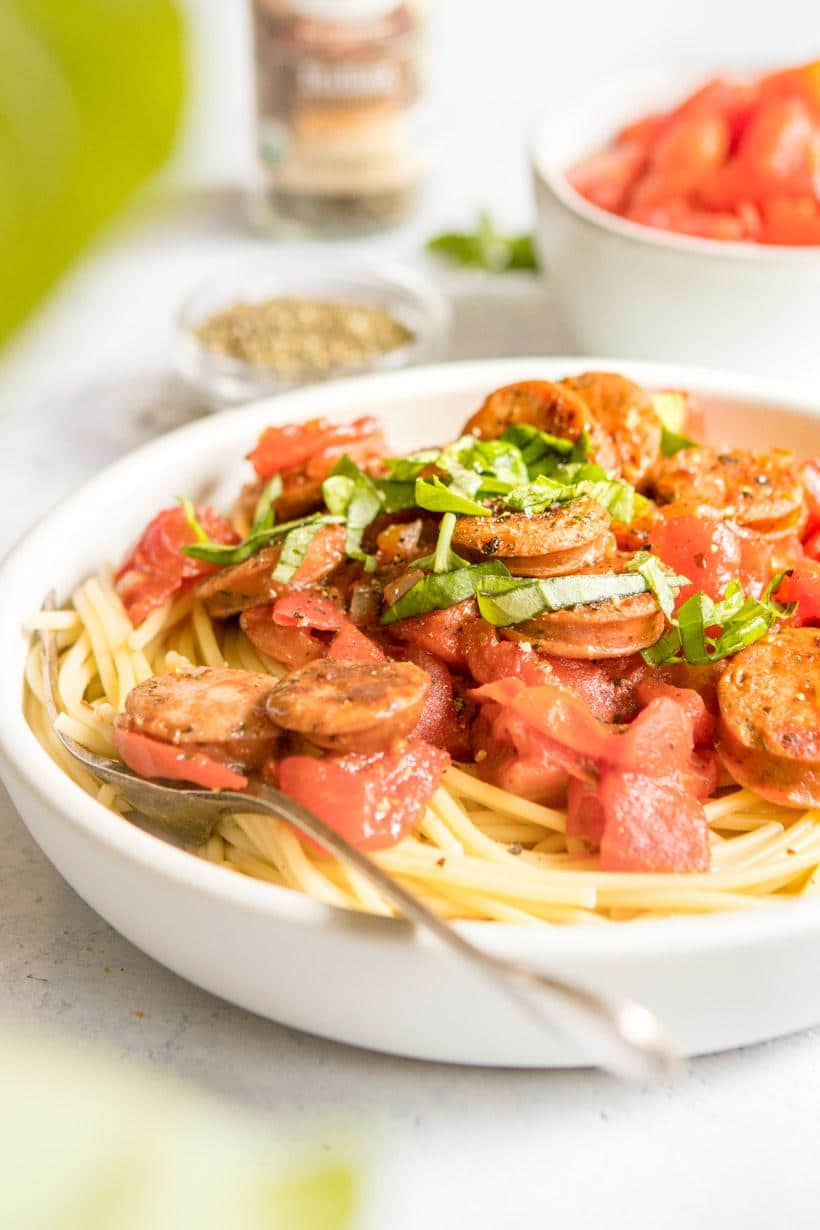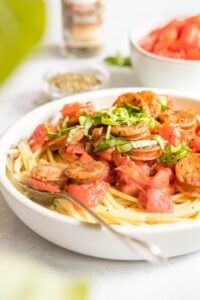 Vegetarian Pastas
Protein Mac and Cheese
Protein mac and cheese recipe is silky, creamy, cheesy, and ready in 20 minutes. One secret ingredient in this pasta recipe adds silkiness and protein without changing the taste of classic, delicious macaroni and cheese.
Check out this recipe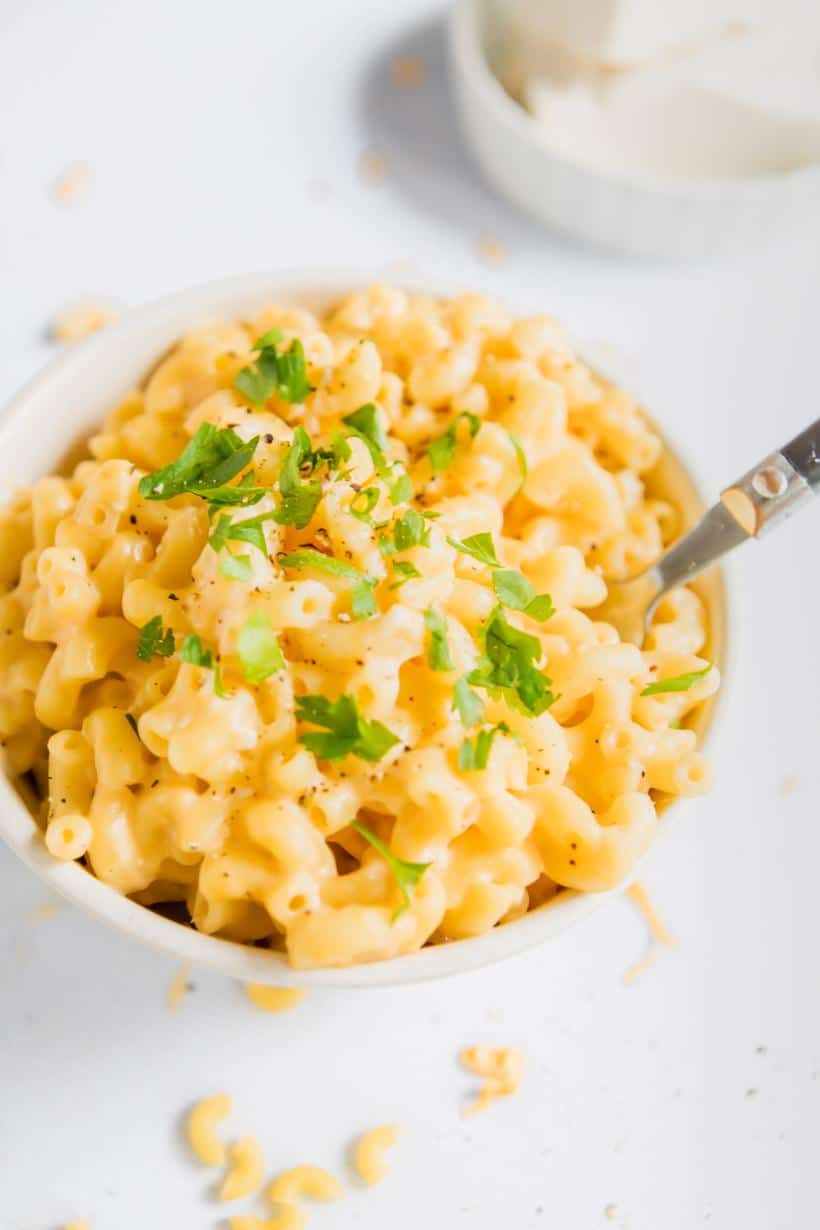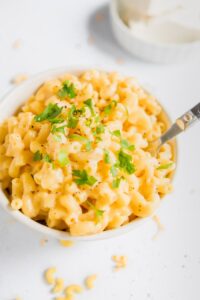 Vegetarian Stroganoff (Instant Pot) for Two
This 30-ish minute Instant Pot vegetarian stroganoff is perfect for a comforting, easy dinner. It's filled with tender, meaty mushrooms, is hearty, filling, and a satisfying vegetarian take on the traditional beef stroganoff.
Check out this recipe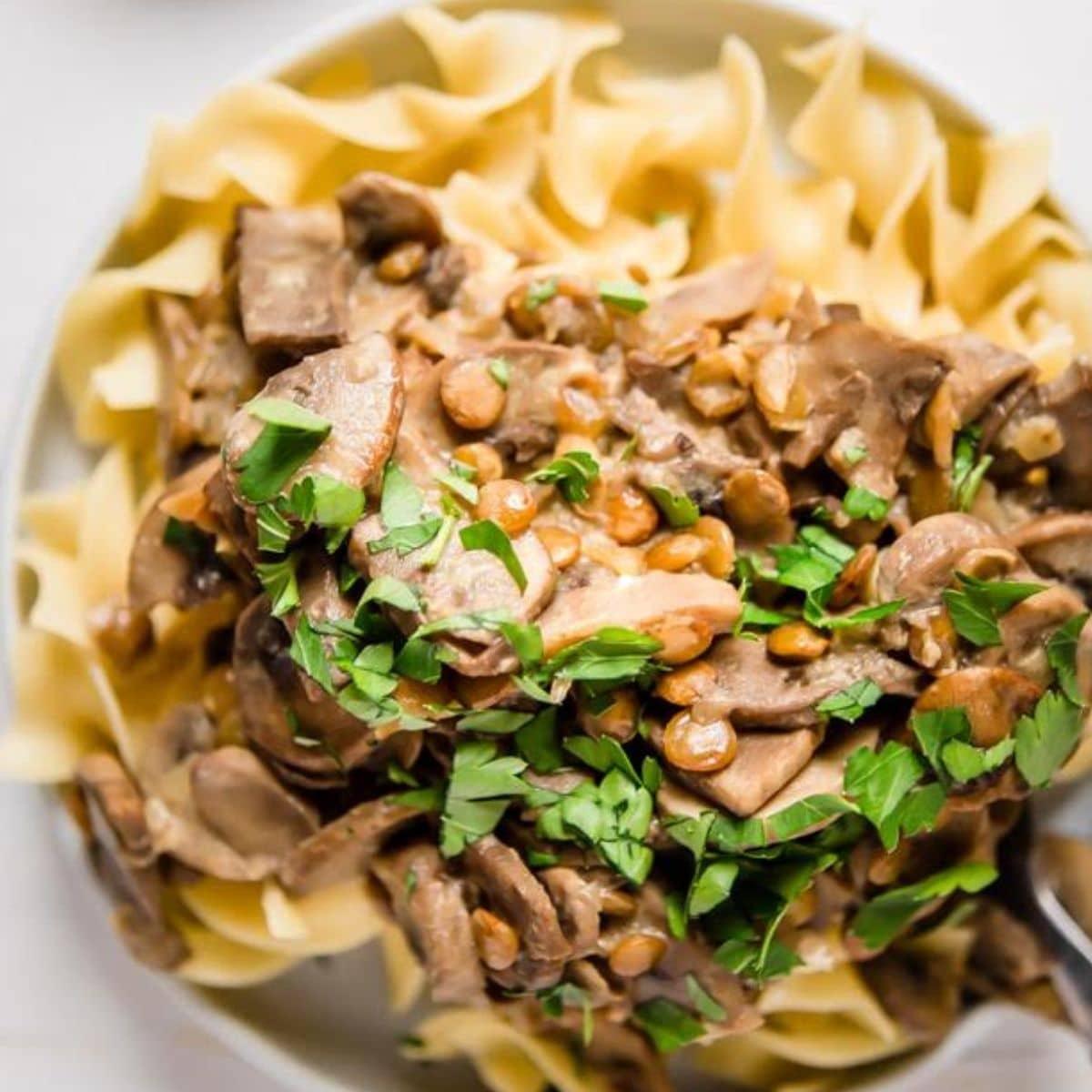 Light Pasta Carbonara
This healthy carbonara pasta is just as good as the best versions you've had, it just has less added fat without skimping on flavor or creaminess. Not only is this carbonara recipe healthy and delicious, it can be made in just about 15 minutes.
Check out this recipe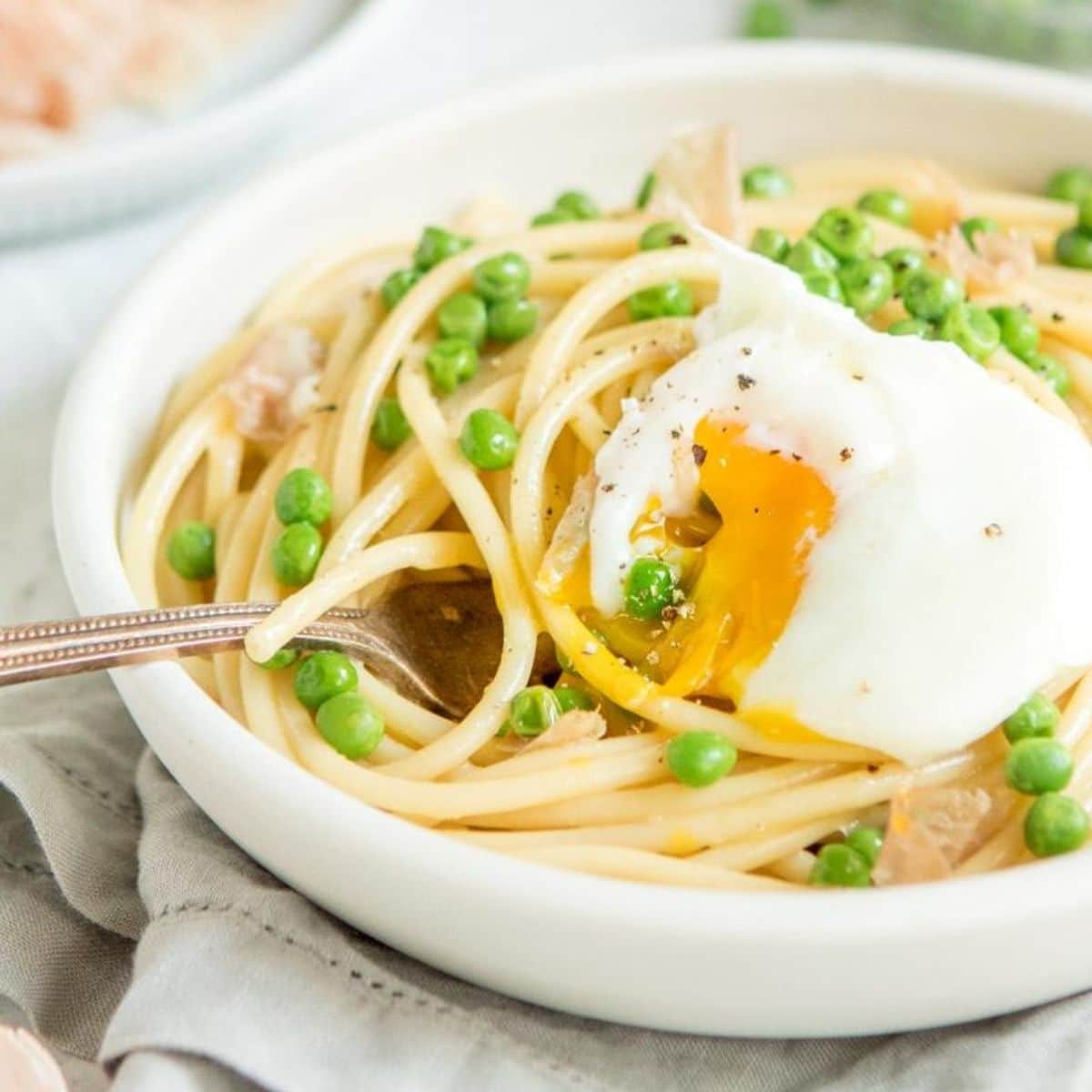 20 Minute Pasta Recipes
Jerk Shrimp Pasta
Make this jerk shrimp pasta if you're in the mood for a 20 minute dinner that's spicy, creamy, and bursting with flavor! It's similar to the Jamaican Italian fusion Rasta Pasta, but can be adapted to use up ingredients you already have in your kitchen!
Check out this recipe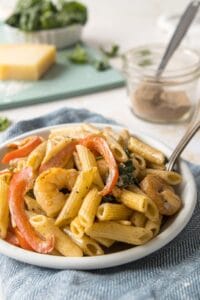 Pesto Pasta for One
Make this pesto pasta for one in just 10 minutes with pre-made pesto sauce, like this Arugula Basil Pesto or Pistachio Pesto. It's a quick dinner you can throw together on days you didn't plan ahead and want something equally easy and delicious.
Check out this recipe
One Pot Pasta Recipes
Single Serving Mac and Cheese
Dinner is just 15 minutes away with this easy single serving mac and cheese. It's versatile, delicious, and made with a handful of pantry ingredients. Enjoy it as is or add a side for a filling meal.
Check out this recipe
One Pot Chicken Bacon and Mushroom Pasta
Combine the best salty, earthy, and meaty flavors in this 20 minute creamy one pot chicken bacon and mushroom pasta. Quickly cook your pasta while preparing your mushrooms then add it back after cooking the meat and mushrooms for a super easy one pot dinner for one.
Check out this recipe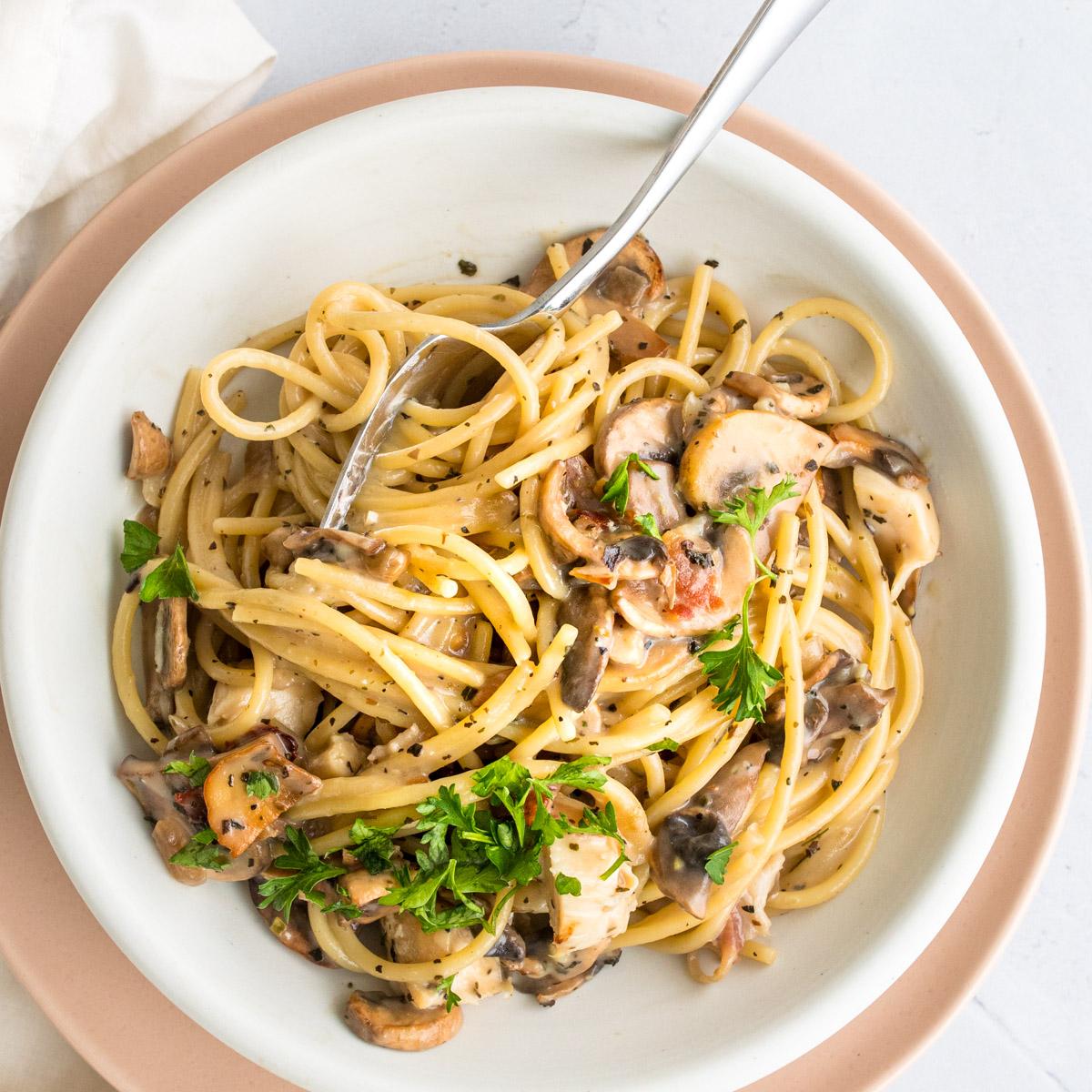 FAQ
What can I add to pasta when there's nothing?
Buttered noodles are a great easy recipe. My dad made them when I was growing up. Cook elbow noodles (but any pasta works), drain water, add butter and salt to taste.

You can also drizzle olive oil, garlic salt over pasta. Add lemon and/or parmesan cheese if you have it. Frozen vegetables or a protein are great additions, if you have either in the freezer.

I also love a great throw together spaghetti. Cook pasta, add a can of tomatoes, a pinch of salt, a couple pinches of sugar, Italian seasonings, and garlic if you have it. Add frozen vegetables/protein if you have either as well.
How do you make 1 serving of pasta?
What's a serving? I could look it up, but many 1 serving pasta recipes use ½ ish cup of dry pasta. Personally, I like to use ½-2/3 cup of pasta in 1 serving to fill me up more. Most of these easy pasta recipes for one use ½-2/3 cup pasta.

Determine how much you need by your hunger level and when you'll be able to eat next/schedule more than what a serving size 'should be' because those recommendations are arbitrary.
Did you make any of these easy pasta recipes for one? Leave me a comment & rating to share how they turned out!
Want to get more single serving recipes delivered to your inbox? Click here to download my Single Serving Cookbook.
Recipes are great, but you'll need a simple 3 step process to create a meal plan that make cooking easy & helps you stop wasting food. Check out this expertly developed meal planning guide to get started.