Try any of these delicious cheap meals for 1. There are delicious pasta, bowl, salad, and even dessert recipes. Eating cheap doesn't have to mean you have to eat boring food. These recipes are delicious and easy too.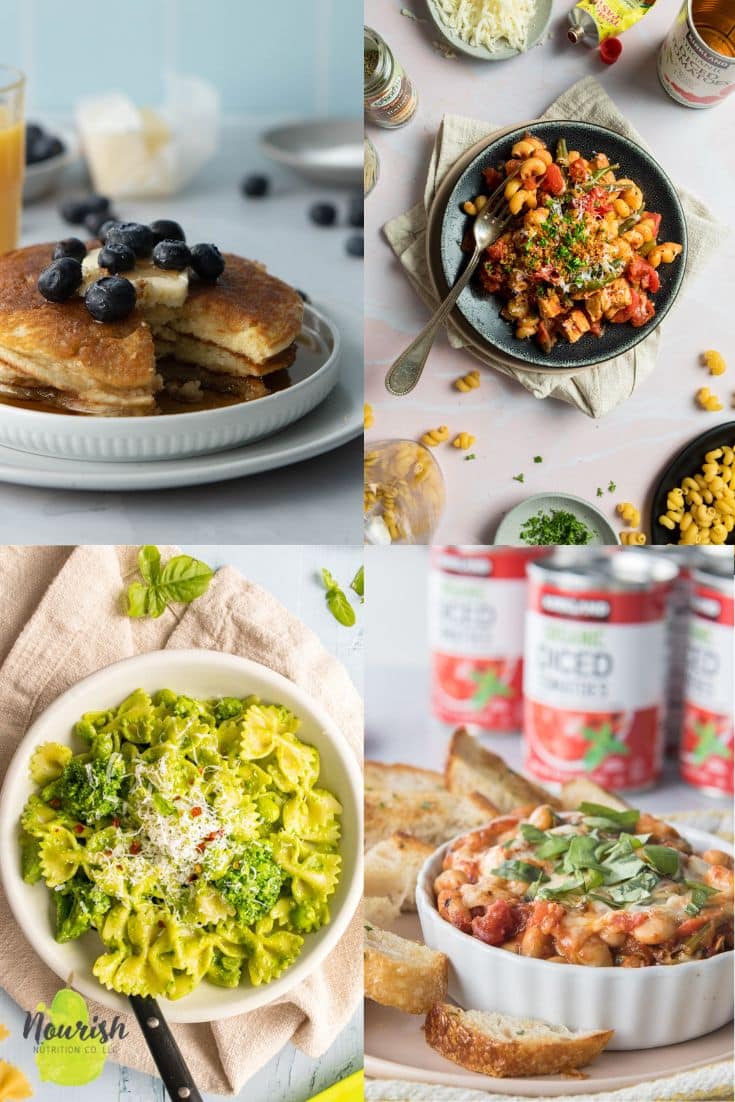 Tips to save money on groceries
Whether you're feeling the current inflation, have been laid off from your job, are in college, or otherwise needing to save money, strategically shopping and meal planning can help you save some money. These shopping tips help you make cheap meals for 1.
Be realistic about what you can make/eat during the week. Look at your schedule, how tired you will be, and how much time you'll have to cook. Not planning for your actual life will leave you with wasted food, which costs you more money.
Stock your pantry/fridge/freezer. Here's what to stock in your 'pantry'. Look at your budget, buy what you can, as quickly as you can. A well stocked kitchen will give options to make something quick when you didn't plan ahead of time.
Keep a list of pantry recipes. Start here with these Pantry Recipes, using your pantry ingredients. Use these when you didn't plan anything and don't want to spend money on takeout.
Utilize canned meats. Canned chicken, canned fish, etc are great long lasting, budget friendly options. This is a great way to make cheap meals for 1.
Make a grocery list. Simple, but it'll help you stick to what you need, and help you plan out what to make. It'll also help you reduce food waste because you've got a plan for the food you are buying.
Look out for ingredients on sale. Look at mailers, store apps, etc for discounts. Plan your weeknight dinners/cooking around it to make cheap meals for 1, if you can and want to.
Grocery shop online. Do you often make impulse buys at the store? This could be a good option to keep your grocery bill lower. Some stores offer free pick-up over a certain amount, or the fees might be less than on impulse buys.
Critically think about what's better for your budget/time/lifestyle: homemade/ home-prepped or pre-made/pre-prepped. This will be different for everyone, even different for different times, ingredients. Be realistic, whatever works for you is fine.
Make extra servings for leftovers. Incorporating a mix of one serving meals and recipes with leftovers make life easier and still have room for variety. Larger recipes allow you to use up more of the food you're already buying. Some are easy to freeze.
Check out bulk options. Scoop out nuts, bulk sections, not Costco. If there's a store convenient for you with a bulk section, you can buy a portion that you need (smaller at a time to save money!), sometimes they're cheaper. Especially spices!
Incorporate more vegetarian options. Meat is great, but can be expensive, experiment with plant based proteins to save lots on your grocery bill. It'll help you make cheap meals for 1.
Still give yourself grace/permission to not do it perfectly. There's balance in everything. Evaluate your priorities and do what you can to align with that. And think of this as an experiment. It's hard to figure out how to plan/save money first try.
Cheap Dinner Ideas: Vegetarian
Pancakes are easy, but they are made with pantry ingredients. Plus it's easy to make breakfast for dinner like dessert. Yum, easy cheap meals for 1 for the win!
Adding inexpensive tofu bumps up the satisfaction factor in this pantry staple, it also makes it super creamy and smooth.
White beans and tomatoes, two canned foods that might not sound so fancy or delicious, but combined with a few added ingredients, you've got a rich tomatoey delicious dinner. Pantry staples make a delicious cheap meal for 1.
A small jar of Thai red curry will go far in this lentil curry. It's so flavorful, and the rest of the ingredients are inexpensive. Swap the spinach and even tomatoes for whatever vegetables you have, or none. But you might need to add more liquid.
Queso is a great way to add lots of flavor to simple rice, beans, and vegetables. Use some salsa and fresh veggies to round out this easy bowl that's quintessential cheap meals for 1 situation.
This is such a great and easy lunch, dinner, snack. All you need is a tortilla (uncooked is best!), eggs, cheese, and vegetables if you want them. It can be hand held and, seriously is just such a delicious cheap meals for 1.
This is the epitome of 'throw whatever is in the fridge into a taco' situation. Tortillas, some sort of beans, crunchy vegetables, cheese, and tomatoes in the form of salsa or chopped makes a great taco base. Lime and avocado just take tacos over the edge.
I usually just think of enjoying rice and beans in tortillas, with a spoon, or in a quesadilla, but adding some chicken/vegetable broth turns these pantry staples into a delicious, creamy soup. Familiar flavors, maybe less familiar form. Perfect.
You can have tacos any time of the day. Add eggs and hashbrowns and you've got delicious breakfast tacos. These are great any time of the day, and can even be made ahead of time to freeze for later. Cheap meals for 1 wins again.
Add some black beans, canned tomatoes, and cheese to pasta for a delicious plant based cheap meal for 1. This is a great recipe to use if you're meal planning or not-it's easy to throw together without planning ahead. Pantry meals can be so delicious.
Cheap Dinner Ideas: Meat/Seafood
Buying frozen chicken, if you have space is a great way to save some money on meat. I like to just throw a frozen chicken breast/tender in a hot skillet filled with water to cook it. It's quick. And goes deliciously in chicken salad. Which is so delicious, so so delish.
Use pre-made rice, whatever vegetables you have on hand, chicken (or any other protein) to make this easy Instant Pot chicken fried rice. Cheap meals for 1 can also be made with leftovers.
Based on one of my mom's classic dinner recipes, this easy chicken and broccoli casserole is comforting, easy, and uses inexpensive staple ingredients like chicken, broccoli (frozen or fresh), cheese, cream of chicken soup, plain yogurt, and rice.
DIY pasta sauce with this easy canned tomato sauce. Add a link of sausage, ground beef, TVP, ground pork or sausage, or lots of other proteins to this recipe. Plus it takes just 15 minutes to make this cheap meal for 1!
Making your own pizza crust is cheapest, but there are other options if you don't make it yourself. This pizza is a great way to use up some leftover chicken and bacon, if you have any. Or just find other recipes/pancakes to use the bacon in.
Eggs are more expensive now, but they're still fairly inexpensive compared to lots of other meat/protein options. Make this easy egg casserole with sausage (or omit), hashbrowns, and cheese. Bulk this cheap meal for 1 (+ leftovers) up with toppings.
Canned tomatoes come in clutch again. This easy chicken parm pasta is a great cheap meal for 1 as it uses pantry staples, and has a crunchy topping that you can just make in a pan.
Save money by buying frozen carrots and even canned chicken. These tips really help you make cheap meals for 1.
Cheap Dessert Ideas
Pantry ingredients for this cheap meal for 1. Oh and it's dessert. Yes
Use canned or frozen peaches with pantry ingredients to make this even less expensive. See, cheap meals for 1 can be easy and delicious.
Another pantry ingredient dessert. It tastes fancy, and by all means is fancy, but doesn't cost much! That's the best way to enjoy cheap meals for 1.
Another pantry recipe + an apple makes for a delicious and cheap dessert for one.
FAQ
Did you make any of these cheap meals for 1? Leave me a comment & rating to share how it turned out!
Want to get more single serving recipes, like these cheap meals for 1 delivered to your inbox? Click here to download my Single Serving Cookbook.
Recipes are great, but you'll need a simple 3 step process to create a meal plan that make cooking easy & helps you stop wasting food. Check out this expertly developed meal planning guide to get started.