25 minute pesto tofu is such an easy and flavorful plant based protein to add to pasta, grains, sandwiches, and eat plain. Store bought pesto is a convenient option, or you can make your own Pistachio Pesto or Arugula Basil Pesto.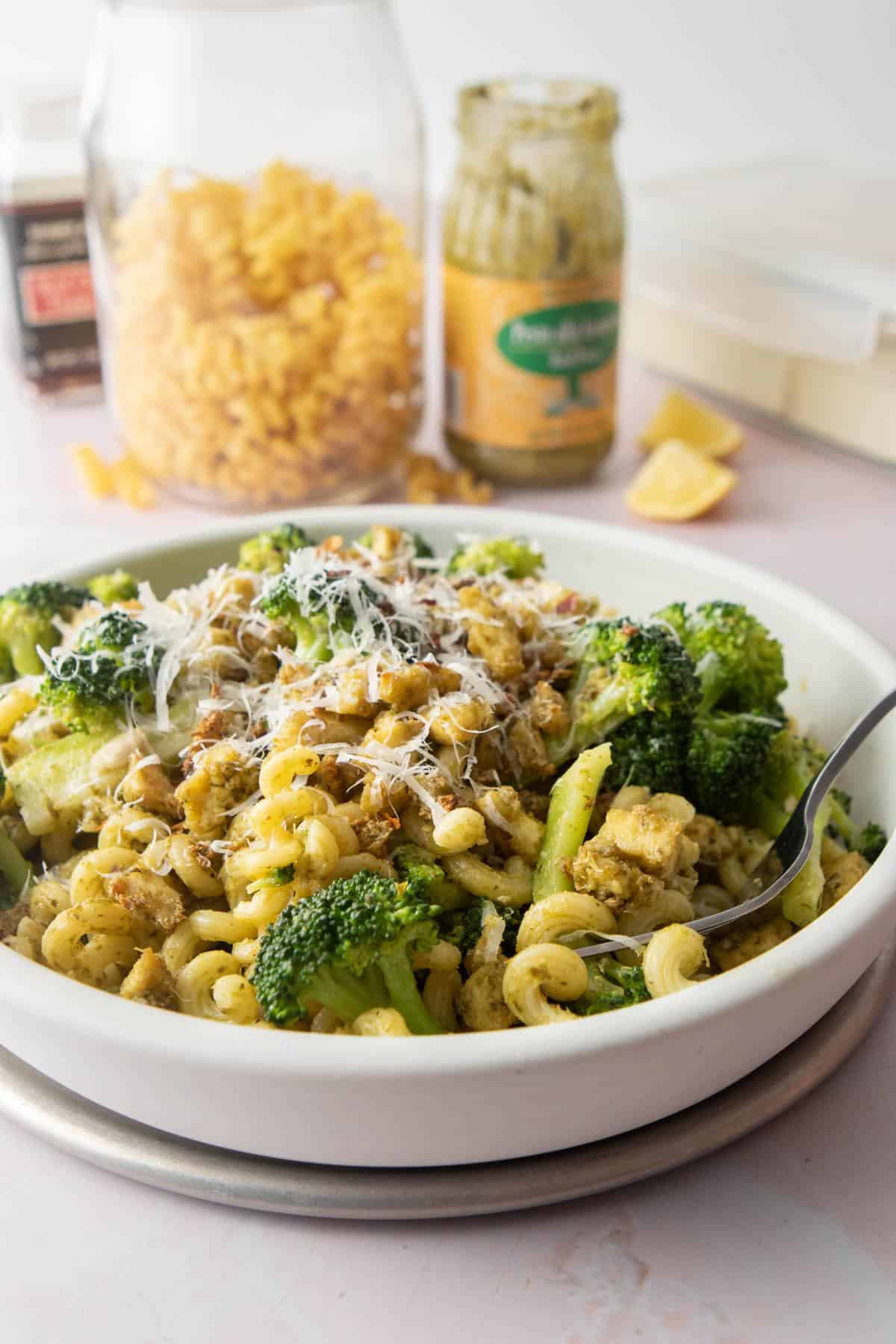 This pesto tofu is one of my favorite ways to enjoy tofu. It's so easy to make, especially with a store bought pesto. You can make extra servings and enjoy it through the week.
Instead of pan frying, I baked this tofu recipe, and it is such an easy recipe to bake. I loved Minimalist Baker's tip to crumble the tofu. It cooks faster and I prefer the crumbles on pasta vs cubed.
But if you like larger cubed pieces, that works too.
Since you're not coating the tofu with cornstarch, it'll be more important to press as much water out as possible. I like to cut the tofu into smaller pieces to press more water out.
It doesn't matter if the tofu breaks because it'll be crumbled anyways.
You toss the tofu crumbles in pesto with added salt and garlic powder for a bit more flavor to bake, then add more pesto after cooking. You get a deep and yet refreshing flavor this way.
Baked pesto tofu over pasta or in sandwich form, topped with lemon juice, parmesan cheese, and red pepper flakes is just the most delicious.
Ingredients
Scroll down to the pesto tofu recipe card for the amounts of each ingredient, but here's a quick visual + description of what's in this recipe.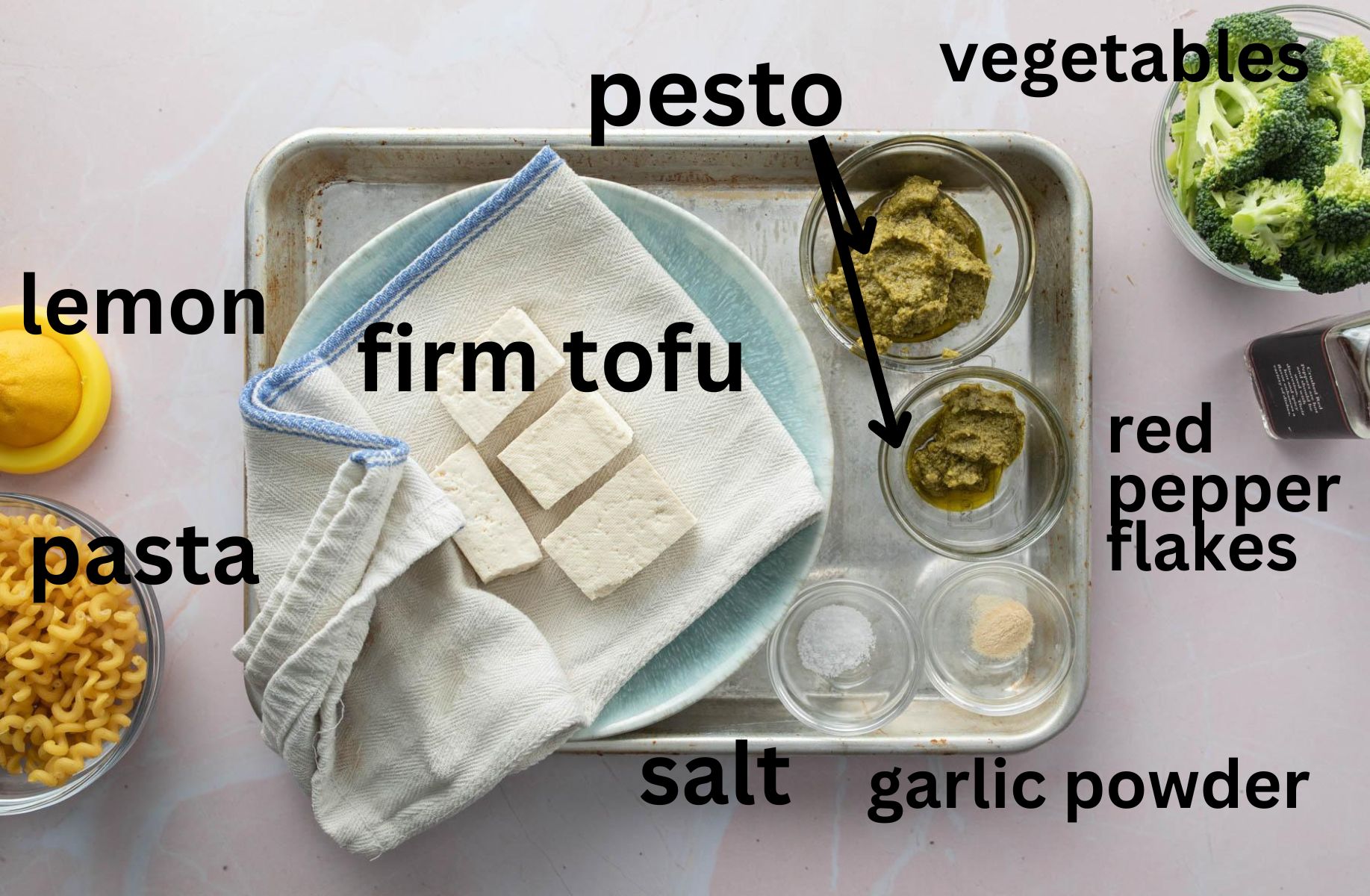 Firm/Extra Firm Tofu: It will crisp up the best in the oven, especially when you press out excess water first.
Pesto: You can use any pesto you like in this pesto tofu recipe. I like the pesto at Costco and Trader Joes or homemade. Do what works for you/is convenient! You'll cook the tofu with pesto and add more after cooking.
Olive Oil: Even though pesto does have oil in it, but a bit extra helps the tofu crisp up well in the oven
Garlic Powder: Cooked fresh garlic, like from the pesto has a pretty mild flavor, adding garlic powder and more fresh pesto bumps up the garlic flavor in this easy recipe.
Salt: I like to add a pinch+ of salt to the pesto sauce to toss tofu in. It brings out the herby and garlic-y flavors. You can always taste the pesto sauce before adding salt.
Pasta: It's such an easy vehicle to enjoy this pesto tofu. You can also serve the tofu in a sandwich, on a salad, or plain as a snack.
Lemon Juice (optional): A quick squeeze of lemon juice adds more tartness and brightness to the dish. It's not in the main recipe, but it's an addition I love.
Parmesan Cheese (optional): Fresh parm on top of this pesto tofu adds nice saltiness and umami to this dish. Substitute with vegan cheese, if desired.
Red Pepper Flakes (optional): A sprinkle of red pepper flakes adds nice, random spicy hits to this simple recipe.
Instructions
Scroll down to the recipe card for more detailed instructions. Here's a quick overview + photos to see how to make this recipe in general.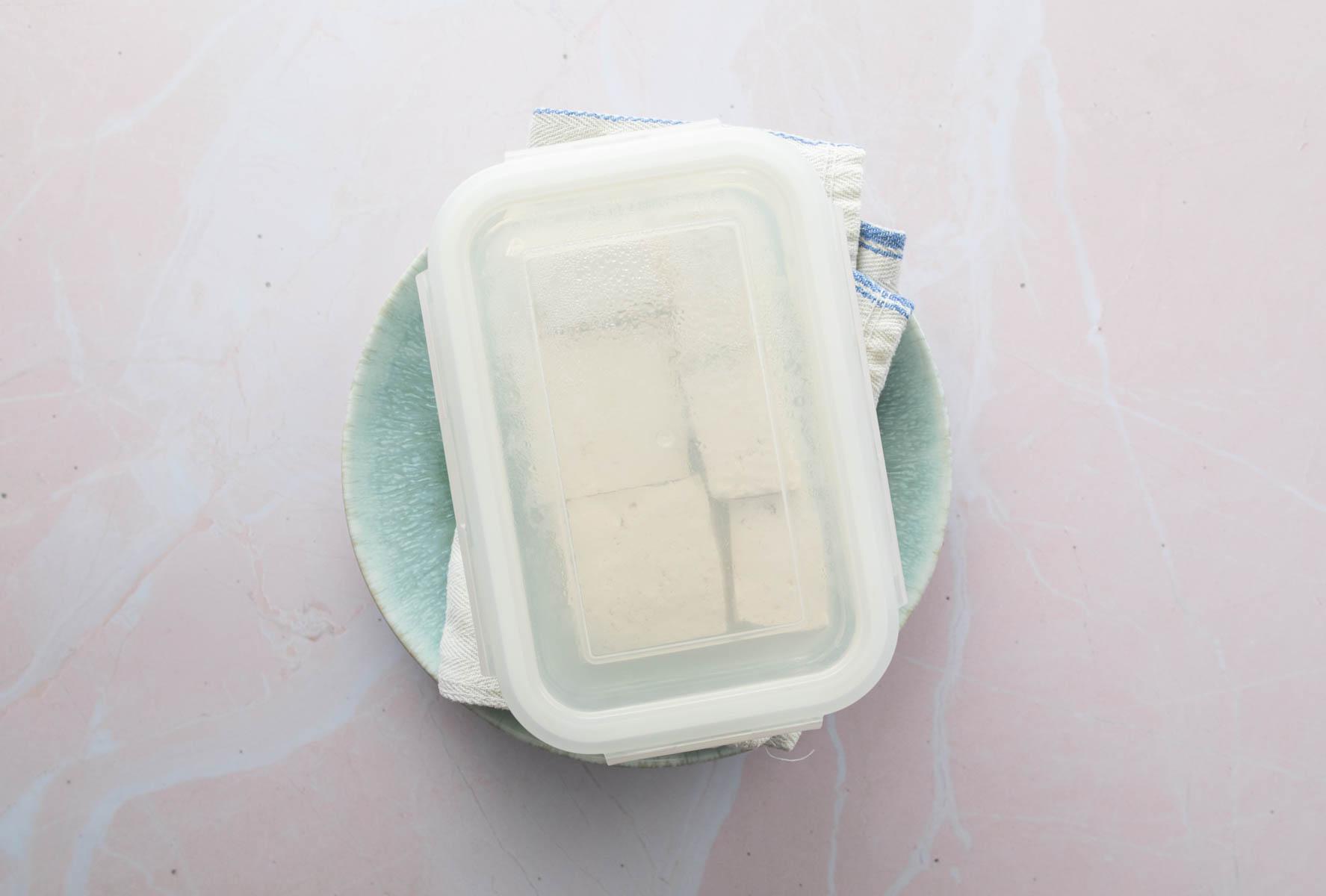 1.Press tofu for at least 10 minutes.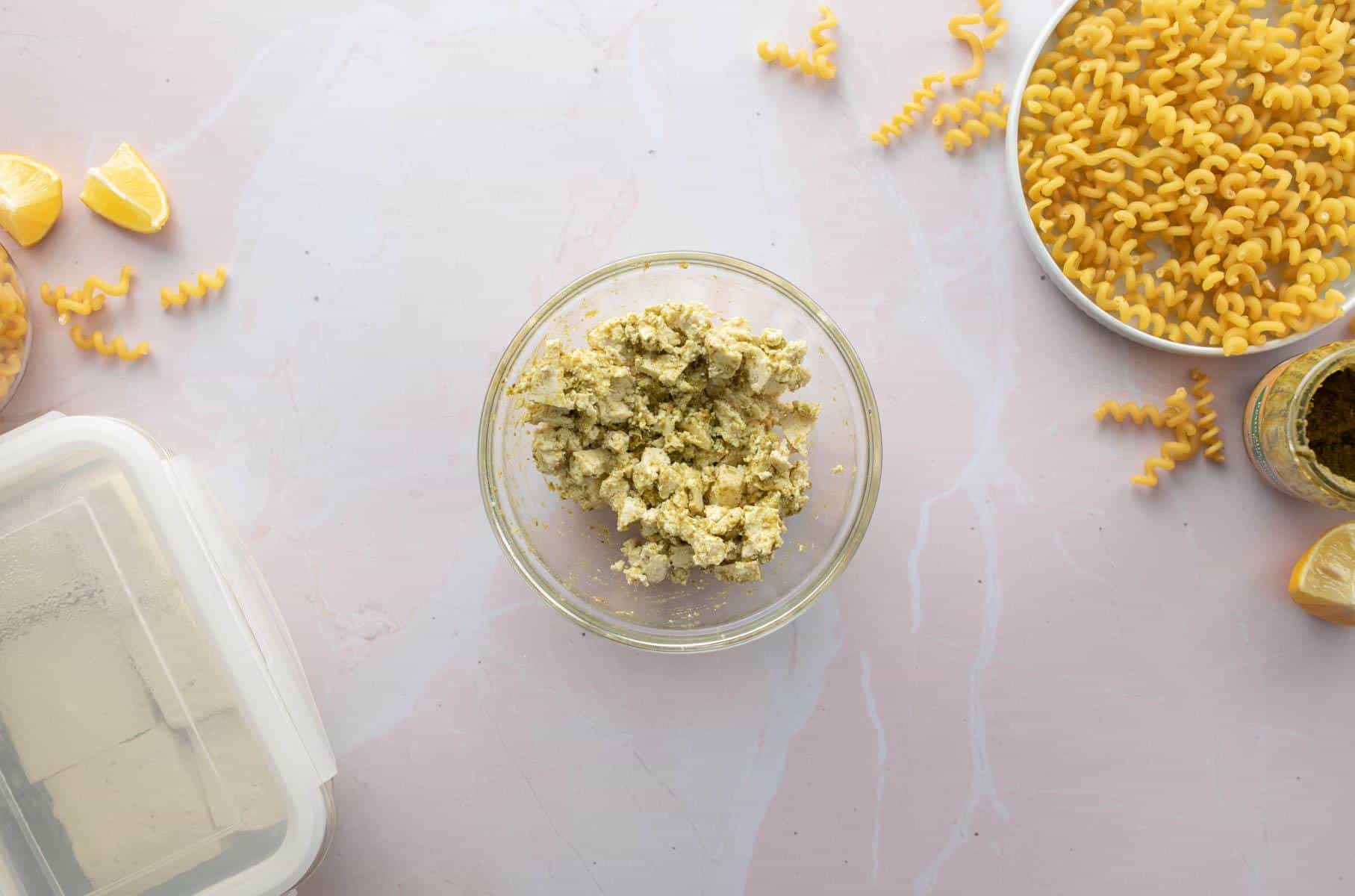 2. Prepare pesto sauce. Crumble pressed tofu into sauce. Toss.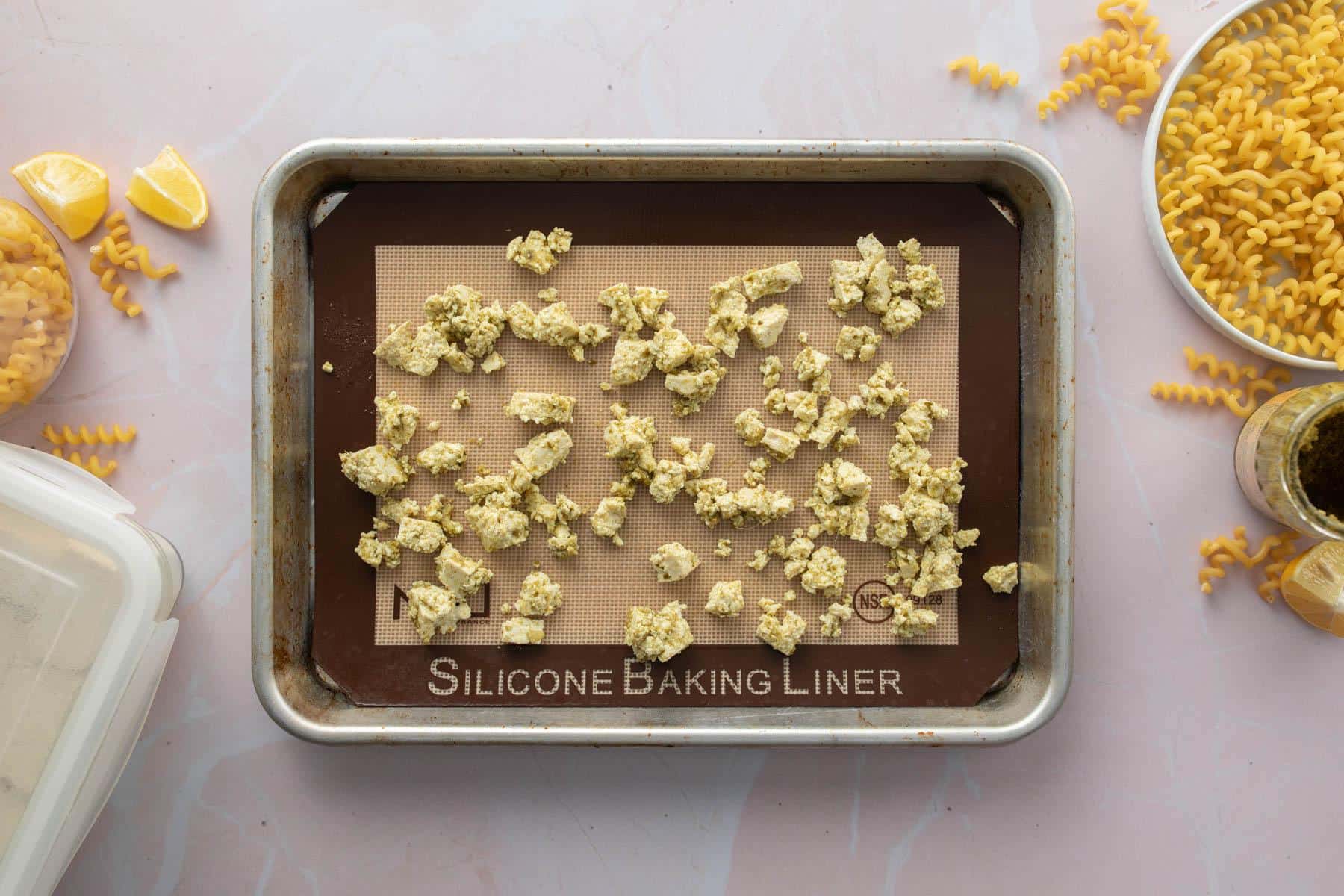 3. Bake pesto tofu in 425 degree oven for 20 minutes, flipping tofu ½ way through.
4. Add tofu to pasta, if serving with pasta. Add remaining pesto sauce. Toss.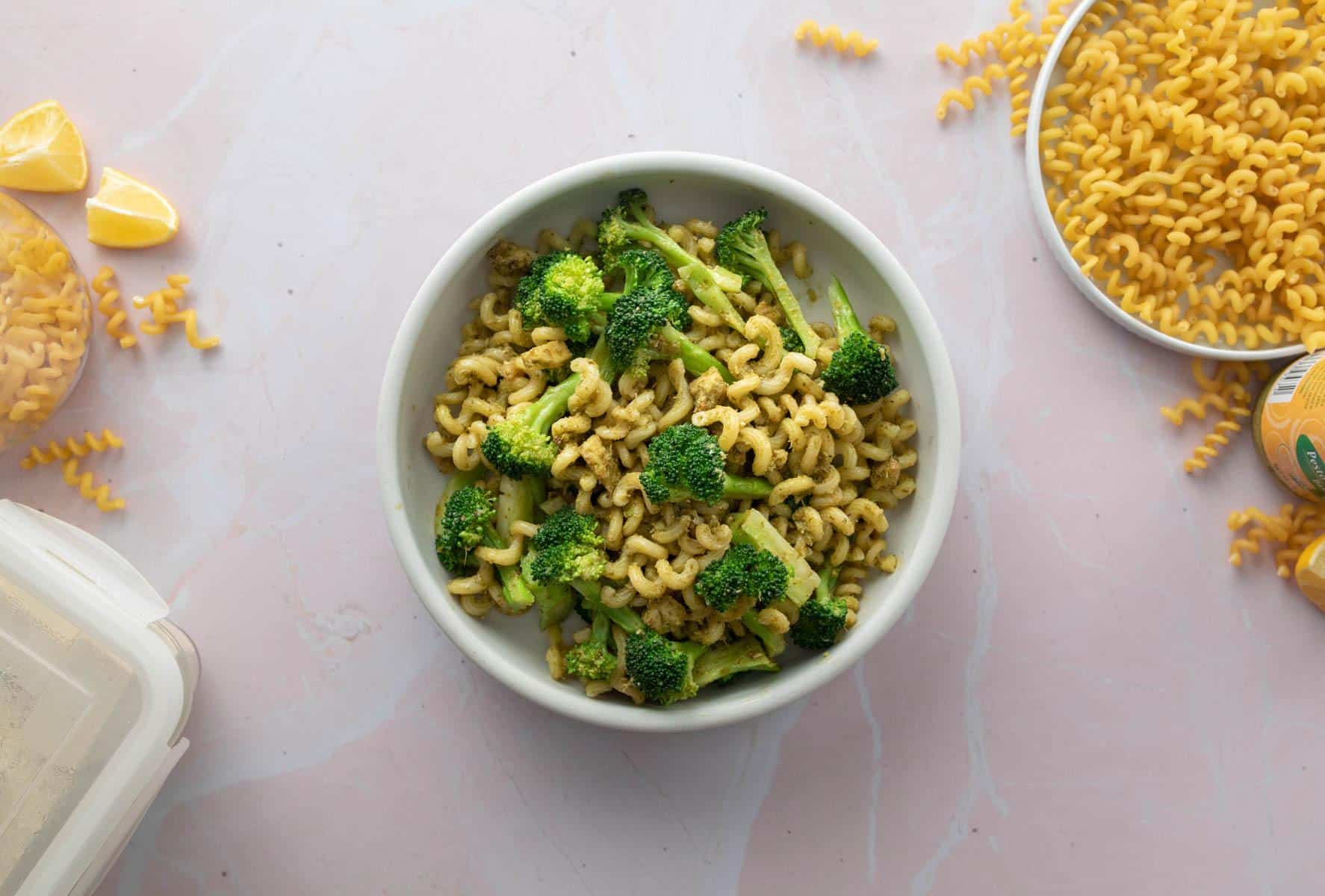 5. Enjoy as is, or garnish with desired toppings, enjoy immediately.
How to Cook on the Stove
This pesto tofu is an easy recipe to cook in the oven or on the stove. Prepare tofu the same way, just cook in a skillet, over medium-high heat for about 15-20 minutes, until crispy on edges.
Toss with more pesto after cooking and enjoy however you want.
Honestly, I liked the baked version better. It gets crispier on the edges and is really nice.
But if you'd rather cook your tofu on the stove, turn the pieces less frequently to get a very nice crust, and you might want to cook for longer than 20 minutes.
Storage/Reheating Tips
Store leftover pesto tofu in airtight container in the fridge for about a week. Use sniff test. Enjoy cold or pan fry or bake in toaster oven to reheat for best results, but you can reheat in the microwave too.
This recipe is easy to make extra servings for leftovers. Extra tofu is great added to a salad, cold, or heated up and added to a veggie or similar sandwich.
Substitutions/Tips
I highly recommend pressing excess water out of tofu, especially since it won't be coated in cornstarch. Press for as long as you can, up to about an hour or so.
I prefer crumbled tofu on pasta it coats the pasta more evenly and I prefer larger pasta vs larger toppings, but you can cube it if you like that better.
Pesto suggestions: I prefer Costco pesto and Trader Joes. You can also make your own, instead of expensive basil and pine nuts, I make mine with whatever I have on hand, like in these Pistachio Pesto or Arugula Basil Pesto recipes.
You could substitute the tofu for TVP, diced chicken, or ground turkey. Cooking times will vary with different proteins.
Make extra pesto tofu sauce to enjoy as a salad dressing.
Make it vegan by choosing a vegan pesto sauce and substituting parmesan cheese with nutritional yeast or vegan parmesan cheese. Or don't add cheese/substitute.
Other great add-ins: sunflower seeds, chopped nuts, freshly ground black pepper, etc.
FAQ
Does tofu go well with pasta?
Tofu is great with pasta, as it is in this pesto tofu recipe, which I enjoy most with pasta. Crumbled tofu is a better texture with the pasta vs cubed, as it more closely resembles ground meat. Do what you prefer.
Why is pesto considered vegetarian?
There is no meat in pesto, therefore it's considered vegetarian. It's not always vegan though, as many pesto recipes include parmesan cheese. Vegan recipes often substitute parmesan cheese for nutritional yeast.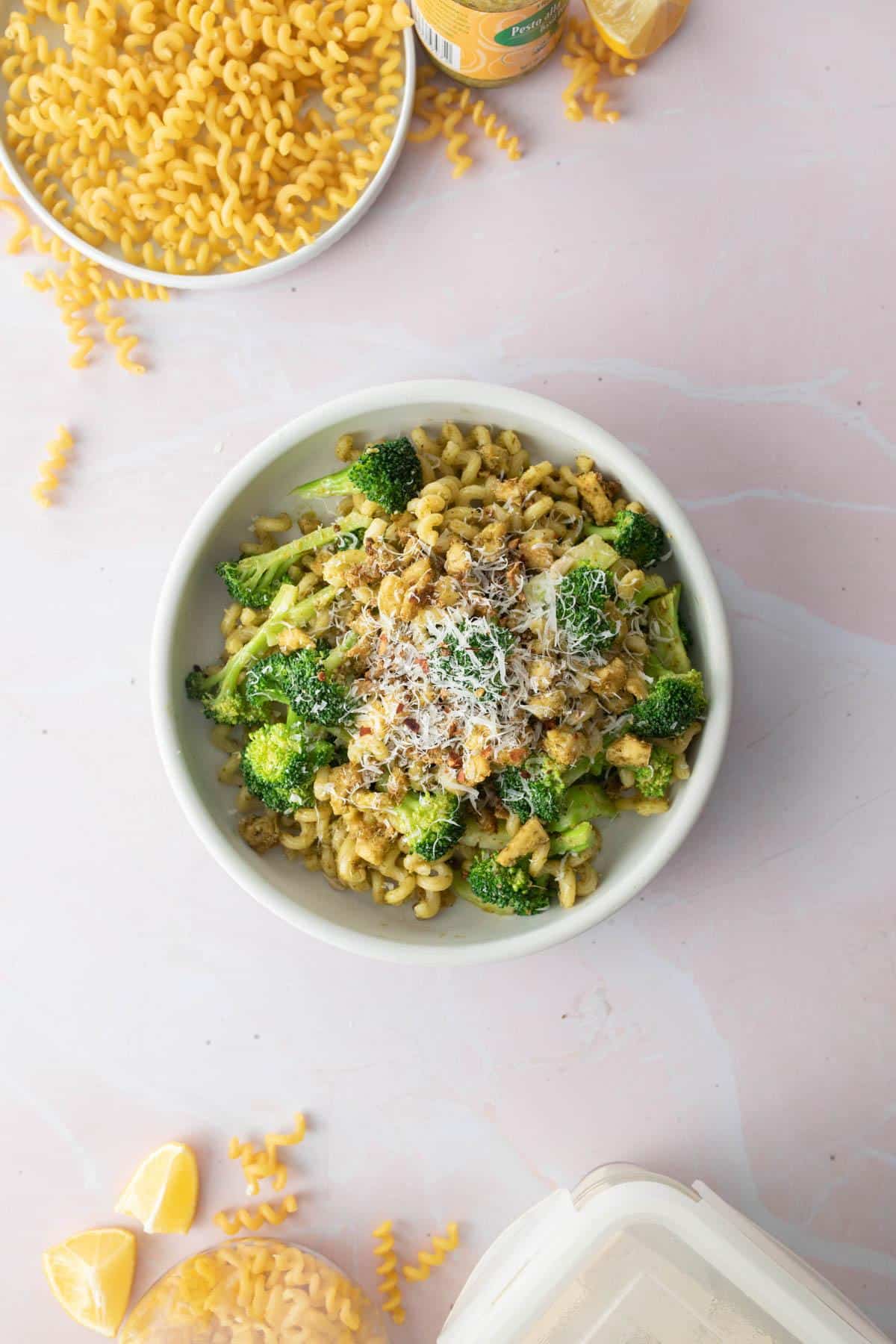 Other good plant based recipes
Repurpose pesto tofu
This pesto tofu is great because you can add it to a few different dishes. I like to serve it over pasta, but it's great added to a vegetable sandwich, over greens and with grains for a salad.
You can also make extra of the sauce to serve as a salad dressing.
What to do with leftover ingredients
When you're cooking for one, you often have leftover produce, cans of whatever ingredient, etc. Here are a couple ideas on how to use up the leftover ingredients. It'll help you save money by wasting fewer ingredients.
Did you make this pesto tofu? Leave me a comment & rating to share how it turned out!
Pesto Tofu
Pesto tofu is such an easy and flavorful plant based protein to add to pasta, grains, sandwiches, and eat plain. Store bought pesto is a convenient option, or you can make your own Pistachio Pesto or Arugula Basil Pesto.
Equipment
kitchen towel

or paper towel

heavy book or skillet

Mixing bowl

rubber spatula

small baking sheet

baking mat

or parchment paper

Serving spoon

saucepan, for pasta

optional
Ingredients
Pesto Tofu
¼

block

extra firm/firm tofu

3-4 ounces

¼

cup

prepared pesto sauce

divided (1 Tablespoon + 3 Tablespoons) or more to taste

1

teaspoon

olive oil

⅛

heaping teaspoon

kosher salt

⅛

teaspoon

garlic powder
Pesto Tofu Pasta
2-3

ounces

dried pasta

½-1

cup

chopped vegetables

optional

parmesan cheese

or vegan alternative

lemon juice

red pepper flakes
Instructions
Cut 3-4 ounces of tofu in half, lengthwise so it's thinner. Lay out in one layer on a towel, wrap in towel and place heavy skillet or book on top. Press for as long as you can, preferably more than 10 minutes-60 minutes.

Preheat oven to 425 degrees F.

Prepare pesto sauce: add 1 Tablespoon prepared pesto sauce, heaping ⅛ teaspoon kosher salt, and ⅛ teaspoon garlic powder to a medium sized mixing bowl. Mix together.

Crumble pressed tofu into prepared pesto sauce, preferably into medium-larger pieces instead of tiny bites that could burn. Toss gently.

Transfer to baking sheet. Bake for 20 minutes, stir half way thorough to toss tofu pieces.

When about 10 minutes remains, prepare pasta according to box directions (if using). You can cook vegetables with pasta, add them with about 1 minute remaining in cooking time. Drain, set aside, covered.

When tofu is done cooking, add to cooked pasta (if using), add another 2-3 Tablespoons of pesto sauce. Toss together. Taste and add more pesto or salt to preference.

Garnish with freshly grated parmesan cheese, lemon juice, and red pepper flakes, if desired. Enjoy immediately.
Notes
You can pan fry tofu instead of bake it in the oven. See instructions a few sections above here.
Substitute tofu for TVP, diced chicken, ground beef or turkey.
Use your favorite store bought or homemade pesto sauce. I prefer Costco pesto or Trader Joes. You can try either of these Pistachio Pesto or Arugula Basil Pesto recipes that don't use as much/any of the expensive basil and pine nuts.
Serve your pesto tofu over pasta, in a sandwich, or added to a salad. There are lots of ways to enjoy tofu and pesto sauce.
Optional Toppings: sunflower seeds, chopped nuts, nutritional yeast.
Want to get more single serving recipes like this pesto tofu delivered to your inbox? Click here to download my Single Serving Cookbook.
Recipes are great, but you'll need a simple 3 step process to create a meal plan that make cooking easy & helps you stop wasting food. Check out this expertly developed meal planning guide to get started.